It certainly wasn't my intention…..
the thought of being gone for 7 months is inconceivable!
Yet it happened……
and here we are!
So much has happened,
and yet,
nothing at all has happened!
The only thing that is consistent is my obvious love for !!!!! and …….
I am afraid I will never outgrow this…… 😉
I wanted to be here talking to you all so many times over these past months, but SO MUCH got in the way.
Nothing earth shattering!
Just life in general.
The ups and downs, the ebbs and flow that you all face on an everyday basis as well!
And at times, I even thought it might be best to shut the entire blog down!
Yes, I know……I shouldn't start a sentence with 'And'…..
I know all the English teachers out there are cringing.
They will be in good company, as I am positive my Mom will be when she gets around to reading this!
I am NOT shutting Tempting Thyme down…..although I do need to find a new domain server.  My subscription is up next month, and as expected Bluehost has tripled the cost to remain with them!
Why can't companies reward loyal customers?  All the good deals go to new customers, making consumers flip flop between merchants.
Yes, I am talking to you Verizon, DirecTV, Dish, Sprint and the rest of you insane companies!
Anyway……..
Do you remember the first week back at school when you were a kid?  The ice breaker was to either stand up, or write about what you did over summer break!
How appropriate that after such a long break I take a moment and let you know what I have been up to.  So………
What have I been up to on my sabbatical?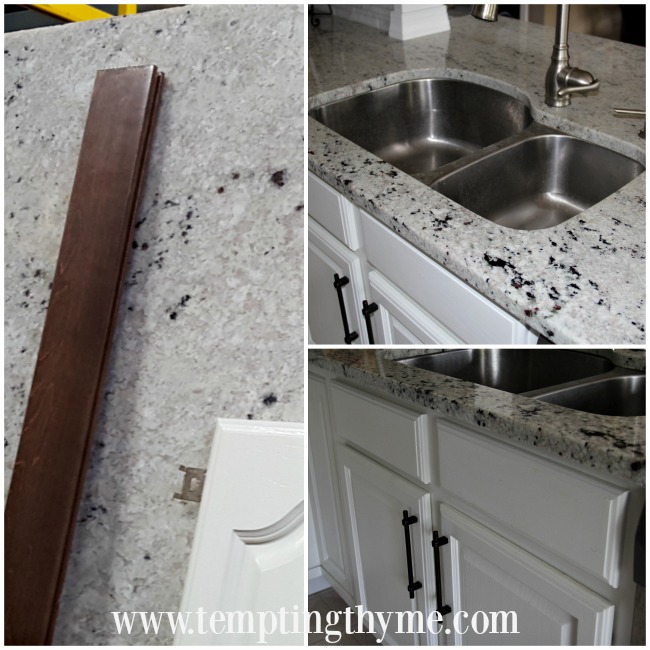 We finally took the plunge and replaced our laminate kitchen counter tops with granite.  This actually happened last December, but unless you follow me on Instagram, you have not seen any of the photos.  This is something that I have wanted to do for many years, but something always got in the way, AND I could never make up my mind on the right material to use.
I waffled between all the natural stones…….quartz, granite, soapstone, marble, and even thought about doing concrete.  I talked myself out of those, saying that we would never recoup the investment, and should just choose another laminate.  The colors in laminate have changed tremendously in the 16 years that we have lived here, and some look just as good as the natural stones!
The issue was forced on us last Thanksgiving when our pipes burst under the kitchen sink.  I talked a little about it over here, but bottom line; I am cheap (thrifty/conscious of a hard earned dollar) and didn't want to pay a plumber twice.  Once to repair the pipes, and then a second time when I actually made up my mind!

We bit the bullet and went with a granite.  All I can say is that I am so glad the pipes burst when they did…..I love our countertops!!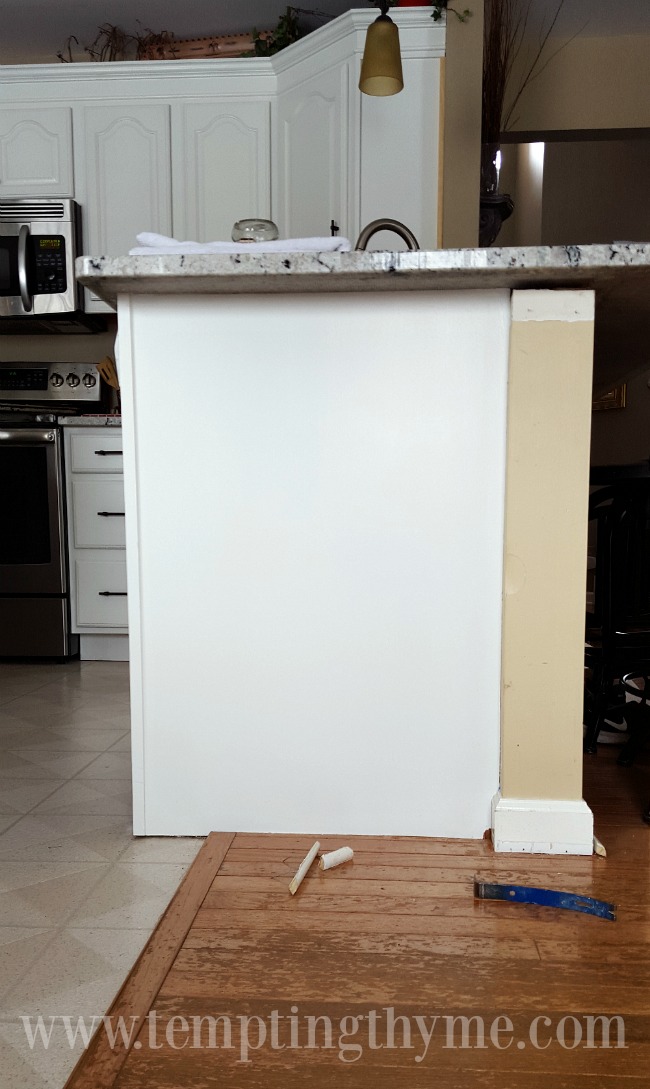 I had the granite company extend the counter a few extra inches on the end, as I knew that I wanted to build up the end of the peninsula wall…..
I spent countless hours working on that corner piece!  I think the end result  was my third or fourth attempt with all the wood and molding being installed…..living with it, and then ripping it apart because it didn't feel right! 
Yes, that is Rudy's tush…..always the photo bomber!  Stinker!
As I was building the corner out, I ended up adding some paneling to the end of the cabinet.  So much better than the builder grade cabinet!
And since I was going to all of that trouble, I added a little dimension to the counter bar…….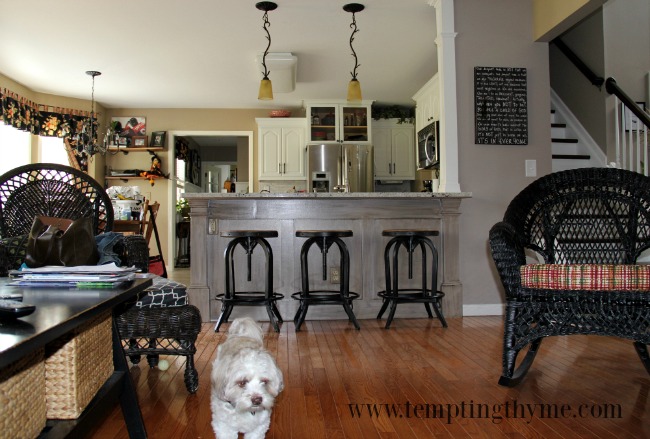 Like I said…..photo bomber!
Same time that I was fooling with all the paneling, I was also messing around with this……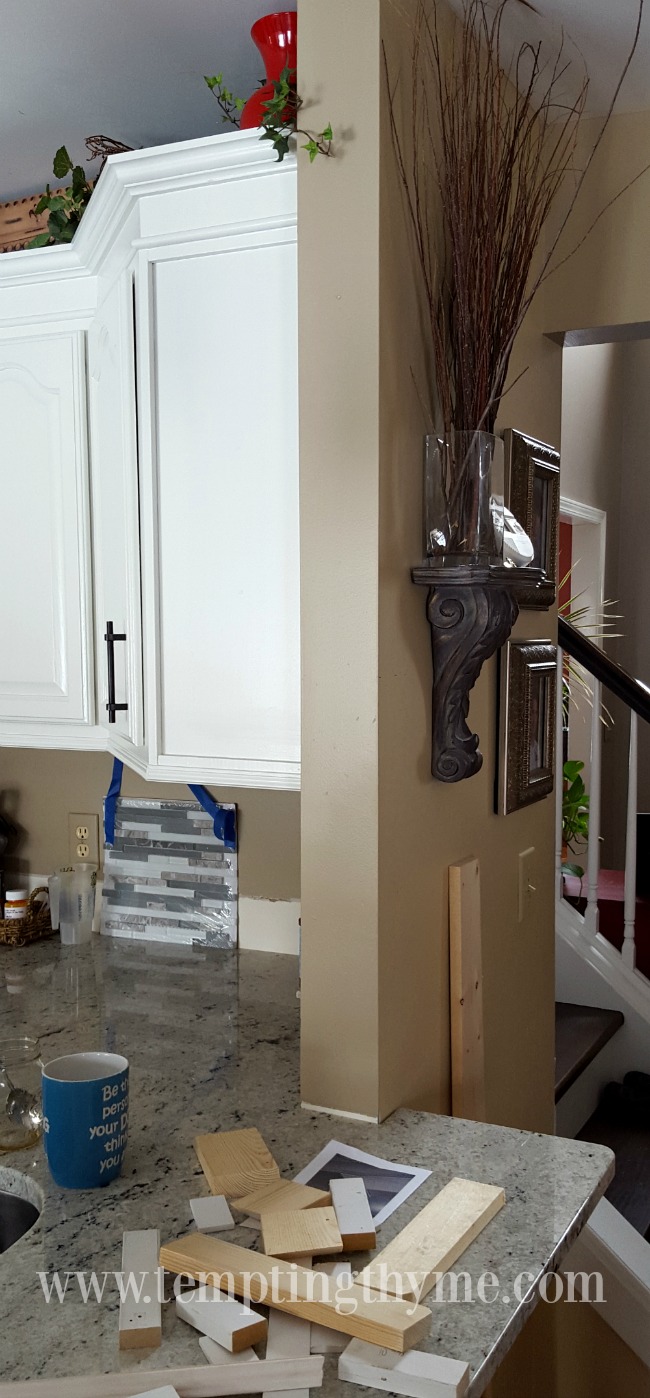 Not only did I want to add a little something something to this wall, but you can see that I was also trying to decide on a backsplash.  I had it in my head that I wanted this to look like a pillar.  Don't know if it does or not, but here is the end result!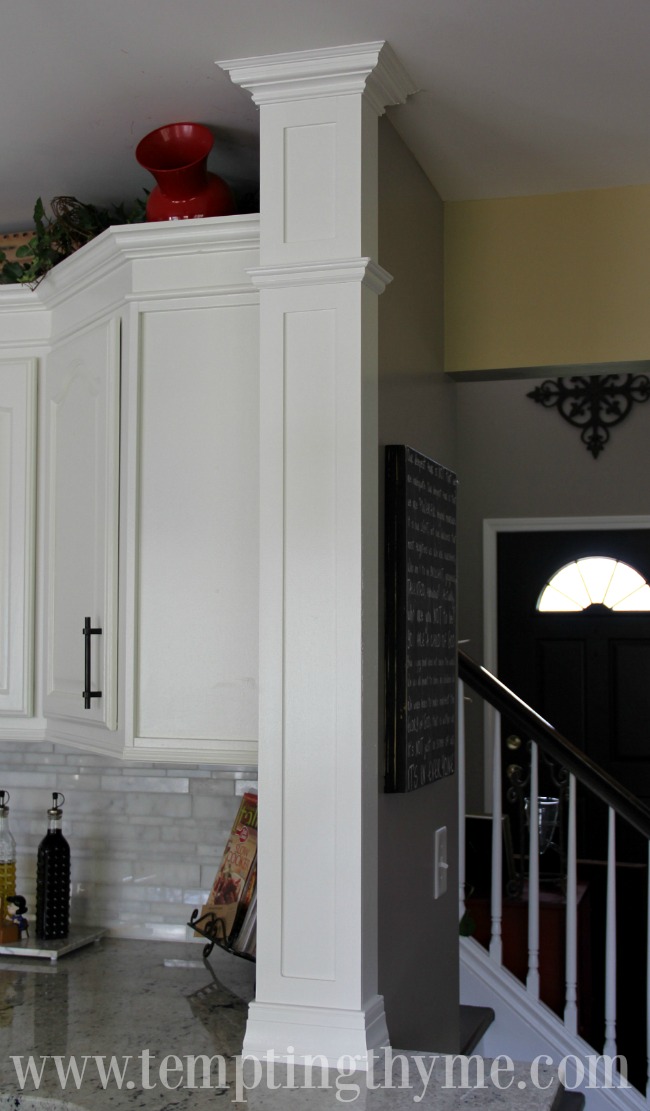 I joined PT on his WWII trip with some of his students.  We did the unthinkable and pulled K out of school so that he could tag along. 
As his principal said……"he will learn more on this trip than he will in the 5 days that he actually misses"!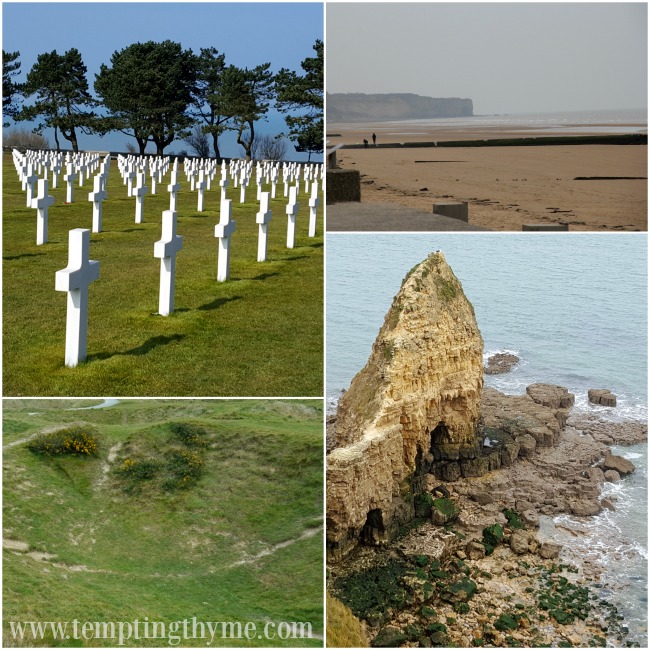 It was a whirlwind 10 day trip, hitting 7 cities all circling the war.  The two stops that hit home for me were the beaches of Normandy (above), walking the hollowed grounds, seeing the craters still in existence from the bombs dropped from the sky, and strolling the American Cemetery that holds so many of our young men.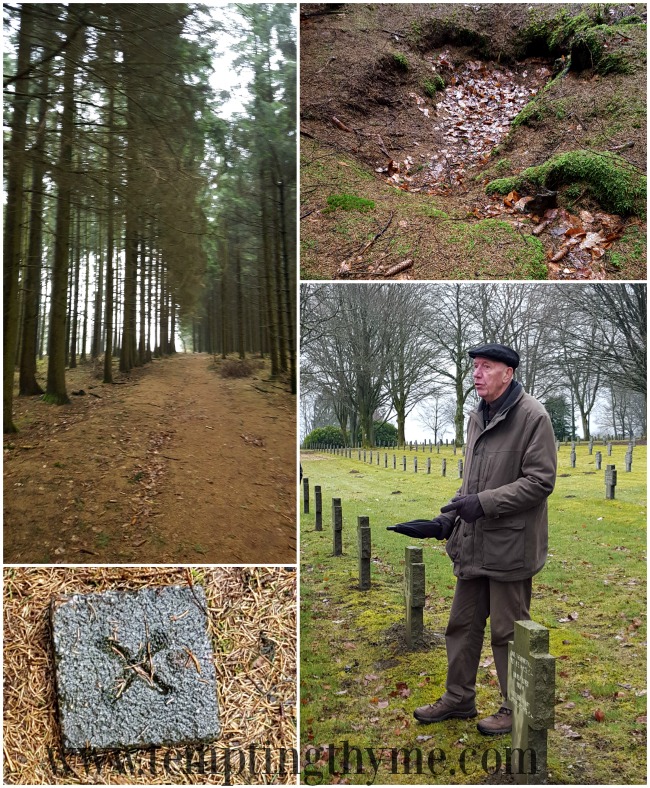 The second was in Bastogne, Belgium and entering the forests of the Battle of the Bulge.  Listening to the stories of Henri, who had been 7 or 9 years old at the time, and feeling all the wonder, trepidation and hurt that he and his family went through during this difficult time. 
Just being still, and taking it all in! 
Words did not need to be spoken amongst the group, everyone was impacted by what they heard and saw during this trip.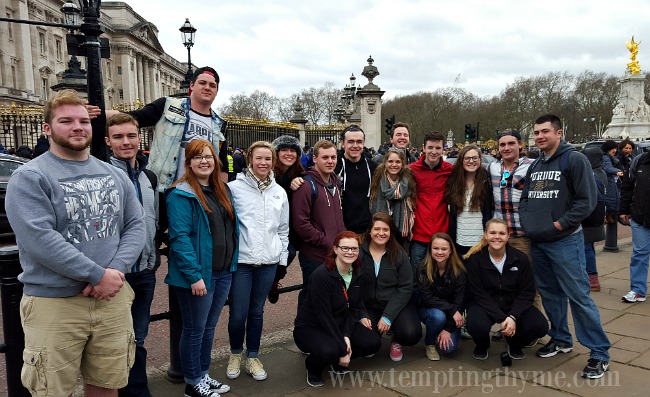 I have to say the biggest surprise of the trip was how easy K fit into the mix.  I was worrying for nothing!  As soon as we got onto the bus to take us to the airport he was welcomed into this great group of kids, and we barely saw him. 
The picture below might just be the only "family" shot I got! LOL!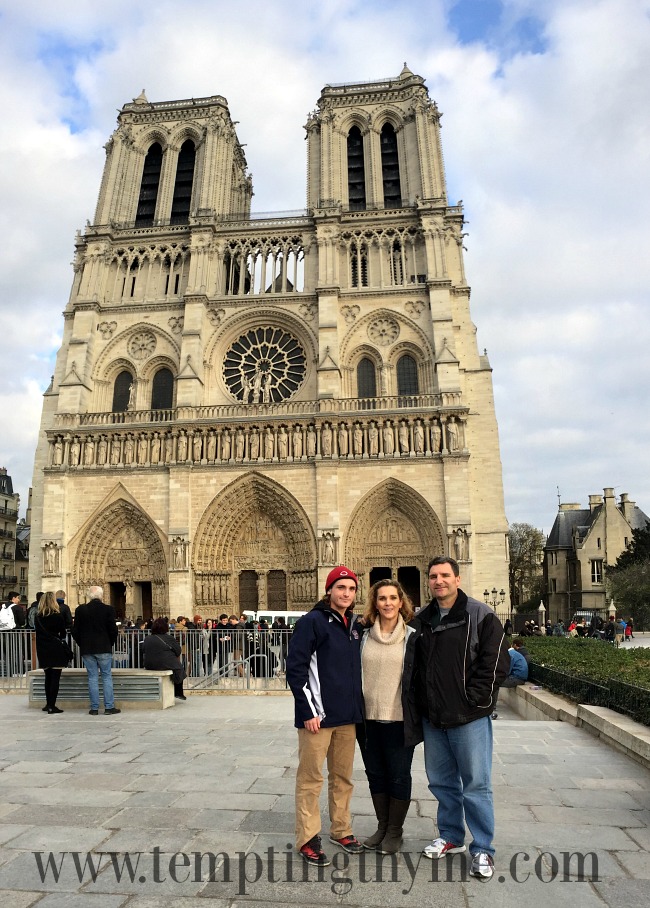 Finally made up my mind on the backsplash…….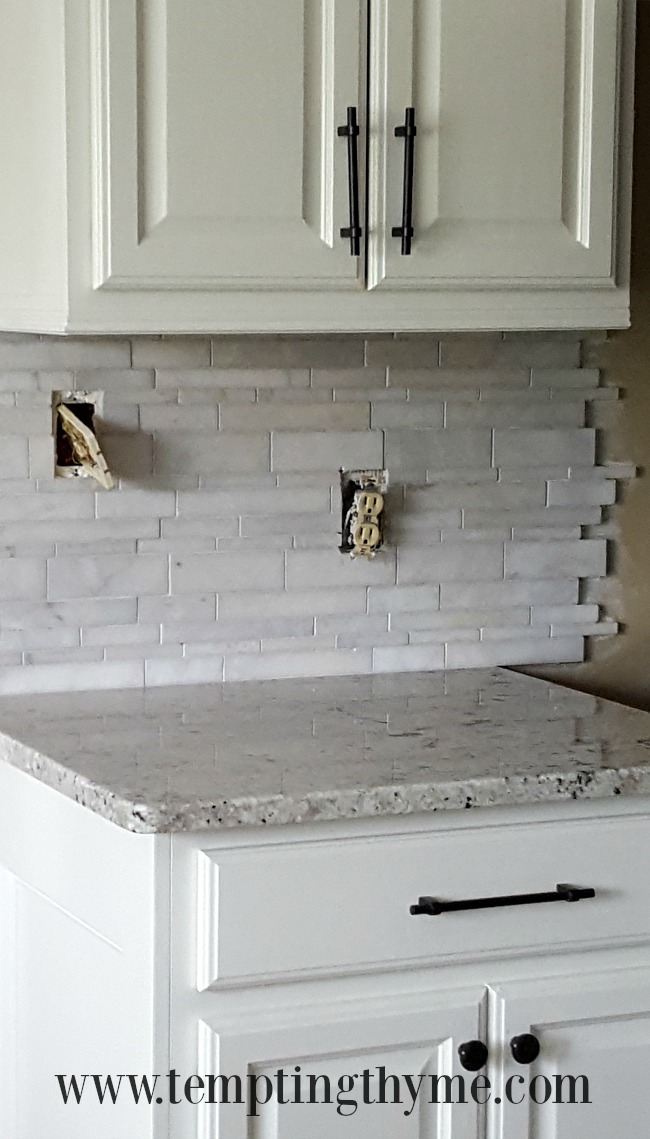 Here it is being installed.  You can see the finished version up above with the faux pillar.  In the nick of time, as we were having a house full celebrating……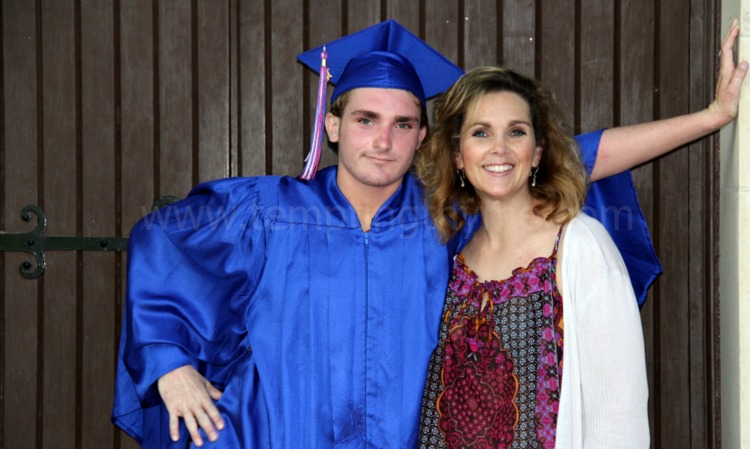 K's high school graduation.  God love him….he allowed me to have a photo shoot with him prior to the big day.  Might have helped that a friend tagged along to have her own photo shoot!  I got some adorable photos of them both.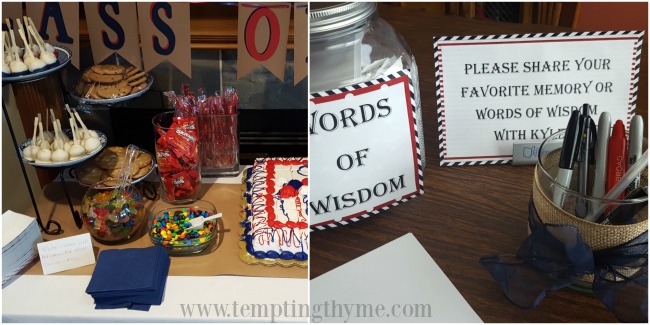 Can't have a graduation without celebrating with a party.  I think I went a little overboard with the dessert table!  The notes and memories that family and friends wrote are being compiled into a senior album for him.
Should I confess that I finally got B's completed……3 years after he graduated from high school! LOL!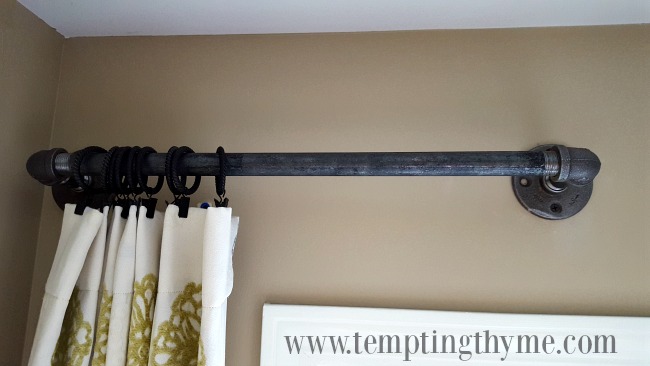 I found some gorgeous fabric to coincide with the bedding that we bought a year ago.  My amazing Mom turned it into some simple panels for our windows, and I thought they needed an unusual curtain rod. 
If you don't know my love of industrial pipes, you can get caught up here, here and this one over here started it all.  Love them!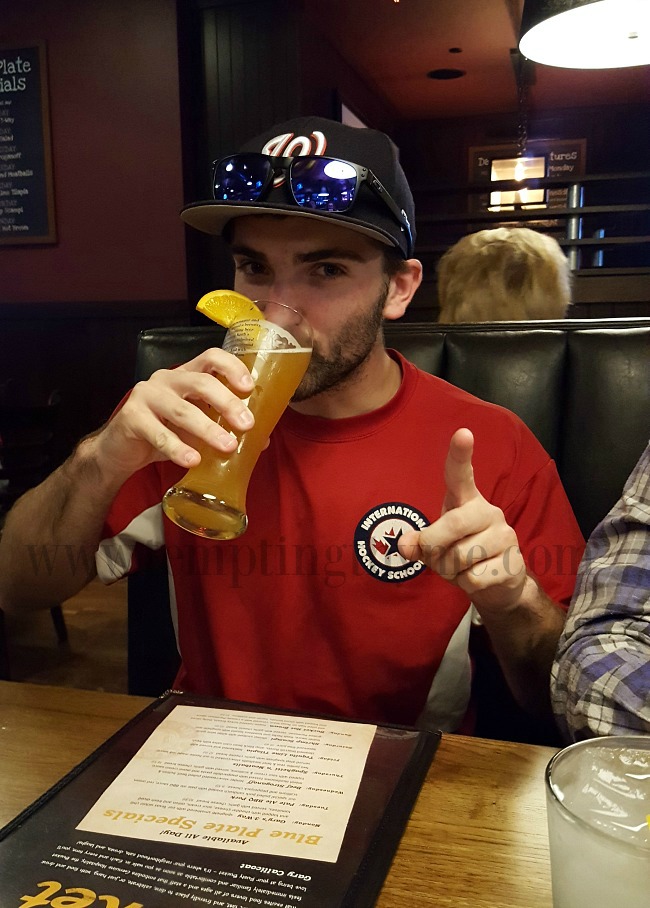 We celebrated B's 21st birthday 3 months late!
I have to say it was a little odd seeing him order a beer in our company….and he was not even asked to produce an ID!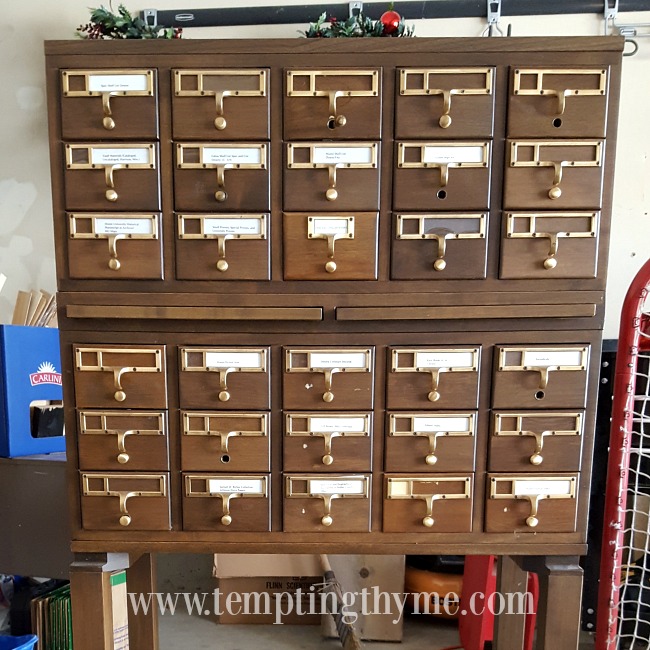 Found my way to Miami Universities auction again.   Craved this card catalog and an old desk……and $96 later they both found their way into our garage. 
There were a few other furniture pieces that I bid on, but once the bids hit a hundred dollars or more I knew that I was out of my league.
I thought this card catalog would be perfect in the future guest room/craft room to hold all the miscellaneous loose ends that crafts can leave!  I saw it in a dark shade of grey……..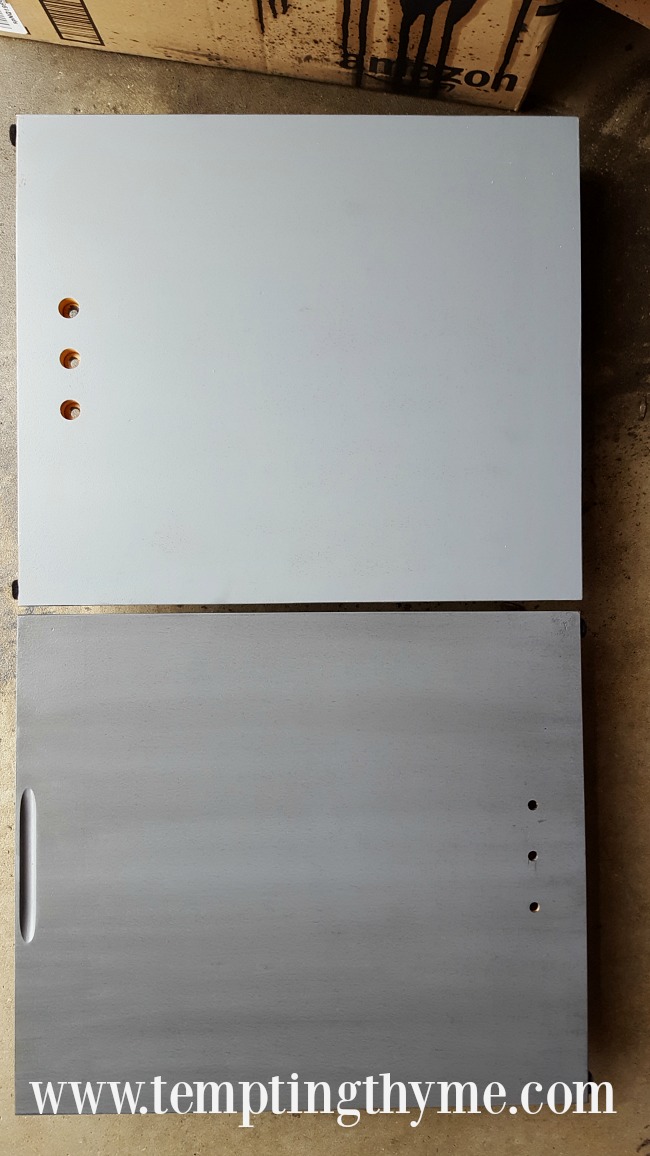 …..but the can of paint was misleading, and it turned into a light shade of grey with A LOT of blue in it.  Without buying another can of paint, I thought I could turn it around with a little black stain over it…..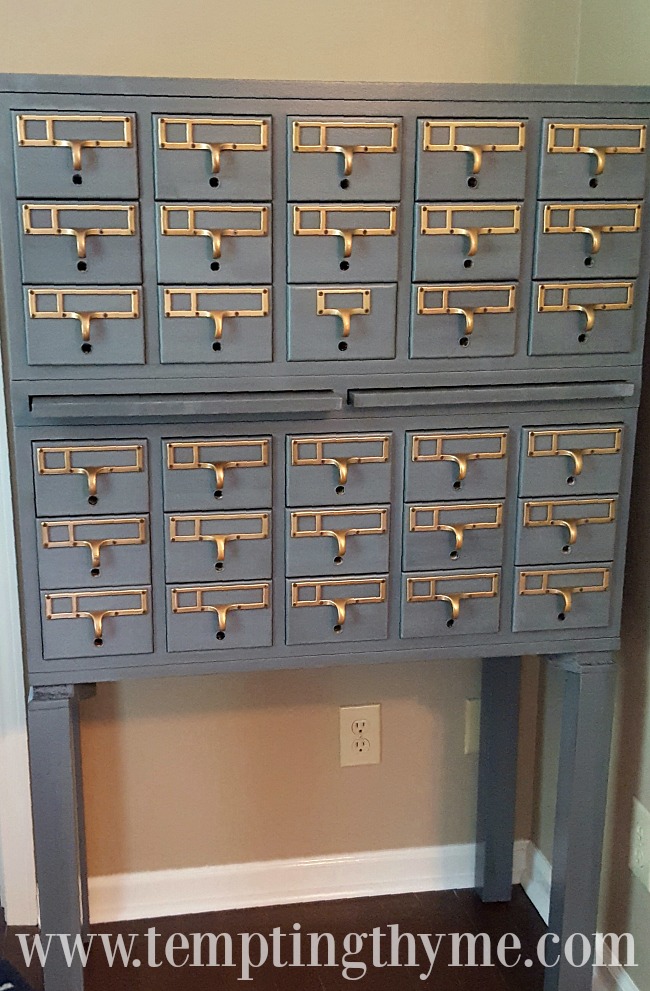 Still looks very much blue, but for now it is done!  I stored it in our bedroom over the summer, but it is currently in its proper home….full of bling and bobbles!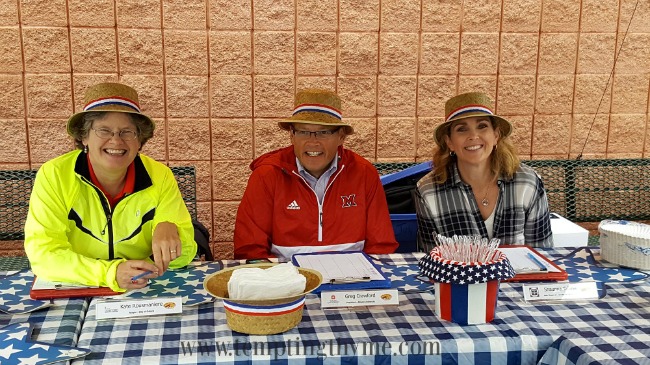 City of Oxford had their annual Fourth of July festivities, and I had the honor of being asked to judge the pie contest. 
I was in good company with our mayor and MU's newest President!
BTW…..the triple berry pie won hands down!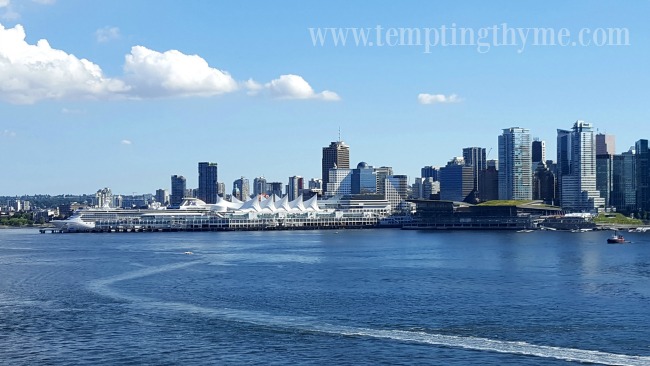 We joined my family on a cruise to Alaska.  Adults only, and the first time that we have left K all by his lonesome at home…
We started and ended the trip in Vancouver….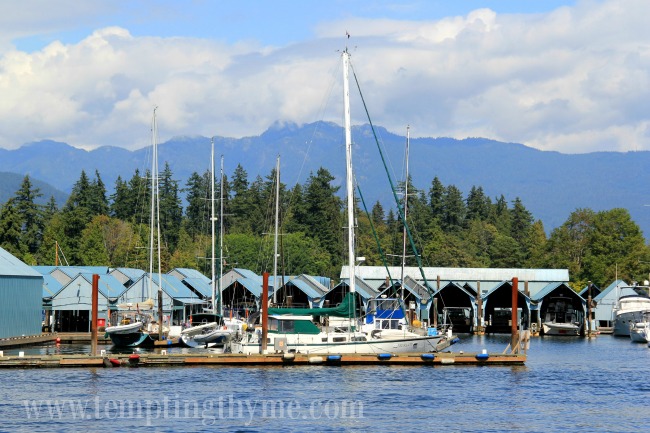 I fell in love with this city, and could easily see myself living here. If only!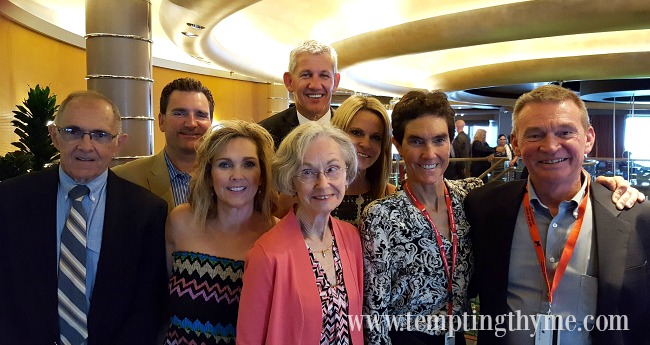 I didn't know what to expect on a cruise, but I do know that I wasn't expecting to see the awesome beauty of the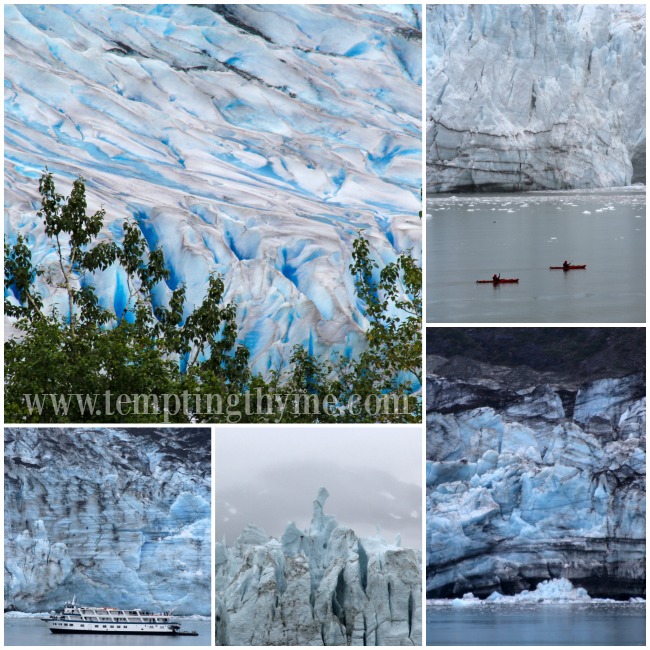 glaciers.  PT and I took a hike through the hills to see the Medenhall Glacier on our stop in Juneau.
The above photos were taken when the ship took a day trip through Glacier Bay.  It was amazing to see a couple of pieces break off and land in the water, but sad also…..as with each piece that breaks away brings the glaciers one step closer to being gone!
Yes, that really is 2 people kayaking in the freezing cold……
We also took a hike on our stop in Skagway, walking on the Chilkoot trail and then taking a leisurely float down the Taiya river back to our van…..but chose to just walk the streets of Ketchikan on our stop in this quaint town!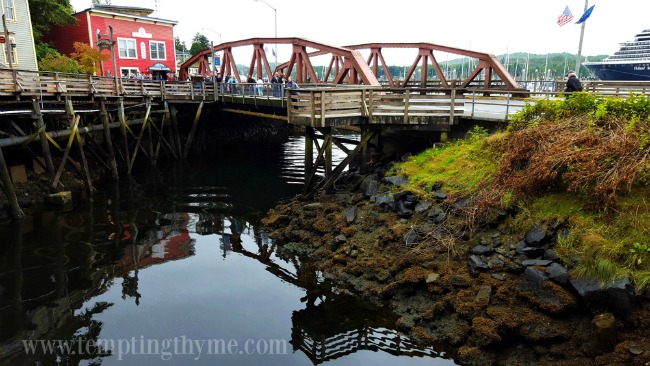 Not only were we celebrating (late) my brother in law's 60th birthday, PT's 50th birthday, and my father finally retiring from Notre Dame; but my sister's engagement, and (early) my parent's upcoming 55th wedding anniversary and our 25th anniversary!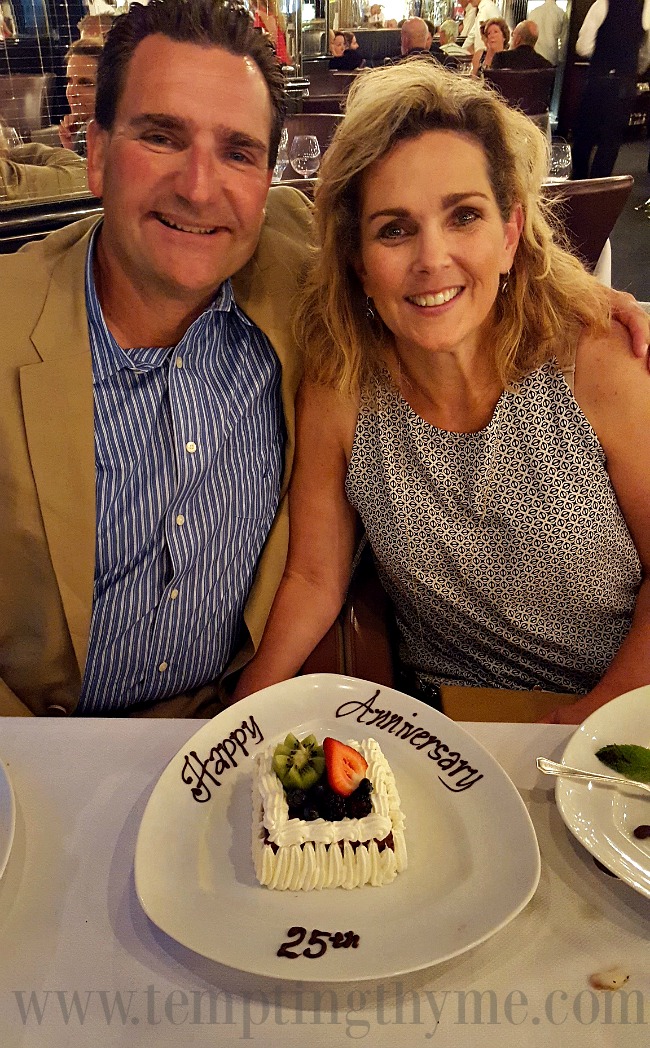 My highlight….spending time with the family that some I rarely get to see! 
I am sure PT's highlight, if you asked him, would be the personal session he had with the illusionist Leon Etienne and his assistant Chelsea.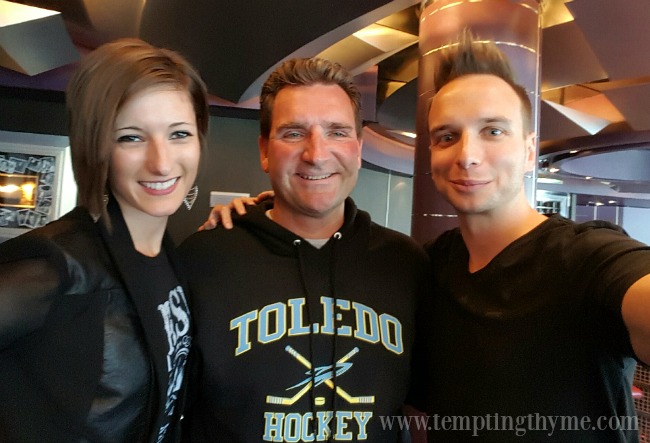 For all of you who watch America's Got Talent, you might remember these two from a few years back!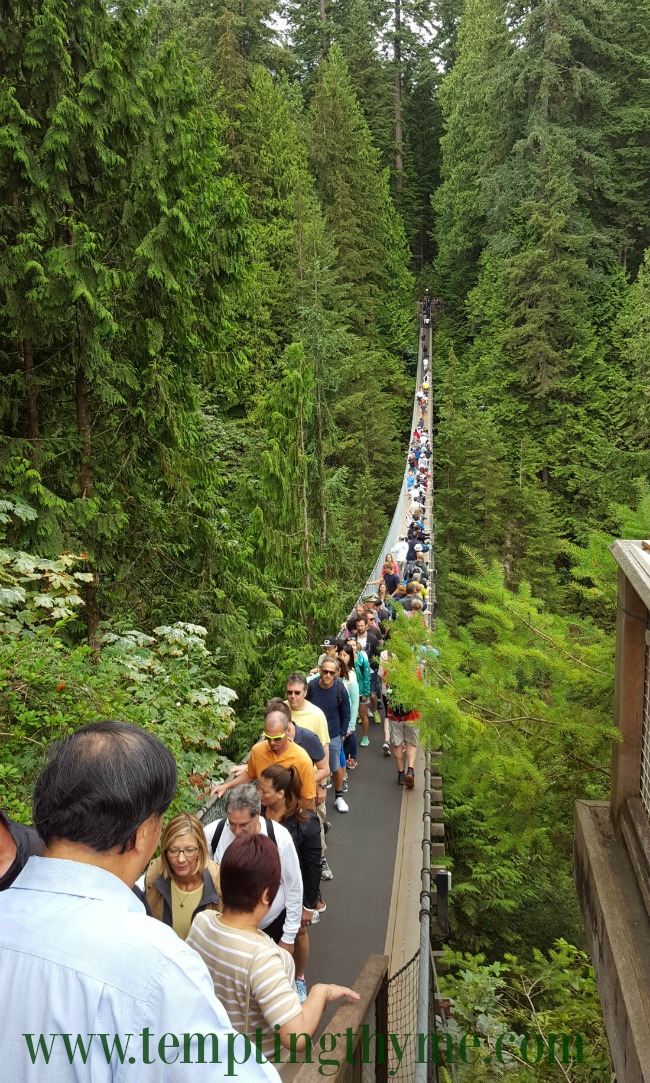 PT and I spent a day on the tail end of the trip back in Vancouver. 
I had a bee in my bonnet that I wanted to walk the Capilano Suspension Bridge (yes, it is as long as it looks, and really, really high up) and walk in the treetops in the surrounding park!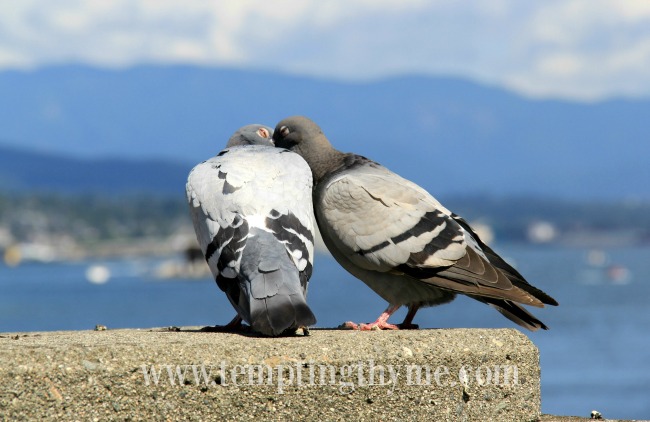 So glad our final day was gorgeous, as our flight was not leaving until late at night. 
I captured what I will call the "lovebirds" on our stroll around the city.  I have an entire series of these 2…..but did not want to bore you…….
I have a new appreciation for birds after this trip!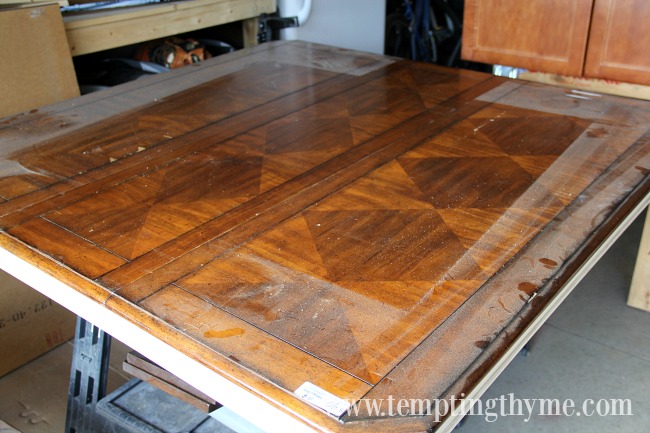 Remember that table top that I bought a few years back at the ReStore?  The one with no legs, but gorgeous diamond inlay pattern!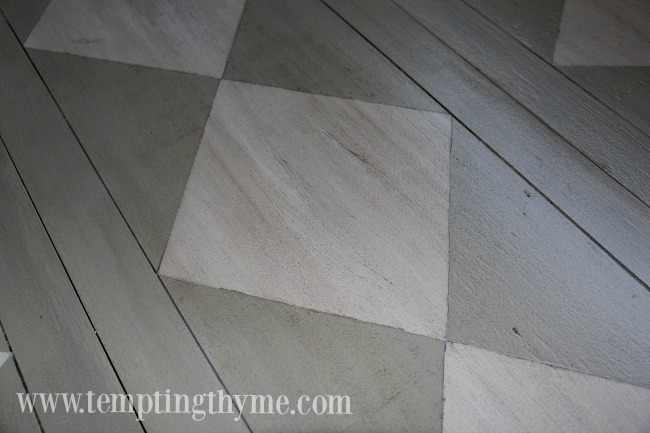 Finally took the time to refinish it!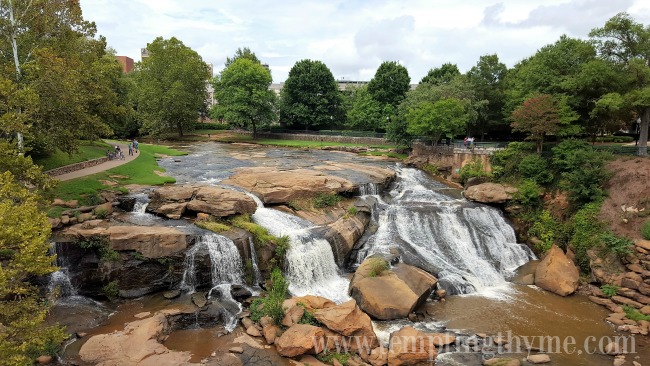 My sister got married in August, and the boys and I headed down to Greenville, SC ….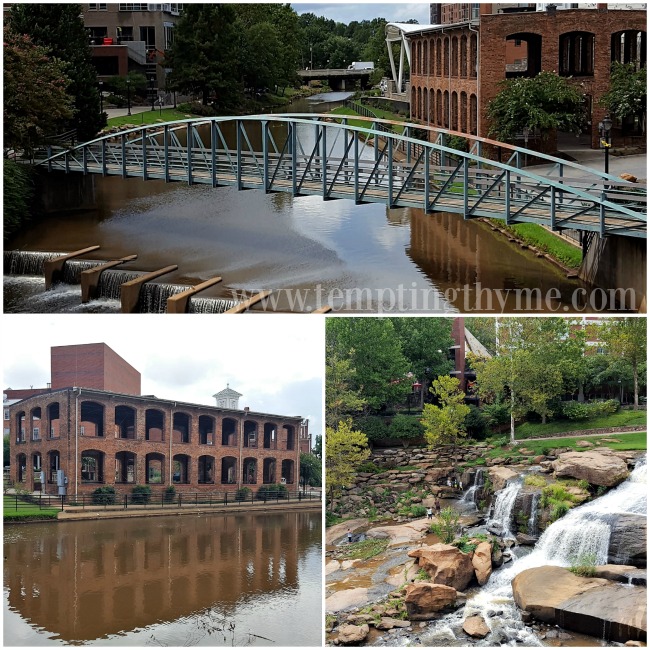 ……and I fell in love with another city! 😉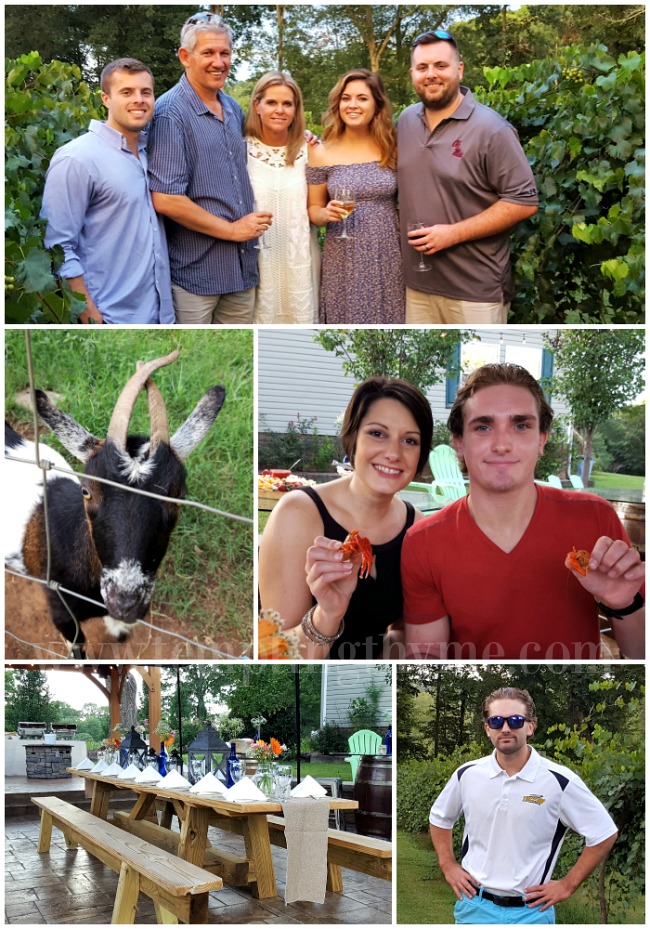 The rehearsal dinner was held at a local vineyard! 
K tried crawfish for the first time, I found my future daughter in law, AND I got to hold this cute little pig……..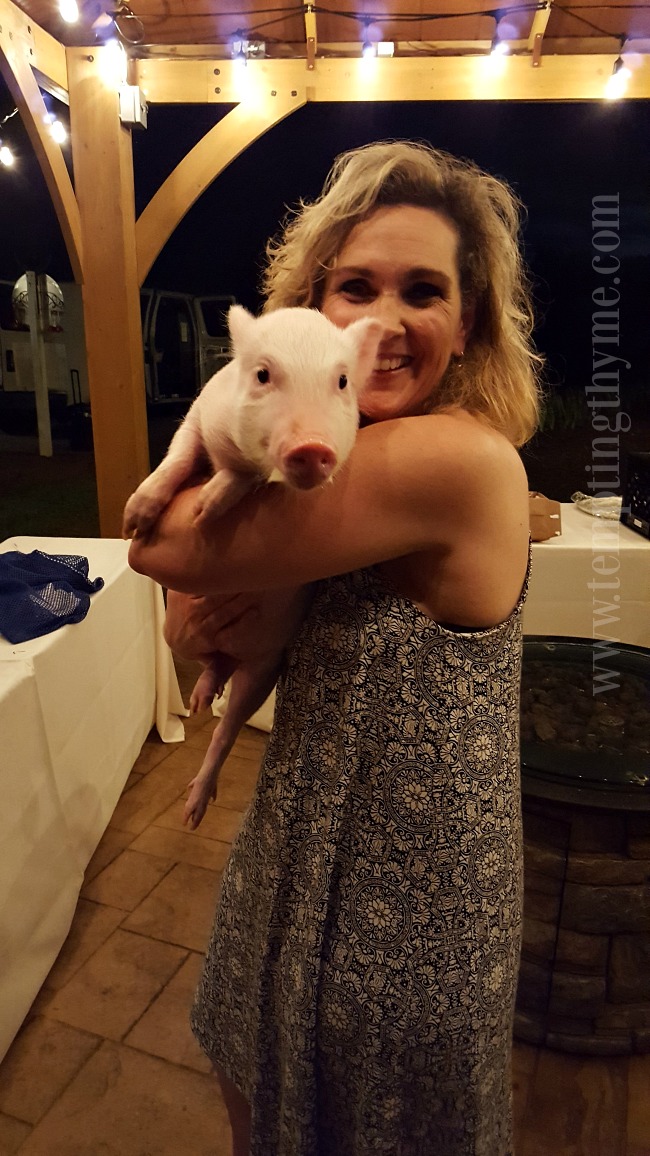 …..named Pinot!    Don't you love a winery that has its own pig??!
BTW…… these shots are from my Android phone…..so please excuse the quality!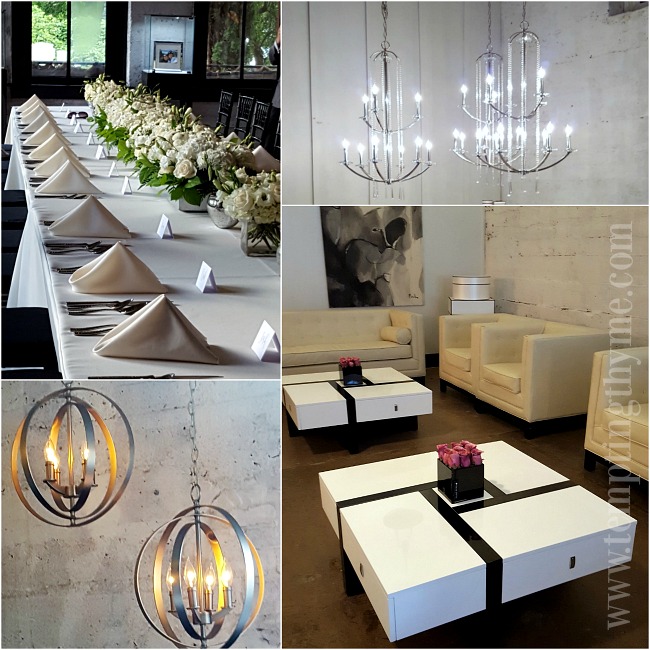 The reception was held at Venue at Postcards from Paris.  Design store at street level……restored vintage room below overlooking the Falls Park on Reedy!  Perfect setting for this intimate occasion!
Just a few photos capturing the day…….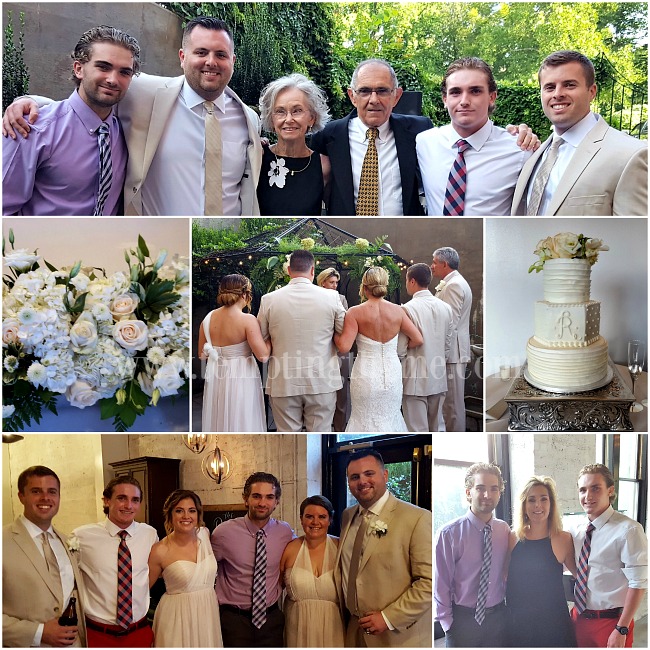 So glad that we made the trip down to share in her special day!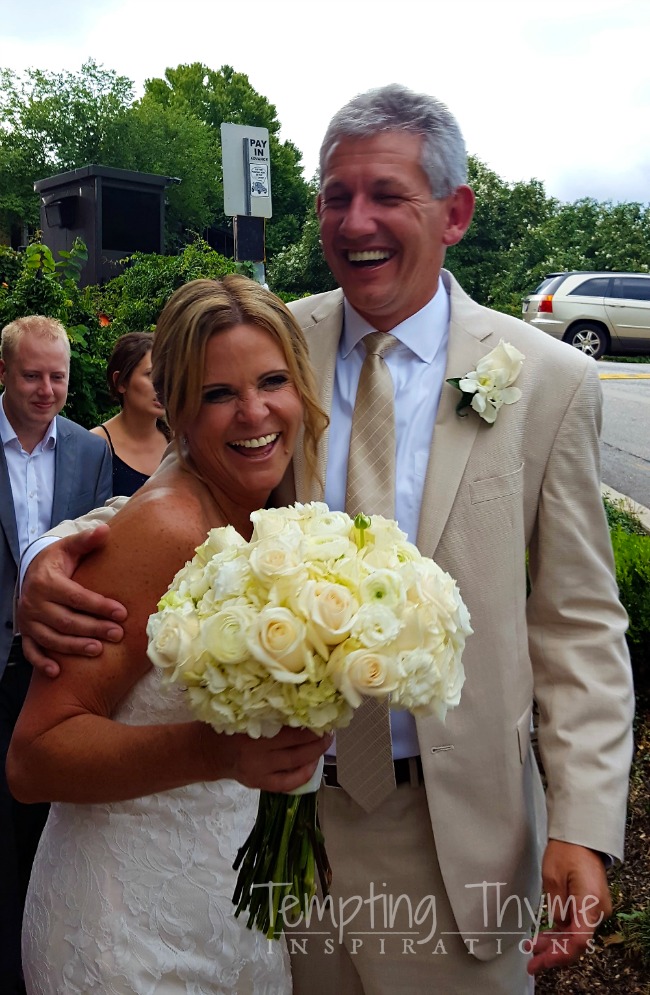 Welcome to the family Klaus!
We capped the visit by spending the afternoon with PT's brother, niece and nephew.  So glad they ventured up from Atlanta for a quick trip between cousins!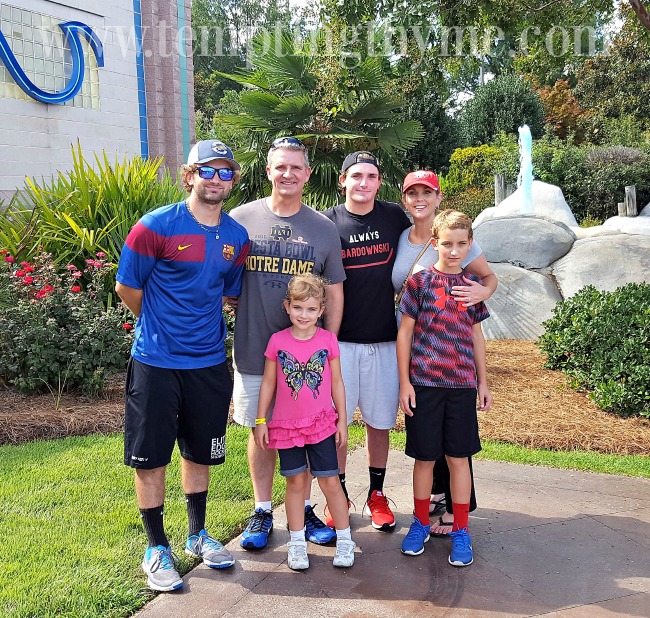 The day after we got back home, it was time to load up the cars and bring the boys to start their year at Toledo.  Just as I did with B, I tucked a little note away for K to find at some point in time in his desk drawer.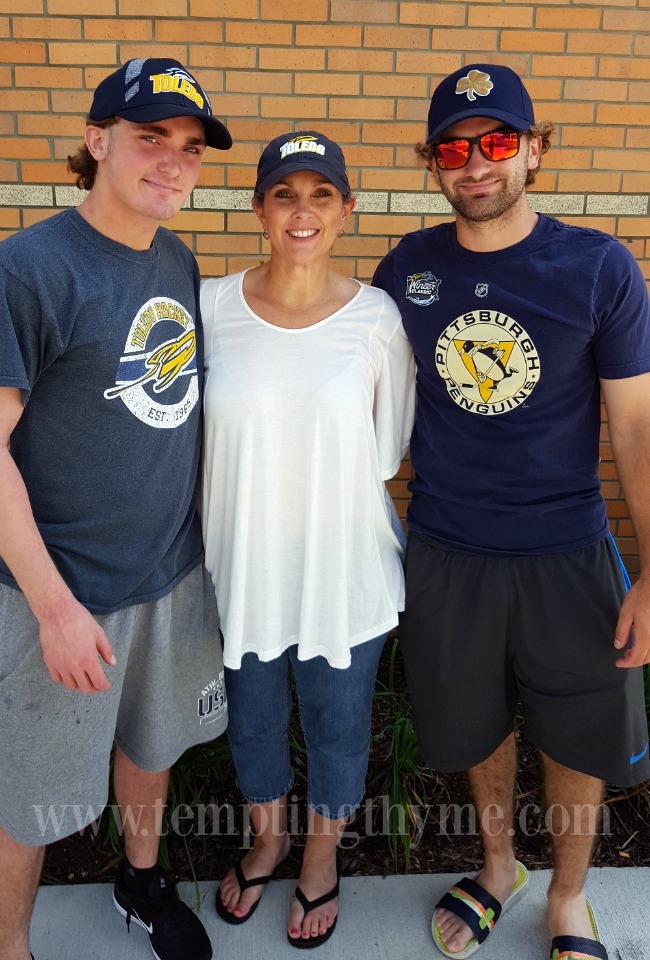 If you want to write a letter to your child on this monumental occasion, but are at a loss for words…….you can check out my two here and here. 
They are not perfect! 
I could have said a lot more, and possibly a little less; but it was what I was feeling at the time.  They may, or may not, give you the start you need for your own letter!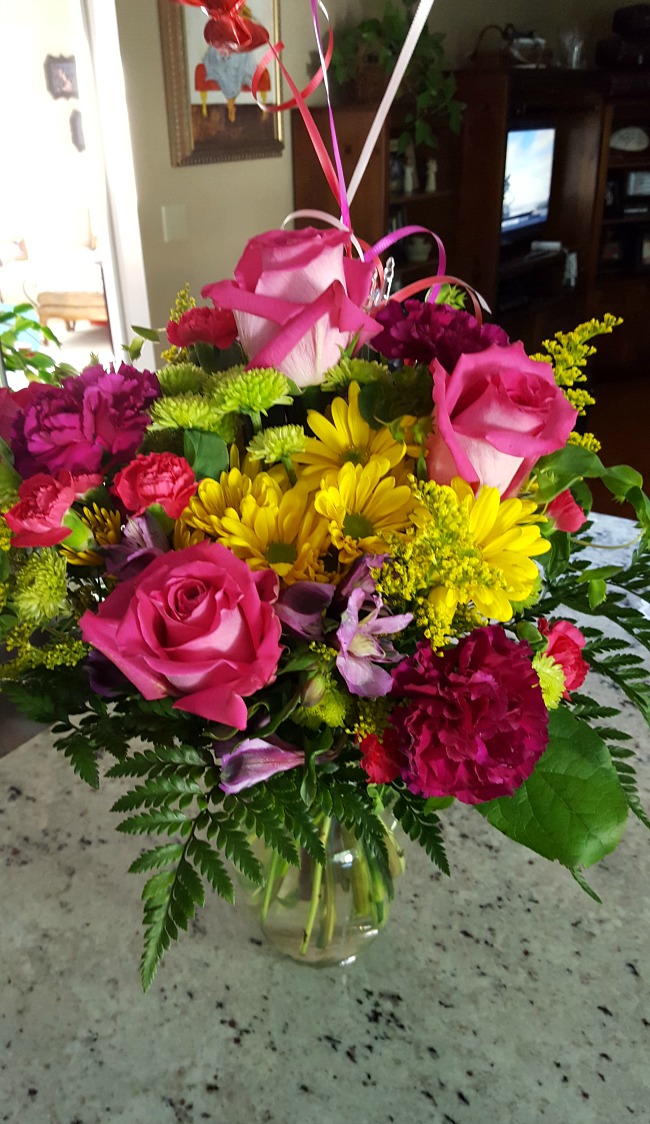 Our 25th anniversary finally did arrive, and PT surprised me with these gorgeous flowers at work! 
He knows that I am not a fan of spending money on luxuries that die so quickly……..but I am kind of glad he didn't listen to me this time around!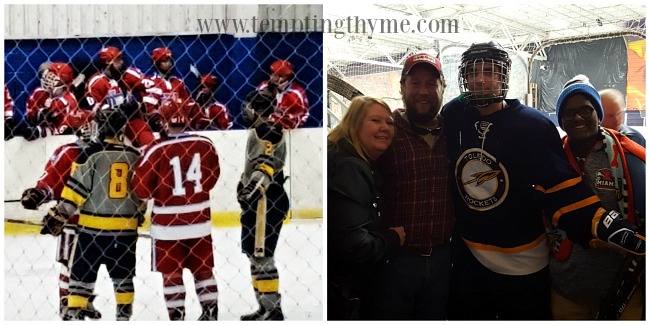 Our kids may be out of the nest, but we are still seeing them tons…….they are just on the ice playing for their school versus tucked safely under our roof! 
Love getting to watch them play the sport they love, especially when they play Universities so close to us.  K played against Xavier a couple of weekends ago, and had his own little fan club show up!  Gotta love friends who have nothing better to do on a Saturday!! 😉
I didn't know what to expect with this whole 'empty nest syndrome' that people talk about.  Can't say that I like or dislike it…..it's just different!
If you made it this far, I am impressed!  I think I will sit back down and let the next kid have a turn…….
                                        Shaunna