I hope you are all ready for a great week ahead!
I actually had to change that from, "I hope you all had a great week"!  Started this post last week, and never got around to finishing it up….story of my life!! 😉

I finally had to go back to work last Monday…… 
I know you feel my pain!!   😉
I was off for almost 2 weeks…..YEAH……with the true highlights being the All-Star game in Cincinnati and visiting with my parents last weekend!! 
All activities in between the pages of these two book ends include lots and lots of puttering around the house, wrapping up a few projects….but mostly just dabbling in others getting nothing accomplished!!!
So, I was actually thankful to be back at work.  I am much more organized when I am working and in 'task oriented' mode! 
I have to be….or NOTHING gets done! 
Kind of like when I am on a stay-cation!!  LOL! 😉
Today I am going to quickly show you how I used my new BFF to make some cool #industrial pipe shelves for our kitchen.  Here is what it looked like before I moved the iron shelf to the half bath down the hall.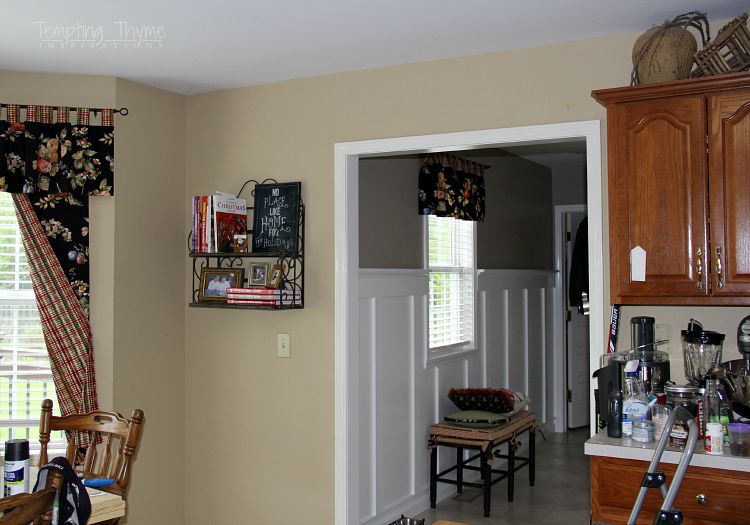 Yep, I did this project when I was still hemming and hawing on the best paint color for the kitchen cabinets.  If you missed that post, you can catch it HERE!
Notice all of the crap on the counter tops?  Definitely keeping it real with you all!!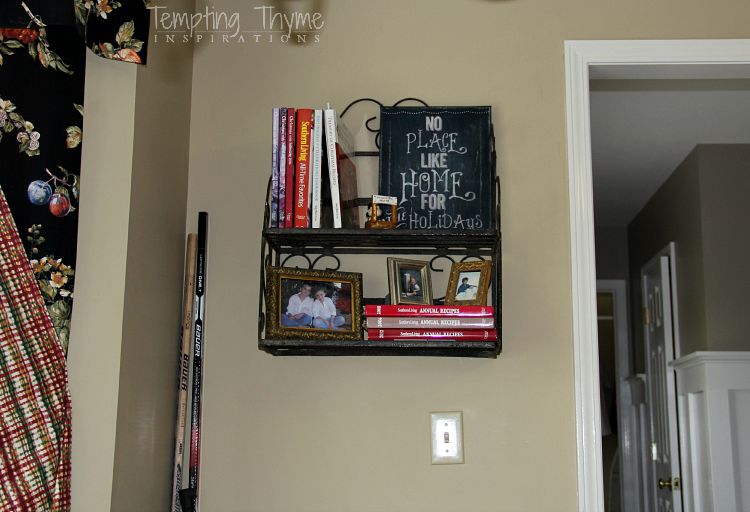 Here is another shot while sitting at the kitchen table.   To answer the two questions I know you are asking right now……
Yes, we always seem to have hockey sticks everywhere in our house!
Yes, you really do see a holiday sign on the top shelf!  How did I forget to take it down??!!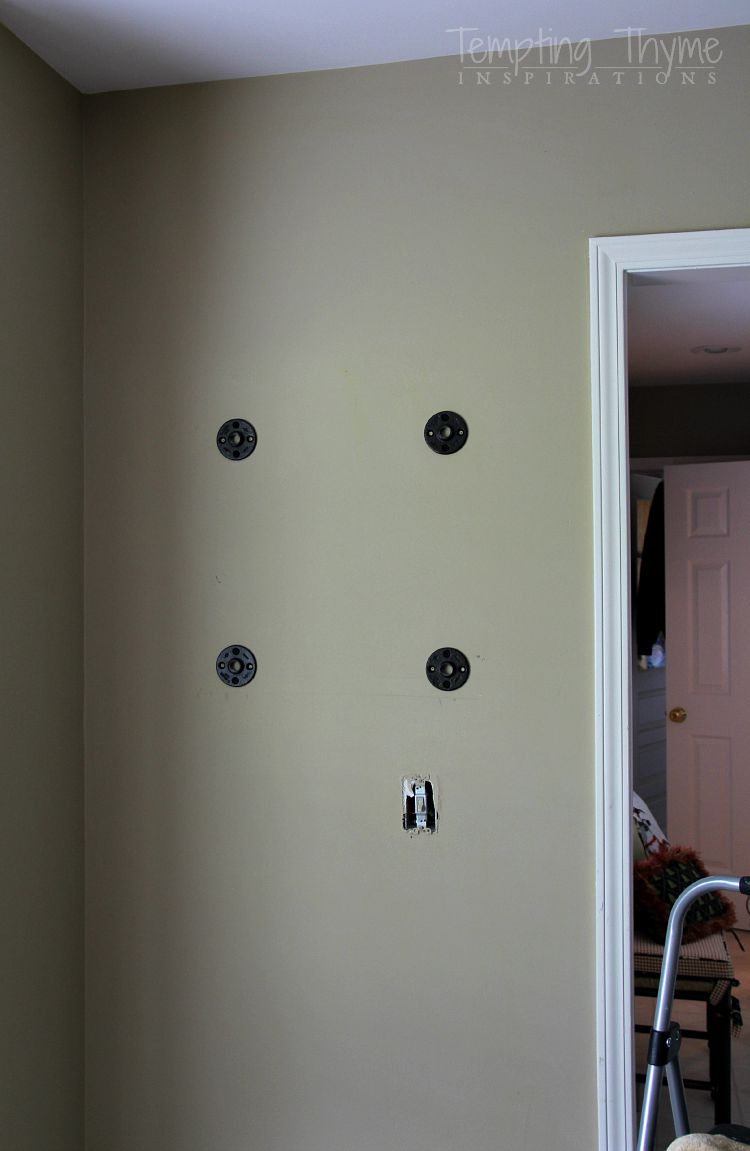 These industrial pipe shelves were super easy to put together.  There was nothing wrong with the iron shelf that has been here 'forever', I just wanted to get a little more organized with our mail, and the shelves were iron slats and not very deep. 
It was driving me nuts having the mail pile up on the counter tops, giving it the illusion of being even more cluttered! 
Keep your comments to yourself PT!!
Actually, now that I think about it…….wouldn't it be a hoot to have a post from the 'other side'.  I wonder if I could convince PT to jump on in sometime soon??
Back to the industrial shelves!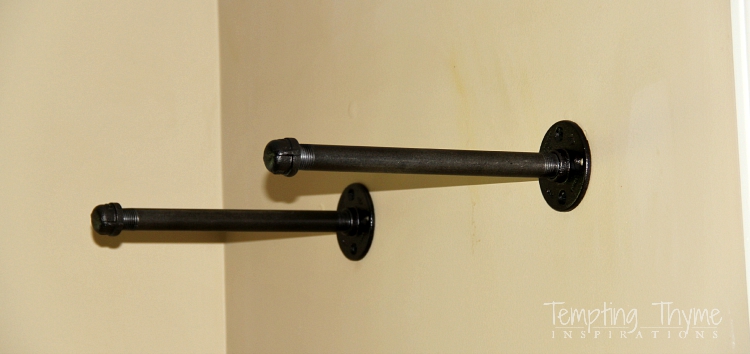 I am thinking I might want to do a built in desk down the line, so I only used the upper half of the wall.  
I used a level to establish the drill lines for each shelf.  It would be the worst to have an uneven shelf, right?!
I screwed in the four flanges, and then added in the 10″ pipe fitting and pipe cap.  I used 1/2″ this go around to give them more weight and support compared to this project…..
If you cannot find a stud to sink the wood screw into, then you will also need to use a few wall anchors to help support the flange and shelf.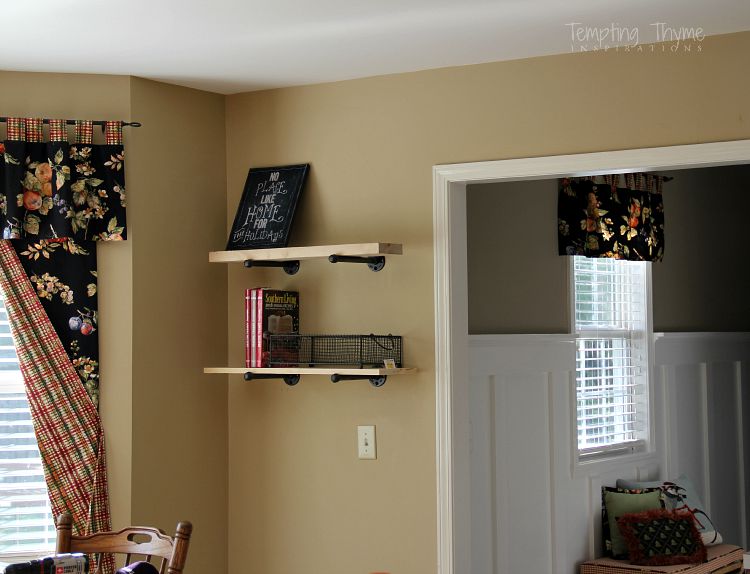 I did a test run to see what depth we preferred for our shelf.  See the little metal basket on the lower shelf?  That will be the dumping zone for all incoming mail until it can be sorted. 
What I learned during the test run is that the wire basket was a little too wide to fit within the 10″ pipe fittings.  Bummer!!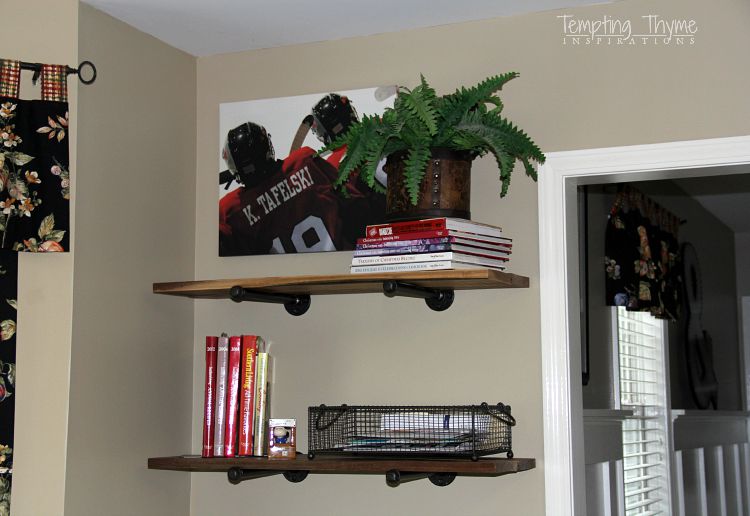 Back to Lowe's to pick up some 12″ pipes! 
I also gathered up the leftover wood from the industrial sofa table project, as the color would be perfect for this area. 
I didn't stain it, just gave it a good sanding and sealed it with a quick drying poly.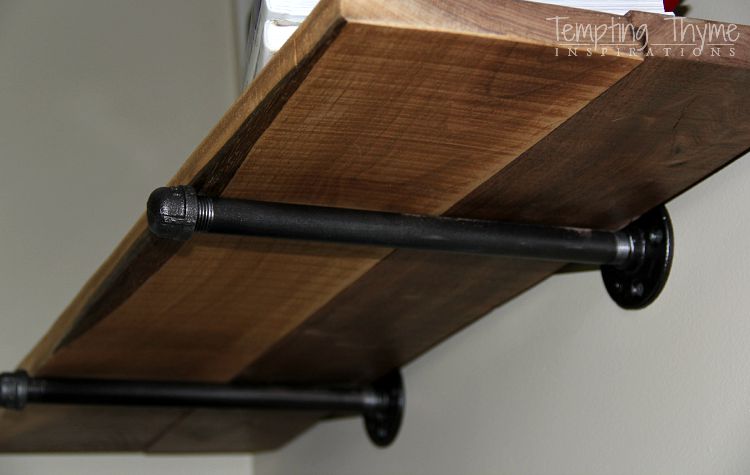 I don't know if these items will stay on the shelves.  Basically just used the same cookbooks that were on the previous shelf and then pulled in some other items from around the house.  It will do for now!!
The shadow you see at the top is from our kitchen chandelier.  I think I need to raise it up a bit, OR find a new home for it……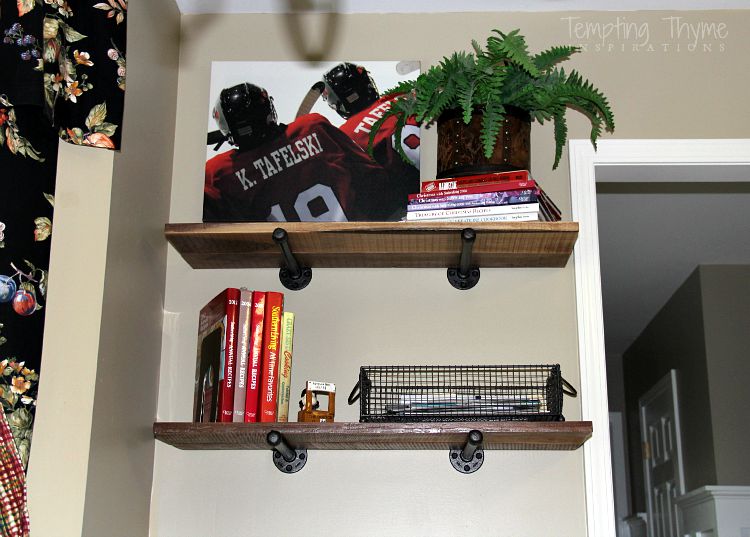 To remind you what it looked like before…….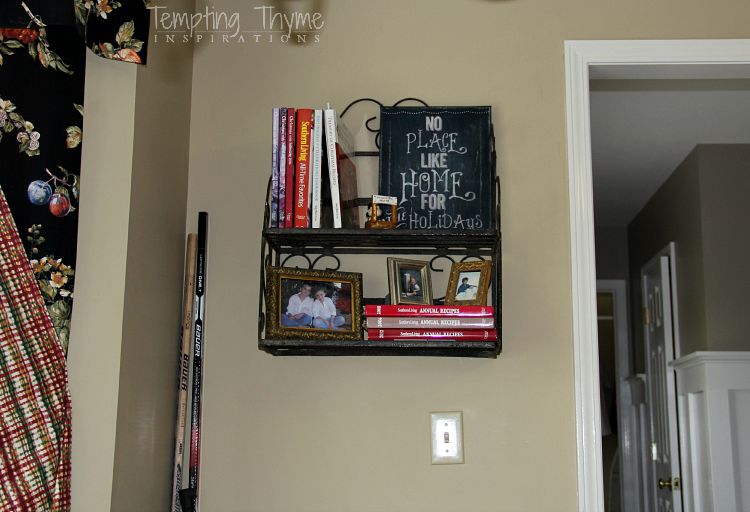 I love the small difference it makes in this space.  I also love having a landing spot for all of our mail.  When it gets full (at least once a week), I know that it is time to get it down, pay the bills and sort through all of the junk mail!  😉
What is even better?  PT likes it also!!
Material Used:
4 – 1/2″ Floor Flange

4 – 1/2″ 12″ Pipe Fittings

4 – 1/2″ Pipe Caps

16 Wood Screws
Have you made anything with pipe fittings yet?  What did you make??
Do you love or hate the #industrial craze that is spreading around the internet?
                                 Shaunna