I know you have all seen these Oreo Truffles everywhere ….. on the internet …… at your friends houses'…… and have probably even made them countless times in your own home.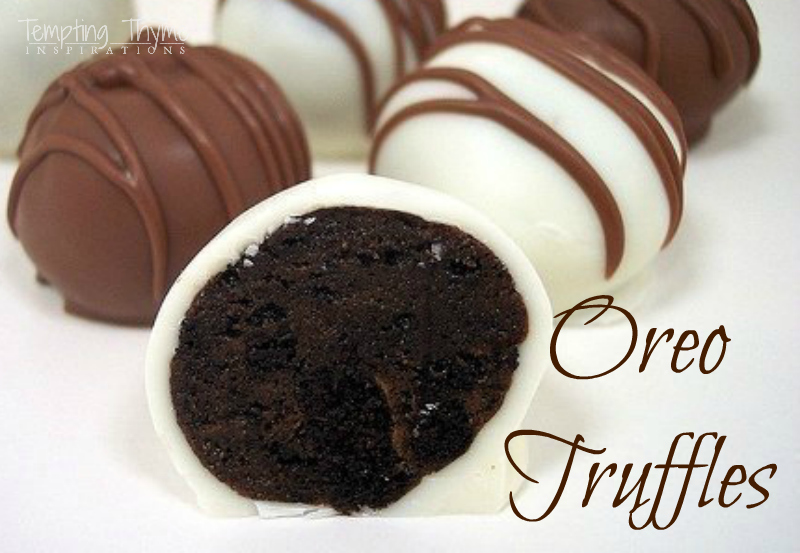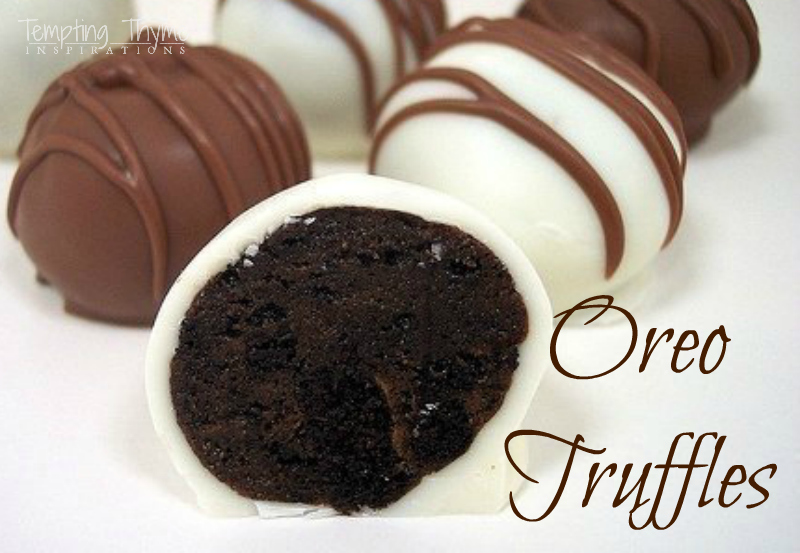 I couldn't resist posting this recipe!  Not only does it fit right into my upcoming weekend plans, but ultimately this blog is the treasure chest of recipes for my kids someday.  What is on our docket for the weekend?  I know you are dying to ask! Hockey, of course!  
When I think of all the wonderful vacations we could take as a family if only the boys didn't play hockey!  Okay….never mind, I will only depress myself.  Besides, as PT loves to say…..hockey is what we do!  Someday those vacations will happen.  In the meantime, I will be attending lots of hockey games, dressing warmly in cute hats, scarves and gloves and dreaming of sunning on a warm beach with my toes buried in the sand.  Ahhhh!
Seriously got sidetracked!  One of those nights, I guess.  I will blame Rudy for chewing up PT's glasses last night!  Totally set us up for a strange 24 hours……please remind me why we needed a puppy?  Geeez….

Let's get back to hockey!  We are heading up to Bowling Green with K's team, and as that is only 20 miles from Toledo we are going to get to see B play as well.  Yippee!  The angels were really looking out for us this weekend, as we will get to bounce between the 2 boys and see both their games. 
How are Oreo Truffles and hockey related?    Because we were introduced to these dark, decadent beauties more than 2 years ago at one of our many hockey trip's.    One of the other mom's brought these to share for one of the many late evenings gathered in the lobby, watching whatever important game is on tv, unwinding with the other parents after a full day of watching youth hockey.  I did not have the pleasure of attending that weekend…..I was off with K's team (those of you with kids in multiple sports know the routine well, splitting up the sports and then swapping out the next weekend), but I heard soooo much about the Oreo Truffles that I had to get the recipe. 
Who knew they were going to be so quick and EASY to make.  You can have these done in less than 2 hours.  Perfect for those last minute guests that arrive on your doorstep.  They are also perfect for the upcoming holiday season!  You know you are going to have countless parties and get togethers to attend…….why not package the Oreo Truffles up as a Hostess Gift? I know I would love to receive these tempting bite size treats from my family and friends!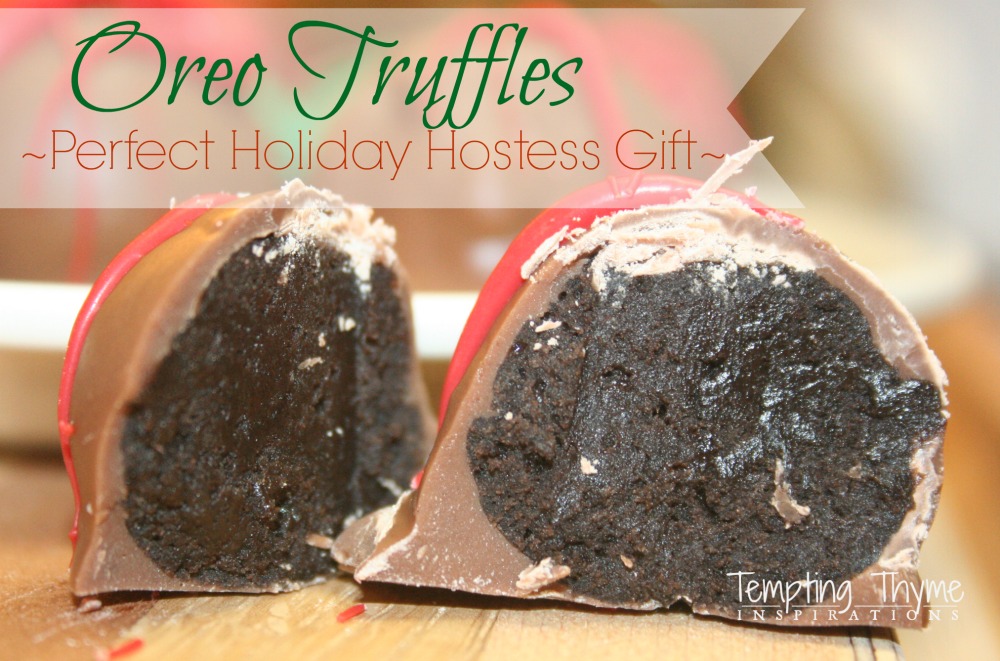 Almost forgot……….I want to thank Brenda for introducing us to Oreo Truffles.  They are definitely a favorite recipe in our household!
Have you made Oreo Truffles yet? 
                               

Shaunna
Oreo Truffles

Ingredients:                               Click here for a PRINTABLE RECIPE         

1 pkg (8oz) Neufchatel Cream Cheese (light cream cheese)

36 Oreo Cookies, finely crushed (about 3 cups)

24 oz Vanilla or Chocolate Almond Bark, melted
Directions:
Crush Oreo cookies in food processor.  Add cream cheese, blending until fully combined.  If you don't have a food processor, you can crush the Oreo's using a plastic bag and a rolling pin.  Place the crumbs in a medium bowl and add in the cream cheese; mixing until well blended.  Roll cookie mixture into 45-50 balls, about 1 inch in diameter.  I find it easier to use 1 Tbsp of mixture per ball.  Place each one on a parchment lined cookie sheet.

Place cookie sheet in freezer for 10-15 minutes.  While they are in the freezer, melt the chocolate in a double boiler.  Remove the balls from the freezer, and dip each one in the melted chocolate; place on another parchment lined cookie sheet.  Sprinkle with additional Oreo crumbs if desired. 

Refrigerate for 1 hour or until firm.  Store leftover truffles, covered, in the refrigerator for up to 7 days.
Other Tempting Truffle and Cake Ball Recipes: