We are almost a month into the New Year, and I know all of you are being so good on your New Year's Resolution's….. =) 
Or are you????     
Have you fallen off the wagon already?     That was my problem for much of my life!  I would make these grand declarations, only to fall off the wagon a few weeks in ….. discouraged…… I would throw in the towel…… even when 7/8 of the year was still in front of me!  Please tell me there are others out there that did this as well?  Don't leave me hanging, thinking I am the only basket case, who plays mental games with oneself?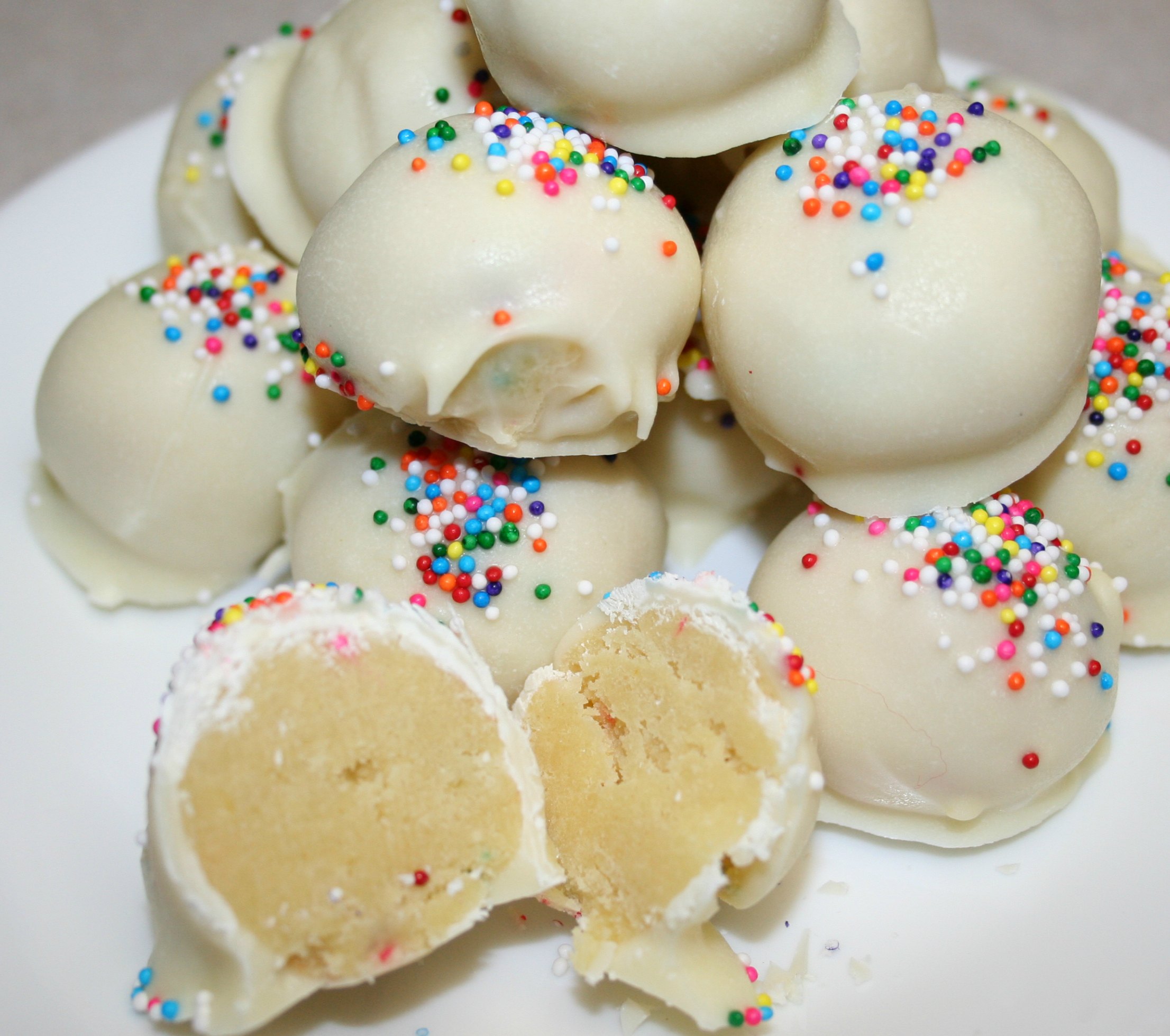 Which is the biggest reason why I didn't make any Resolution's this year, but instead concentrating on one word  ~  HEALTH! I will admit, it is slow going, and actually took me two weeks to get in the swing of things.  I was back on the Juicing, drinking it twice a day…..starting to feel in my groove again……and then BAM! …. had to deal with a sinus and double ear infection!  Not my child!  ME!  I haven't had a double whammy like that in years.  Thankfully, I am on the mend, and planning great things for the upcoming months to come!
Cake Batter Truffles!  You are going to love these, and there is absolutely no baking involved.  Much less labor intensive than my first love……Cake Pops, but just as good.  Actually, I will admit, these beauties are so rich….you will actually be satisfied by just eating one.  Don't shake your head and laugh!  I am being totally serious with that last statement!  Still laughing?  Prove me wrong, and make these yourself!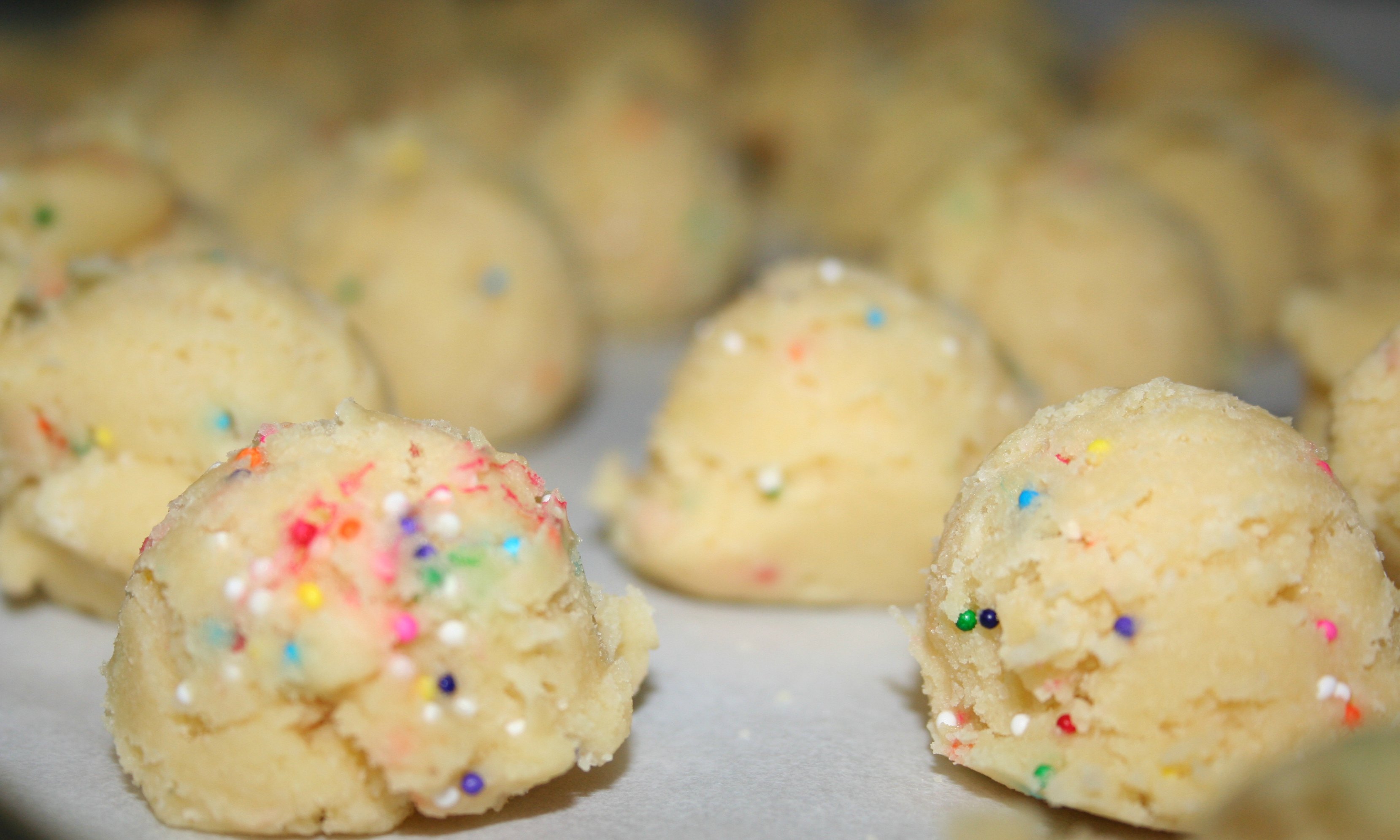 Cake Batter Truffles fit perfectly with my Word of the Year!  Health is not about depriving myself of the things that I love!  It is about introducing new activities and ideas into my life to make my body more balanced.  Which is why I am comfortable making sweet treats (plus I have two teenagers, and all of their friends to act as taste testers)!  Cake Batter Truffles are perfectly portioned, and I swear that your sweet tooth will be satisfied with just one.  Now, that doesn't mean that you won't eat one for breakfast……one for lunch….followed by a third for dinner!  What I do believe is you will be able to walk away after eating 1, instead of sitting around the table eating 5 or more, resulting in a sugar coma you will not recover from for the rest of the day.  Everything in moderation, right?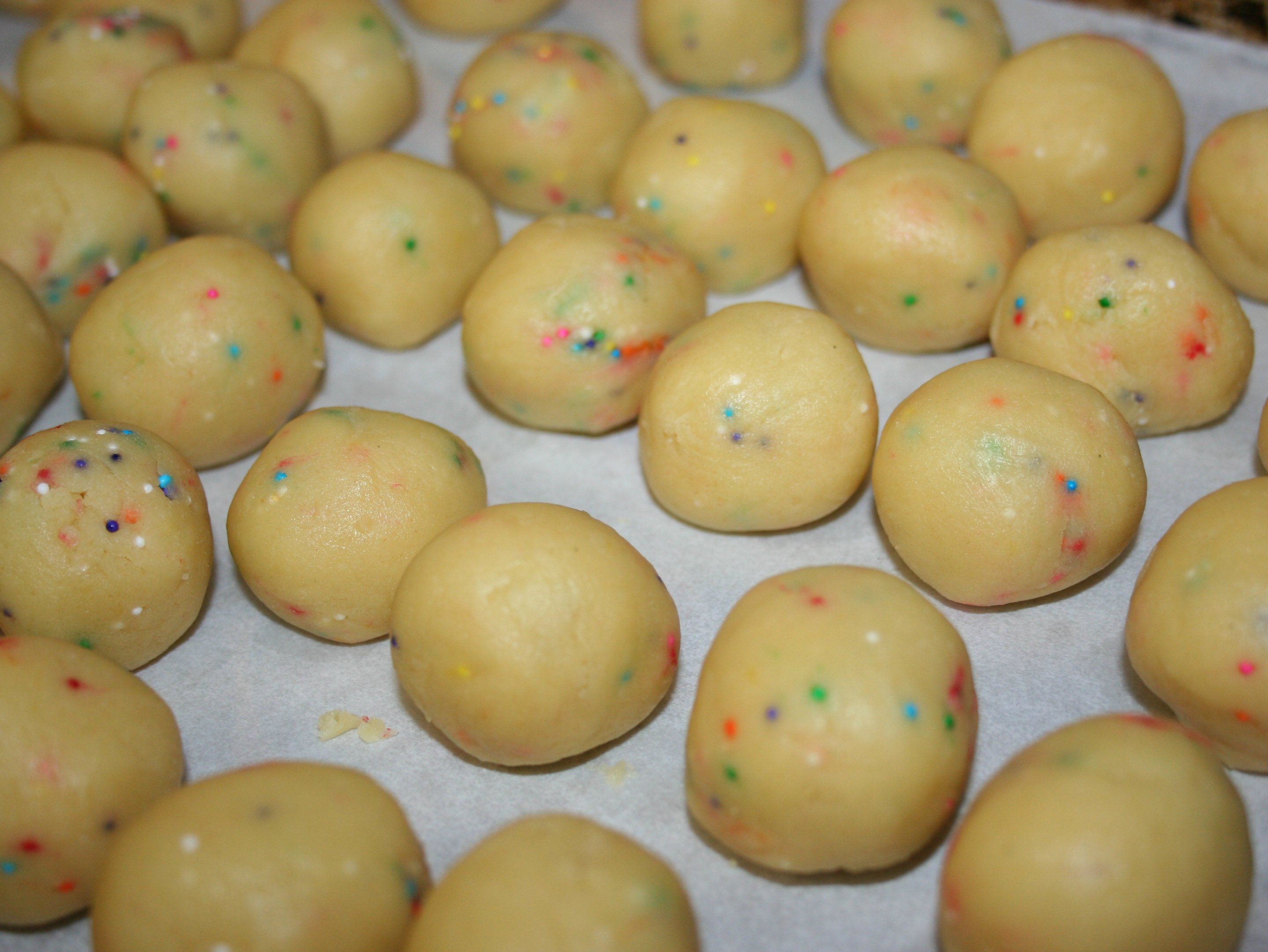 I initially found this recipe over at Chef in Training and The Girl Who Ate Everything, but had to make a few tweaks to it for my own liking and taste buds.  In their recipes, it called for only a cup of the cake mix.  I really didn't want 2/3 of a cake mix sitting around, so I increased the cake mix, and adjusted a few of the other ingredients as well.  I also didn't put any cake mix in the melted almond bark.  This would have thickened the melted chocolate, and I wanted my melted chocolate to stay silky smooth…..even after the 50th truffle was being dipped.
If you are a truffle lover, why don't you check out these awesome Chubby Hubby Truffles?  They will definitely make you stop singing these Winter Blues!
Let me know what you think……and definitely tell me if you couldn't stop at just one???
                                                   

Shaunna
**********UPDATE**********
Big shout out to Emma over at Teapots and Twine.  She lives over in the UK, and wanted to make these for her adorable husband last week.  She took the time to figure out the British equivalent, as they don't use cups…..they utilize the gram system instead.  Check out the recipe below, as I have added the grams in (  ).  Thank you Emma!!!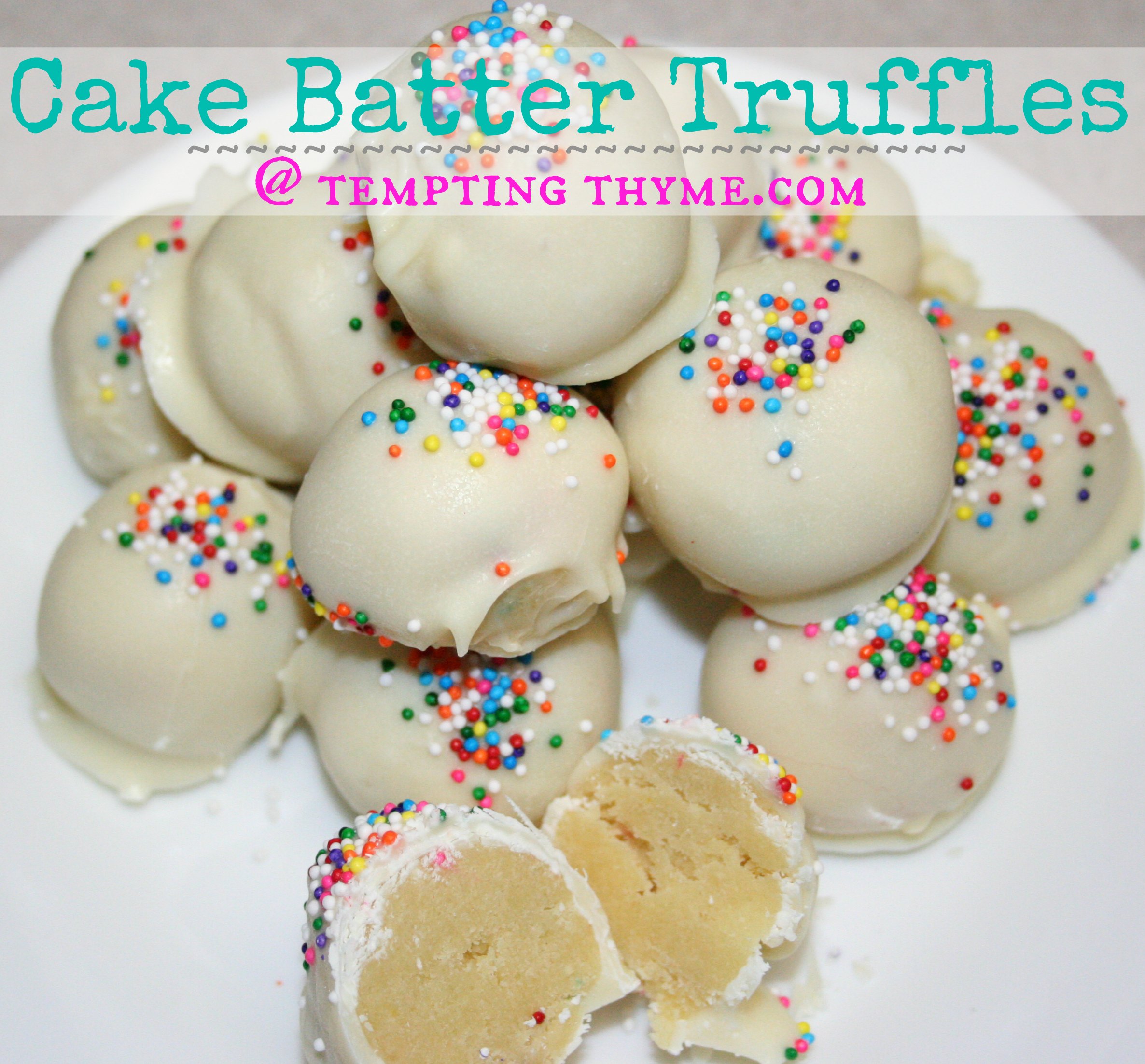 Cake Batter Truffles
Ingredients:
1 cup unsalted butter, softened     

(200g butter)



1 cup sugar                                         

(200g sugar)



2 1/2 cups flour                                 

(375g flour)



1 yellow cake mix                              

(2x packets of sponge cake mix equal to 425g)




2 tsp. vanilla

1/8 tsp. salt

5-7 Tbsp milk

4 Tbsp. sprinkles

24 oz white almond bark or white chocolate 

(680g white chocolate)



Directions:
 Beat together the butter and sugar using an electric mixer until combined.  Add in the cake mix, flour, salt, and vanilla and mix thoroughly.  Add 5 or more Tbsp of milk if needed to make the dough consistent.  Mix in sprinkles by hand.

Roll dough into 1 inch balls and place on parchment lined cookie sheet.  Chill dough balls in the refrigerator for 15 minutes to firm up.

While the dough balls are chilling, in a double boiler melt the almond bark on low, stirring often.  Remove the dough balls from the refrigerator, and using a fork, dip the truffles into almond bark and shake off any excess bark by tapping the bottom of the fork on the side of your bowl.  Place truffle on a 2nd parchment lined baking sheet and top with sprinkles.  Repeat with remaining dough balls until finished.

Chill cake batter truffles in the refrigerator until ready to serve.  Makes 50 Cake Batter Truffles!
You may find Cake Batter Truffles linked up to these great parties……