Okay, I have become a Pinterest addict!  How in the world does anyone get anything done when there is a sea of creativity floating out there on the internet?  It sucked me in hook, line and sinker!  My Boards and my Pins keep increasing minute by minute.  I know that it is the latest craze,but how ingenious of the creator.  People are able to organize their projects in one area.  Way cool!  For me, it is new, it is fresh so I am addicted.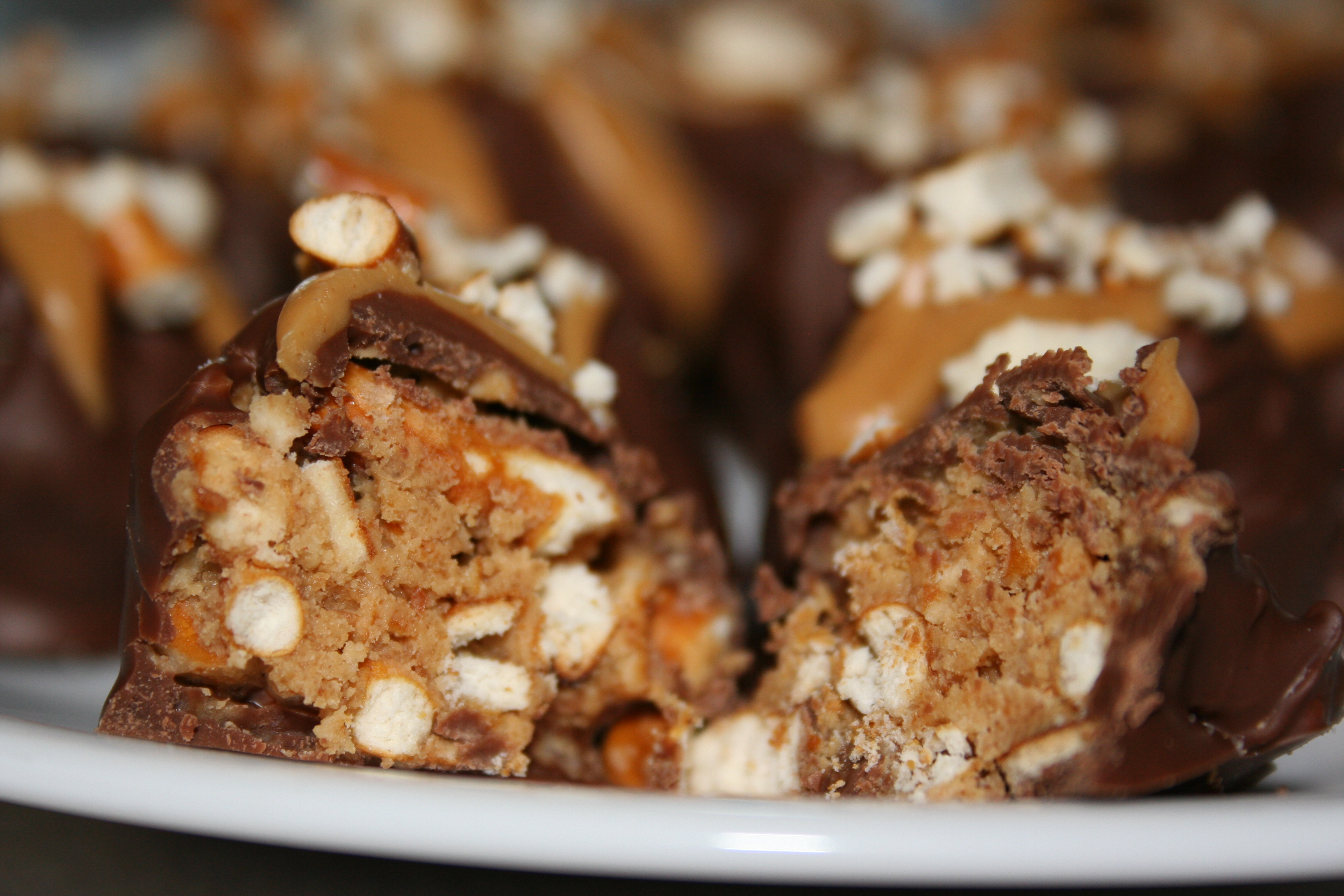 I know that it will come to an end soon…my home is only so big, my pocketbook is taking a serious beating with hockey expenses and college is not too far away.  But while the days are colder/shorter I will stay cozy with my blanket and ponder all the wonderful ideas that I am seeing.  Spring is right around the corner, and I am already compartmentalizing the home projects that I will do.
Not only does Pinterest have decorating ideas, but I have seen some cool looking recipes that I will definitely be trying in the near future.  When I saw the title chubby hubby truffles, I had to try them for a recent super bowl party (I also brought the peanut butter buckeye cupcakes).   Took the leftovers to work, had to get them out of the house!   Enjoy…..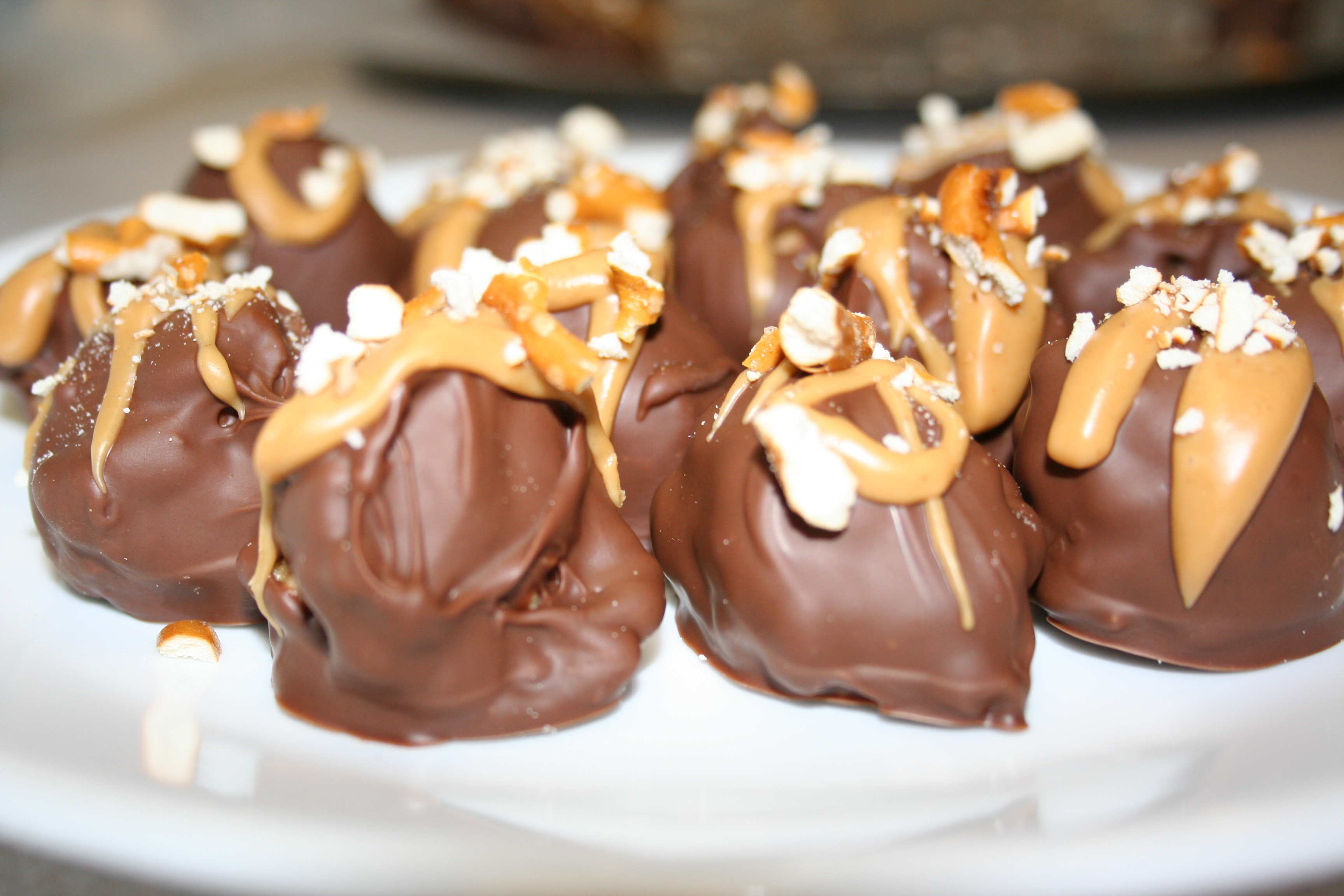 Chubby Hubby  Truffles
Makes:  18 Truffles
Ingredients:
 1 ½ cups pretzel pieces
½ cups creamy peanut butter
1 Tbsp unsalted butter, room temperature
2 Tbsp light brown sugar
Pinch salt
3 Tbsp powdered sugar
1 cup milk chocolate
 Directions:
 Crush the pretzels into small pieces in a resealable plastic bag.
 In a small bowl, combine the peanut butter, butter, brown sugar and salt. Stir until all ingredients are completely blended and smooth. Add the pretzel bits to the peanut butter mixture and mix thoroughly. Add the powdered sugar and mix until completely combined.
 Line a baking sheet with wax paper.  Using a small cookie scoop, or about 2 teaspoons worth of peanut butter mixture, gently shape into a ball with your fingertips. Place the ball on the wax paper lined cookie sheet and repeat with remaining peanut butter mixture (at time I had to dip my fingertips in powdered sugar so mixture wouldn't stick to my fingers). Place baking sheet into refrigerator and chill for at least 30 minutes.
 When ready to dip the truffles, in a double boiler, melt chopped up milk chocolate (if you need to add 1 Tbsp shortening).  Working one at a time, dip truffles into melted chocolate.  Cover completely and remove with fork, tapping any excess off before placing on wax covered sheet. Repeat with all of the peanut butter/pretzel balls.
 Return the baking sheet to the refrigerator and again chill for at least 30 minutes. Garnish with a drizzle of melted peanut butter and crushed pretzel, if desired.  Store in airtight container in the refrigerator.
 Source:  Six Sister's Stuff

**REVIEW**
I thought they were very rich, couldn't eat more than one or two at a time…might be a good thing for my waistline, HA!  They reminded me of the rendition of the Take Five candy bar I made for xmas last year, without the caramel.  I made those with a figure eight pretzel, homemade peanut butter butter filling (peanut butter, powdered sugar), drizzled caramel topping on top and then gave it a chocolate bath.  When I make these truffles again, I will be adding in some caramel, whether it be homemade or the caramel bits you can now buy is yet to be determined.