I sure wish I had one of these yummy Cookies and Cream Cake Balls for breakfast this morning!  Oh, don't give me that…… you know very well that if you dig deep that you will admit to eating something decadent and sweet for breakfast!  Oh, and remember all those mornings eating pizza?  Eating a cake ball, or two for breakfast is no worse than eating cold pizza!  At least in my mind!  And that is what matters right?  My mind, and my cravings!  Okay, okay…..I know that we should all be eating something like this, and this, and even this.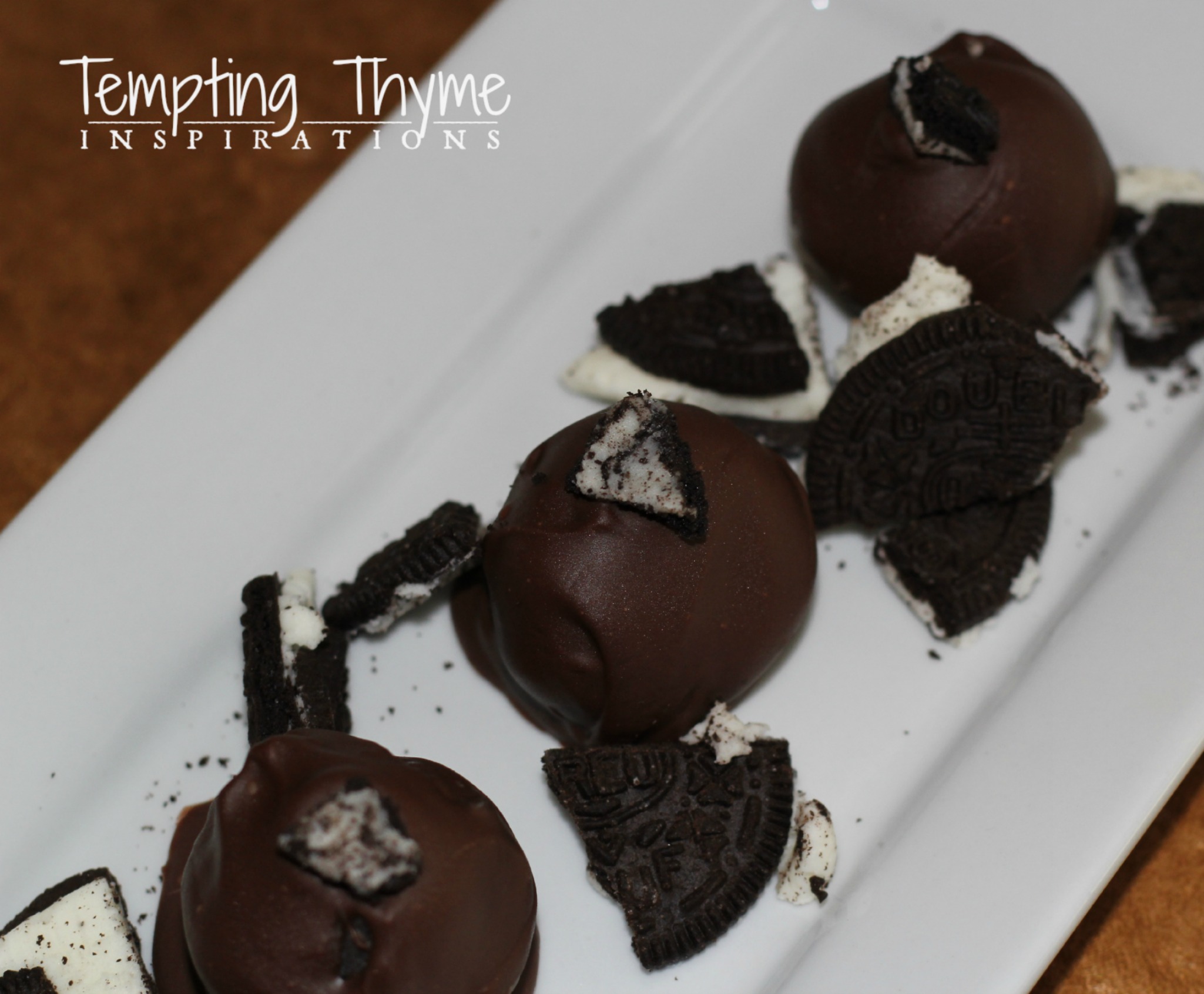 But, hey, all I really said is that I wish I was taking an eye rolling bite of one of these cake balls……not that I was really going to do it…….as I don't have any in my household at the moment!  Damn!
I made these about a month ago, along with three other varieties that I will share soon, for K's golf team.  Parents are all in charge of making dinner after a golf match with the opposing team, and I was real lucky to be pared with another family that just so happens to own a couple of restaurants here in the little 'O'.  When it was time to plan the menu (not knowing at the time that they owned these restaurants), I thru out what I normally do…… pulled pork, pulled pork and even more pulled pork, vegetables and chips/dessert, the response I received was……"why doesn't the restaurant put together a few pans of chicken and pasta, salad and bread sticks and you take care of drinks, dessert and all paper products"?  Yes, yes, yes was my resounding answer, and I proceeded to immerse myself into making  cake balls.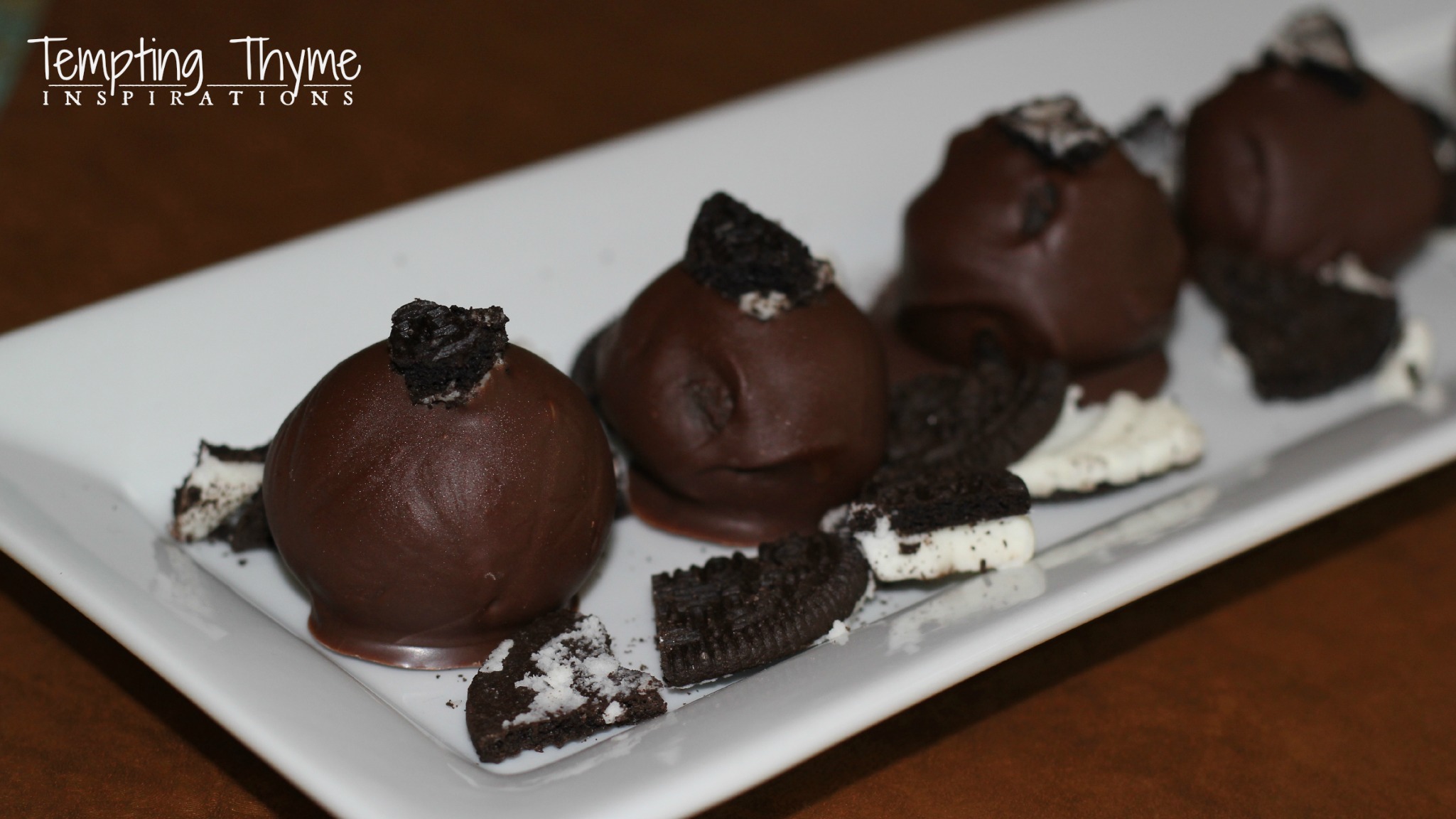 I know you are shaking your heads, telling me I am nuts, as even one batch can take time with the back and forth chilling in the fridge.  Don't even get me started on standing/slaving over the stove dunking them all!   My twisted train of thought told me that this was an opportunity to receive feedback (like a kid is going to say a cake ball doesn't taste good), and if all went well I would have 4 recipes to ultimately share with you all!  This also allowed each child to have 3-4, which is just enough that I am sure they all had a sugar rush, enabling them to study late into the night.  Hmmmm, their parents should be thanking me right?  The boys probably didn't grumble one bit putting pencil to paper that night!!
You will not regret making these for your family and friends!  Your only regret will be how fast they are devoured for the amount of time you invested in them….which is why you should make a double batch of these Cookies and Cream Cake Balls!!!
I am off to enjoy a rainy day at the Minges Pumpkin Festival near here with a girlfriend and her daughter.  I have been telling her that we will be jumping and dancing in the puddles, but so far she is not convinced that we need to extract a portion of our youth.  =(  Maybe you all could convince her it would be fun!!!
As I don't have any Cookies and Cream Cake Balls in my fridge, I can only hope that one of the booths will be selling these or something similar!  Hmmm…maybe a pumpkin variety!
If you live in Ohio, enjoy this rainy day….even dance in it if you get the opportunity.  If you live elsewhere, I hope you have awesome weather to brighten your day!!
                           Shaunna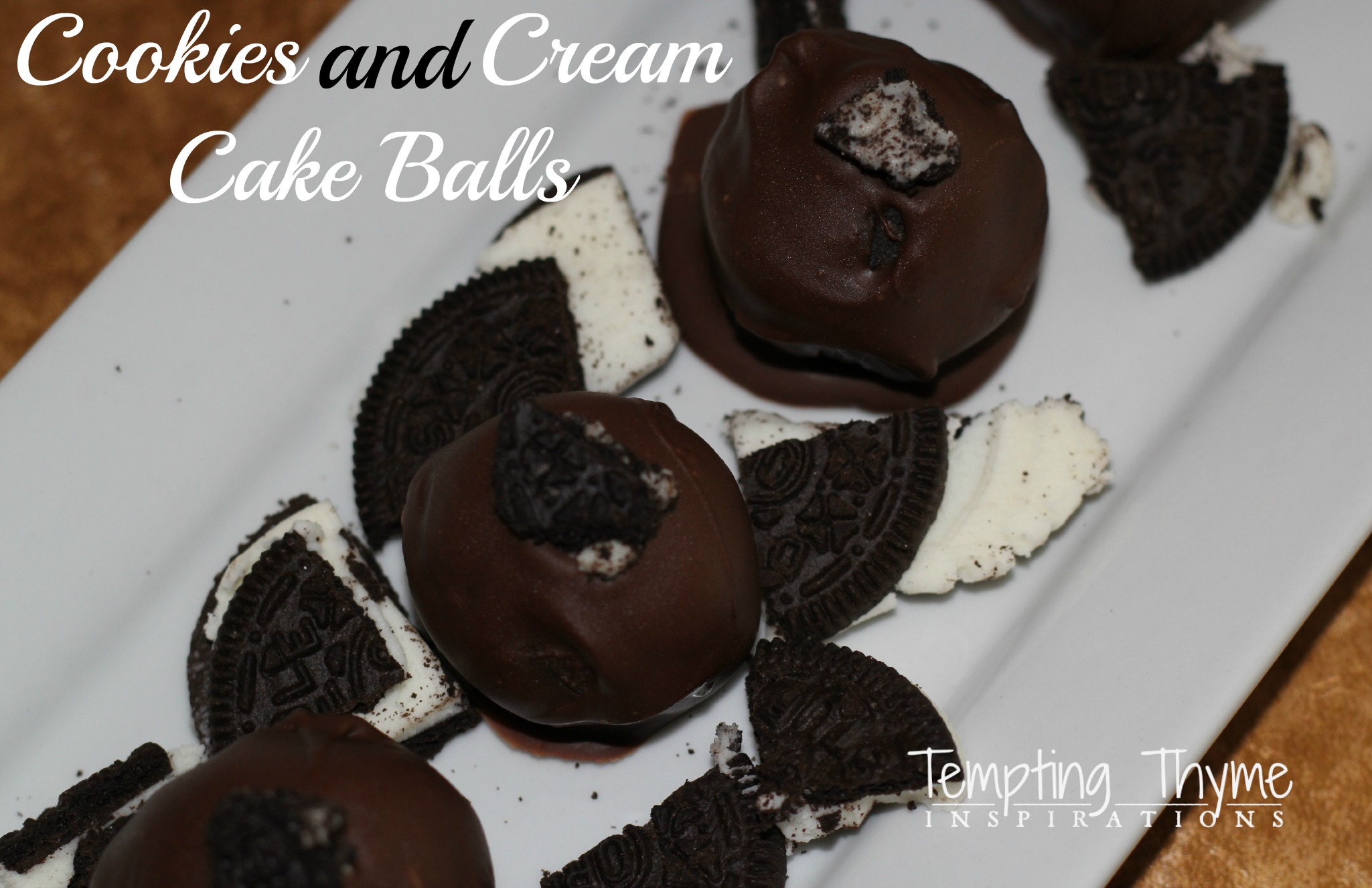 Cookies and Cream Cake Balls
Makes:  30-40
Ingredients:
1 (18.25oz) box vanilla cake mix

2 cups 'finely' chopped Oreos, about 25

½ – ¾ cup cream cheese icing

24 oz Chocolate Almond Bark, or use Hershey's milk chocolate

Garnish:  about ½ cup crushed Oreos
 Directions:
1.    Follow the directions for making the vanilla cake according to the back of the box.  Bake according to the back of the box, using a 13×9 pan, removing once toothpick comes out clean from the center.  Do not overbake!  Cool the cake completely on a wire rack.
2.    After the cake is completely cooled, crumble the cake into very fine crumbs into a large bowl.  You can do this by using a food processor, but I just use my very clean hands.  Who wants to clean another dish! 
3.    Add in the chopped Oreos and the cream cheese icing and mix thoroughly.  Make sure that every crumb has been coated.  Your cake mixture will resemble the consistency of peanut butter.  Put in the refrigerator for at least an hour.
4.    Once chilled, pull out of the refrigerator and using 1 Tbsp, form your cake balls and lay them on a parchment lined cookie sheet.  Put back in the refrigerator for another hour or so. 
5.      While the balls are chilling, you can start to prep your chocolate for melting.  In a double boiler, melt your Almond Bark or chocolate, stirring often.  Remove the balls from the refrigerator, and using a fork dip the truffles into the chocolate and shake off any excess chocolate by tapping the bottom of the fork onto the sides of your bowl.  Place cake ball on a 2nd parchment lined baking sheet and top with optional piece of Oreo.  Repeat with remaining cake balls until finished.
6.    Chill Cookies and Cream Cake Balls in the refrigerator until ready to serve.