Our summer days are dwindling down……sigh!!! 
B and K start back up on the 20th, and PT is already back at school (complaining about the new standardized tests that he has to teach to, and who in the hell heck are the experts who came up with the content).   Do I feel sorry for them…..nope….I am one of those poor souls who has been working all throughout the summer months.   Hmmm….do I hear someone playing a very small violin somewhere…….
 I will admit I am going to miss these long summer days, grilling out, going to baseball games, being part of a cocktail crowd (the cocktails only happened once, but the 'crowd' was pretty consistent), a fun-filled vacation with dear friends.  What I am looking forward to is having a schedule.  You know what I am talking about…..normal bedtime….not sleeping in til 9,10 or even 11 in the morning (the kids, not me….lol)).  I may change my mind in October after every weekend is filled with hockey tournaments, too many hotel stays….but for now, I am craving the schedule!
You are going to love this marinade!  This would be perfect for steaks and chicken also.  I am wrapping up some of my favorite summer grillin' recipes this next week, and this ranks high on the list.   I also posted a great Balsamic Grilled Pork recipe the other day.  If you missed it, click here.  These recipes are for  Jenny, from The Ketchup War, who is living in Korea and requested pork and chicken recipes earlier this summer.   Hopefully she finds them useful!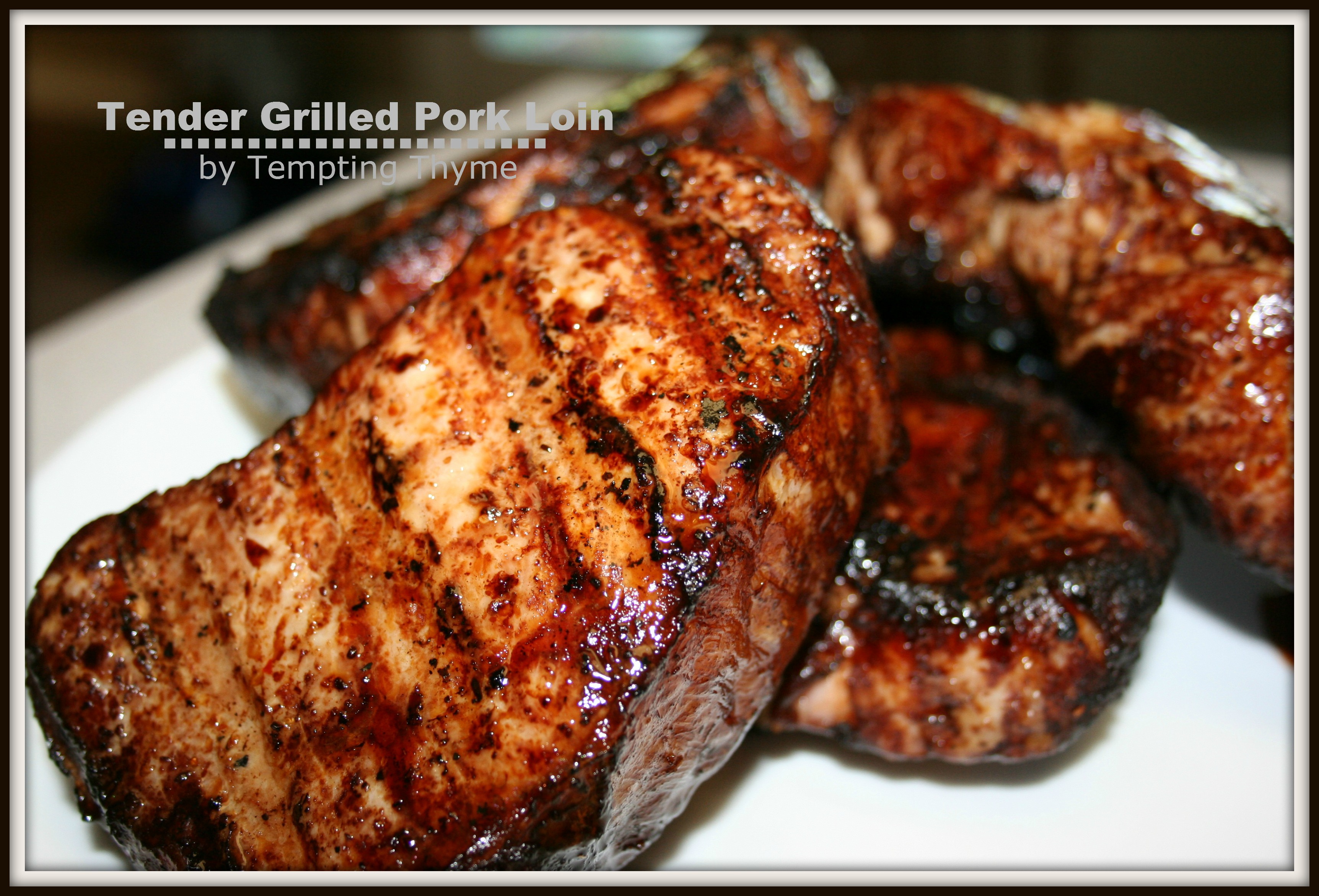 Tender Grilled Pork Loin
(Serves:  4)
INGREDIENTS:
4 boneless pork loin chops
1/4 cup olive oil
2 1/2 tablespoons soy sauce
1 teaspoon steak seasoning (such as McCormick Montreal Steak Seasoning)
DIRECTIONS:
* Mix olive oil, soy sauce and steak seasoning ingredients in a small bowl and pour into a one-gallon resealable plastic bag. Add the pork chops and set the bag in a baking dish in a way that the pork chops get a healthy dose of the marinade (I flip the bag over halfway through the marinating time).
*Marinate in the refrigerator for 3-8 hours. Heat the grill to medium and grill the chops 6-8 minutes per side (depending on how thick they are) until they are no longer pink in the center. Make sure a meat thermometer registers a minimum of 160 degrees when inserted into the meatiest part of the pork chop.  Remove the chops from the grill and tent them with foil and allow them to rest for 5-7 minutes.
{Shaunna

}
Recipe Source:  Tempting Thyme
Related Articles:
Broccoli Salad
Fun 'Fetti' Ice Cream Pizza
Sun-Drenched Chopped Salad