It is an absolutely gorgeous day outside!  I have the air-conditioner turned off, windows wide open….breathing in all that wonderful fresh air!!  We have all had an extremely HOT summer, and I am going to enjoy this 80 degree weather while it lasts.  I was in the kitchen rolling cookie balls…… trying to get ahead for future recipes, enjoying the banter between B and a friend of his, and gazing out the back window at some deer picking their way through my backyard.  I love days where you can just putter around the house, no schedule dictating your day, not feeling guilty that you aren't crossing 20 things off your to-do list.  Did you hear me correctly?   Allowing ourselves to NOT FEEL GUILTY for taking a break from the hectic pace that normally consumes us all.  I am the worst offender of this….but today, I am rejoicing in the little things:
** Drinking my coffee on the deck, soaking up the morning sun and finishing a Janet Evanovich book.  Occasionally, just   sitting there with my eyes closed, listening to the birds and cicada's chirping.
** Making a triple batch of chocolate chip cookie dough.  I never did get to make the ice cream sandwiches last weekend.  That batch of cookies disappeared right before my eyes.  If you missed that recipe you can get it here.  Freezing most of the dough, but keeping a little out for dessert tonight.
** Watching the USA Basketball team bringing home the Gold.  Hasn't the Olympics been wonderful this year?  I have been glued to the tv most evenings, completely in awe of some of the athletes, and their stories that are so inspiring!!
** Sorting thru vacation pictures and getting them uploaded to Shutterfly.
** Finally taking the time to figure out how to take a screen shot on my PC…..gotta love Google!
Doesn't sound like a lot, I know, but the day is not over.  Who knows what my puttering will accomplish!  The most important thing is I am giving myself a break.  If I had sat and read outside all day….it would have been okay….I gave myself permission to not sweat it today!
How often do you allow yourself a free day?  What do you do with all the freedom?
This pork marinade is a favorite of mine, and so easy to put together, leaving you plenty of time to putter, enjoy a day with friends, or shuttle the kids to all of their activities.  I usually pair this with a wild rice salad or one of my many versions of coleslaw!  Make sure you grill the pork to between 160-170 degrees.  If you don't already own a meat thermometer, I would run out and get one.  It takes the guess-work out of determining when beef, chicken and pork is fully cooked thru!
I hope all of you have a great week ahead………..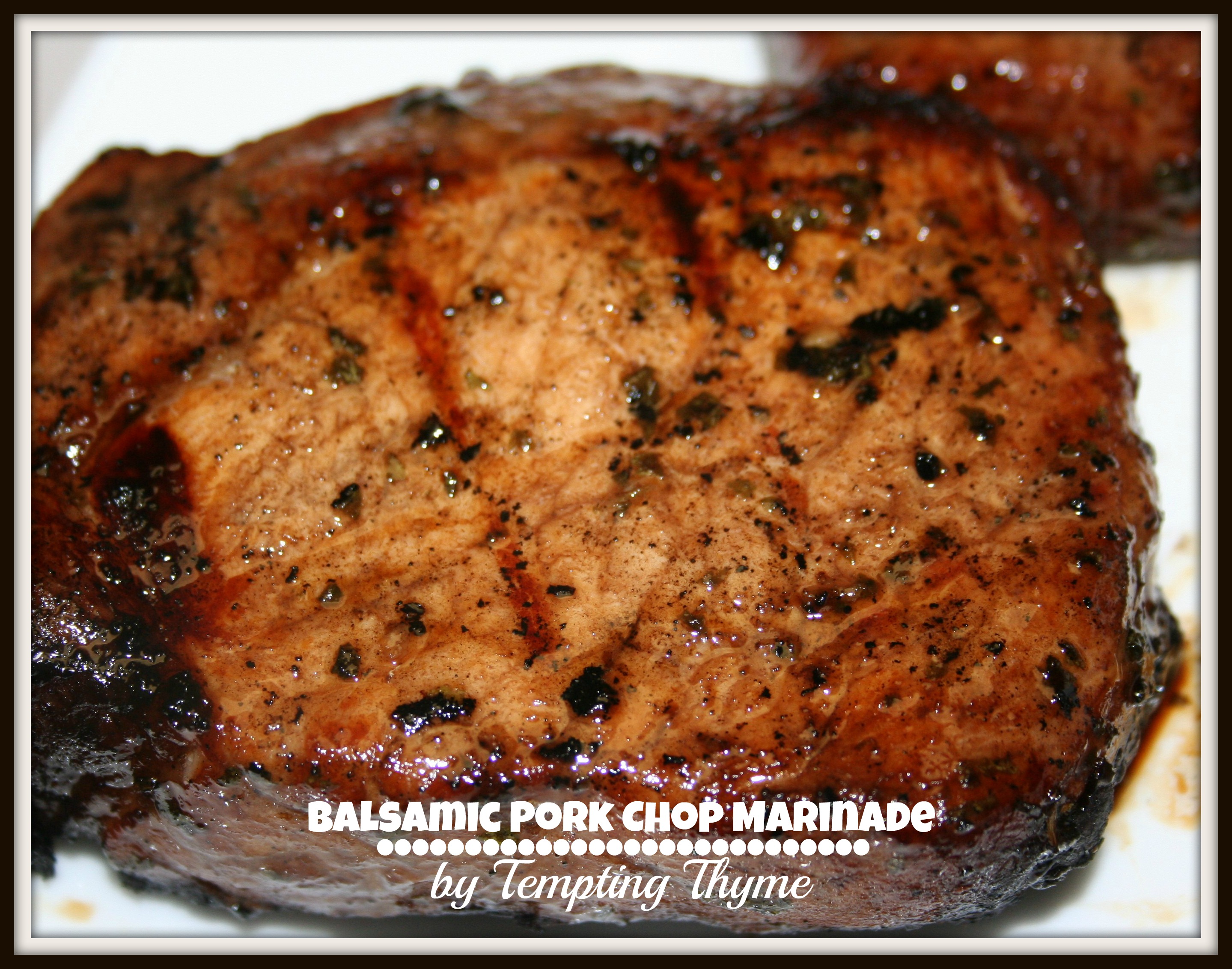 Balsamic Pork  Marinade
(Serves: 5-6)
Ingredients:
 ½ cup vegetable oil
1/3 cup soy sauce
¼ cup balsamic vinaigrette
1 tsp liquid smoke
2 Tbsp Worcestershire sauce
1 tsp garlic powder
1 tsp black pepper
¼ cup parsley
 Directions:
* Mix all ingredients together and put in Ziploc bag with 5-6 pork chops.  Marinate for 4-6 hours in refrigerator, turning often to coat pork chops.  Grill until meat thermometer registers a minimum of 160 degrees.
Source:  Tempting Thyme
Related Articles:
Black n' Blue Burger with Blue Cheese Schmeer
Just a Matter of Thyme Grilled Chicken
Blackened Chicken and Roasted Garlic Alfredo