Fun 'Fetti Ice Cream Pizza—-definitely a Wicked Weekend kind of recipe!
Have you ever drawn a blank on what to make for a party or get together? I had zero inspiration flowing through my body….walking around holding a brownie box, completely befuddled!  Is befuddled even a word? Shrugging my shoulders….I have no clue!
Maybe it was running into the overflowing laundry basket, begging to be folded.  Maybe it was finding the grocery bag full of mini chocolate chips, toffee bits and mini M&M's hiding in the china cabinet.  Am I the only one who has to hide baking staples from family members??  I don't know how many time's I have gone to the pantry, only to find the sought after item missing, long gone in PT's stomach.  His defense….."Kroger's is only a mile and a half down the street"!  My response to this:
                   "To the Moon,Alice"
 Let's combine the fab-u-lous Fun 'Fetti' Brownies with ice cream (if you missed the recipe, go here).  I raced to Kroger…remember it is only 1 1/2 miles from my house….for ice cream and got busy with the recipe.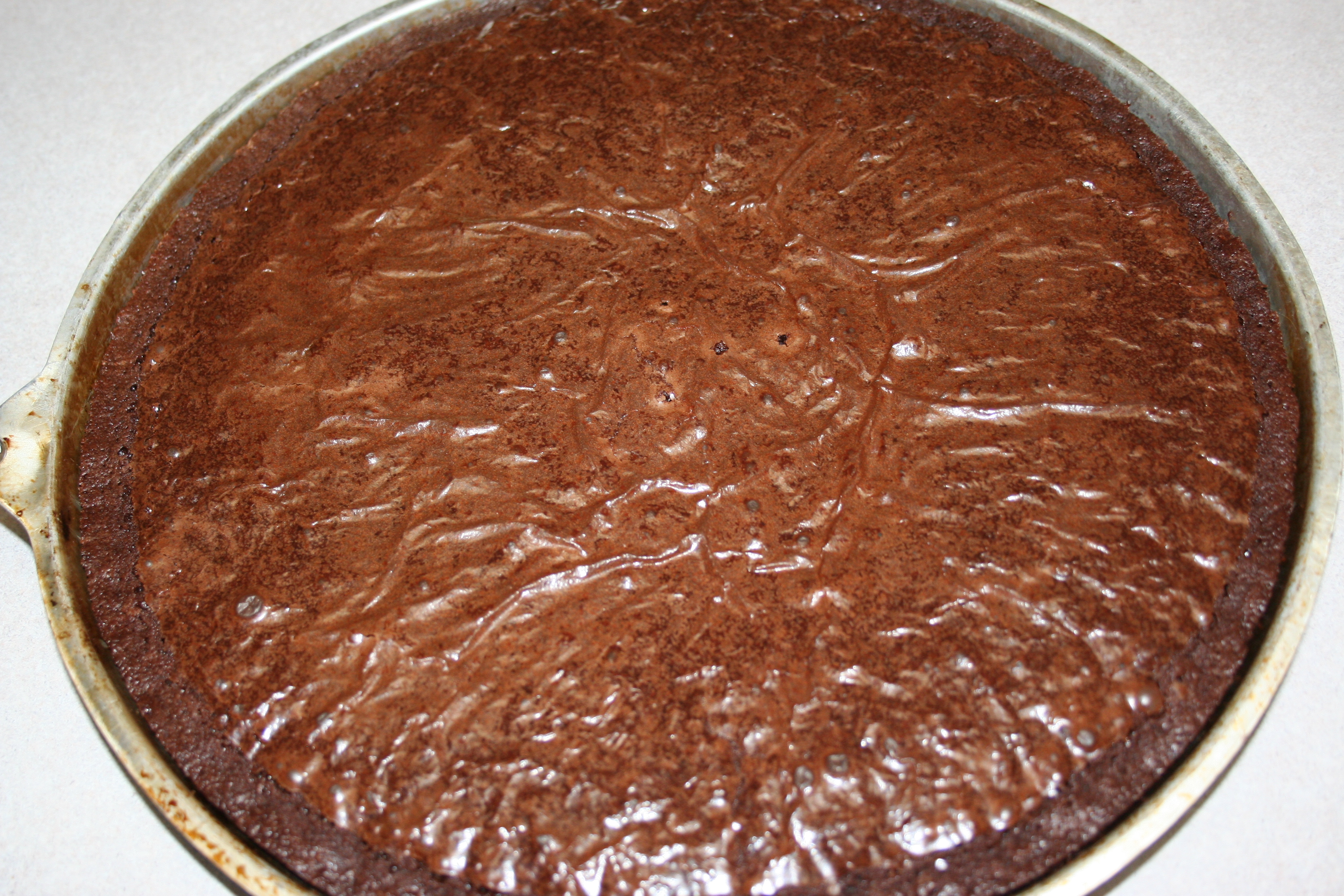 Make sure you cool the brownie pizza completely, or you will have ice cream swimming all over when you try to spread it out.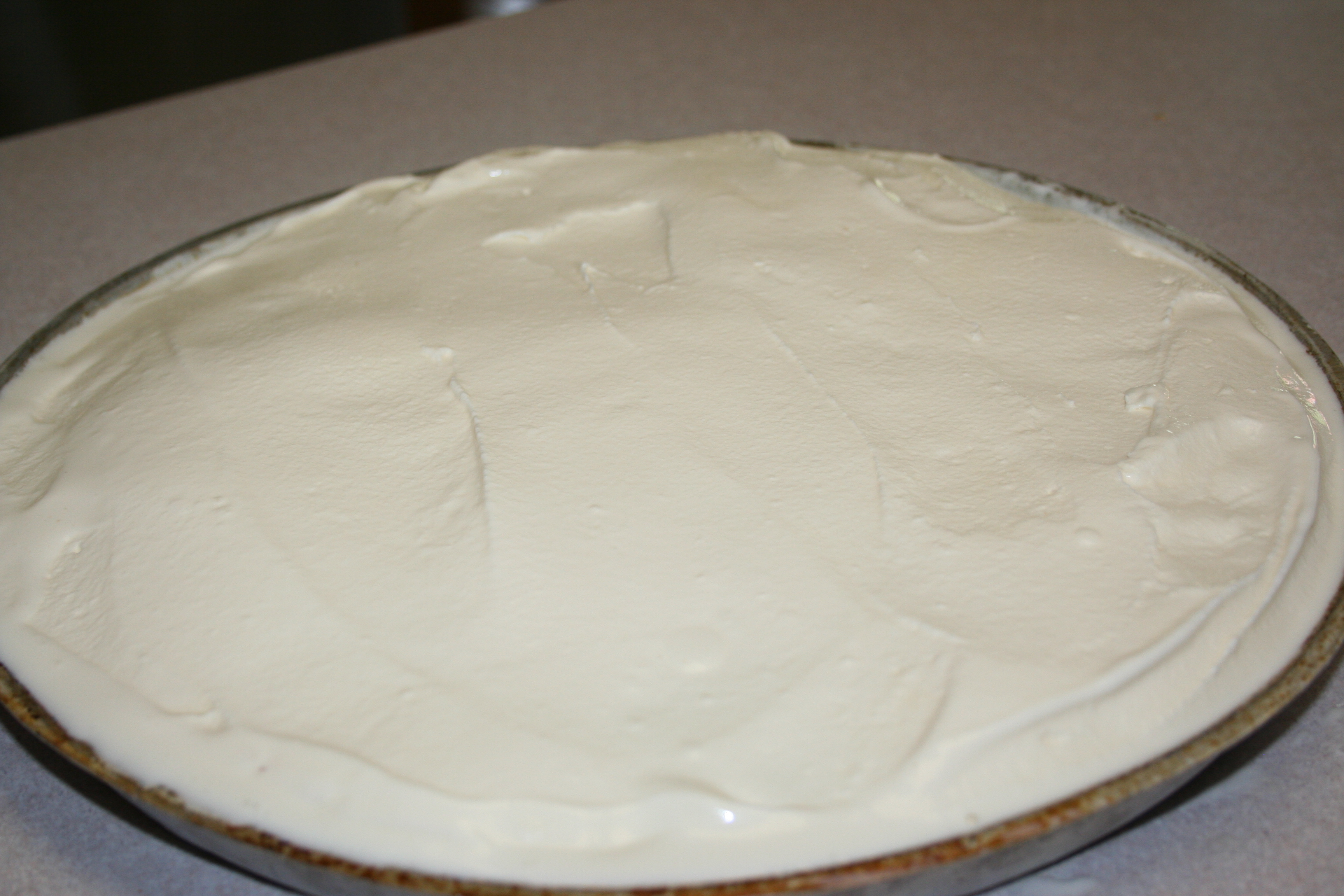 After spreading the ice cream onto the brownie layer, sprinkle the chocolate chips, toffee and m&m's on top.  Work quickly and put in the freezer to set up.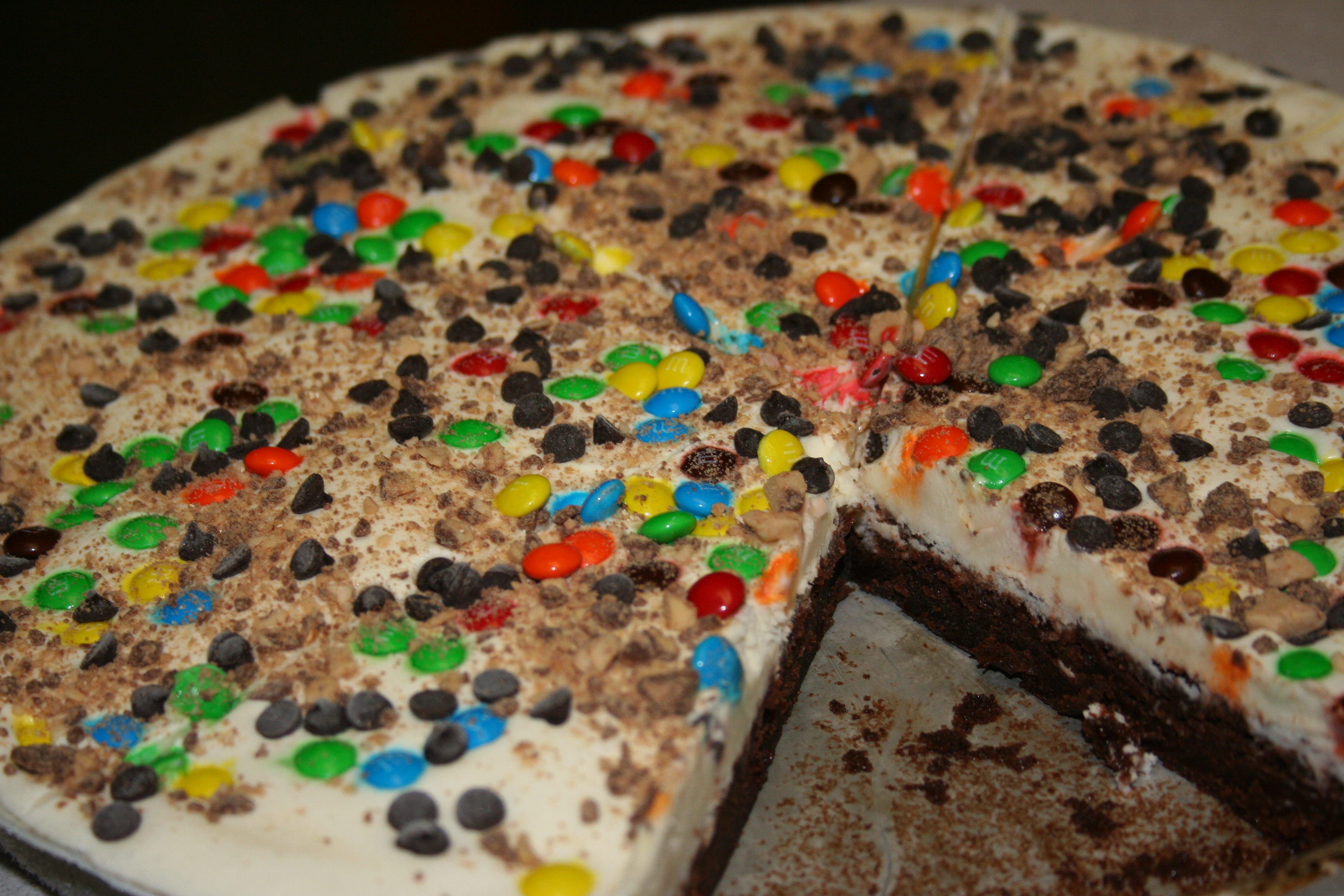 I drizzled the chocolate sauce after cutting into pizza slices and plating up. Doesn't it look yummy?
Fun 'Fetti Ice cream Pizza was a hit.  It was such a hit, I had to make it again a few days later, as I found out B did not get a piece.  It had been scarfed up before he could get out of the restroom….LOL!  Those dang teenagers!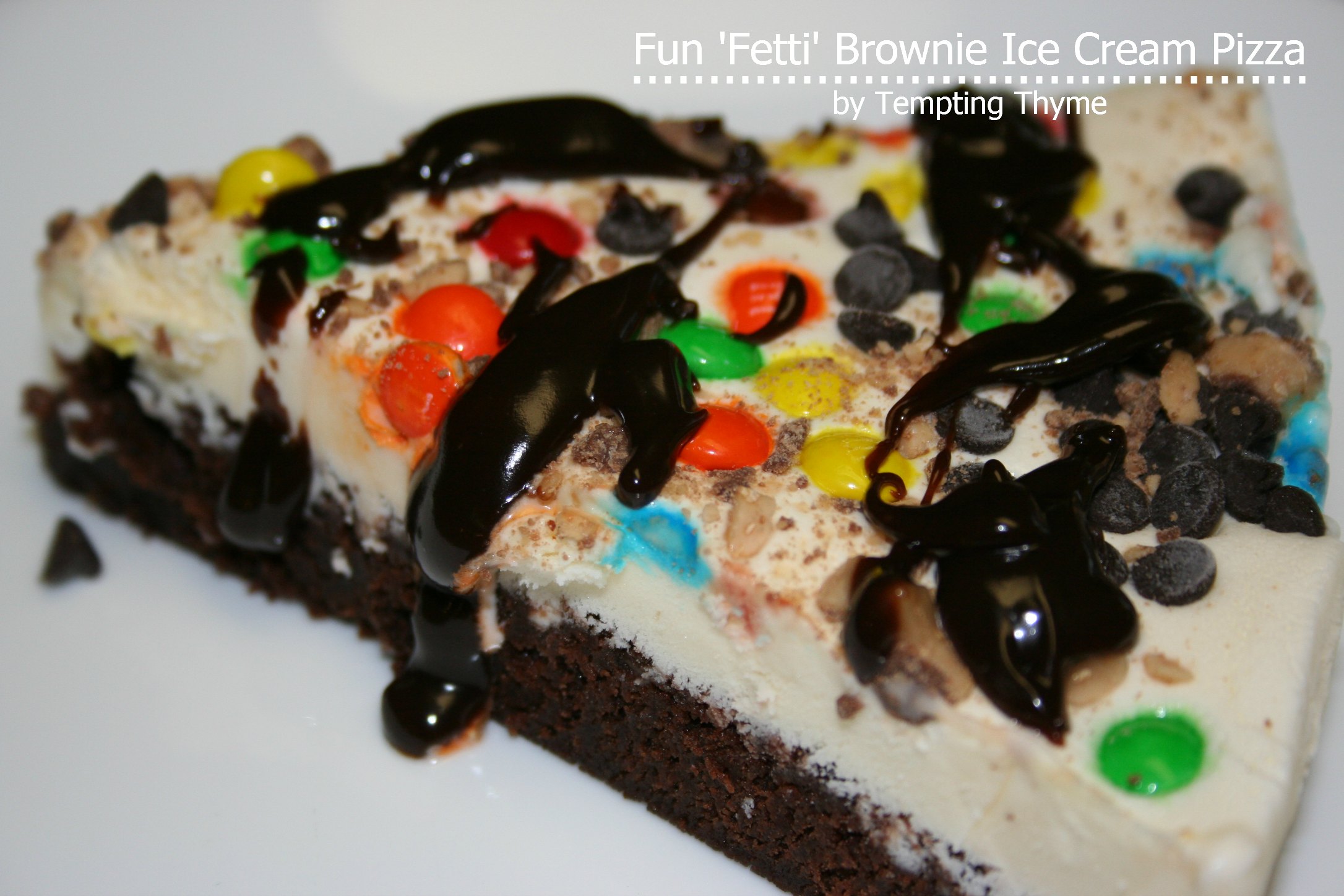 Fun 'Fetti' Ice Cream Pizza
Serves:  12
Ingredients:
1 Fudge Brownie Mix, 13×9 family size
Eggs, oil and water suggested on the back of the brownie box
Vanilla ice cream, softened
2/3 cup mini chocolate chips
3/4 cup toffee bits
3/4 cup mini M & M's
1 cup  chocolate or caramel sauce (ice cream topping)
Directions:
* Preheat oven to 350 degrees.  Spray a round pizza pan with baking spray.
*Mix brownie mix, eggs, oil and water according to the directions on the back of the box.  Spread evenly in pan.
* Bake according to the directions, cool completely.  Spread softened vanilla ice cream over cooled brownies.  Sprinkle with mini chocolate chips, toffee bits, and M&M's.   Put brownie/ice cream pizza into the freezer for at least 2 hours.
*Cut pizza into slices and drizzle with chocolate or caramel sauce….or be daring and drizzle both!  Mmmm!
* Store any leftovers (yeah right….who are we kidding) in the freezer.
Source: Tempting Thyme
You will also enjoy these fantastic desserts:
Peanut Butter Buckeye Cupcakes
Chubby Hubby Truffles
Cheesecake 'Dibs'
Linking up to these great parties:
Ginger Snap Crafts
Savvy Southern Style
Trendy Treehouse
Delightful Order
Somewhat Simple
Hooking up with HOH