The hardwood flooring is installed, but I am so not ready to show you the finished product!
Yes, I still have crap everywhere!
Totally not like it used to be….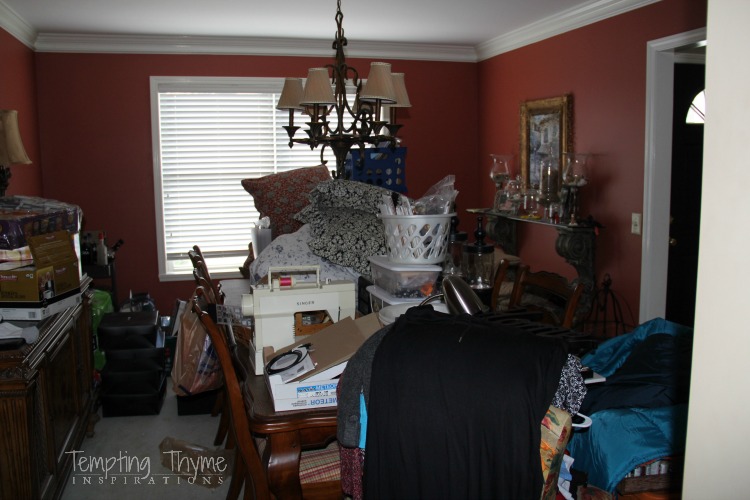 The bedrooms have been put back together …..  except for the small final touches!
I still have a queen bed frame laying in my dining room waiting to be sold! 
Or if I get the nerve…. it will be "cut" so that it is no longer a canopy bed but simply a headboard and footboard.  IF I get up the nerve then it will end up in the guest room, as we are on the hunt for a King size mattress for our bedroom.  I also imagine that I could use the detailing and molding at the top for the future built in bookcases around the fireplace.  What are your thoughts?

Add that to the pile of items that are being donated and waiting to be picked up.
Added on top of this……..is the artwork and photos leaning up against the dining room walls waiting to be hung.   The foyer and upstairs hallway was painted before the flooring was installed and now I am doubting the placement of all the artwork!  One of these days I will figure out if I want the same art in the same location!!    In the meantime, I am kind of enjoying the stark naked "fresh" walls in the hallway.
Too bad the dining room is the first room off the front door!  😉
Making the decision on these floors was so HARD for me!!  I went back and forth, back and forth on what to do, literally making myself bonkers!  If you follow me on Pinterest then you know the styles that I was craving!

This was a BIG decision!
I hate making decisions like this!
This isn't like choosing paint where you can get another can for $30 and swap it out if you don't like the look!
Now you know why it took me sooooo long to "get off the pot"!!  LOL!
Here is my original inspiration for our floors….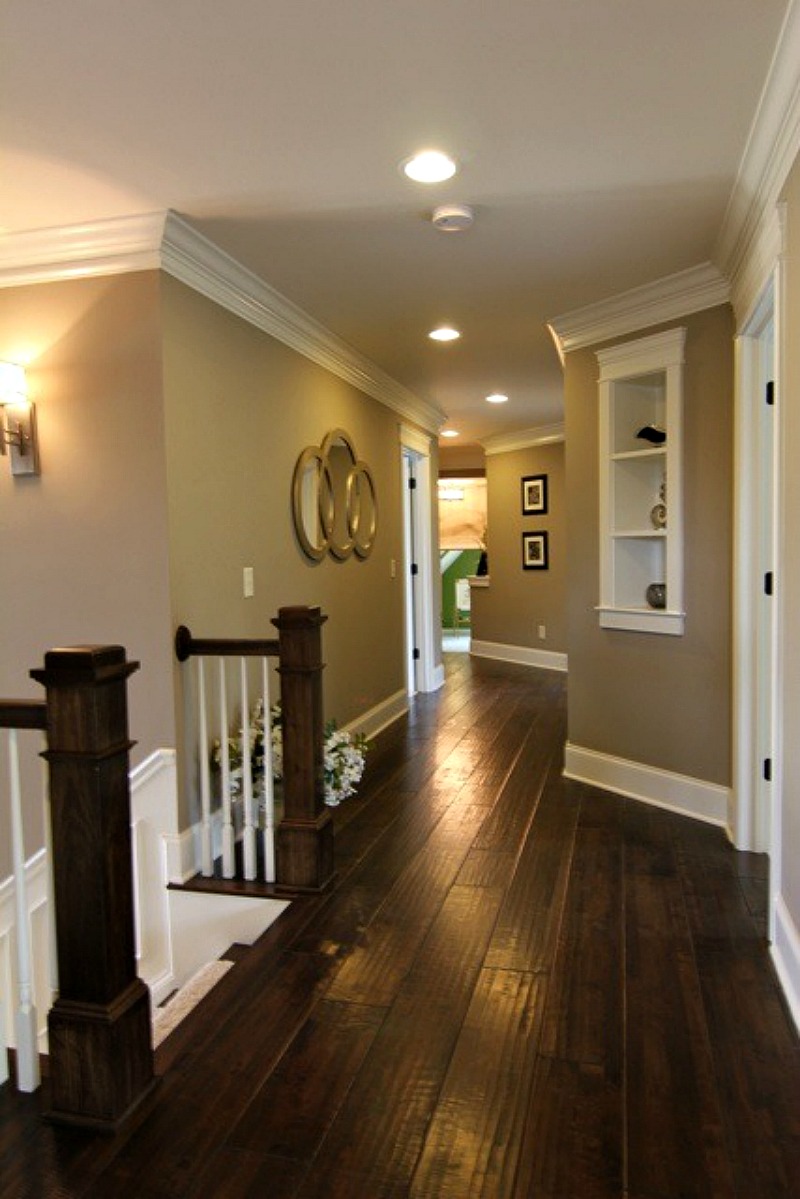 I love these dark, wide planks!!  Everything looks so fresh and CRISP!  I also love the hand scraped look of these boards.  Think these would be perfect in my house, as they could mask any scratches Rudy's nails may cause, or if I am being honest…..the scratches that I may make!
If you remember, I wanted to do the upstairs hallway and possibly K's bedroom as it is the first room you see when you walk up the stairs. Not only would it look nice as you walk up the stairs, but with his countless allergies and asthma it would be an improvement for his health versus the carpet that was in there.

Cost was a factor, so I had every intention of doing it myself with the help of a co-worker.  At that time, I figured I would do the engineered hardwood and had high hopes of buying it for under $4 a square foot. 
I also thought I might try my hand at just buying 1×4 white pine boards, cutting them at various lengths and installing them with old fashioned nails.  I did ALOT of research on this method and was feeling totally comfortable with giving it a go.  I love how the pine looks here, here and here…..I figured I would love them as our flooring option also!  Problem was, I waited too long……and doubt started to creep in.

I am telling you…… all it takes is one "what-if" to derail the entire project.
If you think you want to use pine for your flooring, check out Mother Earth News and The Shabby Creek Cottage.  Both of these sites give awesome directions to make it happen.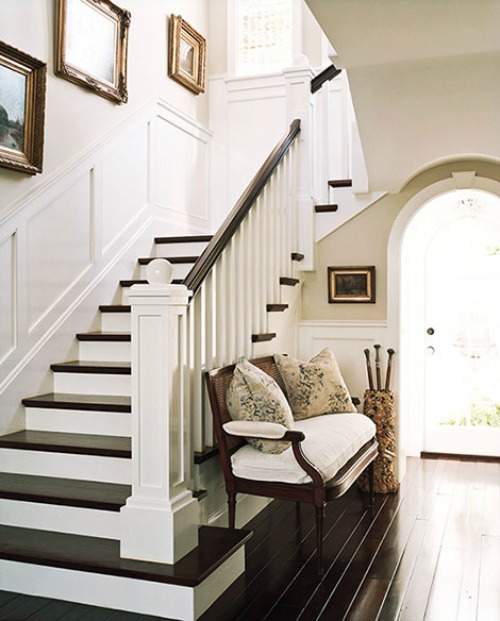 I tend to gravitate towards darker floors; they are so "rich" looking!  I know that just like a black shirt or sweater, that the darker the floor the more dust and dirt it will show. Bummer, as I am not the person to be vacuuming the floors everyday!
I already showed you the photo above in my foyer inspiration post, but thought I would share it again, as this is truly the look that I am striving for in our home.   Although I am infatuated with the hand scraped planks, I do worry that I will get tired of the look down the road.  You know how fads are, totally come and go!   This flooring looks as smooth as a baby's bottom!
I can't say what the final push was  ……..might have been my Mom telling me she was sick and tired of my indecisiveness …… might have been the countless stores I visited, each one having a different opinion on what was the best product out there for our situation.  Every store I left had me switching from the engineered, to actual hardwood, to vinyl planks and back again to the engineered.  I was sold on the engineered for the cost, as well as the zero swelling and shrinkage that plagues hardwood floors with the climate/season change.
We finally bit the bullet in the middle of September and ordered the hardwood floors.  We decided that the "wear value" on the particular engineered flooring that I was looking at would not benefit us in the long run.  Let's get real…….10-15 years down the road, I might just want to sand them down and stain them a different color!  To get the greater "wear value" we would have had to spend more than what these floors actually cost us.  Might as well go with the real deal, right?
We also decided (okay, I decided….PT had a number of hesitations) to take the plunge and do the entire second floor.  Folks….that is not just the hallway, but 3 bedrooms and a bonus room above the garage!  Oh yeah, throw in a teeny tiny hall closet too!  What the HELL was I thinking???  At least I was smart enough not to do the 2 bathrooms!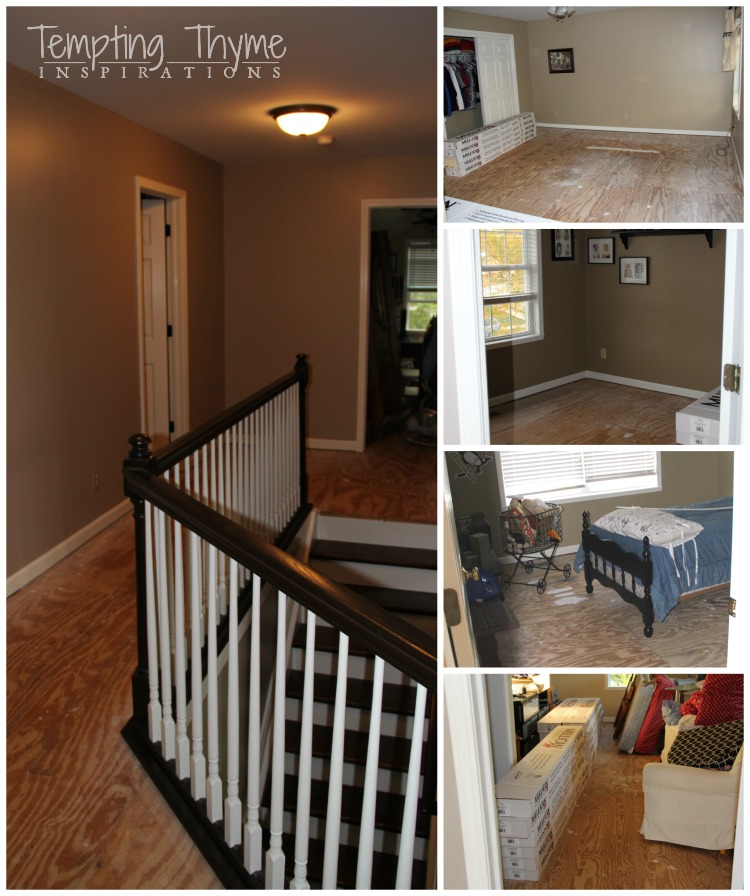 After the fact, I am glad we did it all at once.   If we had just done the hallway and K's room, the other areas would probably still have the same dirty carpet 20 years from now!  It was A LOT of work getting ready for the installers.

As I am not quite ready to show you the "after" …..then again, I might not have that many "before" pictures for you to see……. I thought I would share some of the other pictures that inspired me in our my choice in flooring:
Traditional Hall by Roswell Home Builders Ashton Woods
Doesn't this look warm and inviting?
Totally not a bedroom or hallway, but this is another example of the type of wood I was looking for…….I think this is Oak!
So warm and inviting!!!  Wait a minute, I think I already said that about another picture.  Oh well….. I LOVE it!!!!!
Last, but certainly not least……
Except for the bed, which you saw earlier in this post, the rug, pictures….okay, let's get real…..the only item that is similar to our current bedroom is the paint color.  It is dead on to what we currently have!  When I envision our master bedroom this is what I see!!
Now that you know where my head is at, I know that you are chomping at the bit to see what we chose……  SOON!
Have you gotten rid of your carpets and gone with wood flooring?  What did you end up choosing?
                                                           Shaunna