We had gorgeous weather this weekend, temperatures reaching into the 70's ….. YEAH!  But yesterday brought us snow and cold temperatures.  Boo! 
I wish Mother Nature would stop being so moody!  She is either throwing one last temper tantrum or she is suffering from PMS??! Should I hold it against her? 
Nah…..the sun is shining bright today and is definitely lifting my spirits.  It is either that or the fact that I am now off until Monday!! 😉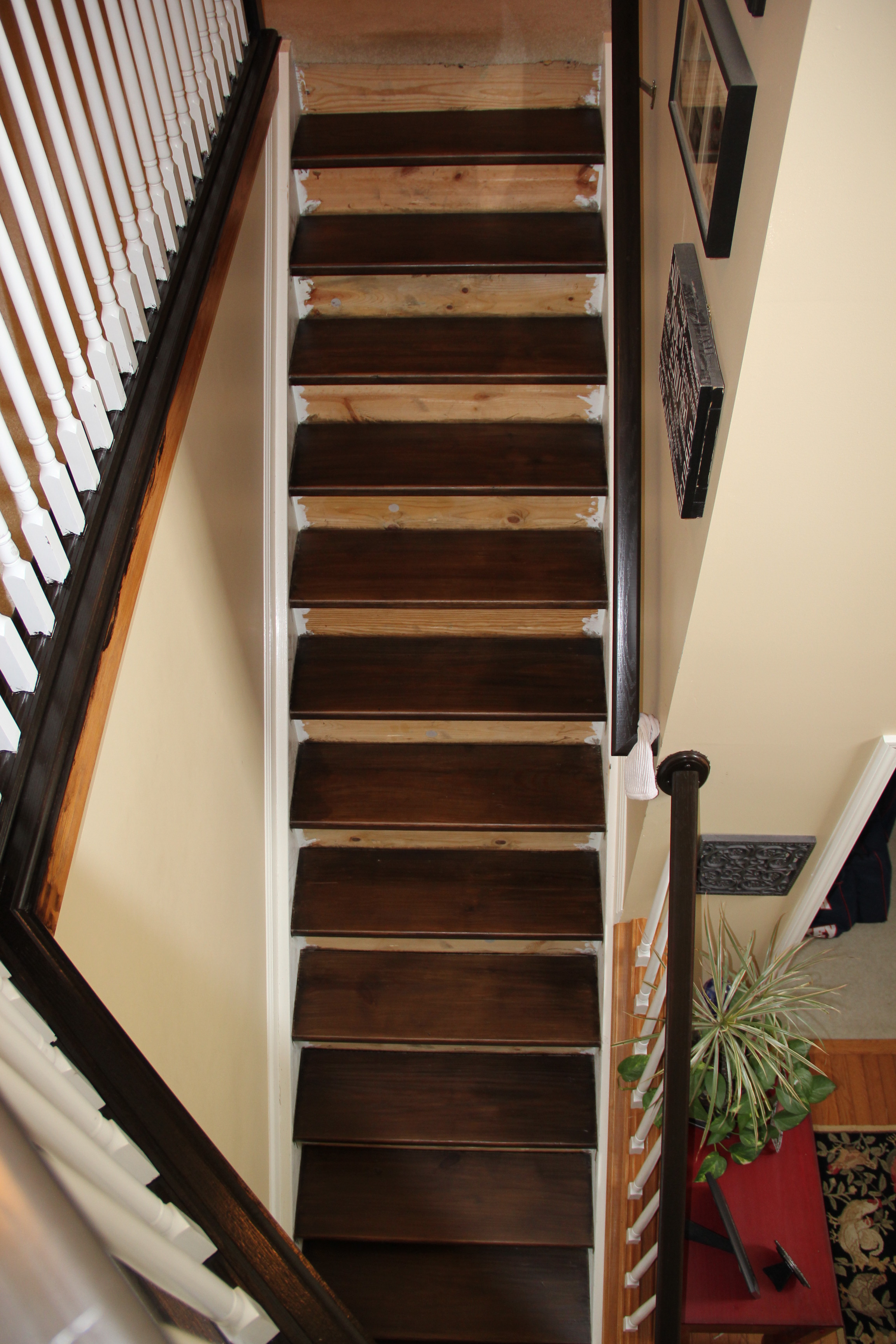 If truth be told, I would kind of  like to throw a little tantrum of my own.  These stairs are kicking my butt!  Taking way too long ….. and much bigger than I anticipated.  It doesn't help matters that I had to put it on the backburner until the new shower tile was installed.  If you missed that unexpected, unplanned project you can catch up over here.  I don't think any of you would blame me if I did a little kicking and screaming right about now, but as the sun is shining thru the den windows, and Rudy is sleeping peacefully next to me…..all is good in the world!  Let's just hope the sun is here to stay!!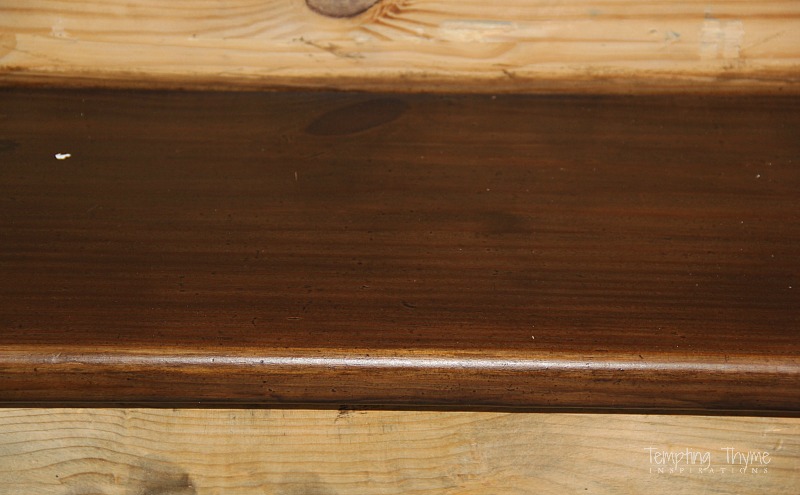 I am going to tell you a little secret.  Except for 2 small touchups, the stairs are done! 😉
I wish I could show you everything now, but I still have a lot of sifting and sorting through photographs, editing them and then actually putting my thoughts down.  Truth be told, I have to remember what I actually did start to finish.  So much has happened the past 3 weeks, and I don't think that I did it the proper way (by whose standards I cannot tell you) and I think I cheated a little……but the end result is making me very happy!  If I could carry a tune, I would actually be singing to you right now!  Don't worry….I won't put you through that horror!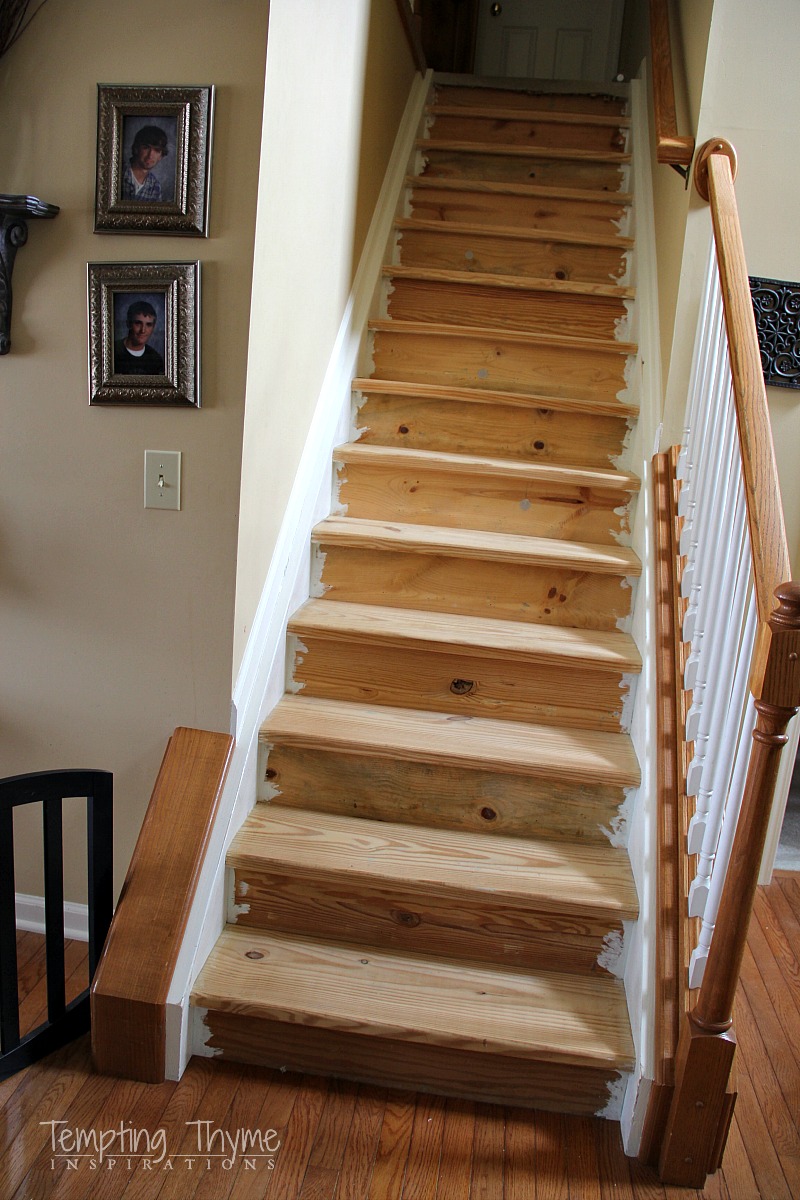 Let me quickly remind you where we left off.  (If you want to start at the beginning, you can get caught up here)  Carpet is up, the pine stairs have been sanded, sanded and sanded some more.   Sadly, I did not get the arms of my dreams by doing most of it by hand!!!  Sigh! 
I don't know if I told you this, but I did use wood filler on all the holes and dings.  I just used whatever I could find at Lowes.  I think it is Elmer's Wood Filler.  Can't say that I was too happy with it.  Don't know if all fillers are like this, but I found it difficult to work with and it dried way too quickly for me.  Of course I sanded the stairs again when the wood filler was completely set up.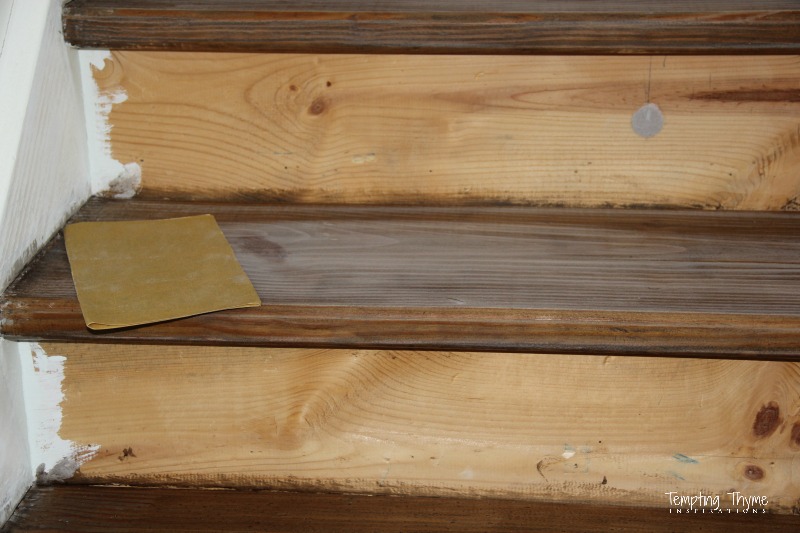 After wiping down the stairs, making sure that all dust and wood had been cleared off, I went over every other step with Minwax Pre-Stain Conditioner.  I read somewhere that the conditioner would allow the stain to dry more 'uniformly'.  I can't say if it is true or not, but it was easy to work with and will probably use it again.  I used a simple foam brush to apply it.  You brush it on…..wait 5-15 minutes and then you wipe off any excess.  My stairs soaked it all up…nothing to wipe away.
Tip:  I did every other step during this entire process.  We needed to be able to use the stairs and I thought we could handle the every other stair just fine.  I used a towel (as the post it notes I tried did not work) to mark the ones that we could step on.
After waiting the 15 minutes I started staining the steps.  I used Minwax Polyshades in Tudor, only for the fact that I loved the idea that it was an all in one product.  It also gave me a choice of satin or high gloss.  As the boys in my life were hesitant about getting rid of the carpet, I went with the satin finish.  First coat caught me totally off guard.  Once I wiped the tread down with a rag there was virtually no color on the step.  Yes, I stirred the crap out of that container……so you can't tell me that all of the color was still at the bottom of the can. 😉

I did what any other person would do…….I didn't wipe off the stain!  I brushed it on, and then let it dry completely.  No wiping off the excess after 10 minutes for me.  I would have been doing 20+ coats at that rate.  No time for that nonsense!  In the above picture you can see the first coat.  Not bad, but I wanted it deep and rich in color.  I also was starting to get nervous about the edges where I scraped them to get all the paint over spray off.  BTW- I sanded the stairs again lightly with a 220 grit (I think) after the first coat of stain, but not any of the other coats.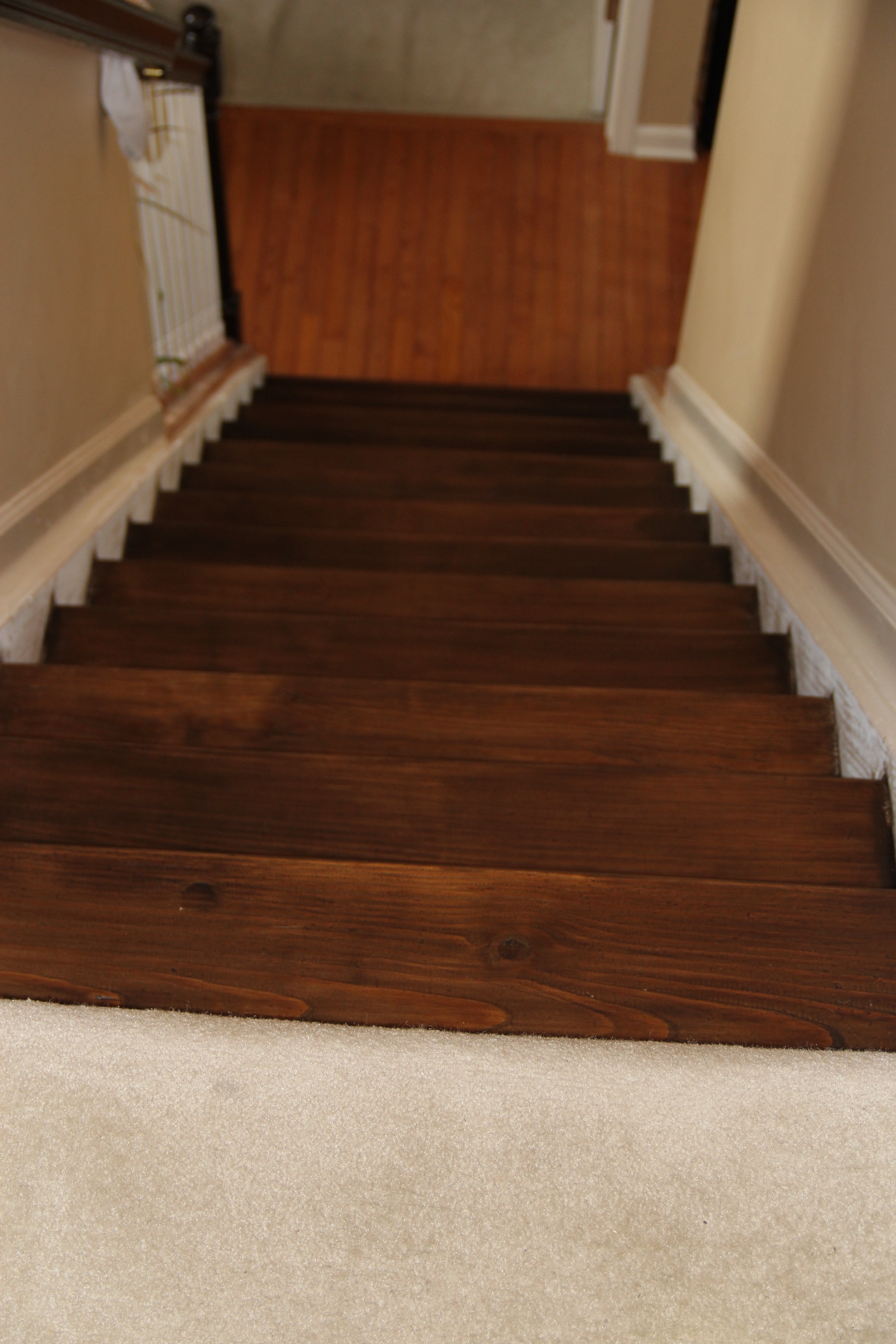 Remember, I was staining every other step, so this process took f o r e v e r!!  I think I did the first 2 coats over a weekend and had every window and door open in the house.  Can't say that was smart as temperatures were running around 45.  Definitely did not win the 'most efficient house' award.  The third and fourth coat I did in the evenings right before going to bed.  This way they would be dry when we got up to go to school/work and we wouldn't be gagging over the fumes!  The picture above shows 3 coats of stain. Almost perfect, but I wanted to test the waters with a fourth coat.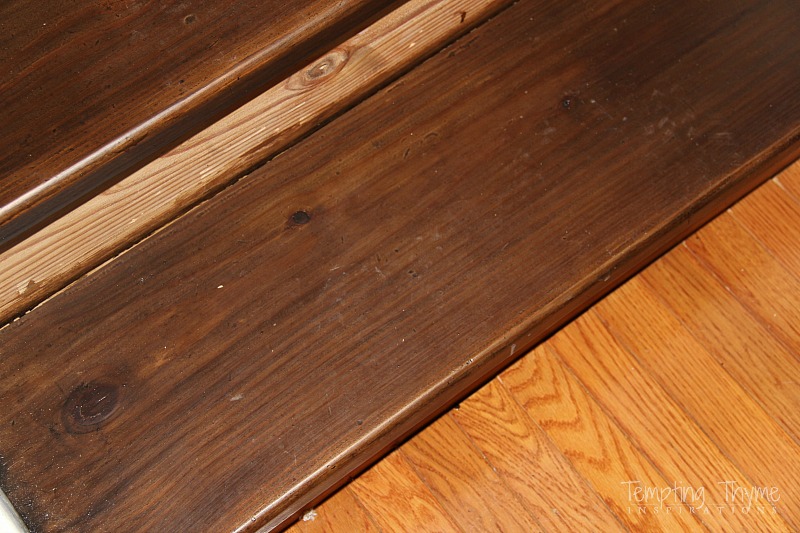 Four coats of stain and the project came to a halt.  You can see the dust and dirt from the tilers boots on the first step.  No way did I want to put up the kickplates (risers) until they were completely done with the bathroom.  I will tell you….the stairs held up beautifully!  Yes, they got a little dust and dirt on them, but a quick wipe down and they were back to being purdy!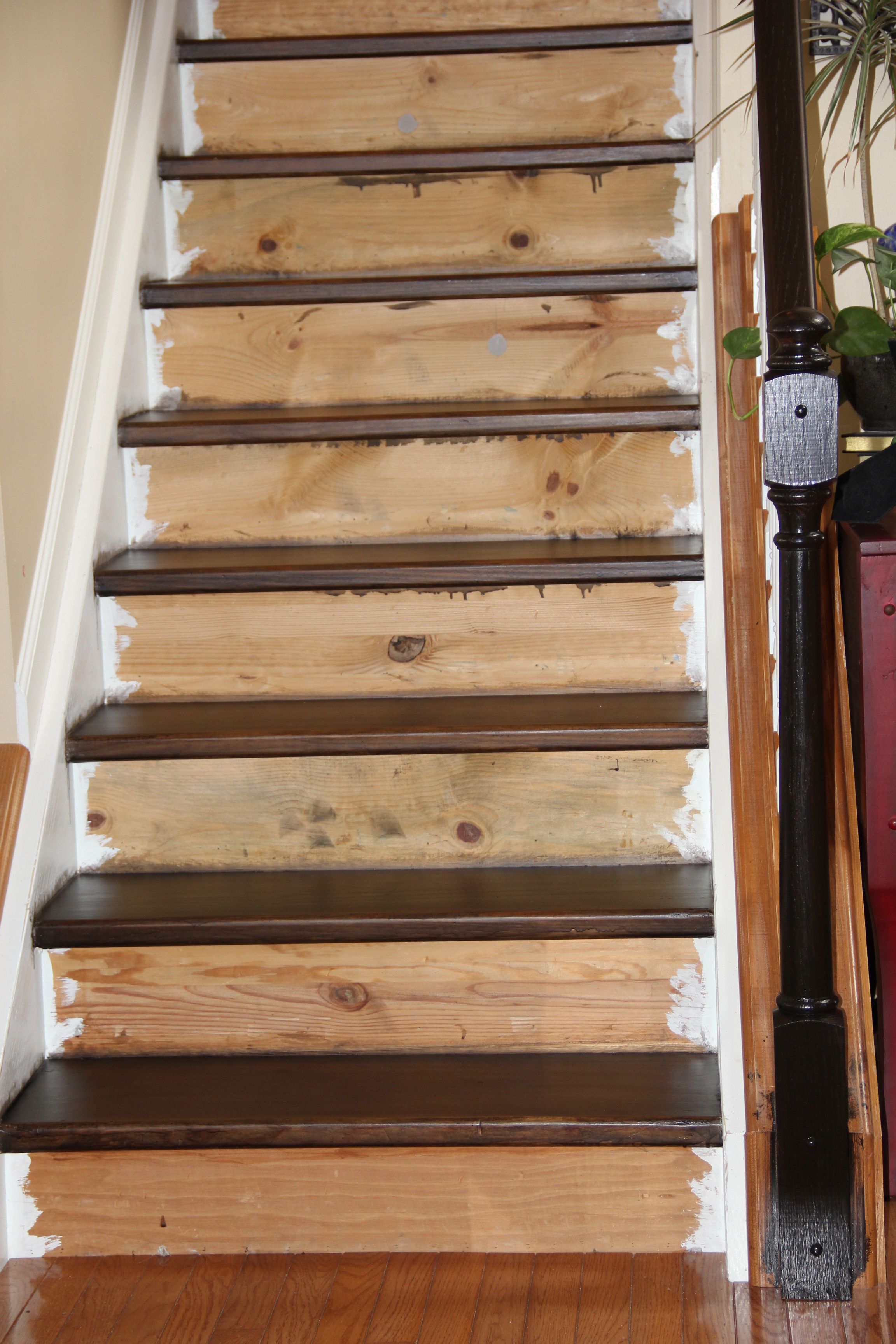 Even though I couldn't finish the stairs, you probably noticed that I started staining the banisters and rails.  This is where all of my headaches began……. Don't even want to think about the steps and process (and lots of cheating) I did to complete them!  More on this later!!!
Let me give you a quick recap on how to stain pine treads:
Fill any holes with wood filler or putty.

Sand the boards smooth, vacuum and wipe down each nook and cranny with a damp rag.  Vacuum again for good measure!

Using a foam or bristle brush, wipe on Pre-Stain Wood Conditioner.  Wipe off excess in 5-15 minutes.

Using a bristle brush (I went to the Dollar Tree and bought a couple of brushes that I would not feel guilty about throwing away) brush the stain onto every other stair.  You can choose whether to follow the instructions on the back of the can, or do what I did and just leave 100% of the stain on the stair tread.  Let dry completely before applying a second coat.  Mine were ready after about 6 hours.

Lightly sand the stairs between each coat.   I only did this after the first coat.  Sometimes, you need to just go with the flow and do what feels right in your situation.  Right??

Vacuum the stairs and repeat the staining until you achieve the look you want!!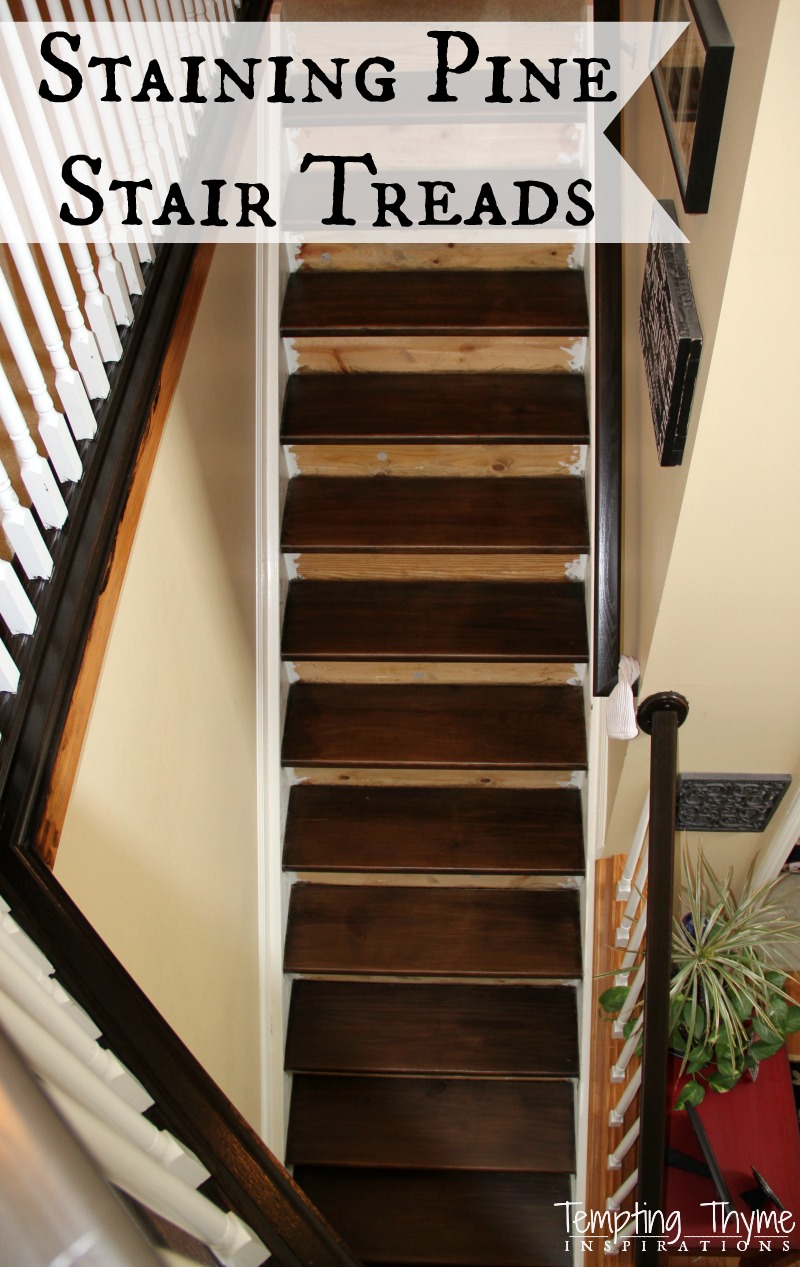 I hope to have the rest of the project edited and written soon.  I have also had some people clambering to see the new shower.  I will get that together soon also……… sometimes I wish I could double or triple myself just like Michael Keaton did in the movie Multiplicity.  I think most Mom's think that, right?
What is your experience with using stain?  Love it or hate it?