After much internal debate, I couldn't take it anymore and started ripping up the carpet on our stairs!  😉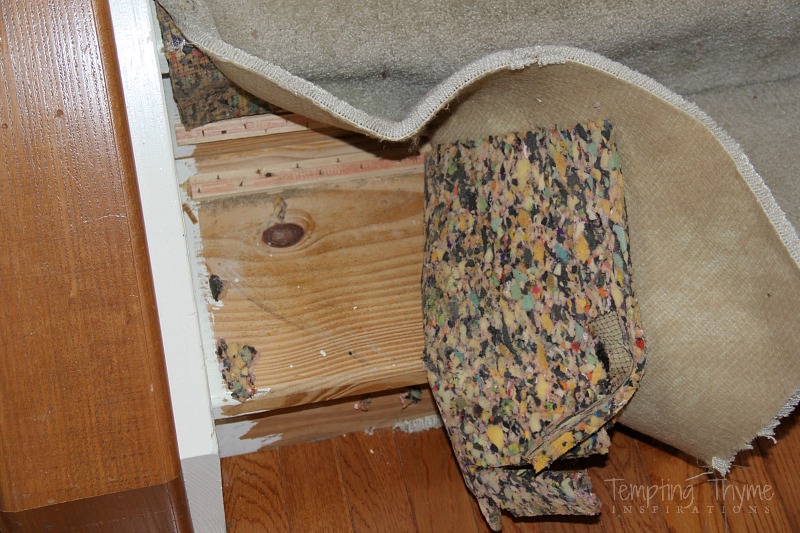 If anyone tries to tell you that this is an easy DIY project they are LYING!  This has been one of the longest weeks of my life, and the final reveal is no where close to being finished.  Pheeeww!  I was hoping to have it all done in 1 week, removal…..prep…..staining, but working on it only in the evenings, and then having to wait a gazillion years for the stain to dry …..makes a more realistic due date at the end of March.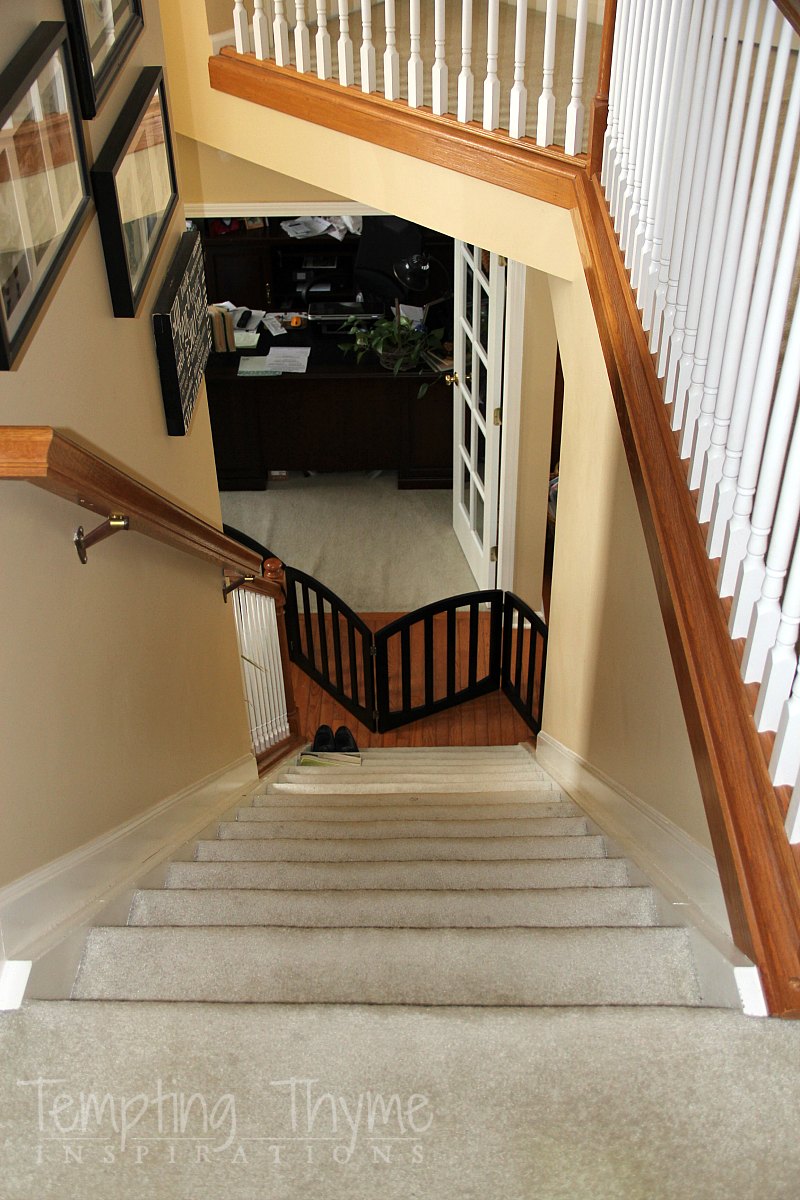 Here is a shot of what our stairs looked like before demolition started last Monday.  Some of you are probably asking yourself, "What's wrong with them"?  I know….nothing wrong with them…..carpet is showing its 14 year age but still not god awful.  What they weren't is this: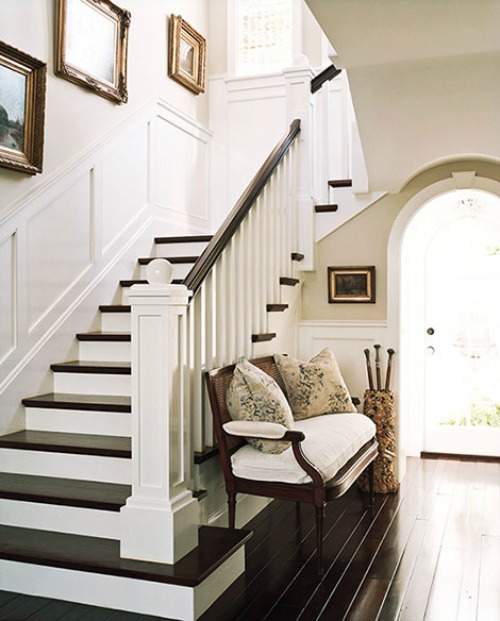 I have dreamed about dark stair treads and white risers for longer than my first born's age.  Considering he is 19 years old (wow, still a little unreal that I have a 19 year old) it was high time to make it a reality.  I showed you this picture earlier in my post Inspiration for the: Foyer.
Not only is it my favorite, but based on your responses it is also your favorite!  Great minds think alike!!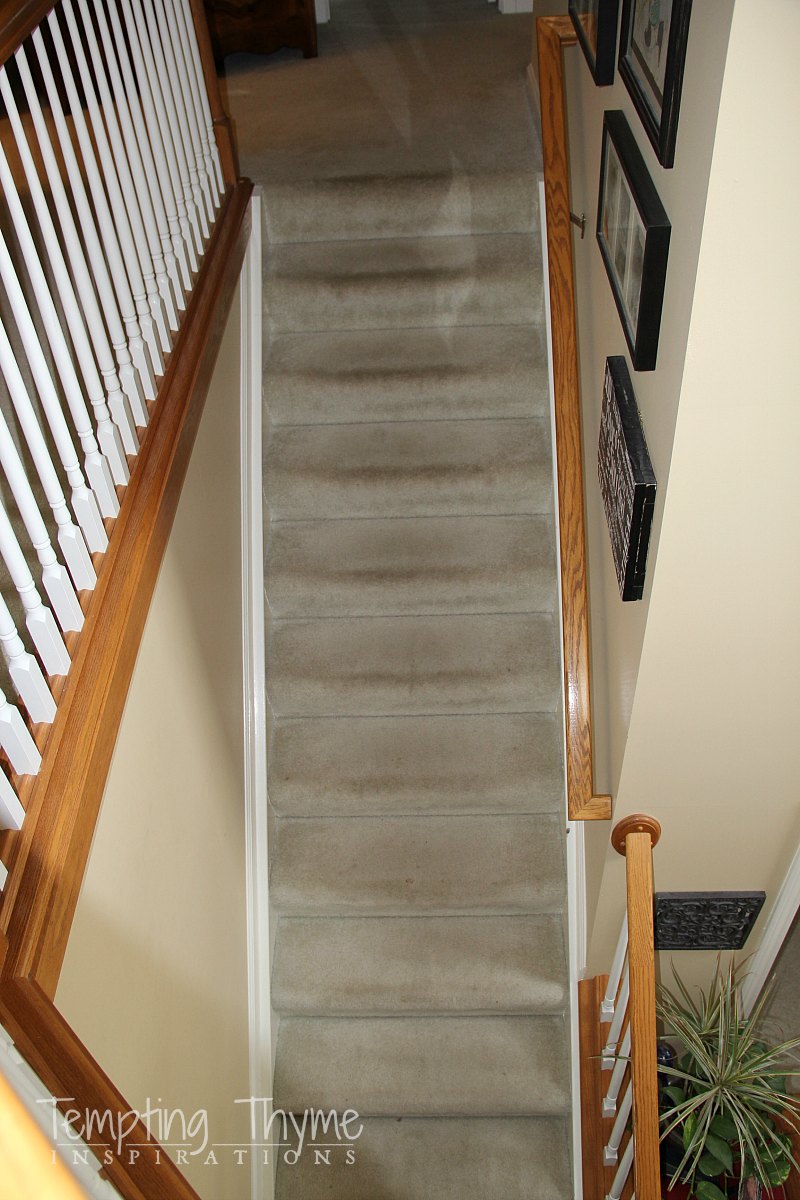 Big difference considering I have a lot of 'orangey' white oak to contend with.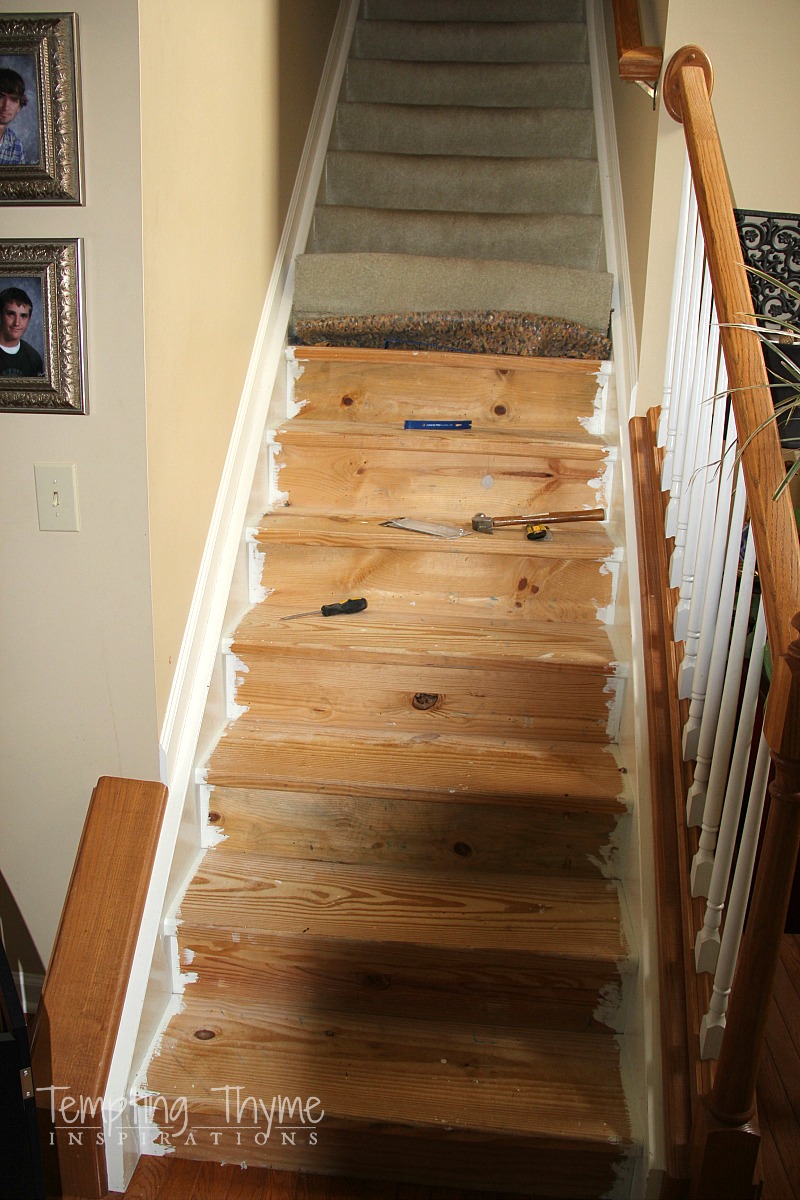 Removing the carpet went a lot faster than I had anticipated, and was able to get it done in 2 evenings.  Because I have a child with asthma, as well as, a dog who thinks he needs to taste anything he can find on the floor, I broke it up and completed a stair at a time….rolling the carpet up as I went. 
After I removed the padding, I used a crowbar, hammer and a flat edged screwdriver to remove the tack strip and staples.  Every 3 stairs, I used a box cutter to cut the carpet from side to side.  This was a simple system that worked great, and will also be how I handle it when dealing with the basement stairs too.  Don't tell PT!  😉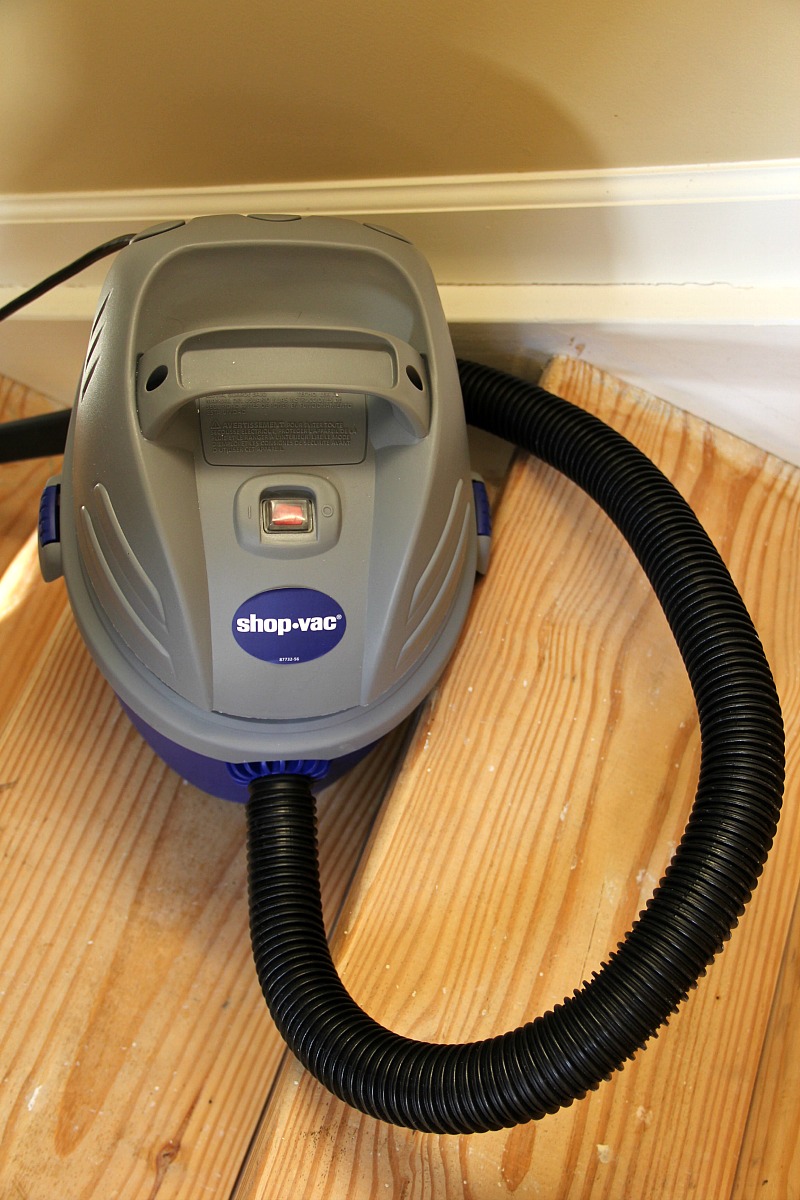 After I finished each step I vacuumed it thoroughly.  Seriously, if you knew what kind of crap I was sweeping up you would immediately get rid of your carpet.  Just one more reason why I want 100% hardwood in my house eventually!  It was GROSS!
See that beautiful mini shop vac?  That was my xmas present from PT, and this was the first time I actually got to use it!!  YEAH!  Am I the only female that asks for tools for birthdays and xmas?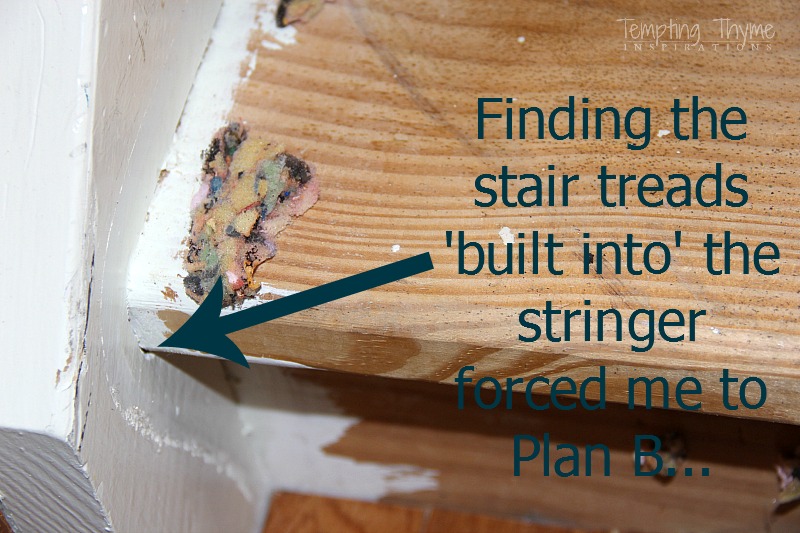 My original plan had been to start fresh and just remove all the stair treads.  I found 48″ pine boards with a bull nose lip for about $10 at Lowe's.  I wanted to just buy these, stain them and then screw them into place.  Dan (my contractor friend I hired to replace the shed doors) totally burst my bubble when he told me that the treads were anchored into the stringer….not screwed into the framing.  BUMMER!  Even if I got the treads out, there was no guarantee that the new pine boards would fit in, or cover, the opening in the stringer.
His information totally burst my bubble!  Between this and the boys hesitation on having hardwood stairs (okay, in this case….softwood, as pine is soft) it derailed this project for a couple of weeks.  Internal war ensued, and I finally said "what the hell"…..I am going to try it anyway.  Nothing to lose, except my time…… and maybe a little money if it didn't work out! 😉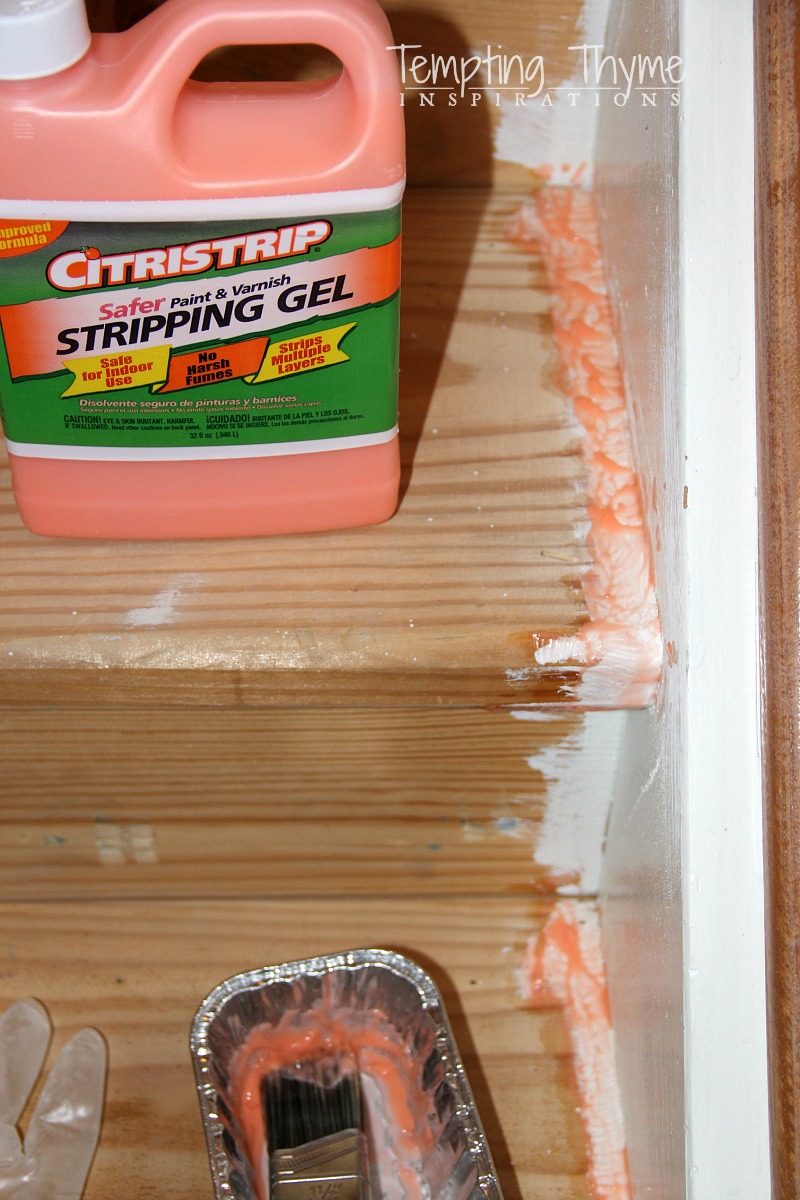 As there was a lot of paint over spray on the stairs, I used a product called Citristrip to help remove it.  Follow the directions on the back.  I didn't listen when it said to use a bristle brush, and quickly found out that the chemicals will eat thru a foam brush!  I quickly switched to a cheap bristle brush from the Dollar Tree. LOL!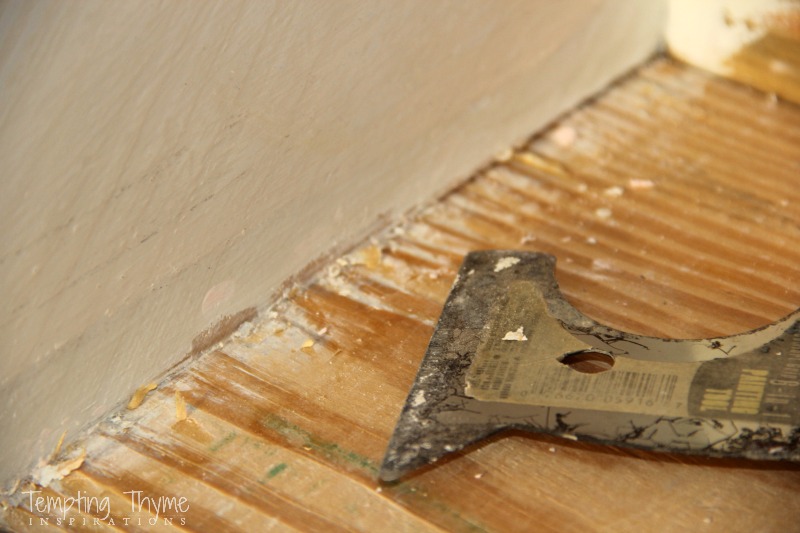 I used a metal scraper to try to get all the paint off.  Even working the sharp edge in and out, I couldn't get it all. 
This is where PT found me one evening…. I think it was only 8pm….  and asked me if I was having fun and was it actually relaxing me.  I cocked my head at him and said I guess so.  No, it wasn't relaxing me….nor was I having fun.  But I was at peace and I think that is the next best thing, don't you.  I knew what the end result would be, and that allowed me to work through all the crappy stuff without complaining!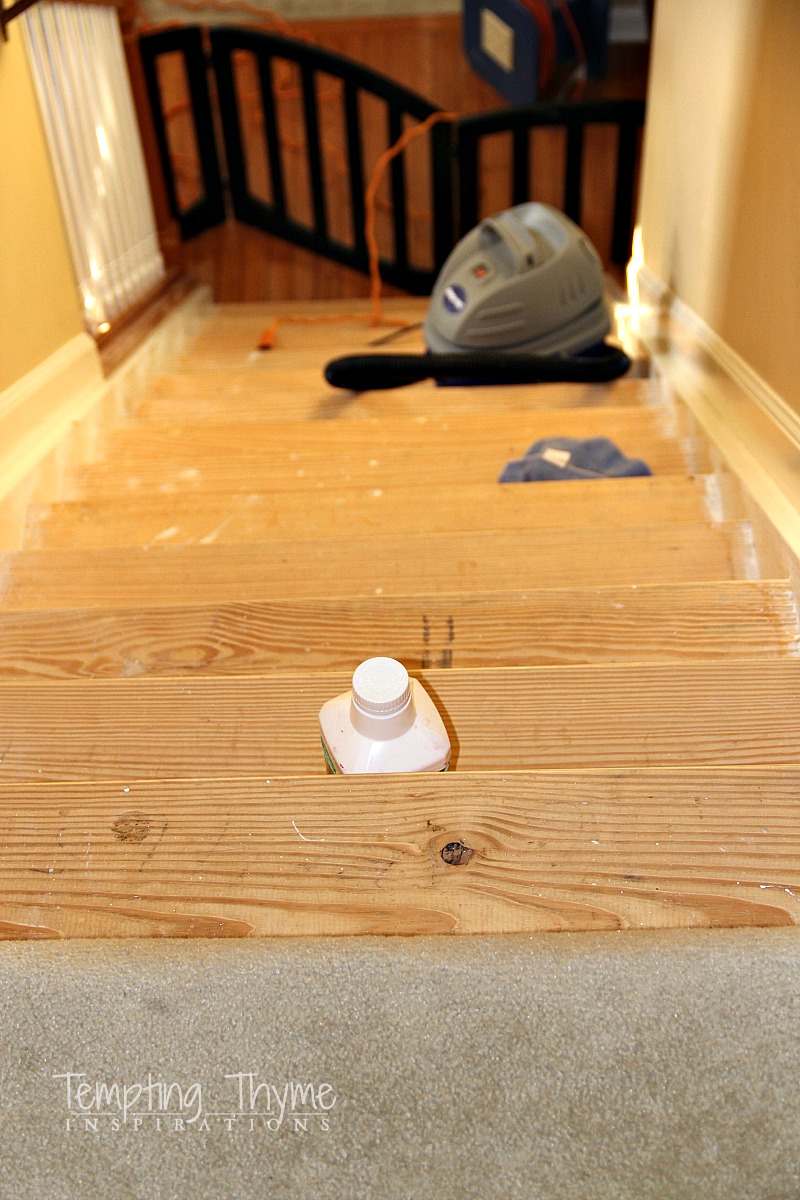 I think the most important step in prepping the stairs is SANDING!  I sanded these bad boys 3 different times.  Once after removing the carpet, once after doing the Citristrip and a final one for good measure before staining.  I used various grades from 50 (very coarse) to a 180 (fine).  It is amazing the amount of dust is creates!  Every evening I had to take a shower  to get it out of my hair and ears!   I still think there is a film of sawdust layering some of our furniture, but I am slowly working on getting it wiped down. 
I swapped out between using my Black and Decker Mouse and doing it by hand with sandpaper.  What a workout for my arms!  If sanding gets rid of just a little of my arm jiggle, it was well worth the effort!!!
BTW—–I invested in some face masks for this project.  I tried to use my cheapo ones I had on hand, but they were not cutting it.  I didn't pay much attention to the brands, but saw that they ranged in price from $1-$30.  I think this 3M pack of 3 cost $5.50.  They are wonderful!  I highly recommend you taking care of your lungs while stripping paint/stain and sanding.  These were comfortable, stayed on the head and didn't fog up my glasses every time I breathed in and out like the cheap ones did.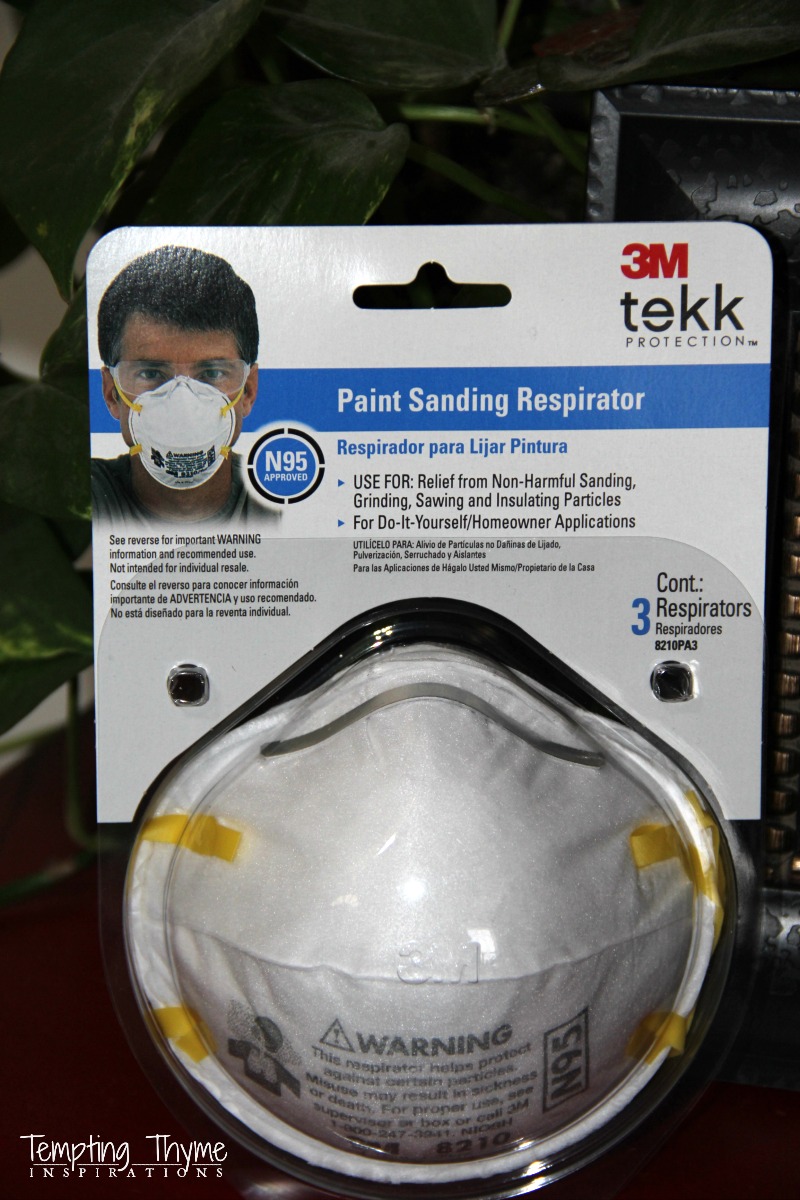 I give up on the little bit of paint that I couldn't get off on the sides.  If the 2-3 coats of stain doesn't hide it, I will either put up a small piece of molding or just paint the treads black.  Painting them black is my Plan C in this little stair project of mine!  I also have this to contend with….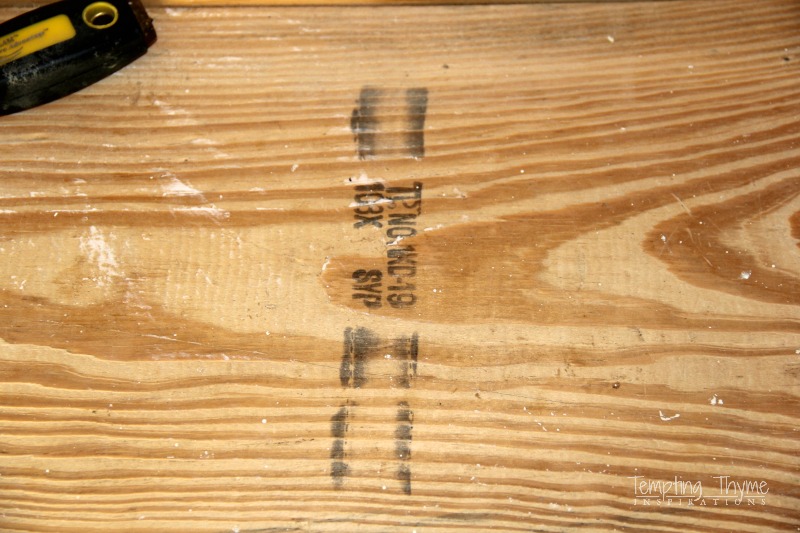 Don't builder's know to put the best looking side facing up?  Seriously!!  Time will tell if stain can hide this flaw!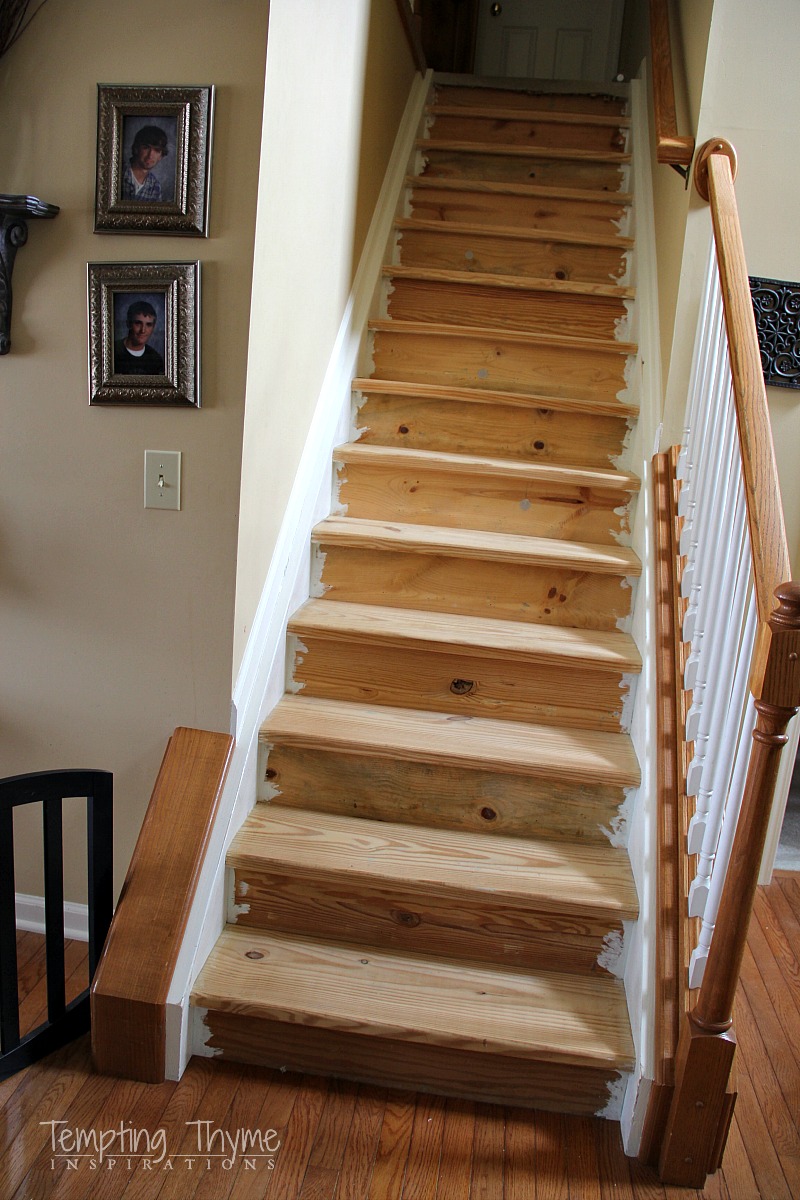 Here is a quick rundown of what I did:
1.  Pulled up carpet and padding using gloves (I used a pair of gardening gloves) 😉  Cutting the carpet with a box cutter every 3rd step to make removal manageable.  Cost:  $0
2. Removed stare tacks and staples using a crowbar, hammer and flat head screwdriver (pliers would work too).  Cost: $8 for a 2 pack of crow bars.
3.  Sanded the treads and the stair stringer with my Mouse.  Cost:  $0   This was a xmas present back in 1996, and I have only had the chance to use it once before (on a road side bench I found with B last year).
4.  Used Citristrip on the paint overspray.  Scraped it off with a metal scraper.  Cost:  $12 for the stripper and the throw away paint brush to apply it.
5.  Sanding, sanding and more sanding.  Cost:  $5ish for the face masks
TTL out-of-pocket cost so far:  $25
I think they are ready to go!  This time next week I hope to have all staining done on the stairs and railings and install the white kick plates.  Wish me luck!
Have you taken on a stair project?  How did it go?  Any advice for me or others?