The ball has started rolling for our foyer and staircase and PT is already sweating a few bullets.  =)
I have been stockpiling all of my ideas, showing them to the family…..getting lots of blank stares and a just a few more eye rolls than I can stand.  Why can't they get into this as much as I am?  Just thinking of taking a sledge hammer to parts of my house makes me sing!!   Seriously!!   Why can't they share my enthusiasm?  LOL!  Do you and your family work on home remodeling projects together, or do you tend to fly solo like me?
As I get ready to make the changes, I thought I would give you just a few pictures that I literally drool over…….
I love this look…..so clean and fresh!  Can totally see myself walking up and down these on a daily basis!   You will see that I have a 'thing' for the boxy newel posts.
I have thought long and hard about constructing these posts myself.  Doesn't this post look like something P and I could build?  It is just a wood post with 1×2's and 1×6's wrapped around it!  How hard can it be?  This is the look that I am going for……white columns with dark banisters and stair treads!
I am also intrigued by changing out the wood spindles for iron…….
As my staircase is not open, it will have to be more like this style as one side of the stair opening is boxed in, and I am not willing to go through the headache of converting it.  I do have my limits!!
But with a little more pizazz like…. something like this!  Even though my stairs are boxed in, I can totally see myself opening up the bottom 2 steps and beefing them up, making them longer and having the post sit on top of them.  Definitely think that this is the style for Dana Drive!!
How about the front door?  I am in love with the idea of having a black interior door.  Something like this….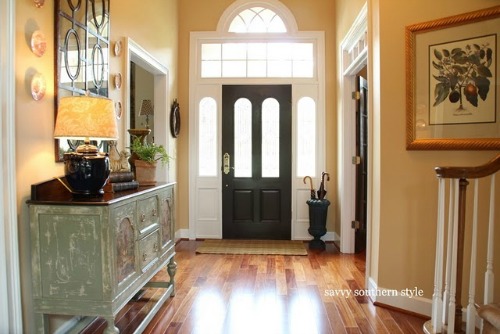 Source:  Savvy Southern Style
But can totally see it being more of a bungalow style….
Doesn't it all look so inviting?  Can you believe how clean everything looks?  My house would never look like these without ALOT of help!! 
Now that you can see where my head is going, let me show you what I am working with.  Here are just a few pics of our foyer….
This is what you see when you walk in our front door.   I should clarify…this is what guests see!  We tend to walk in from the garage into what I call the mudroom (more like a hallway….but I can dream that I actually have a mudroom =) )  Just a little boring….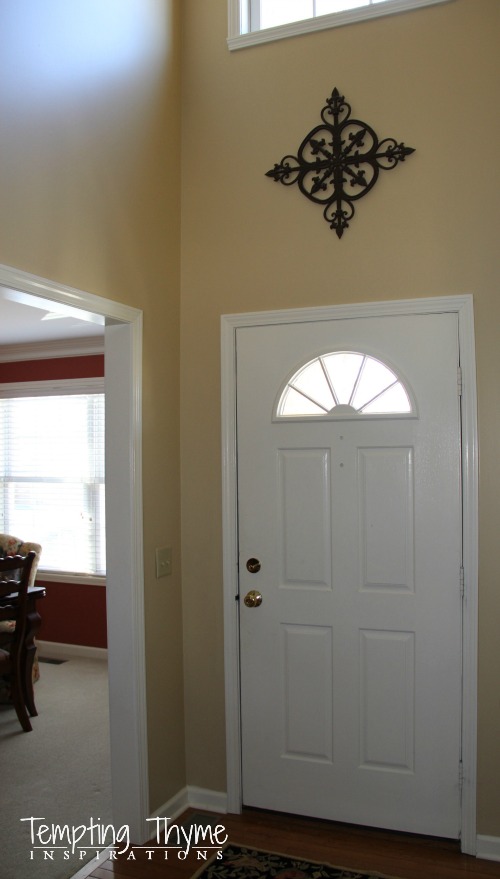 Here is the front door.  Seriously want to swap it out for something like the 2 dreamy ones I showed you…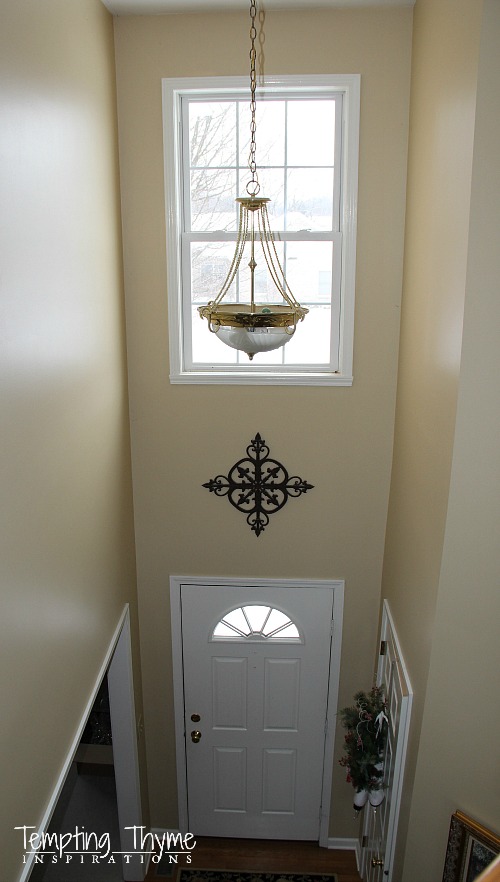 Here is a shot from the second story landing.  Yes, that really is a Christmas arrangement on the closet door.  I was mortified when I saw it upon adding in the watermark (learn how to make your own HERE) that I immediately had PT take it to the storage room.  Now if only I could get the wreath on our porch put away.  HA!  That brass light will be hitting the road before the year is out!  Woo Hoo!!  See that green egg in the light?  One of the boys through their Easter eggs when they were little and it landed in the light!!!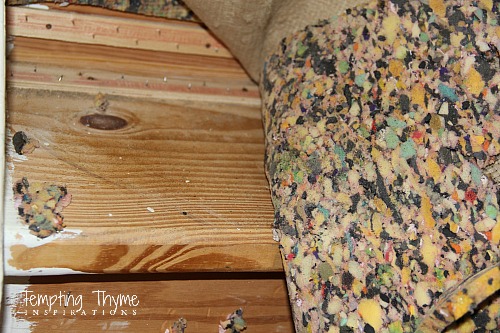 I have a lot of work to do don't I??  My inspiration photos won't be far from my side these next few months!  I am so NOT looking forward to ripping up all of this carpet…..  Anyone want to come help?? 
What DIY project have you tackled lately?
                                                               Shaunna