Who doesn't love Cinnamon Rolls?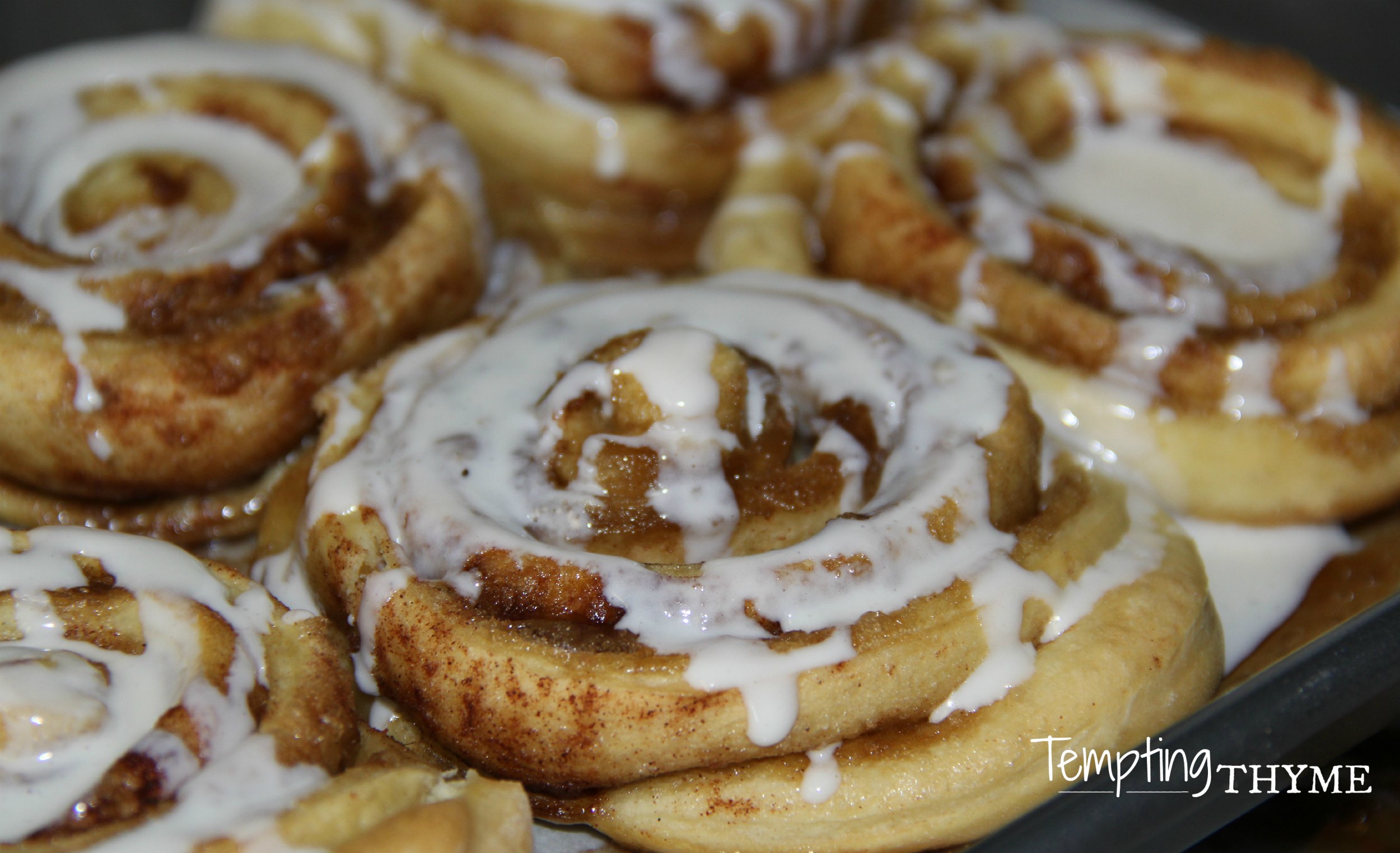 And Cake Batter Cinnamon Rolls to boot!  LOL!  What do these sweet little babies bring to mind?  Fluffy…… gooey…… light as air…..melting in your mouth at the very first bite!  Yep…..that is what they say sing to me too!
When I first saw this recipe, I thought it would be cheating!  A quick way to do cinnamon rolls and not have to use yeast!  Kind of like Quick Breads! Ummmm….obviously I DID NOT read the recipe start to finish.  This still uses yeast!   You still have to wait patiently while it rises/proofs/rests!  =( 
I had grand plans on making these for the hockey team when they came over for lunch before a game.  It wasn't until 10:30 am that I fully read the recipe.  LOL!  By that time I already had  the rolls started up in the mixer.  OMG…..did I ever share with you all that I got a new Kitchenaid for Christmas???  If I didn't lets take a short detour so that I can spew off how totally awesome it is.  I have named her 'Maxie', shortened from Max Steele.  Have no idea why I think of Max Steele, must be some character in a book I read moons ago.  Every time I look at this bad boy I think of this, but a mixer cannot be a boy….so I shortened it to 'Maxie', and I am absolutely, positively IN LOVE!  Let me see if I can find a picture…..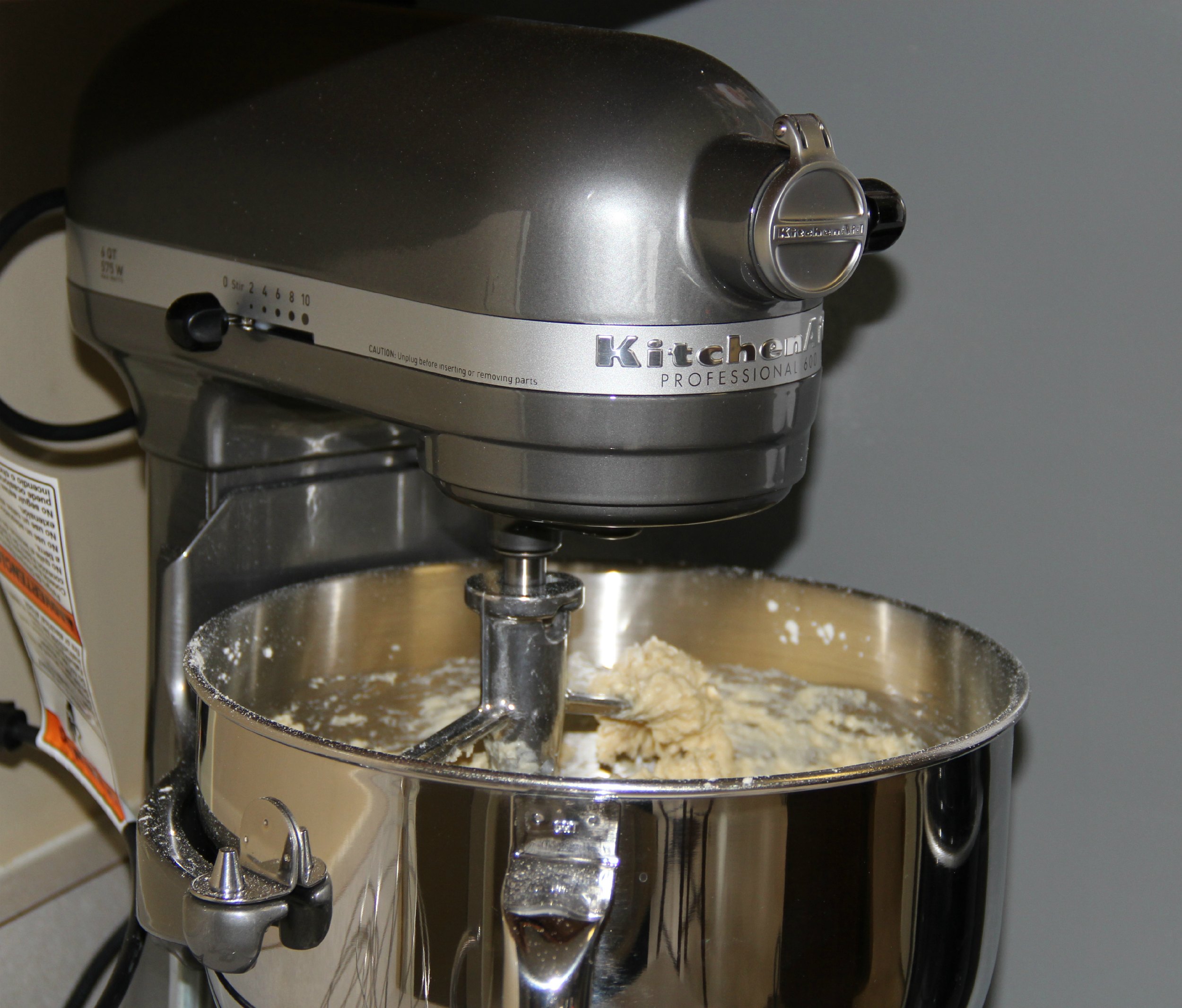 Isn't she beautiful?  I have grand plans for her in the future!    Thanks Mom!!!!!    What did I do with my other Kitchenaid?  'No name' is stored safely in my basement, waiting for me to either decide to sell it…or give it to one of the boys when they set up shop in their own home. 
Now that I have totally gotten off course, let's get back to sweet, fluffy, melt in your mouth Cake Batter Cinnamon Rolls!   My timing was going to be totally off to serve these with lunch.  No way were they going to rise and bake before the boys got here.  I had one final hope that they would be ready to eat as an additional dessert, or they could take them on the bus with them.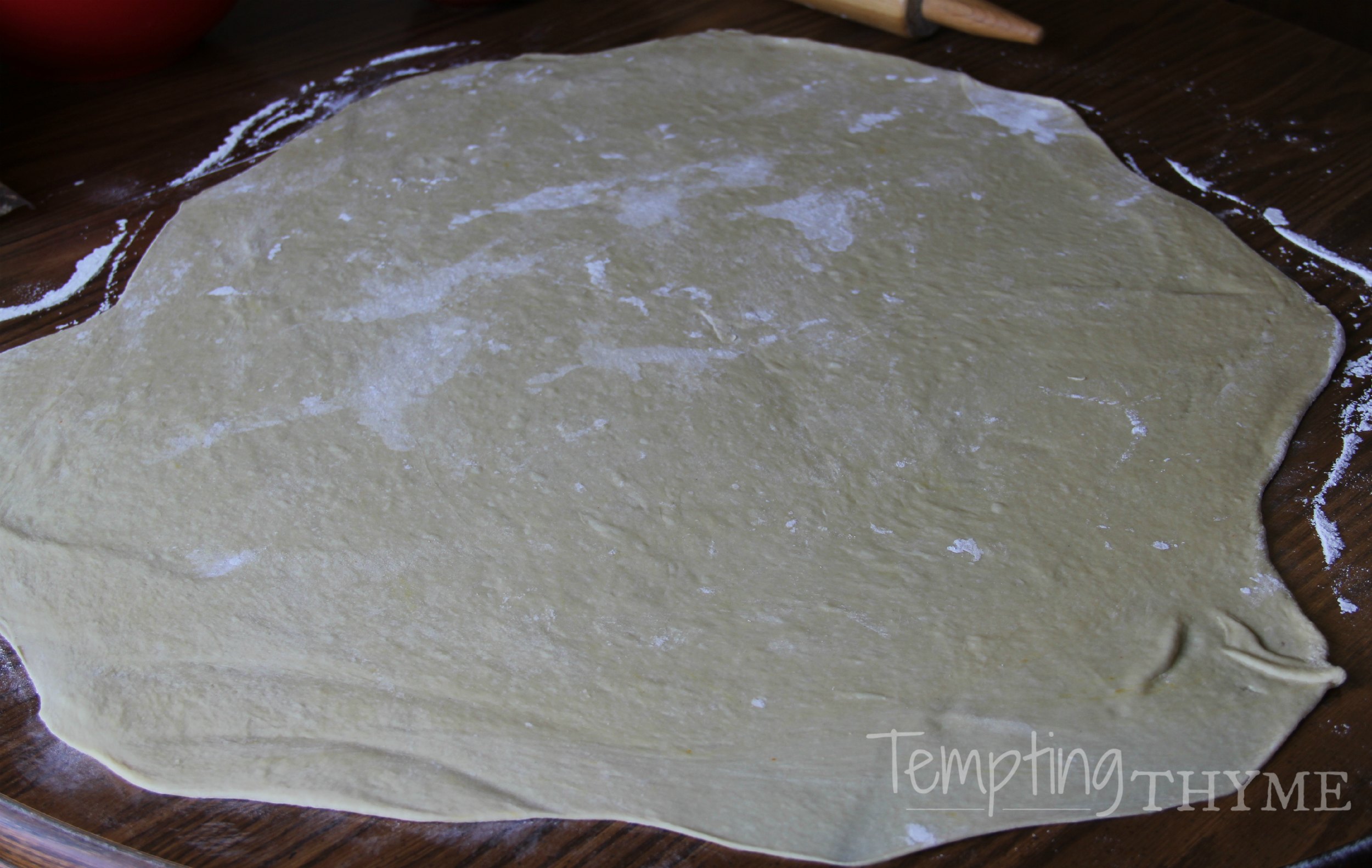 I like to roll my cinnamon roll dough out to be paper-thin.  Once the butter and brown sugar topping is spread out to within 1/4 inch of the sides, start rolling up the dough.  Work with the end furthest from you, rolling towards you, making it as tight as you can.  This will give you lots of swirls in your cinnamon rolls instead of being loosey goosey!  Cut the dough into 24 rolls (I was able to get 30 rolls out of this batch, but I cut mine very thin so that we could have some extra after the boys devoured them)!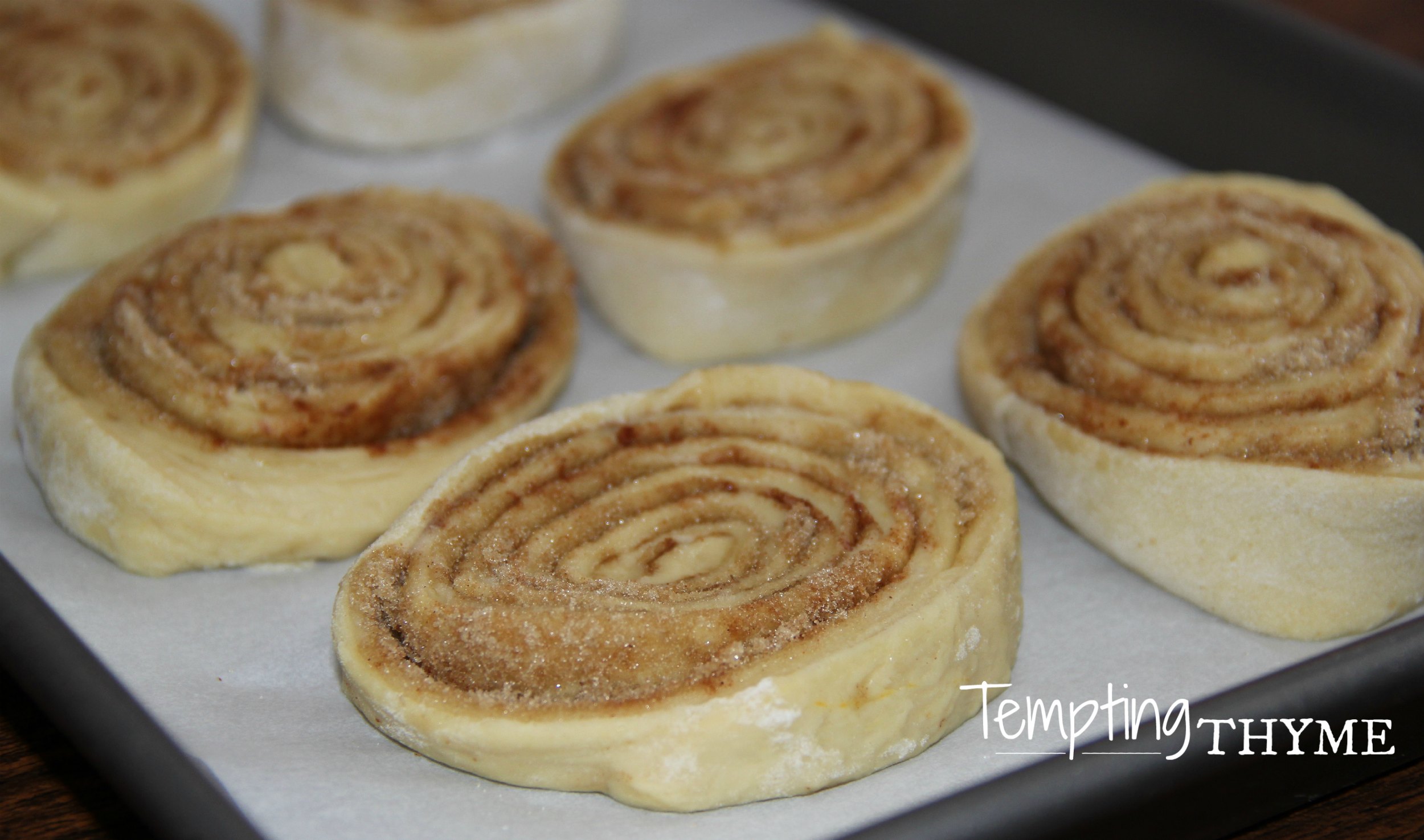 Place the cinnamon rolls onto a parchment lined cookie sheet or 2 13×9 pans.  I like to use parchment as it makes for easy clean up afterwards! None of us likes to clean up, why not make it a little easier with parchment?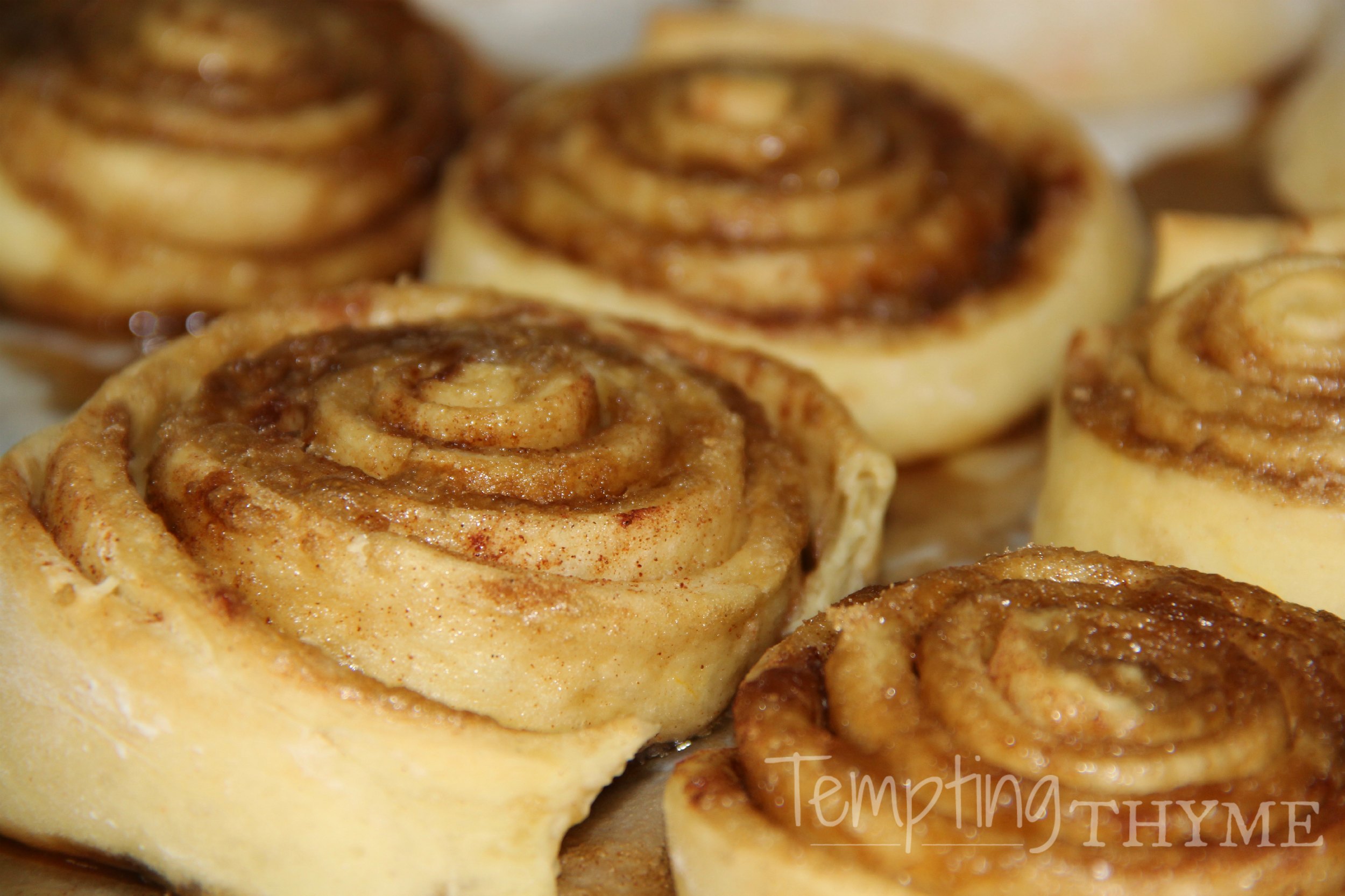 As for the baking, you are going to have to judge this depending on what type of oven you own, the location you live, etc, etc.  For these it only took 15 minutes to bake….but remember, I cut these into 30 rolls versus the desired 24.  If I was baking 24 I would bake these for 20-25 minutes.  Just watch them carefully until they are nice and golden brown!
Today is the perfect day to make these, go ahead and give them a try!  Nothing says they have to be for breakfast or brunch, why not eat them as a dessert after dinner??
Until next time…..
                                         Shaunna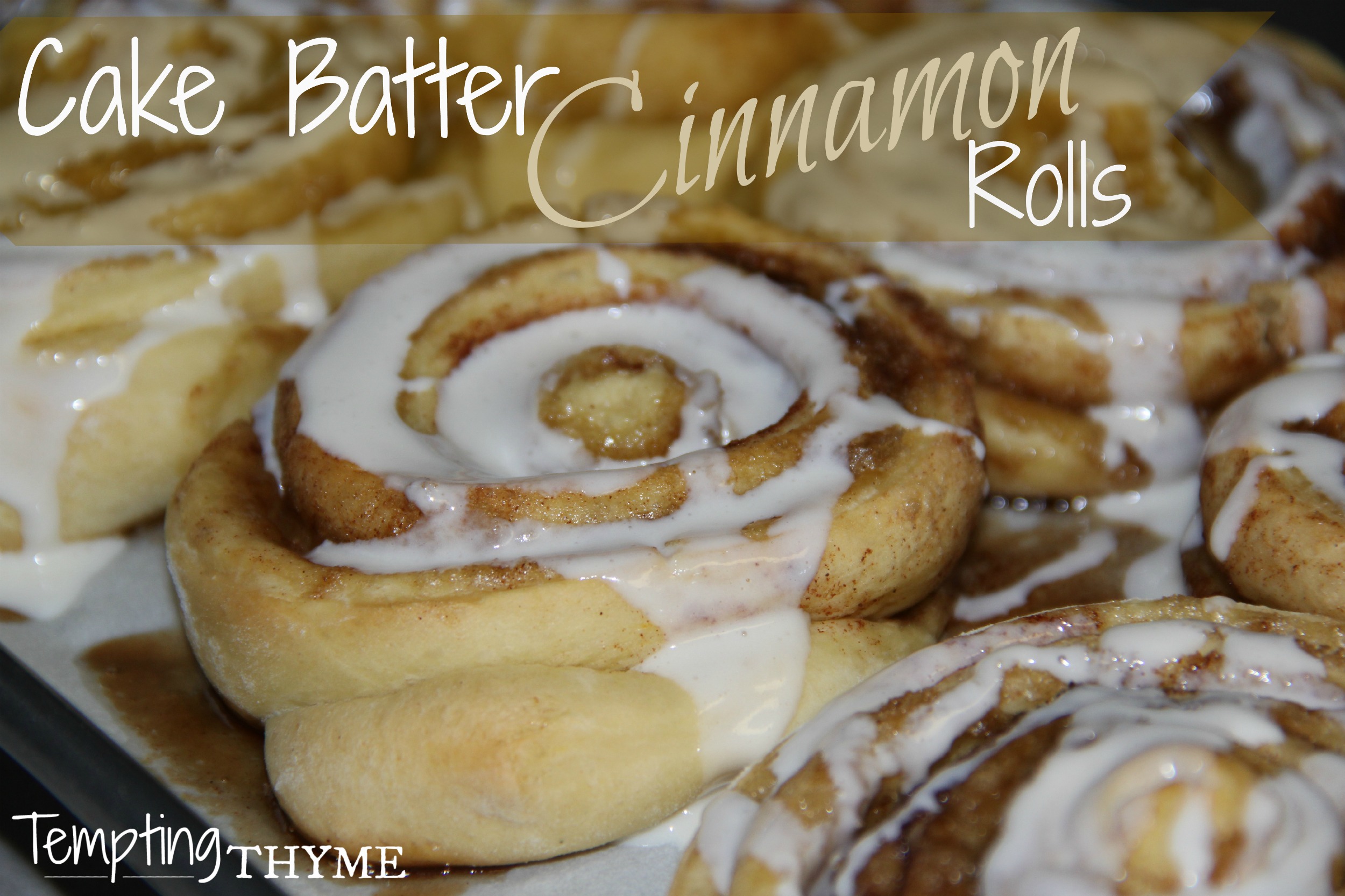 Cake Batter Cinnamon Rolls
Serves:  24                             Printable Recipe
Ingredients:
Cinnamon Rolls:
1 box yellow or white cake mix

2 pkgs of active dry yeast

2 ½ cups of warm water

2 tsp vanilla extract

½ tsp salt

5 cups flour
Filling:
2 cups brown sugar

1 – 2 Tbsp Cinnamon

½ cup butter, softened
Frosting:
1 can cream cheese frosting
Directions:
1.  Mix yeast and warm water until dissolved.  I do this right in my mixer to save washing another dish or bowl. Add in the cake mix, salt, flour and vanilla into the yeast mixture and mix well.  If you don't have a large mixer, you may need to finish it up by hand, kneading with your hands a bit to completely combine the ingredients.  Cover the bowl tightly with a clean towel or Saran wrap.  Let rise for one hour.  Punch down and let rise again for another 30-60 minutes.
2.  On a floured surface, roll the dough to be  approximately 1/4″ thick.  Once dough is rolled out, brush with the softened butter.  Sprinkle with brown sugar and cinnamon – I used 2 Tbsp, but you can use as much as you like.  Starting at end opposite from you, roll the dough towards you until all dough is rolled into one long piece.  Slice dough into 24 equal sized pieces.
3.  Place rolls on two parchment lined  9×13 pans, or 1 large cookie sheet if you own one.  Cover and let rise until doubled in size.   Bake at 350 degrees for 15-25 minutes or until golden brown.  Remove from oven and let cool slightly.  Frost your rolls after 10-15 minutes of cooling/resting…..if you can wait that long that is!!

Source:  Adapted slightly from Love from the Oven
You may find Cake Batter Cinnamon Rolls linked up to these great Parties, plus Designs by Gollum!