Wicked Weekend #5
Should I be thankful that I baked up a storm the past few weekends?     Yes….it means that I can still give you all the wicked decadence we call desserts, without sacrificing my new declaration of eating healthy.     Did I really say that I needed to go easy on the food, as summer was a short 7 weeks away?      WHO AM I KIDDING?   I currently sit nursing 1/2 dozen…or more  (the shame of it)  Reece peanut butter rabbit's.  If I was truly being honest….. I would say the only reason I am eating pb rabbits…….is because someone in my family found the mini kit kat bars (how in the hell  heck do they find all of my hiding spots).    But, I am not being honest and my head is full of shame.  What is it with declarations and resolutions?  We want to make changes to our lives,  we have great intentions,  and then our inner workings start to play tricks on us.  The mind games begin and somehow our resolutions turn to failures.  Why does this happen?  What happened to self-control?  So many people have tried to analyze the inner workings of the human soul….to no avail.    You know what I say?  You want that dessert, go ahead and EAT it…..but do it in moderation, and not every weekend!    AHHHH…..if only I could practice what I preach! 
 You are going to love this poundcake.  It truly is one of my favorites, generally only coming out to play during the xmas holidays or B's birthday.  There is no reason that this cream cheese poundcake cannot take center stage 365 days of the year.    Or as Patrick Swayze would have said, "No one sticks Baby in a corner".    For the spring and summer months, dress it up with fresh fruit sauces.  I like to slice strawberries, sprinkle sugar over them, and let them rest in the refrigerator until dessert is ready to be served.  If you want something thicker, then simmer some fresh fruit, mashed up a bit with a little bit of sugar (can take up to 25 minutes to get the right consistancy….be patient) adding in a little cornstarch to thicken it all up.  Play around with different fruit combinations.  I don't think you can go wrong with any blend you try.  Hey, while I am thinking of it…..pour in some vodka, Triple Sec, or any of your favorite licqueors to blend in with the fruit.  Yummy!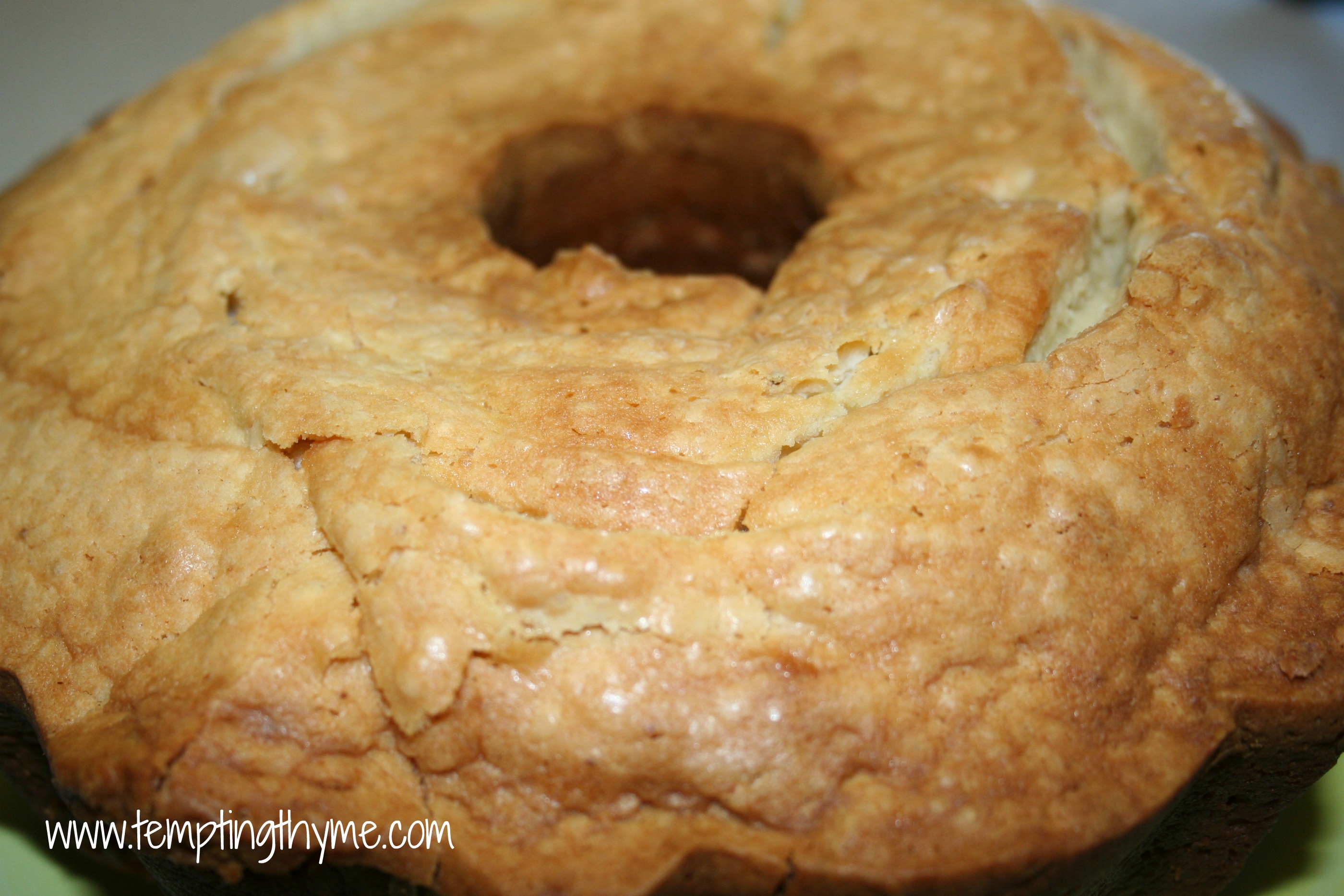 Look at the cracks and crevices on the top of the poundcake.  Aren't they beautiful?? 
Cream Cheese Poundcake
Ingredients:
1 ½ cups butter, softened and at room temperature

8 oz cream cheese, softened

3 cups sugar

6 large eggs

3 cups all purpose flour

1/8 tsp sea salt

1 Tbsp pure vanilla
Optional:  1/4 cup lemon curd and 1 tsp orange zest.  I love to kick things up a bit by adding in lemon and orange zest to my pastries, especially blueberry muffins.  Mmmm, mmmm good!
 Directions:
 – In a large bowl, beat butter and cream cheese at medium speed until creamy.  Gradually add in the sugar, beating well.  Add in eggs, one at a time, beating until combined after each addition.
 – Combine flour and salt; gradually add to butter mixture, blending at slow speed until blended.  Stir in lemon curd and orange zest (optional).  Stir in vanilla.  Pour batter into a greased and floured 10 inch bundt pan.  Place pan on parchment lined cookie sheet.
 – Bake at 300 degrees for 1 hour 40 minutes or until toothpick comes out clean.
 – Cool on rack 10-15 minutes.  Remove from pan and let cool completely on wire rack.
MANGIA….MANGIA
Don't forget to tell me what you think?