Banana Bread is one of my favorite quick breads to make, and I think you will be hard pressed to find a better recipe than Andretti's Banana Bread!
Who is Andretti you ask?
My Mom…….of course!
How in the heck did she get that nickname?  I honestly cannot tell you the when, the why or even the how……. but I do think it started in my high school days, while watching bits and pieces of the Indy 500 and she fell under Mario Andretti's spell.  Sorry Dad!   It was an easy transition…..Andrea, Andretti.  Andretti, Andrea.  You get it right?  That is my standby nickname for her, but most actually just call her Mrs. I.    A  N  Y  W  A  Y….let's talk about bread and bananas.  You are going to love this bread.  Heck, it has a cup load of sugar in it.  Who can resist that?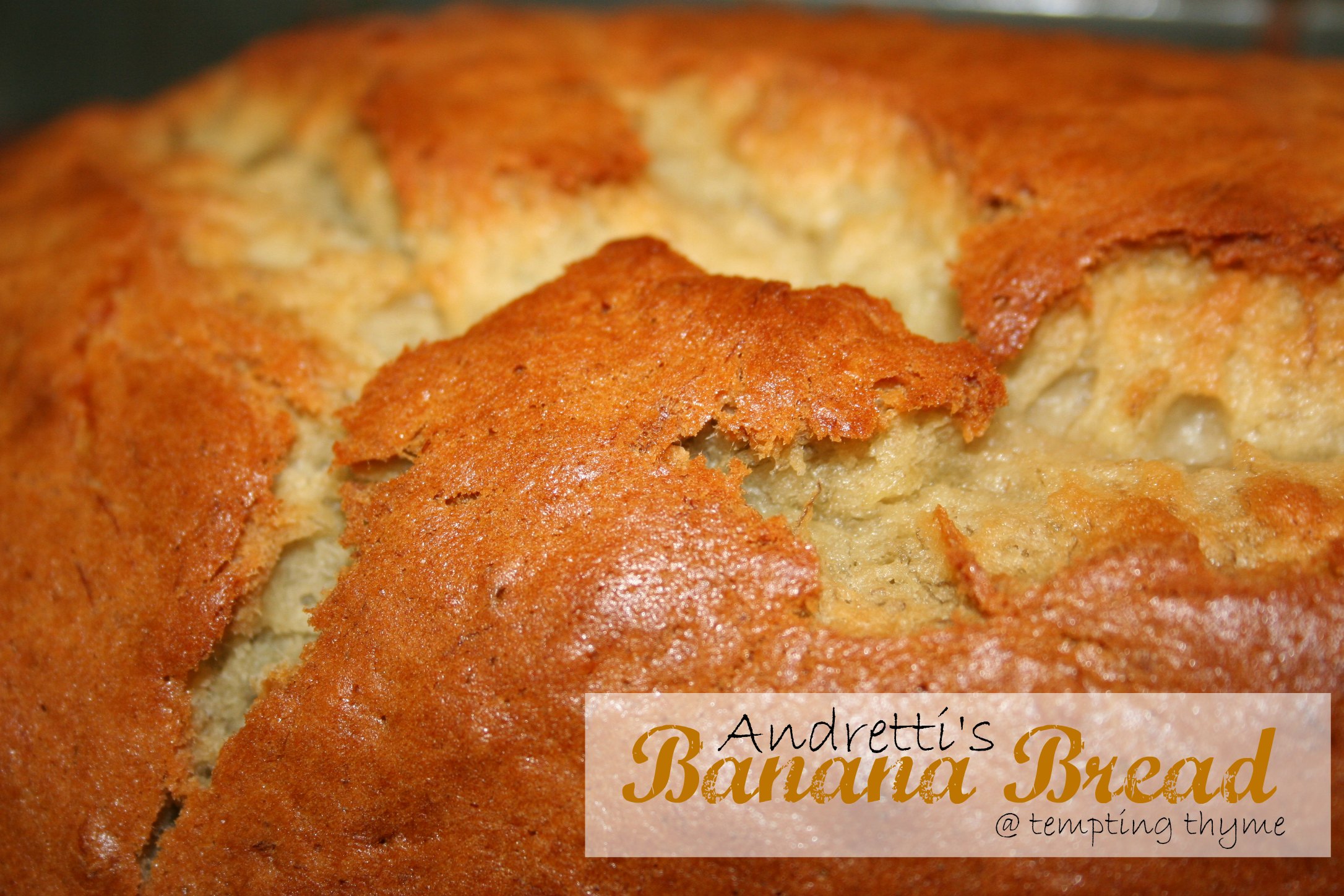 I used to love coming home from school or swim practice to find these loaves cooling on the counter top.  Lean down, sniffing deeply, inhaling the sweet temptation.  Let's not forget that it has bananas…….they have to counteract all that sugar a smidgeon….right?   One of the best parts of this bread is the top of the loaf.  It forms a beautiful split top crust, just right for the picking and the plucking.  OMG……I would drive my Mom banana's (lol) when she would go to wrap them in foil and the top crunchy layer would be gone.  Sorry Mom!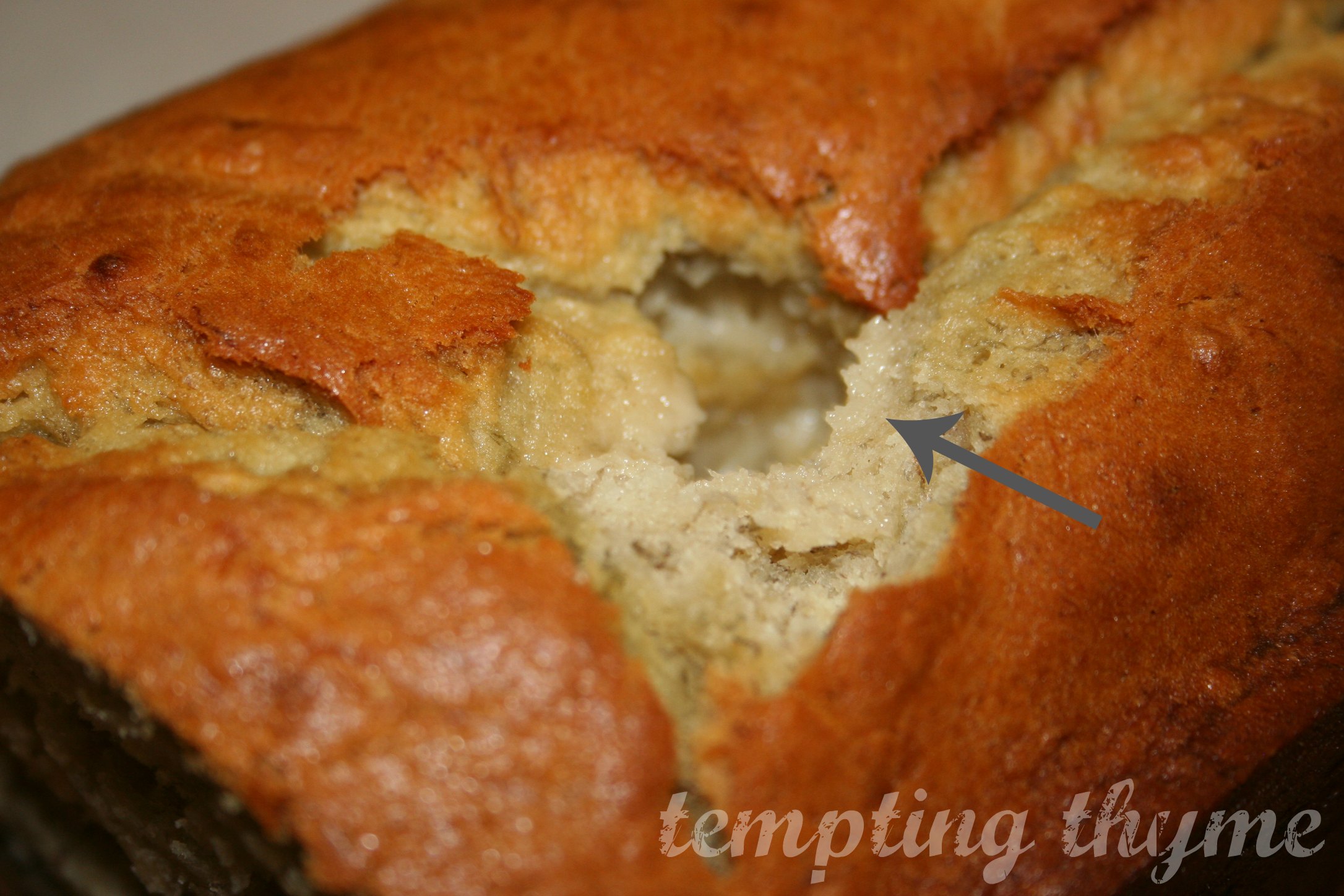 B had been asking for banana bread, and what perfect time to make it…….when my Mom was coming down for a visit.  The wonderful aroma was enveloping the kitchen, inviting any and all to come and stay awhile.  She is going to be mortified when I tell you that the center was a little undercooked.   I left the room for just a short amount of time.  What could go wrong?   I razzed her big time, as she did not do the tried and true toothpick test.  She just heard the buzzer and immediately removed the bread from the oven.  After a lot of teasing, I solved the issue by taking a spoon and scooping out the little bit of undercooked banana bread.  It was amazing!    Yes, I ate it.   Wouldn't you have done the same thing?    Did I pick apart the top of the bread?    You bet…..no matter how old I get…it will still be my favorite part and always bring back such fond memories.
Thanks Mom for this fabulous recipe!!
Andretti's Banana Bread
Serves:  12
Ingredients:
1 egg
1/2 cup butter, softened
1 cup sugar
1 tsp salt
1 tsp baking soda
2 cups all-purpose flour
3 large ripe bananas, mashed
Directions:
Preheat oven to 350 degrees.
In large bowl, cream butter, egg and sugar until fully blended and smooth.  Set aside.
In small bowl whisk together flour, baking soda and salt.  Gradually add the flour mixture to the creamed butter and sugar until blended.   Add mashed bananas and mix thoroughly.
Spoon banana bread into a 9×5 bread pan sprayed with vegetable oil spray.  Place on top of a parchment lined cookie sheet and bake for 50-60 minutes, or until toothpick comes out clean.
Printable Recipe


Source: This yummy banana bread recipe is from my Mom, Andrea…… but you can just call her Andretti or even Mrs. I!
                     Shaunna

 ♥
You may find Andretti's Banana Bread linked up to these great parties……