Wicked Weekend #12
I am so excited for this day!
B and I are heading down to Brentwood, TN!
Purpose of our trip——-hockey, of course!  When doesn't our life revolve around hockey!
Benefit——I get to see my sister, celebrate my nephews 21st birthday (ask me tomorrow morning if I regret celebrating too much), spend some time with my oldest nephew and give my niece her graduation present!  I am hoping she likes it!  I am absolutely crazy for subway art, and thought it would be perfect for her.  I took all of the streets and states that she has lived…..and let me tell you, they moved around A LOT, the date and hospital she was born,  thru in her high school and the college that she will be attending, and twisted it all up to make the puzzle of her life!  I will post a picture later this week.   Keep your fingers crossed that she loves it as much as I do.    I did it a little differently this time…..each time I create one I do something different.  By my 20th one I will have it down to perfection I am sure.  I had a huge compliment when B asked if I was going to make him one for his graduation next year!   Imagine a sad face….still can't come to grips with my baby leaving the nest next year =(   Still sad!!!
And now you are wondering when the heck am I going to talk about butterfinger and caramel.  Ok, ok….always getting sidetracked!
I made these bars….or bites, since I cut them into bite size pieces, for a Memorial Day party I went to.  I went solo, as the family was at the Indy 500 race.  I was looking for something different, and trying to use up what we had in the pantry.  Even though PT loves to say that Kroger's is just a mile and a half down the street!  Anyway, I had a bag of the Kraft caramel bits leftover, and on the back was a wonderful recipe using graham crackers, marshmallows, caramel, peanuts and chocolate.  I switched up the peanuts for butterfingers, ala cookies & cups and we have a keeper.  If you wanted to change things up a bit, you could actually make a graham cracker crust with a little melted butter and crushed graham crackers OR, you could make mini cups out of them using a mini muffin tin….ooooh, I think I will have to do this pretty soon.  I can actually visualize the tiny cups of swirled marshmallow, caramel and butterfinger and chocolate…..OH MY!
If you have not tried the Kraft caramel bits, you need to! They are little, teeny tiny balls of caramel.  No more dealing with the individually wrapped caramels!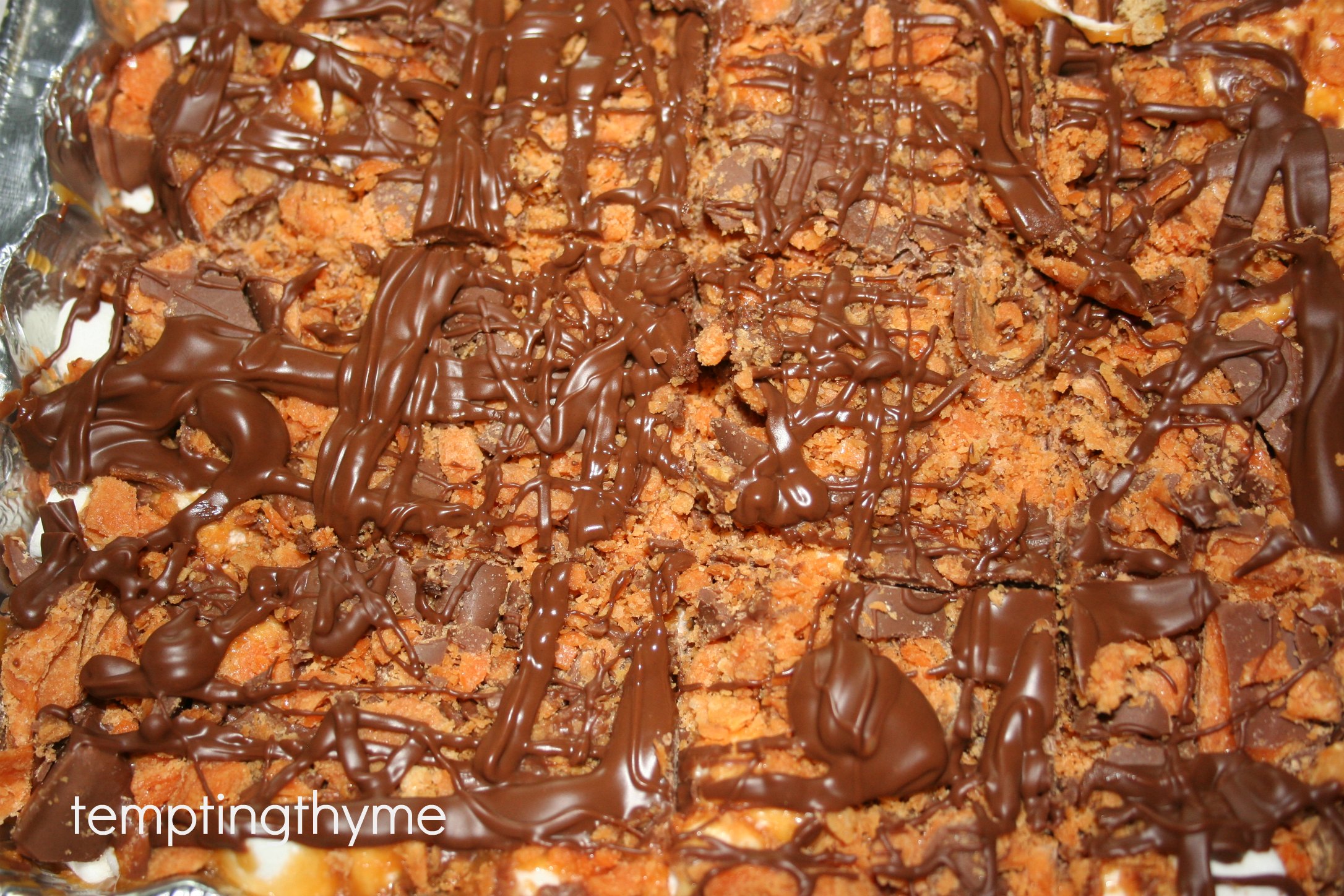 Butterfinger Caramel Bites
Makes 16
Ingredients:
6  graham crackers, more if you use a bigger pan
1 3/4 cups mini marshmallows
1 (11 oz) bag Caramel bits
2 Tbsp milk
12 bite size butterfinger bars, chopped
2 Hershey Chocolate Bars (for drizzle)
Directions:
* Line an 8×8 baking pan with foil.  Let the foil hang over so that you can lift the 'pan' out after baking and cooling.
* Spray foil with cooking spray.
* Place graham crackers on bottom of the pan, cutting to fit evenly.
* Sprinkle marshmallows over graham crackers.
* Melt caramel and milk together in a microwave safe bowl for 1 minute. Stir and continue heating in 30 second intervals until melted.  This will take between 2-3 minutes.
* Pour caramel over the marshmallows and gently spread until evenly coated. The marshmallows will melt slightly. Make sure to coat evenly so the caramel seeps down to the graham crackers.  You want that contact to hold the bites together.
* Sprinkle chopped Butterfinger on top and press the candies into the caramel/marshmallow mix.
*Melt Hershey Chocolate Bars in a microwave safe bowl on high power in 30 second intervals until melted.
* Drizzle milk chocolate on top of Butterfinger.
*Chill in refrigerator for 1 hour or until set.
* Cut into bars when ready to serve.
Store and serve bars at room temperature in an airtight container for up to a week…….but I bet they won't last that long!
Source:  Adapted just a smidgen from cookies and cups and  Kraft
You might also like:
Blueberry Cafe Bars
Brownie Mousse and Toffee Trifle
Caramel Corn
Linking up to these great parties:
Cheerios and Lattes
Funky Junk Interiors
Six Sister's