Woo Hoo!!
I finally finished a new project and can't wait to show you all!
I love Subway Art….have adored it since living in my beloved New York City.  Love the different elements that can be added, as well as the different textures and mediums you can use. I am also gaga over Words and Quotes, and love to surround myself with inspiration.  Whenever I am in a foul mood, or feeling sorry for myself, reading these quotes give me the swift kick in the ass butt that I need.  But holy bejesus…it can be EXPENSIVE!
Last week I found an amazing tutorial, that showed me how I can turn all of my desires….OOPS….think decorating folks….GEEZ, get your head out of the gutter…HA!  Anyway, I am not going to give you a step by step on this wonderful project.  Just go here  and she tells you everything you need to know.
What I will give you are my thoughts and tips on creating your very own SUBWAY ART!
HEY…did I forget to tell you that I was able to make 3 works of art for only $6.50 each.  You heard it, JUST $6.50!!
First Step:  I created my jpeg file on a website called Picnik.  Warning, warning….this site is closing in the middle of April….but, I am already scouting out a few other's for future use.  Let me take a moment and weep a little!
Why oh why didn't I learn of this site earlier?
It is totally AWESOME, and right now everything is FREE…even the premium stuff!  Did you notice that my recent pictures say www.temptingthyme.com? Courtesy of Picnik!!  I uploaded a high resolution 4×6 to work with, blacked it out with the rectangle and added in the text.  I then saved it back onto my computer as a copy.  I took the photo, on a  flashdrive, to my local Staples.  How much did I pay for the Engineering copy…a whopping $2.99!!  The only glitch was that I asked for a 2'x3′ copy, but received a 16″x23″ print.    They advised doing the text on an 81/2 x 11 sheet, not a 4×6.  Will have to play around with that.
Second Step:  I raced to my favorite hardware store…Lowe's…to get the necessary plywood and pine slats.  Now that I have a few under my belt I will be choosy about the width of the lumber that I purchase.  I purchased birch plywood and 1×2 inch pine slats.  I will look for thinner boards next time, possibly a 3/8 inch thickness.  I measured out my 3 printed copies and had Lowe's cut the plywood down to size for me.  I figured I could cut down the slats at home.  MISTAKE! 
I forgot that I had a lousy miter box/saw versus the Reciprocating/Compound Miter Saw that I drool over!! Why won't PT listen to me when I request one for birthdays and Chrsitmas?  Where is my TOOL FAIRY that will just drop one off at my doorstep?  Craftsman, DeWalt…I am not choosy (but it must have a 12″ blade..lol)!!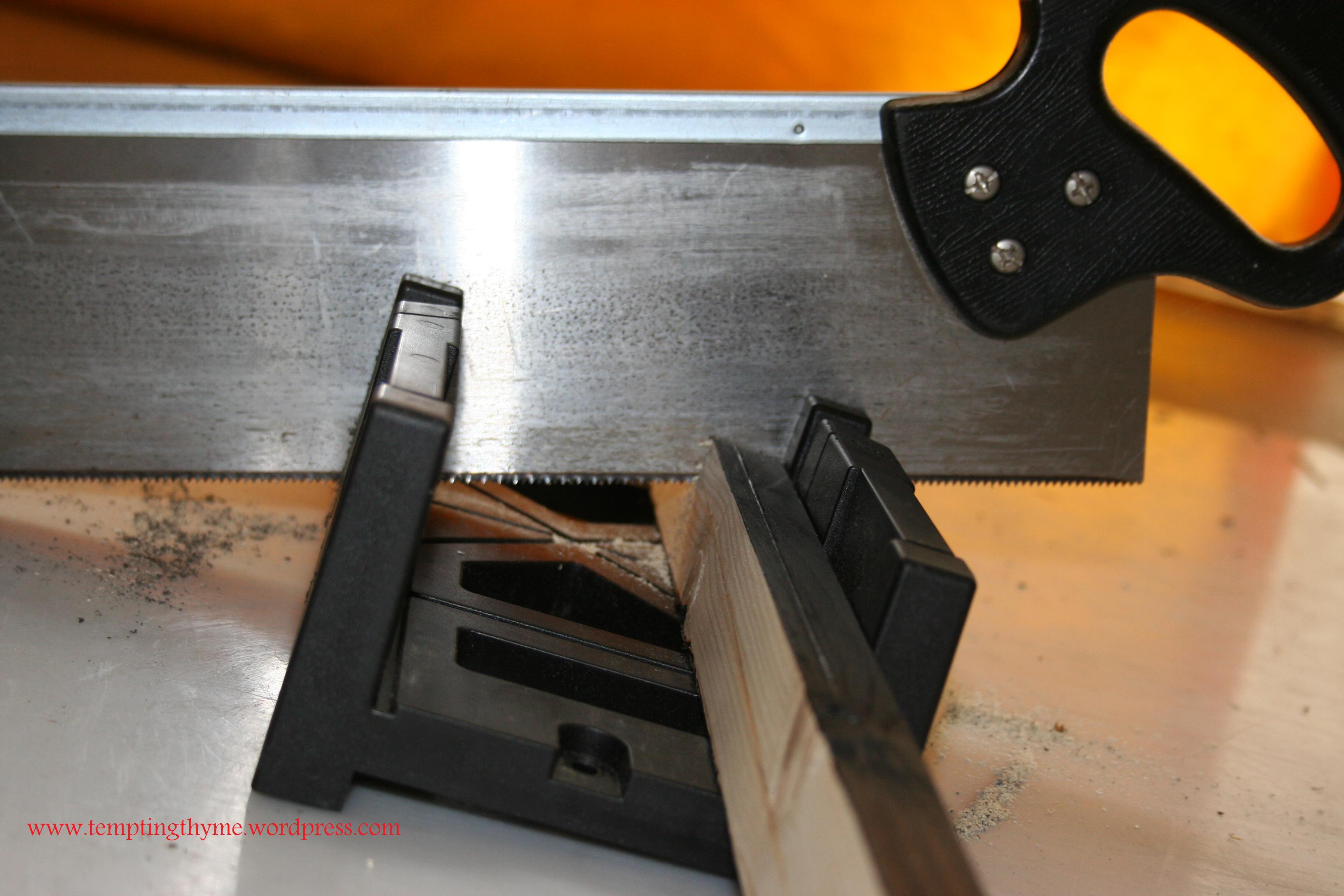 Can you believe I cut 12 of the pine slats using this stinking miter box?  Actually, let me rephrase…I cut 11 and then asked PT to cut the last one.  I did this for 2 reasons.  I wanted a good laugh, AND I was hoping he would see reason and RUN out and buy me a brand new spanking saw!  No such luck.  This is me still crying. =)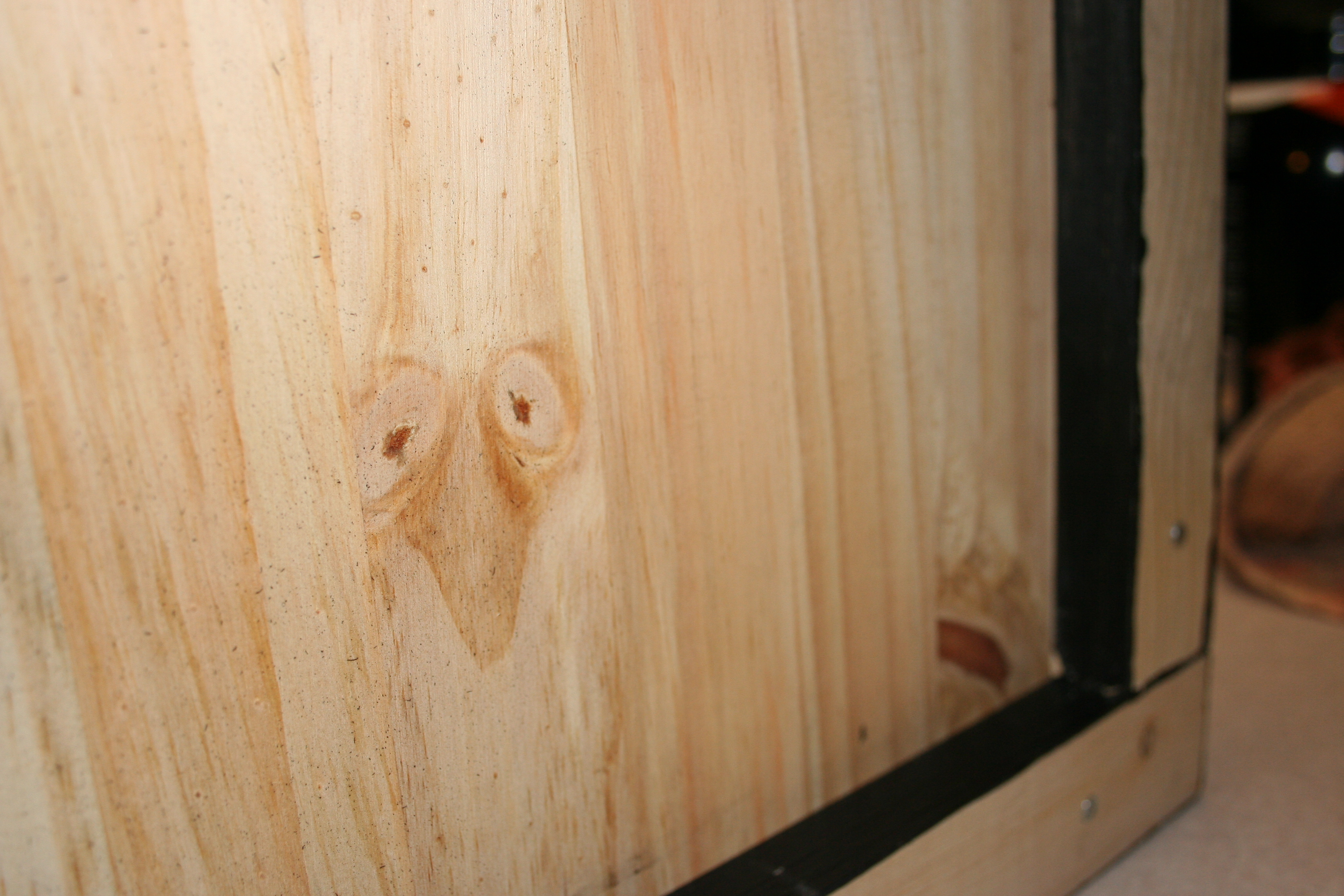 I created a "frame" on the back of the plywood and nailed the slats into it.  I did this for all 3, but next time I will try something different and create my frame first (vertical not horizontal), and then lay the plywood on top of the frame.  It will create the depth I desire, but also allow me to buy thinner wood.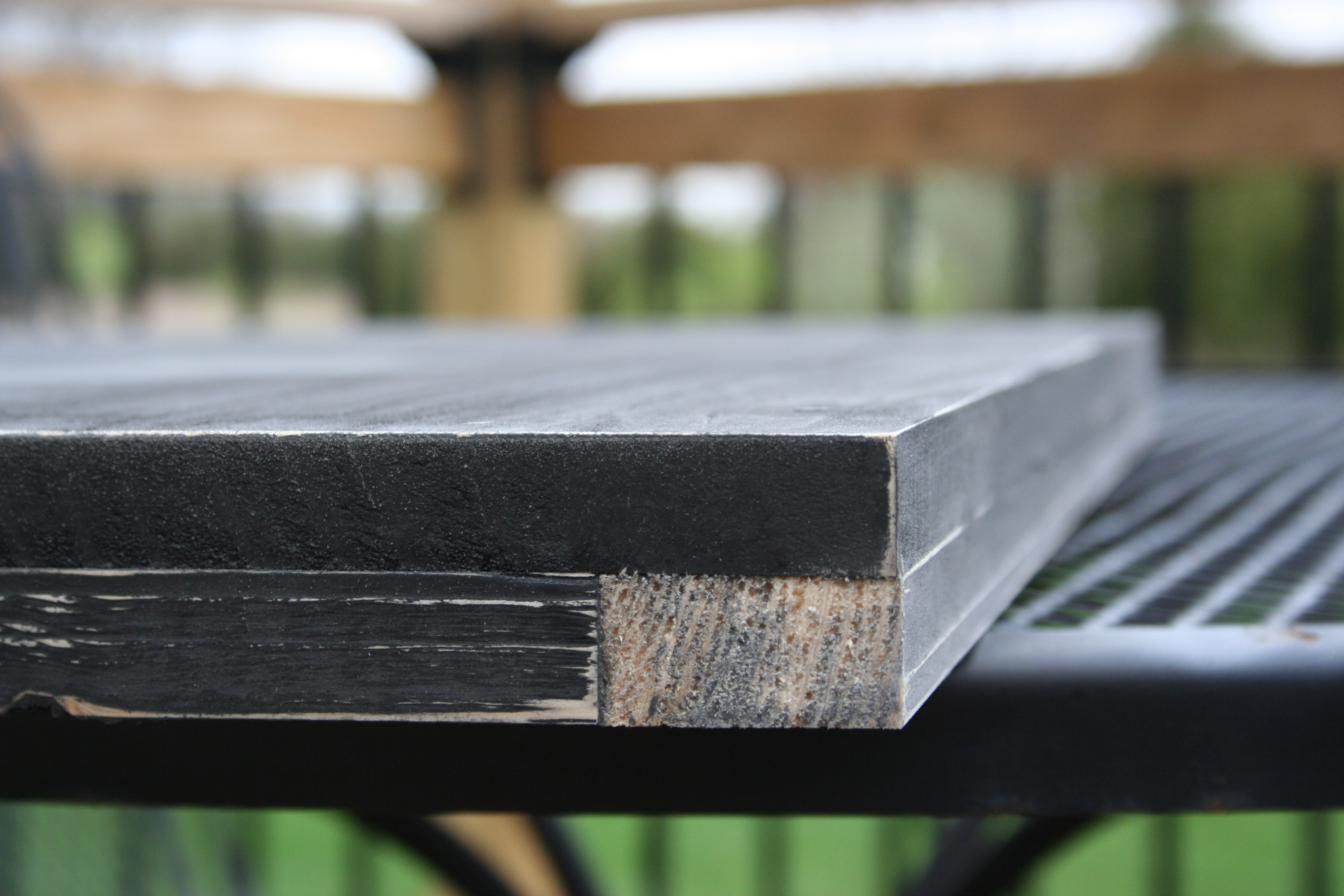 If you hadn't noticed I painted all the wood black (the corner section above still needed some love), and then sanded it down.
Third Step: I used 2 different techniques to get the paper onto the boards.  For the boys' I used Mod Podge, but for the quote I wanted a smoother top so I used a spray adhesive from Tree House Studio.  Tip:Pay close attention to the sides and corners-make sure you have a tight seal.  I used one of the Pampered Chef stoneware cleaners as my 'tool' to seal the paper and to work out any bubbles.
I didn't have B's lined up properly and it ended up cock-eyed on the board.  No way I could make it look decent, so once it dried I sanded the entire area…take a look below, I think it looks kind of cool.  But the picture is all I have of this "art", as I got my act together and redid B's and used this same board.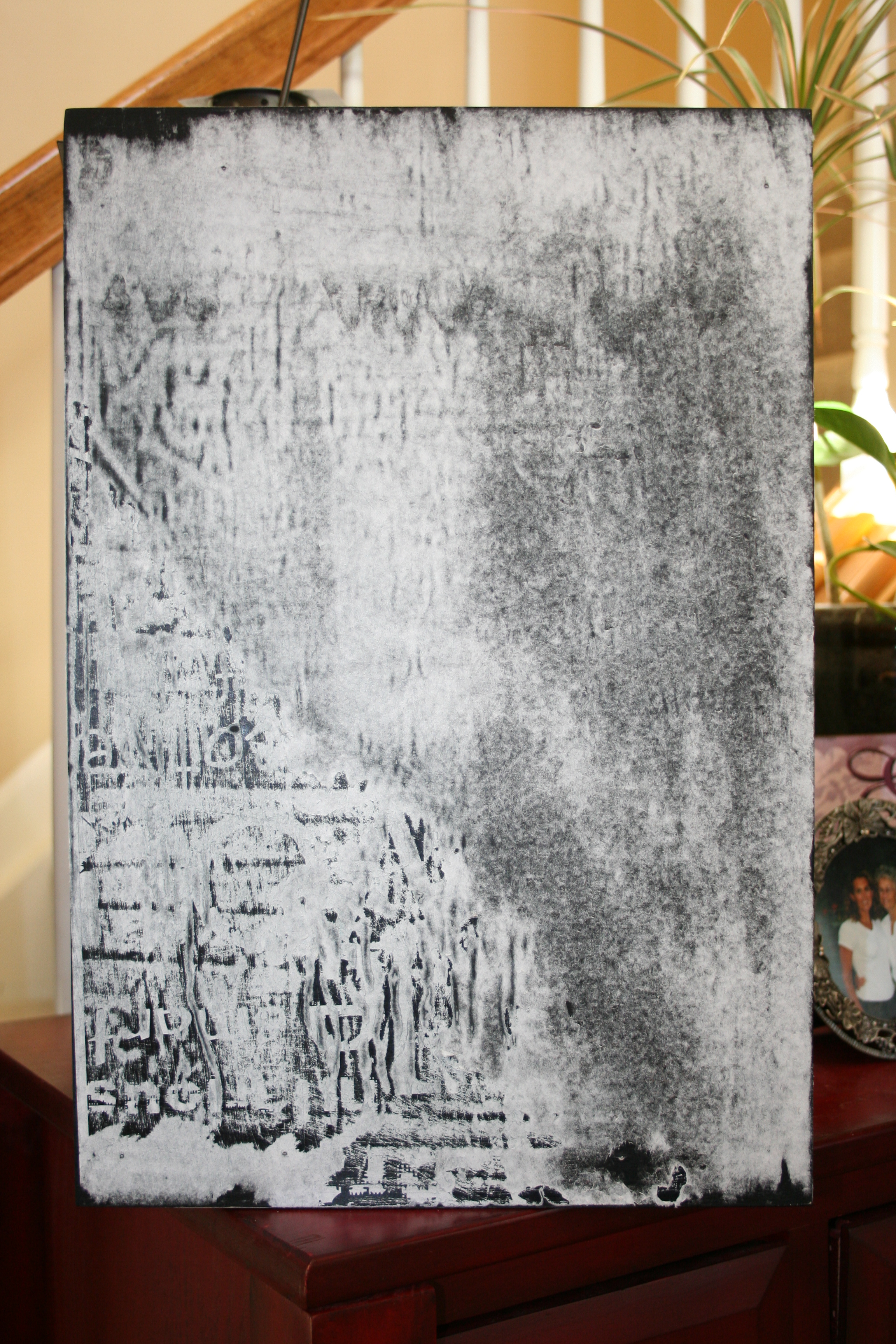 I left a little of the paper overhang the wood frame.  Once dry, I sanded down the edges and the thin paper came right off.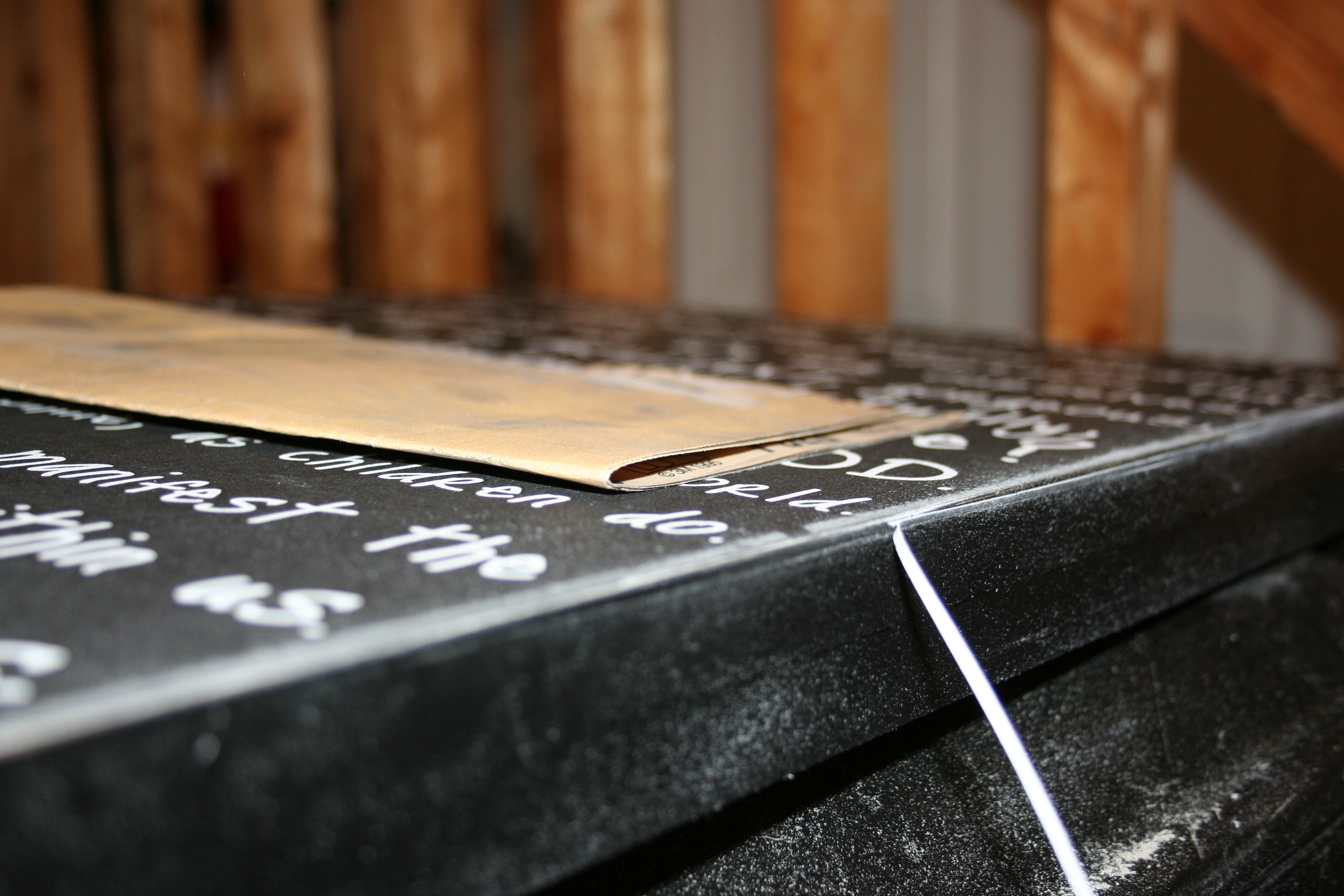 I love distressed and weathered wood, so I sanded the sides some more and then very gently sanded the tops of the paper.  I was very nervous to do this, thinking that the paper would tear.  They each turned out a little differently.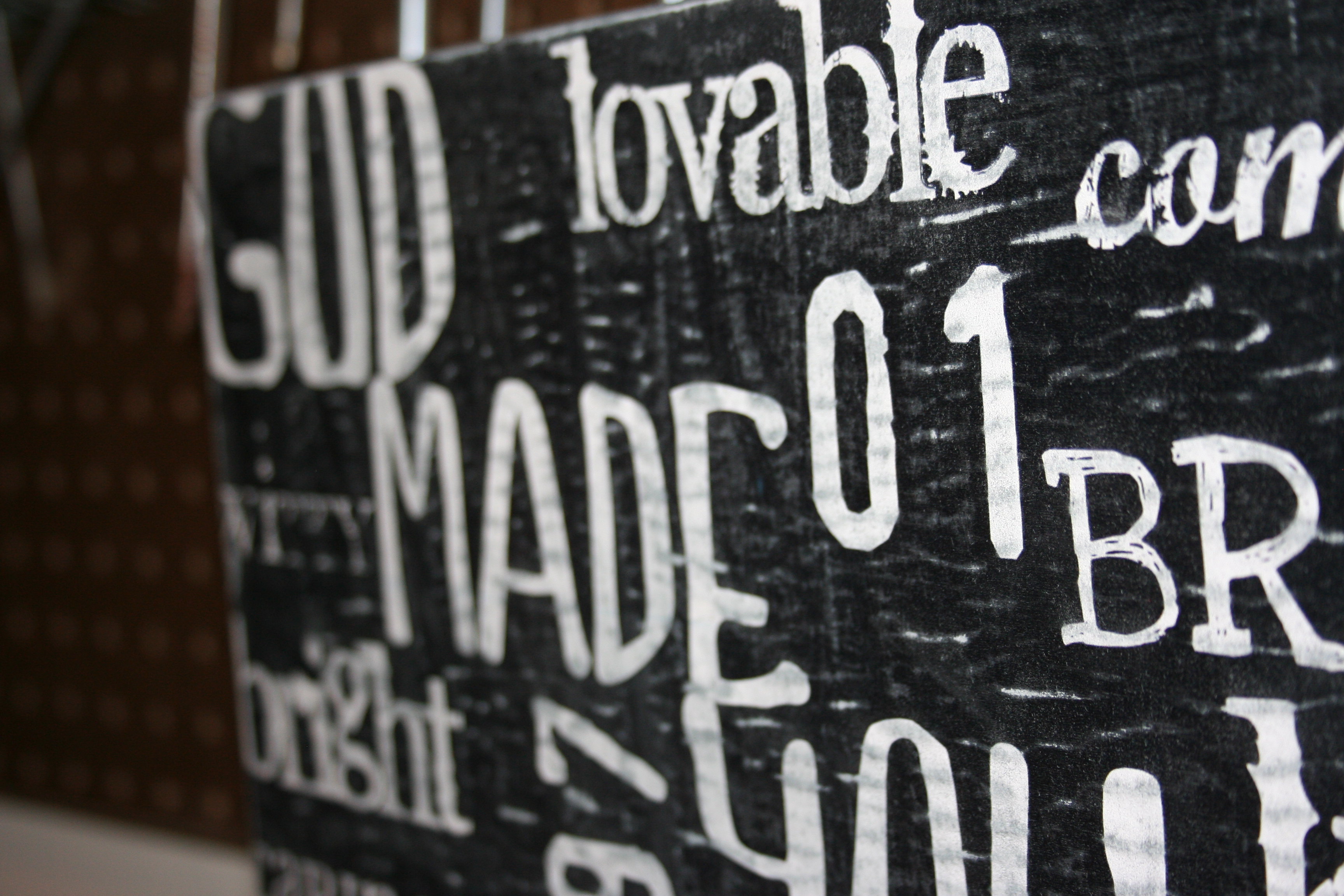 I am so thankful that I happened across this tutorial.  I truly think it has changed my life…given me a new avenue to change my 'inspiration' pieces WITHOUT breaking the bank.
This board is 10 1/2 x 16 inches.  I chose to do one vertical and the other horizontal.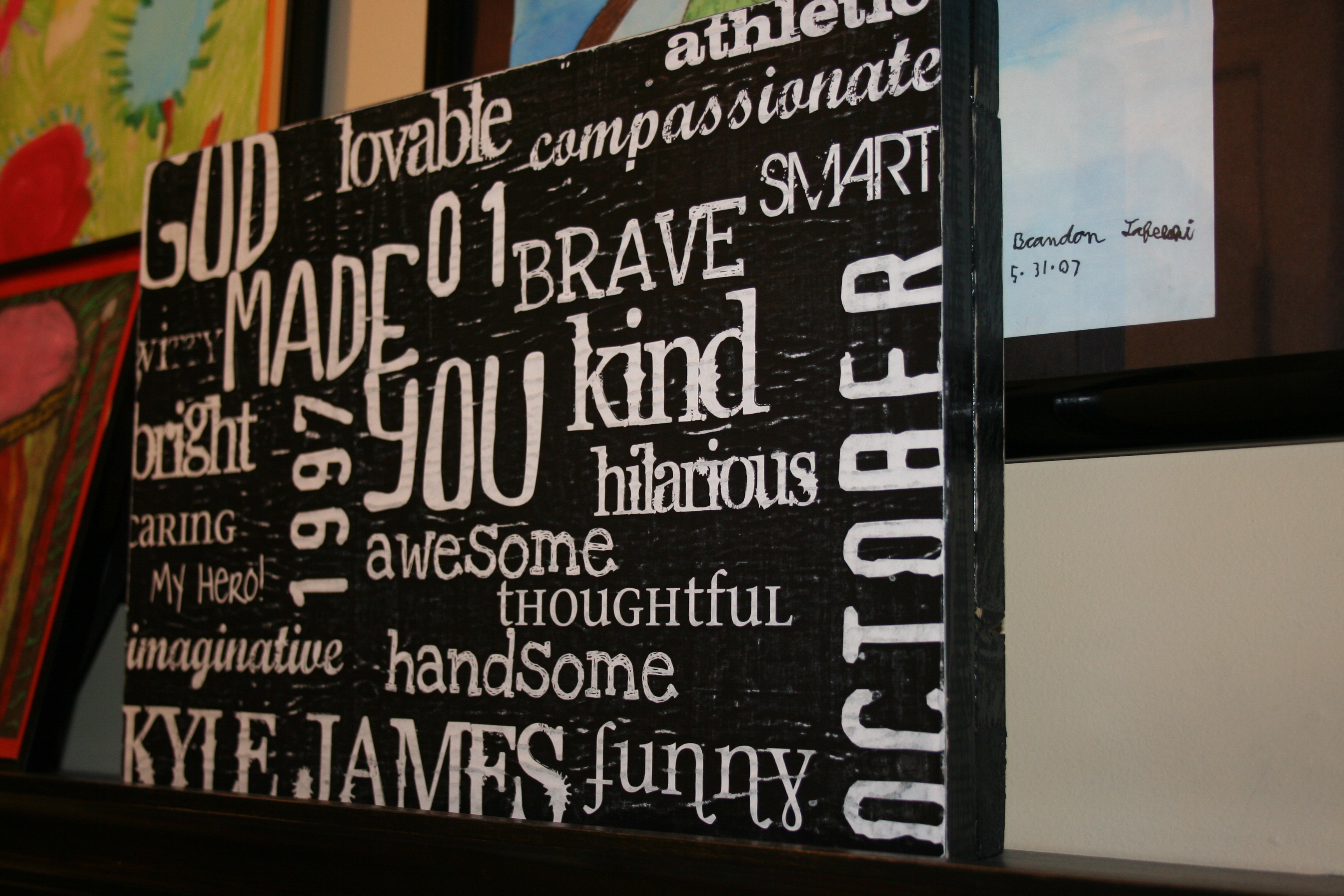 And finally….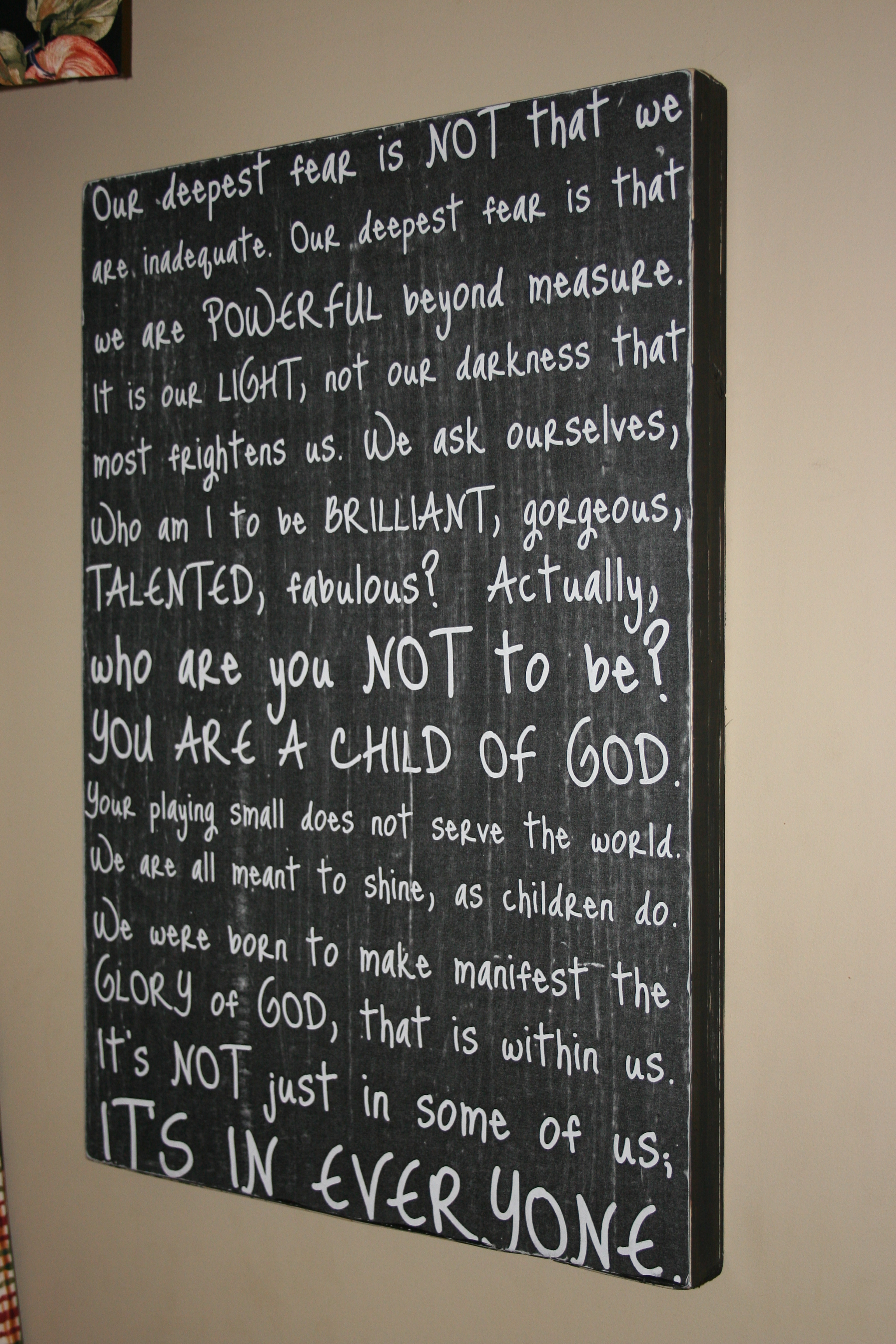 I am still in awe over this project.  The options and possibilities are endless.  I think this summer I am going to have to drag out my Cricut and try doing larger boards using a 'reverse' technique.  Vinyl lettering on the board, paint over everything and then peel the letters up.  Hmmm…I have a very large foyer wall that needs some attention.
Materials used to make Subway Art:
1.  Birch plywood slab-bought at Lowe's, they will cut it down to size.     Measure your picture TWICE!
2.  1×2″ pine craft slats
3.  Black paint- already had this on hand.
4.  Sandpaper- already had this on hand.
5.  Mod Podge- I prefer the Matte-bought at Hobby Lobby.
6.  Tree House Studio Spray Adhesive-bought at Hobby Lobby.
7.  Engineering Blueprint Copy from my jpeg file-Staples.
Tell me what you think…..