I love it when my tiny slice of the web universe inspires someone to take action!
Many of you ask questions thru the post comments….keep them coming…..I love hearing from you all!!!  Some of you take it a step further and email the questions.  These questions range from products, brands and ingredients I use , to how I handled certain situations when issues arose during the countless household projects.
I thought it would be fun to put the spotlight on one of these readers and fellow DIY!  Her name is Joyce, and she initially reached out to me this past Spring to ask about the "kick plates" I installed on our stair project.  She basically kicked my butt …. in a good way 😉 …. asking if I had installed them yet.
Joyce and her husband moved into their Georgia home back in 1989, and like many of the homes built in the 80's it is time for an update.  Not only did I find a kindred spirit in anything and everything DIY, but she inspired me to actually finish some of the numerous other projects that I have started!!
As I was struggling to piece our back and forth emails together for this post……dang sinus'/cold……I finally gave up and asked Joyce to put it in her own words………
***********************************************

Disclaimer:  All photos were taken with a smart-phone, making them not so grand!  Interestingly enough, the staples left many depressions in the pine that I just couldn't sand out – not ugly but surprising.  I think that using dark stain accents defects in wood more than light or natural stains would.  Just something to be aware of.    And the top stair to carpeted upper hall intersection is still a WIP. 
My husband and I moved into our house in 1989 – and the house needs a lot of work to bring it into 2014 and forward!  It was carpeted with a very nice light grey carpet.  Not a good color for N. GA and red clay (plus 3 dogs and 2 messy adults!).  Looks more beige now than grey – I've worked hard to keep it clean but know that surprises lurk underneath!
I learned that Joyce is butt brothers to my in-laws who live in Kennesaw, GA!!!!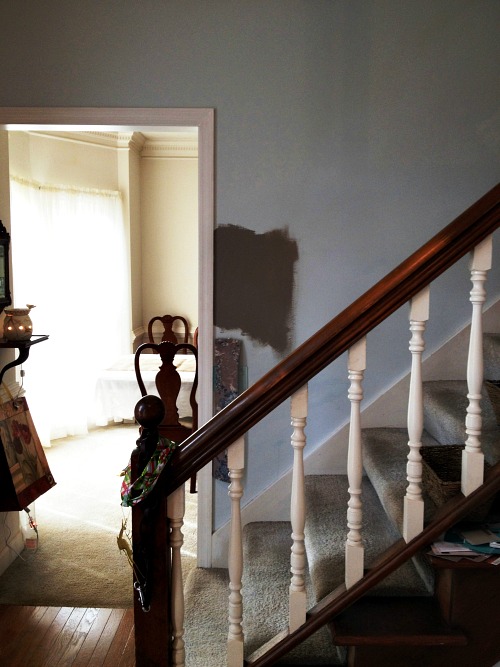 Although the dream would be hardwood throughout the house, without going into a lot of the history the old carpet (no longer nice) is still with me.   Can't update all of the flooring yet, but the one thing that I could do was tackle the stairs!  And I did!
What I did:
1. Pulled off carpet and backing – easy peasy!   In fact, the hardest part was getting over the gag reflex when the padding is being pulled up, AND you see all the nastiness underneath!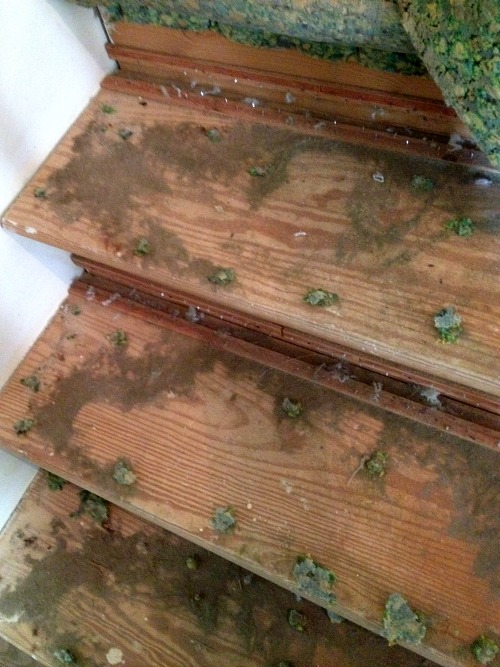 2. Wearing gloves, prying the tack strips off (I tackled this by hammering the end of a large screwdriver under and using a little miniature pry bar that looks like a screwdriver with a forked head) was also easy enough.  Somebody may know the name of the tool – it isn't me!
Pulling all the thousands of staples that held the padding in place took some time!  Whoever installed it originally had done such a good job that all the staples left indentations in the soft pine!  Small screwdriver and needle-nose pliers were key, but the dents were there to stay.
Luckily the treads had nice round edges – and the rest of the story was sheer tenaciousness.
3. I found a brand of wood filler (Famowood) that comes in different shades, ranging from oak right through to walnut.  Not putty – filler.  Since the treads had some pretty obvious gaps along the stringers, I forced the dark putty in and then sanded like crazy!  Where the gaps were too big I pushed cheap filler in and topped it with the dark walnut to save a penny or two.  There were also gouges in some of the tread ends that I had to fill.  Joyce told me that Ace Hardware carries quite a few of these Famowood colors….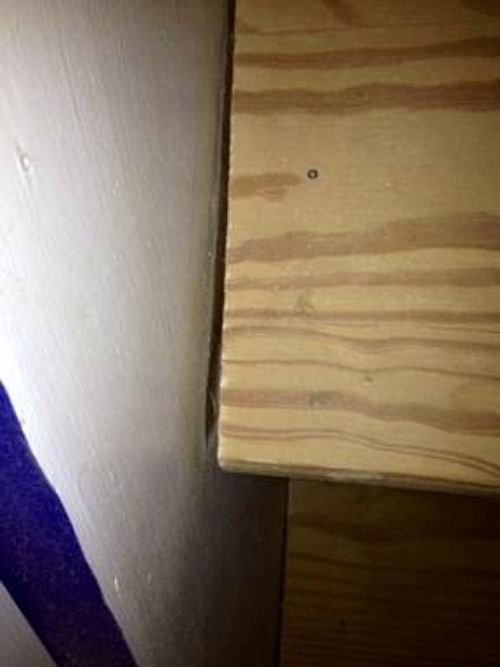 I would have loved to have used the cheaper wood fillers but already know that they wouldn't stain – even if the verbage said "stainable"!
4. Taped plastic drop-clothes across the entrances to living room, dining room and den.  This made a huge difference in dust control.  Using a palm sander, I sanded til I thought my arms would fall off – and never did get rid of those stupid staple dents!
5. Anyway, chose my colors – DuraSeal dark walnut for the treads and banister.  I used Martha Stewart's  Picket Fence (color matched in Valspar in a BOGO sale!) for everything else.  The exposed outer stringer near the bottom had been wood-toned; I primed and painted it as well as all the molding and other trim work around it was white.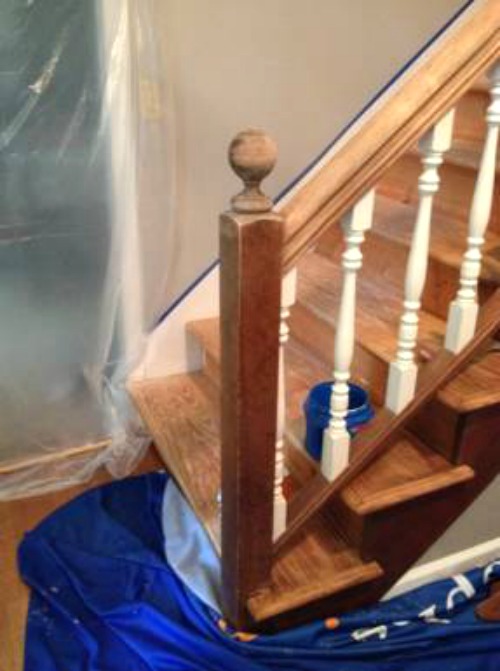 6. Moving on – after several (3, I think) coats of stain on the treads, I started with an oil-based polyurethane top coat – 4 coats! Sanded between coats, followed all the rules and let it dry for quite a long time.  Was not terribly careful about getting stain on the stringers as I should have been (in hindsight) because that was going to be easy enough to remedy with my primer.  HA! 😉
And then the project almost turned into a nightmare.  Although I should have known something was going to happen since all was going far too smoothly!  The easy-off tape that I put on the stair treads while priming the stringers PULLED PATCHES OF POLY OFF!  I nearly died!  On the plus side, I was able to use all the cuss words that I ever heard and made up a few new ones!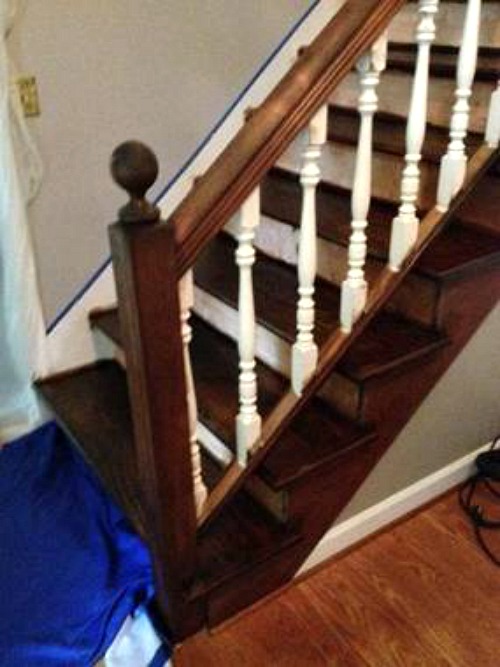 Sanded down the 5 treads that were damaged and…… OF COURSE….. that caused the stain to be uneven and restaining them didn't go so well since the poly had sealed the wood.  Finally got them back to an acceptable level (not as pretty as the original, but at least the bad ones were near the top) and did the poly again.  I think that I only got a couple of coats on two of the stairs – but it doesn't scream out to anyone …..but me….. that I screwed up!
7. Okay …… back on track….. next I tackled the riser covers!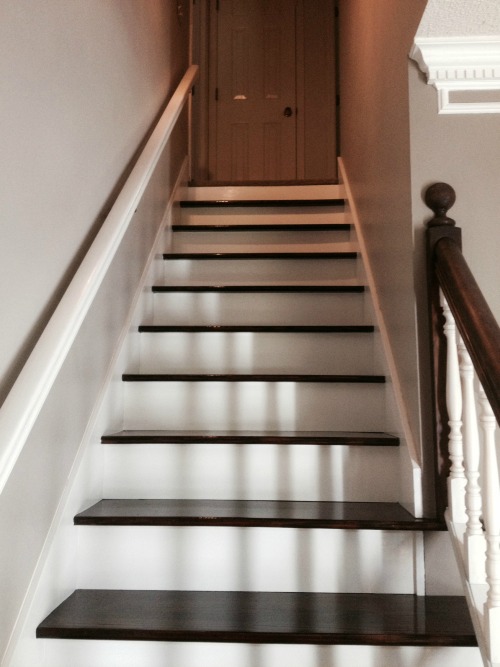 Home Depot cut them for me from thin plywood  – did you know that their "ripping" equipment can't turn out a perfect rectangle?  So in addition to the fact that risers are multiple sizes (sometimes the right end is a different height from the left end!), my nicely painted not-quite-rectangles didn't match my not-quite-rectangular risers!  Made me understand why some people add quarter-round or toe-molding to their stairs, but I didn't want to do that.  Finally wiggled a riser cover onto every riser using  LocTite to hold it in place; finishing it off here and there with finishing nails when it seemed like the boards were solid tight.  At this point I called it a day!
There are 5 treads at the bottom that have exposed right edges where the tale of the non-rectangular riser covers is a little more obvious. I think some little pieces of corner molding will do the trick, but I've been told by friends that I'm the only one who notices!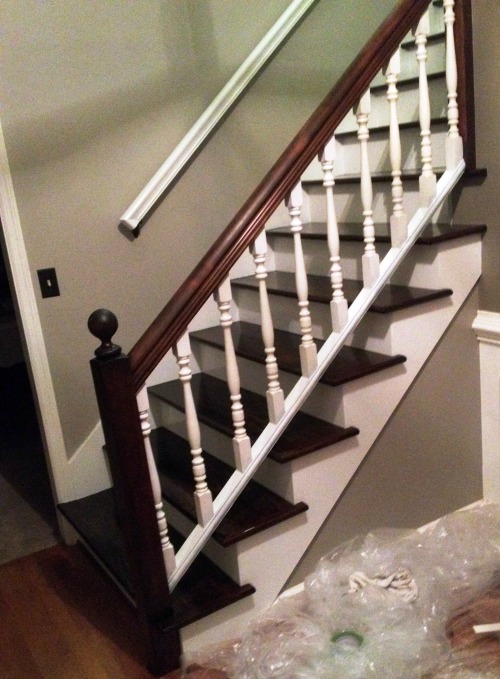 What have I skipped?  LOTS!
I won't go into what was involved in the banisters – an entirely different can of worms were opened up for that one!
Just like Shaunna's stairs, these are basically the steps that I followed:
Remove carpet and pad.  Yeah!  Vacuum a lot now and throughout the entire process.  I have a shop-vac but found that the detachable container for my Shark did a better job.

Remove tack strips and staples.

Use paint remover where you need to on the treads; generally all the over spray, plus stuff that doesn't even make sense!

Fill the gouges and hole with wood filler as close in color to your stain color as possible.

Sand, sand, sand………..and sand some more!

Stain (but tape your stringers first—-you will regret it later if you don't) using cotton socks pulled on over rubber gloves.

Poly as many coats as you can stand, lightly sanding between coats.  I used an oil-based because it's supposed to be tougher.  I thinned mine just a bit with mineral spirits.

Riser covers if you decide to go that route.  It's worth it, but be prepared for all the various measurements.  If I had owned a saw I would have cut my own! 

Caulk where needed (I know that you will be doing this, but just in case).  Buy flexible caulk-it will hold up better in this environment (Northern Georgia).  Since some flexible caulks can't be painted, try to find caulk in a color similar to the area you're working in.   For example – I found brown caulk that I had to grudgingly use here and there.  And I put white caulk under the lip of the treads for areas where the white riser covers left a little to be desired in terms of a perfect fit!

Touch up paint!   Just as Shaunna suggested, I mixed dark brown acrylic with a little of the stain and used with a small artist brush along a couple of the edges.

Nails!  If you don't own one of those little tools that you can put on top of a nail to pound it below the surface of the wood, get one.  I tried to make do without and that was a poor decision. 

(What Joyce is talking about is a Nail Set, and I own a couple in varying sizes.  They are not expensive and I highly recommend them!)

Tape!  Budget generously and buy good tape…….then actually use it!

Imperfections!  If you want your treads to be flawless, you'll have to buy new ones or hire somebody.  Staples, nail holes, gouges or flawed areas on existing treads – most but not all can be sanded out.  I CALL IT CHARACTER!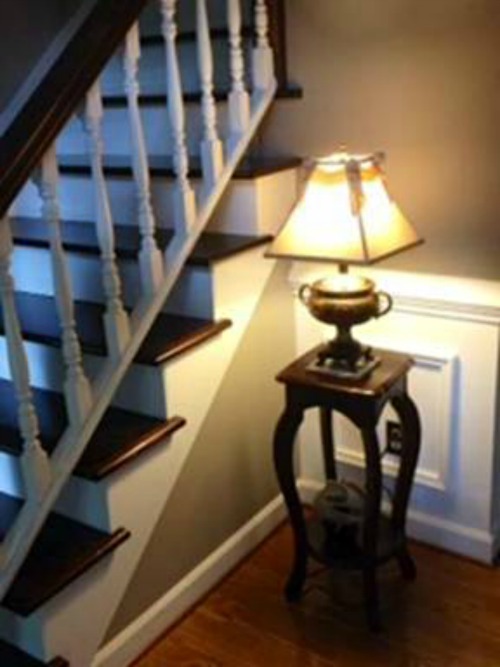 While doing the stairs I also painted the foyer a nice neutral color called "Country Weekend", and painted the molding the same white that I used on the stairs.  Before actually doing the stairs I had painted the stairwell in a neutral color about 2 shades lighter than the foyer since it doesn't get as much light.
I'm not sure what I spent.  More than I should have but less than I could have!   I bought larger cans of stain and poly than I needed – so I could have saved by buying the smaller ones, but now I have enough to start another project.  I didn't use the cheapest wood filler on the market either……. just the one that I thought would work best.  I also used tons of different grit sandpaper, a can of paint remover, mineral spirits for cleanup, white paint, a sheet of plywood cut into not-quite-rectangles, Loc Tite, caulk (white and brown), and a few sponge brushes.
Would I do this again?  In a heartbeat.  Would I do some things differently?  In a heartbeat.  Would I tackle this for someone else?  Not on your life!
**************************************
Thank you Joyce for showing us your stair project……. I LOVE IT!
I cannot tell you how satisfying it is to do the work yourself, no matter how many issues you have along the way!  My opinion it just makes for great stories down the road!!

Want to be "In the Spotlight" here at Tempting Thyme?  Email me the projects that I helped inspire with lots and lots of pictures, and the next spotlight could be on YOU!!!
                                                 

    Shaunna
Want to see what inspired Joyce to tackle her stairs?  You can view my own stair project in these posts:
Stair Project Begins……Removing the carpet and Prepping the Wood
Staining the Pine Stair Treads
Heading on Up…..Installing the New Stair Risers!