Fourth of July is quickly upon us, and I know you all are either hosting a celebration or are heading to one!!  Right?
Grilling……… hamburgers, hot dogs, and bratwurst are the usual fare, but I am telling you……you are going to want to add this melt in your mouth Pulled Pork with Whiskey Barbecue Sauce to your menu.  It is A M A Z I N G!!!!!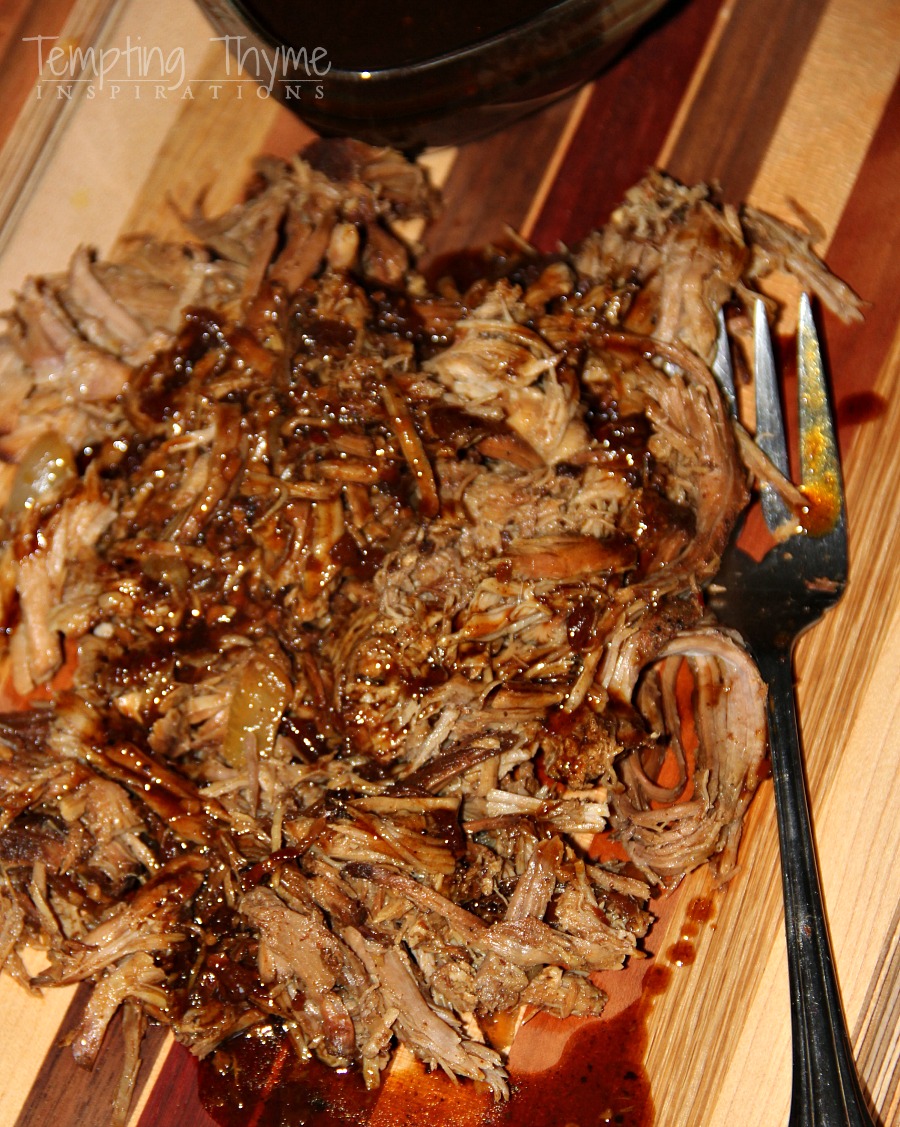 Pulled pork is one of my favorite go-to recipes when feeding a crowd.  Start it in the morning, and literally forget about it for the rest of the day.  Although I am telling you ……. you won't be able forget about it entirely, as you will be drooling whenever you pass the kitchen in the afternoon!!!  😉
I saw a version of this recipe over at Cooking Light, was missing a few of the ingredients, so adapted it so that I didn't have to run to the grocery store.  I believe I hit the jackpot with this adaptation.  Sinfully good!!  The longer you cook the pork on LOW the better.  Don't take it out of the liquid too soon.  You want to be able to pull it apart easily with 2 forks.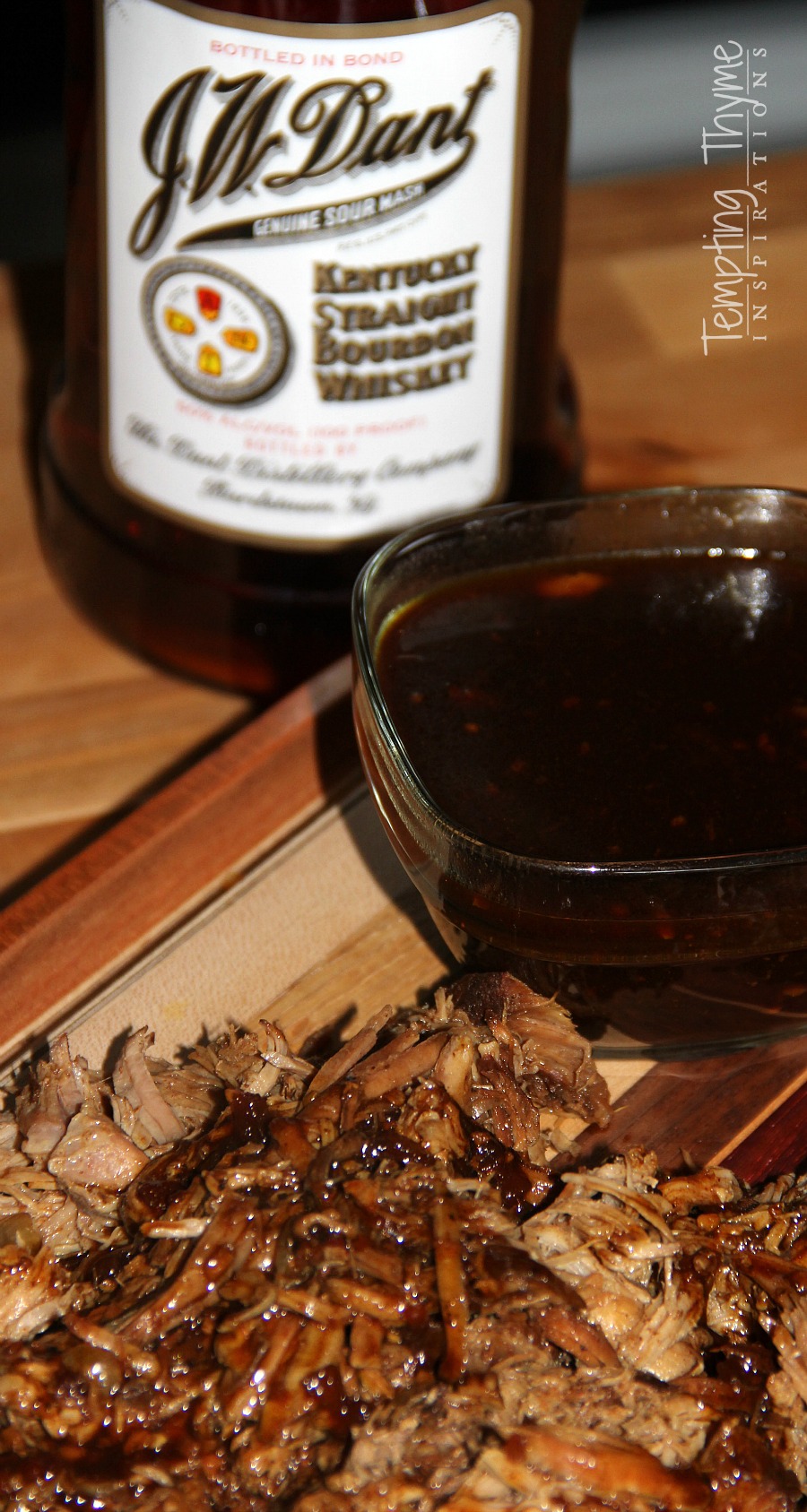 Much to B's dismay, I left all of the onions in it.  I love onions, and sometimes you have to cook for yourself, and not be handcuffed by your children's likes and dislikes!!!  In the future, and I will be making this lots in the future, I will set aside some pork for him before adding them back in after shredding it all.
The only whiskey I had on hand ( that didn't have vanilla beans added to it!!!) was this J.W Dant variety.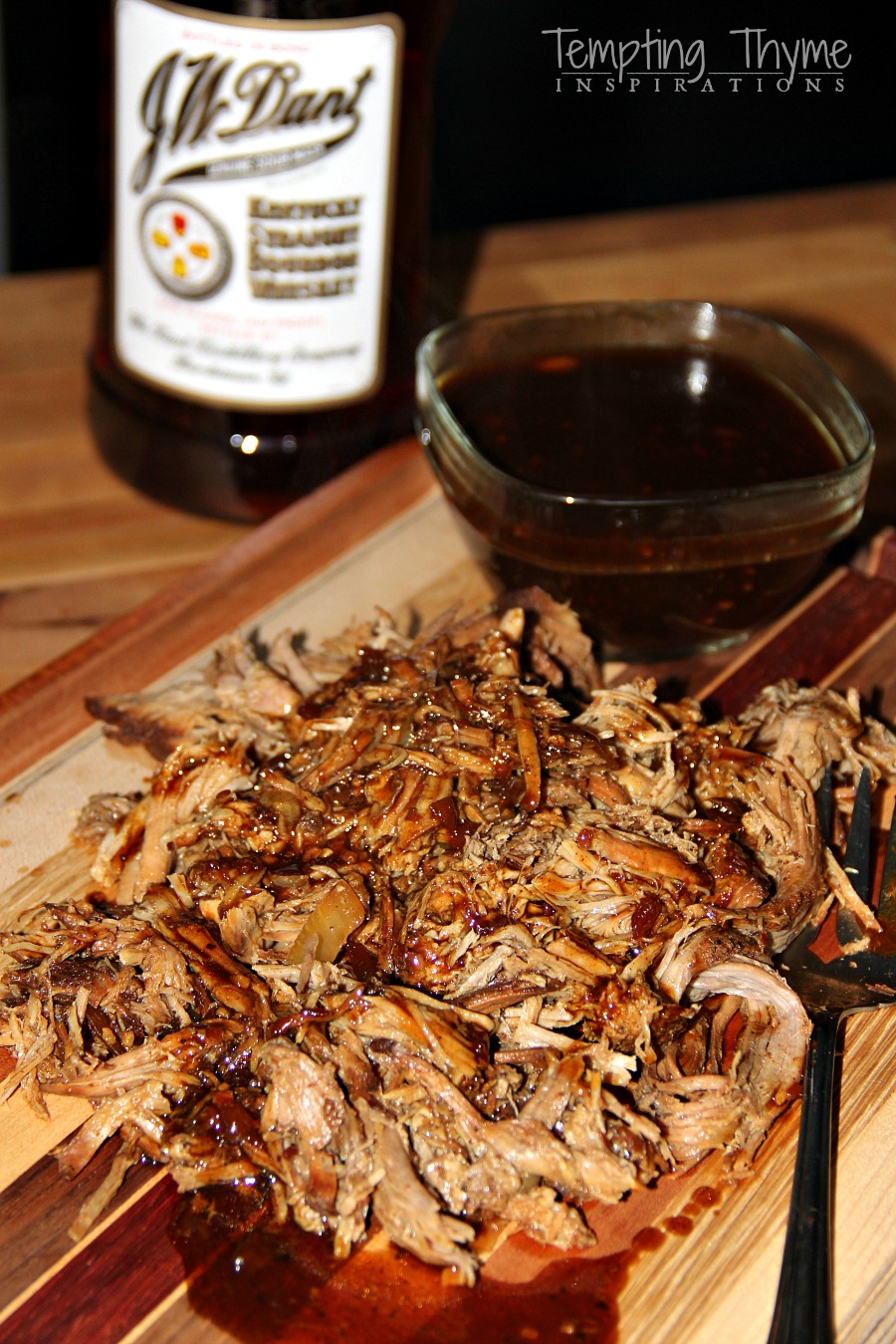 Now that I think of it, I might have to use the vanilla fused whiskey the next time…..the addition of a little vanilla might make it even more eye-rollingly good!!
Just a little tidbit……..  This whiskey happens to be part of the heritage of my niece and nephews.  I believe it was their great, great Grandfather who started making this whiskey, Joseph Washington Dant, in the 1830s.  I have no idea how you make whiskey, but Dant made his via a log still.    I read that this is done by hollowing out a tree trunk and running a copper pipe through it.  The hollowed out section would be filled with the fermented mash and steam would be fed through the pipe to start the distillation.  Cool, eh??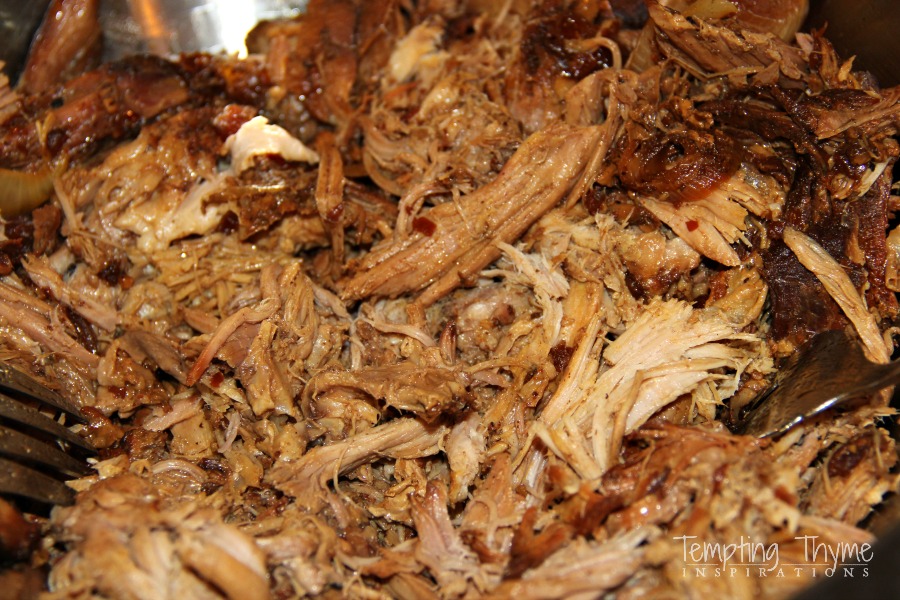 Although I tend to only cook and bake with whiskey, I think it is awesome to see their last name on the bottle.  Makes me miss them, as they all are enjoying life way South of me. =(
Back to the Pulled Pork with Whiskey Barbecue Sauce!  Make it NOW……you won't regret it!!!!!
I hope you all have a wonderful, safe Fourth of July weekend……
                                                Shaunna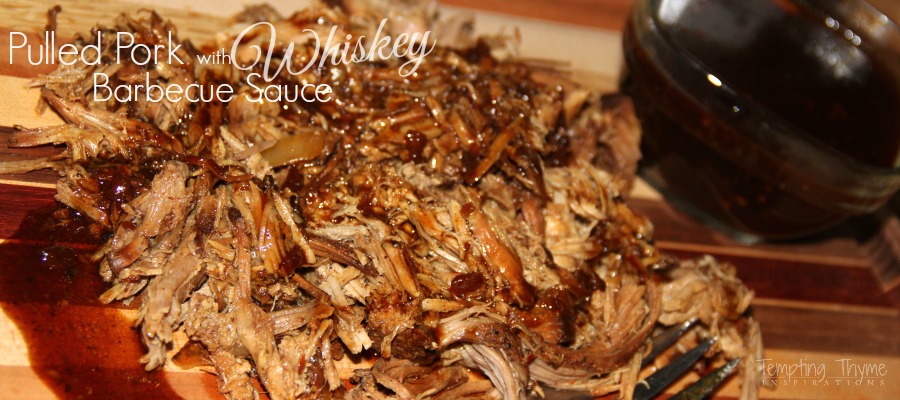 Pulled Pork with Whiskey Barbecue Sauce
This 'rubbed' pulled pork is so easy to put together, and is a slice of heaven when you pair it with this whiskey barbecue sauce.
Ingredients:
1 (6 pound) bone-in pork shoulder roast, Boston Butt, trimmed if there is too much fat
4 tsp smoked paprika
2½ tsp salt kosher salt, divided
2 tsp ground black pepper
1 cup unsalted chicken broth
⅔ cup balsamic vinegar
⅔ cup molasses (if you don't have molasses on hand, you can substitute brown sugar)
4 Tbsp soy sauce
2 tsp red pepper flakes
2 cups slice onions
4 cloves garlic, minced
½ cup whiskey
4 Tbsp cold water
4 tsp cornstarch
Directions:
Combine the paprika, 1 tsp salt, and black pepper. Rub evenly over pork.
Coat a large skillet with cooking spray and heat over medium/high heat. Add pork to the pan and cook for 10-15 minutes, turning to brown all sides. Place pork in a large electric crock pot (slow cooker).
Add chicken stock and next 4 ingredients (through red pepper flakes) to skillet; bring to a boil, scraping pan to loosen browned bits. Pour mixture over pork, and top with sliced onions and garlic. Cover and cook on LOW for 8 hours, or until pork is very tender.
Remove pork from pan (reserving the liquid) and cool slightly. Shred with 2 forks. Remove onion with a slotted spoon; add to pork.
Skim the fat off of the liquid in crock pot, and place skimmed drippings into the large skillet. Stir whiskey into these drippings and bring to a boil. Cook about 15 minutes, or until liquid is reduced by half.
Combine 4 Tbsp cold water and cornstarch in a small container. If you have a small container with a lid, it is great to just shake the water and cornstarch to combine. Using a whisk, add the cornstarch mixture to your sauce, stirring constantly until thickened. Stir in remaining salt if desired. Drizzle sauce over pork; tossing to coat.
This pork freezes well, just pour remaining sauce on it, pack it up in a freezer safe container.
 Recipe source:  modified from

Cooking Light
Need to round out the Pulled Pork with Whiskey Barbecue Sauce?  These are some perfect complementary recipes……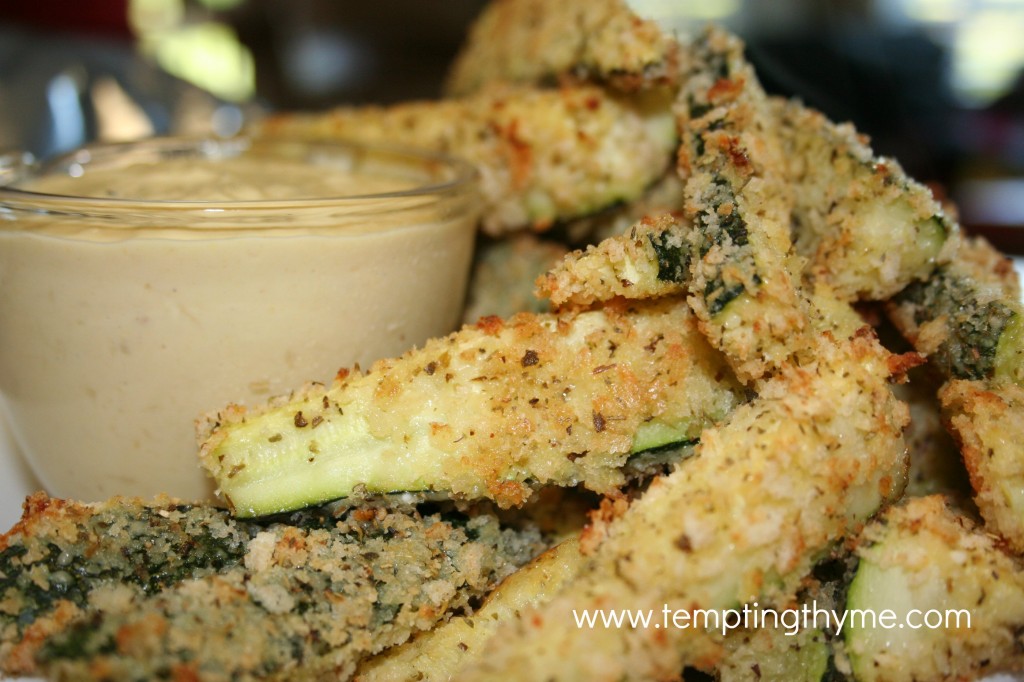 Zucchini Fries with Carmelized Onion Dip