Remember me telling you all, on Facebook, about the amazing zucchini fries I made last week?  They were so scrumptious I made them again! 
It didn't help matters that I was staring at the leftover carmelized onion dip every time I opened the refrigerator door.  It was calling my name….and being the poor white woman that I am (PT's favorite saying, not mine)…….I couldn't resist any longer.  This is about the easiest dish to make…..and don't let the 'fries' fool you…..these golden delicious beauties are BAKED!!  I repeat, they are BAKED!  Can't get any better than that! 
Serve these as an appetizer when friends come over to hang out, OR do as I did and call it your vegetable/side dish.  You can't go wrong either way!!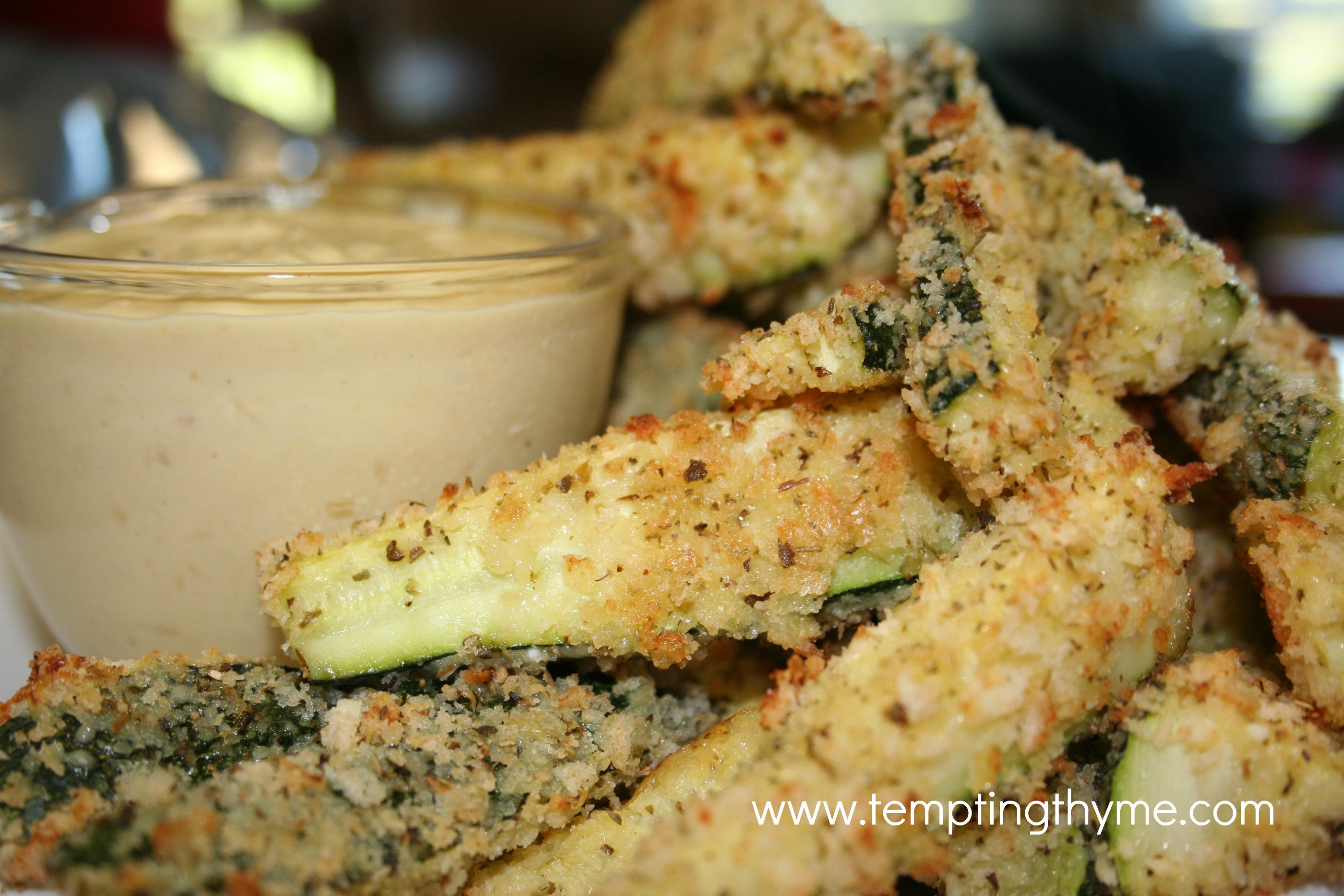 Zucchini Fries with Sweet Onion Dip
Ingredients:
  
Dip:
1 Tbsp butter
1 medium onion, peeled and sliced
2 Tbsp cider vinegar
2 Tbsp honey
1 Tbsp mustard
1 cup mayonnaise
Salt and pepper to taste
 * In a saucepan, melt the butter and sauté onions on low-medium until onions are soft and carmelized.  Be patient, this will take between 10-15 minutes and the onions will be brown in color.  Remove from heat and put onions into a mini food processor.  Add  in the cider vinegar, honey and mustard and process until smooth.  Fold in mayonnaise and season with salt and pepper.  Spoon into container and store in refrigerator until ready to use.
 Sticks:
3 medium zucchini, washed, ends cut off and cut each into 16 pieces
1 Tbsp salt
1 cup panko
½ cup parmesan
1 T Italian herbs
Olive Oil cooking spray
2 large eggs, lightly beaten
 Directions:
* Place zucchini in a colander and sprinkle with salt.  Cover with a paper towel and drain for an hour. 
* Rinse zucchini and pat dry.
* Preheat oven to 425 degrees.
* Line a large cookie sheet with aluminum foil (or parchment paper), spray with olive oil spray.
* Combine panko, Italian herbs, and parmesan in small bowl.
* Dip the zucchini in egg bath, and then toss in the panko mixture.  Line the zucchini on the baking sheet and continue with remaining zucchini egg bath followed by the panko and parmesan cheese.
* Bake 12 minutes and flip zucchini over.  Bake another 12-16 minutes or until golden/medium brown.
* Serve on a platter with a side of carmelized onion dip
Source: Inspired by King Arthur Flour