I am so happy that I finally took the plunge and 'remodeled' the kitchen island!!   The kitchen is something that I have wanted to tackle for some time now.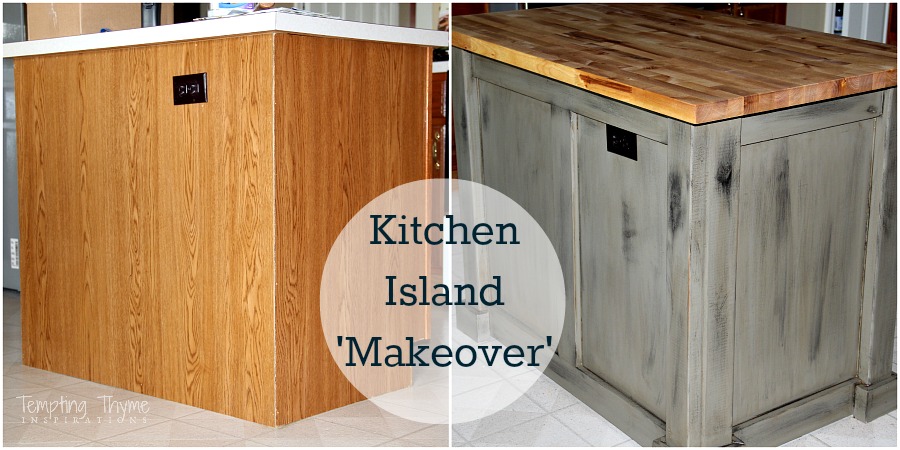 Originally I wanted to bump the kitchen out and extend it to encompass our current deck.  Make it a 2 story addition that would also give us a bigger master bath and closet, and I thought we would be in business.  Remember me telling you that I have what I call a "kitchen fund" savings account?  Talked about it when we were dealing with the dang shower! 
Now you know why the kitchen remodel has never happened!! 😉
Seeing as I am a realist (or if you listen to PT….a pessimist), I knew in the back of my brain that a complete kitchen remodel was never going to happen.  Next best thing to a total gut job is to make some minor updates that have a big WOW factor!
Case in point…..our kitchen island!  All I can say is that is was BORING!  Definitely a builder grade cabinet that had absolutely zero style going for it.  In fact, 3 sides of it were comprised of "wood" laminate sheet.  Another downer….. the more years that pass us by = the kitchen cabinets looking even more 'orange' …..and I am not a fan of orange!  Although I am becoming a fan of the Netflix show, Orange is the New Black.  We are only a couple of shows in, but I think it will be a keeper.
If you have been following along for awhile, then you know that my 2014 goals included some work in the kitchen.  Not only do I want to paint the kitchen cabinets, but I wanted a new countertop (master bath shower knocked this one right off the list), a farmhouse sink, new stove and I wanted to swap one set of cabinets with the fridge.  I probably should have added in new flooring, but I know darn well that hardwood flooring was not happening on the first floor this year.  We will just have to deal with the ugly, scratched and dented vinyl for another year or two.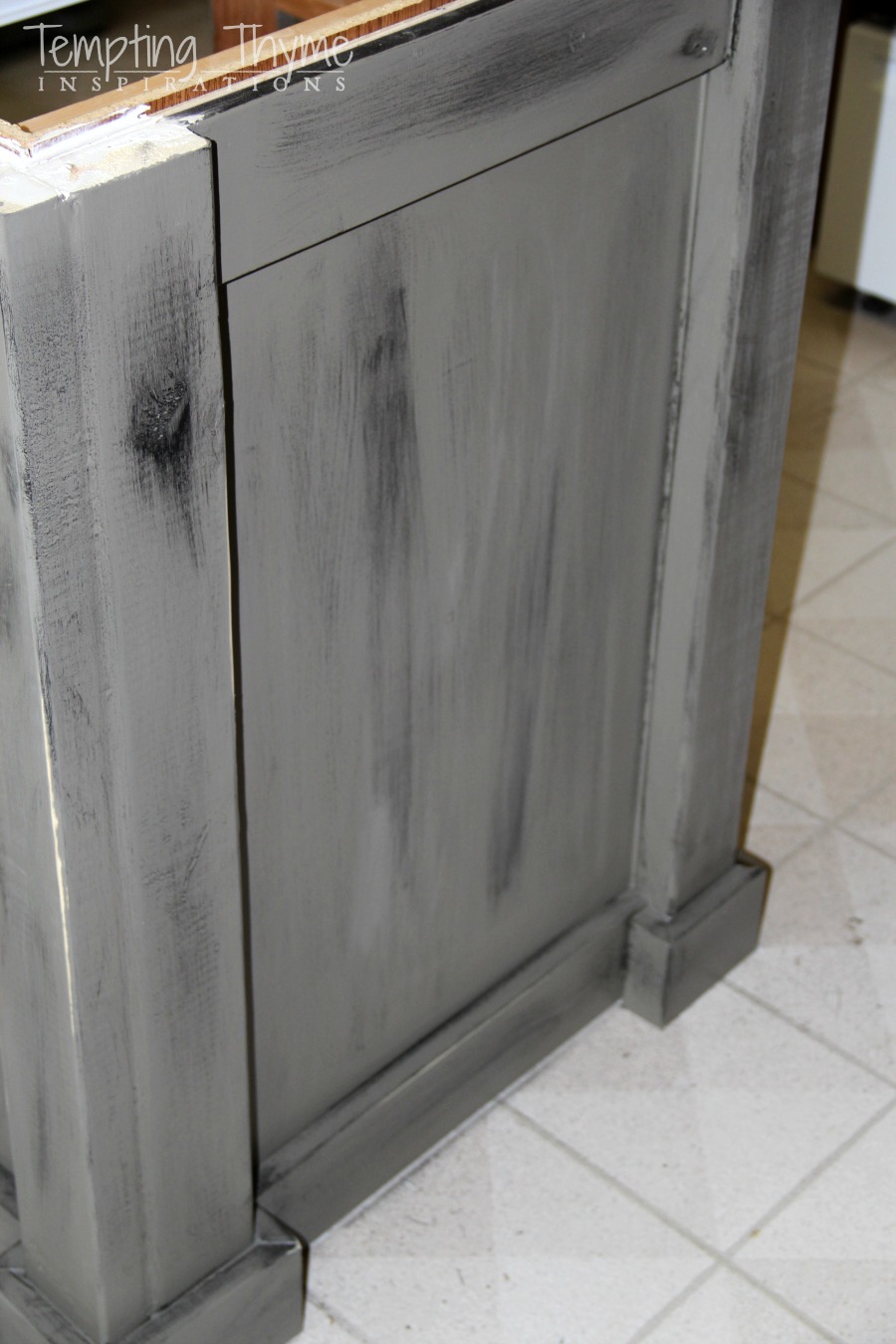 I believe the kitchen island was down in the misc. section, and I wanted to build a new one.  After seeing this kitchen, I thought I had nothing to lose by trying to give it a face lift first!
I love islands that stand out, making them look a little like a piece of furniture that was dropped into the most loved room of a house.  This is what I craved!  A piece of furniture with big and chunky legs!  LOL!  I would rather the island have big, chunky legs than myself!  😉 
I love the feet on this kitchen island!!
I started this project back on Mother's Day weekend.  PT and K were on a hockey weekend in Toledo, and that gave me clearance to get this project going.  No rebuttals, or stressed out looks from PT, and I could work in peace.  I had the benefit also of having B at home for a little bit so that he could move the electric outlet that happened to be in the way of the molding that I wanted to install.  Having a son working in the electrical field this summer, and last, is coming in handy for some of my projects!!
I was torn between doing a traditional island like the two you see above,  and ones that really say, "look at me" like the two below from Down to Earth Style and ?????
I am in serious LOVE over these chunky legs……
A little traditional, but still has pizzazz with the beefy legs…
I showed a couple of these pictures to a girlfriend, and she picked the chunky legs!! Yeah!!
I wanted to make this as financially painless as possible, so I planned on using some salvaged lumber from the shed doors that were totally redone recently.  When the old doors were taken off, B started to disassemble them, and I realized that there were some really decent 1 x 4's in the mix.  Why not try to re-use them?  I gathered them up and stacked them in the garage for future use.
Let me remind you what it looked like……..
Doesn't hold a candle to an island that has wainscoting detail and thick, chunky legs!!  Right???

To this……
After 1000's of hours of sanding (just kidding), I painted the cabinet with leftover paint from the boys' bathroom cabinet, and then distressed it with even more sandpaper, a little black paint and some stain.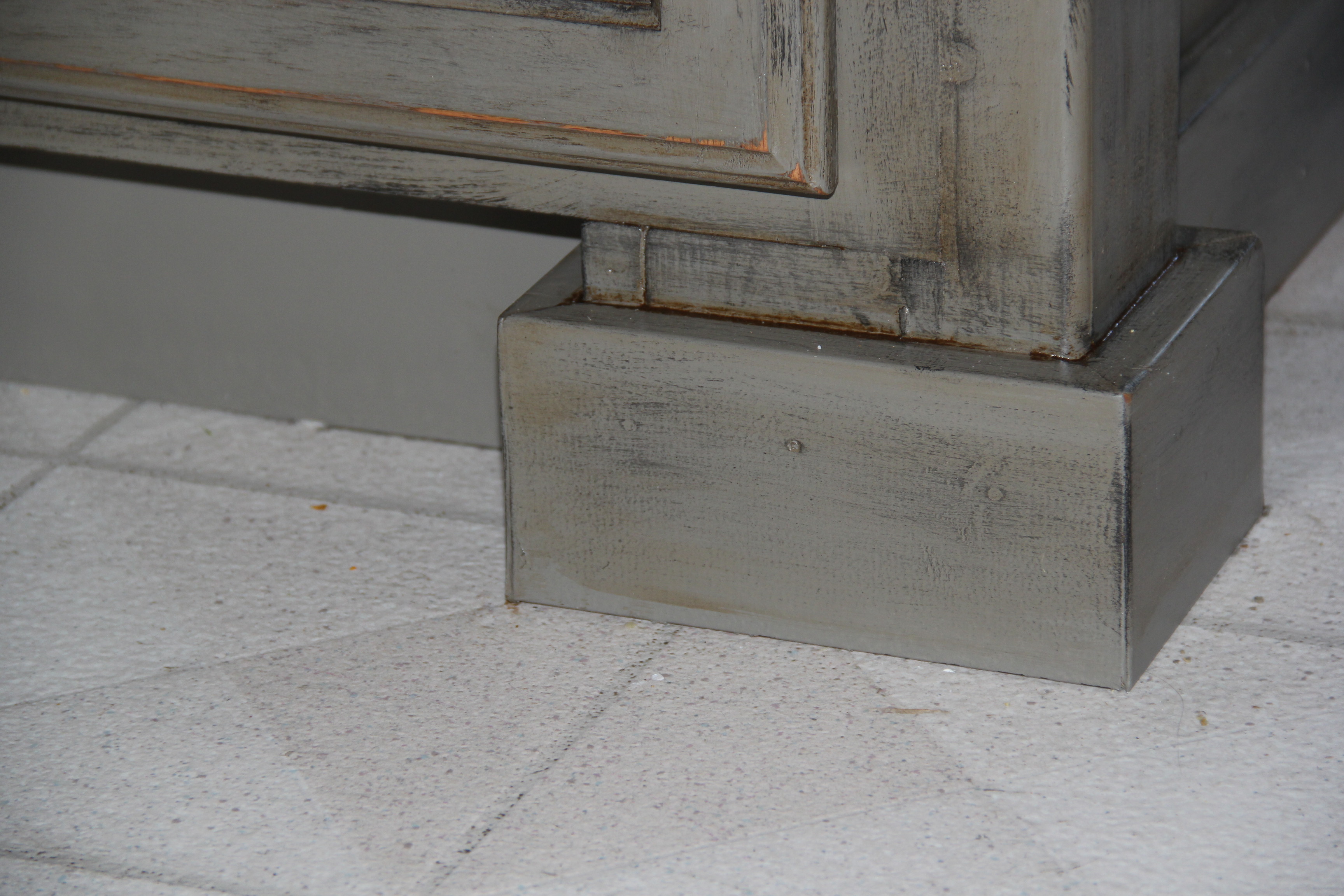 Here is a closeup of the feet on the front of the cabinet…..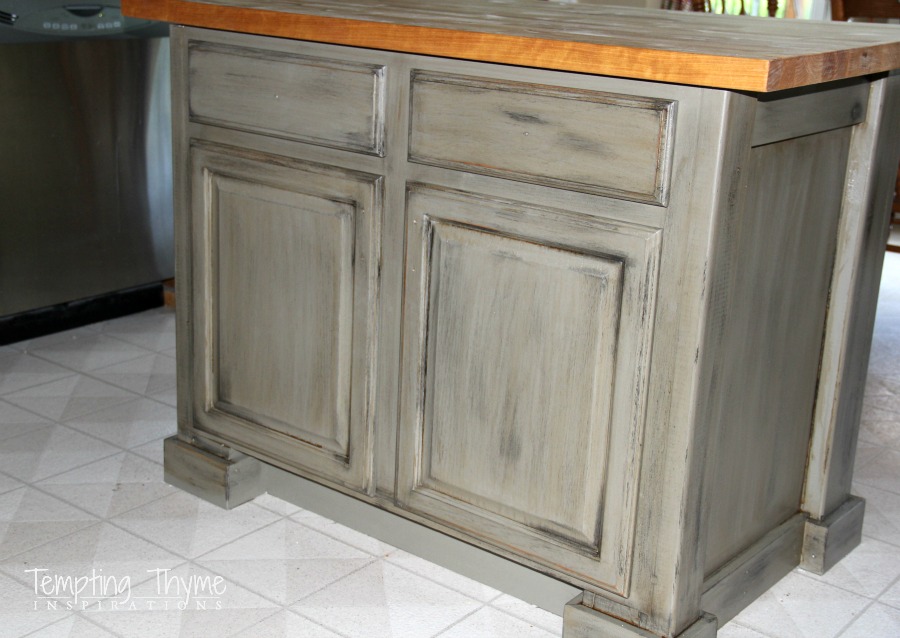 I finally ordered some new cabinet hardware yesterday.  I will have to play around and 'fix' some of the existing screw holes, as I was not smart enough to plan ahead.  Anyone who knows me would have told you that I was not putting the brass fixtures back on……
I will also have to work on the panel underneath the 2 doors (closest to the floor), when you are sitting on the ground it is glaringly obvious that it is was not distressed.  LOL!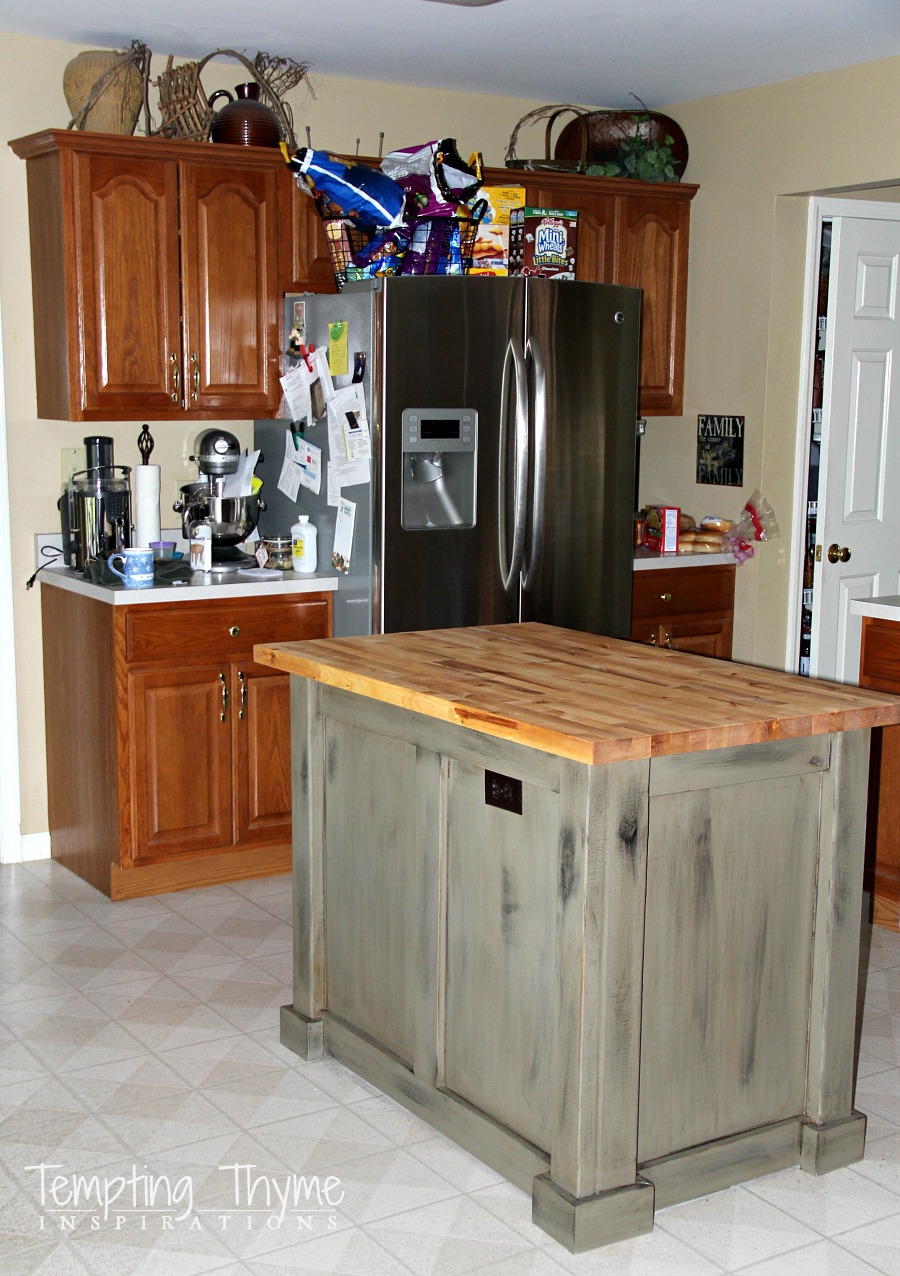 I love our new kitchen island! 
This post was getting REALLY long….. and if you have the same attention span as me….. I would have lost you if I tried to tell you how I constructed it.  I will finish up that post this weekend, and get it to you at the beginning of next week!
Before you say it……I know it makes our other cabinets look awful!!!  Hopefully before the end of the summer, they will be a nice shade of white.  But you can now see how I want to swap the fridge with the cabinets to the left.  I think it will really open up the kitchen, AND allow me one long section of countertop to work on.  Right now those countertops are virtually useless as they are so small.  They literally become a dumping ground for my family (ok….really me, but let me throw some of the blame on the other 3 in this household)!
Sorry I didn't clean up before taking this last shot!   😉
What do you think?  Have you tackled anything like this before?
                                       Shaunna
Linking this Kitchen Island Makeover to Thrifty Decor Chick's 'Before and After', as well as to some of these great linky parties….