Our master bathroom was no where on our radar this year!  Didn't want to even think about it as there were so many other projects on the list for 2014, and even though I have said PT has mucho patience……with the stair remodel…..it is running a tad on the thin side!
I don't know why I did it.  Part of me is wishing I hadn't!  The other part of me wishes I had done it sooner!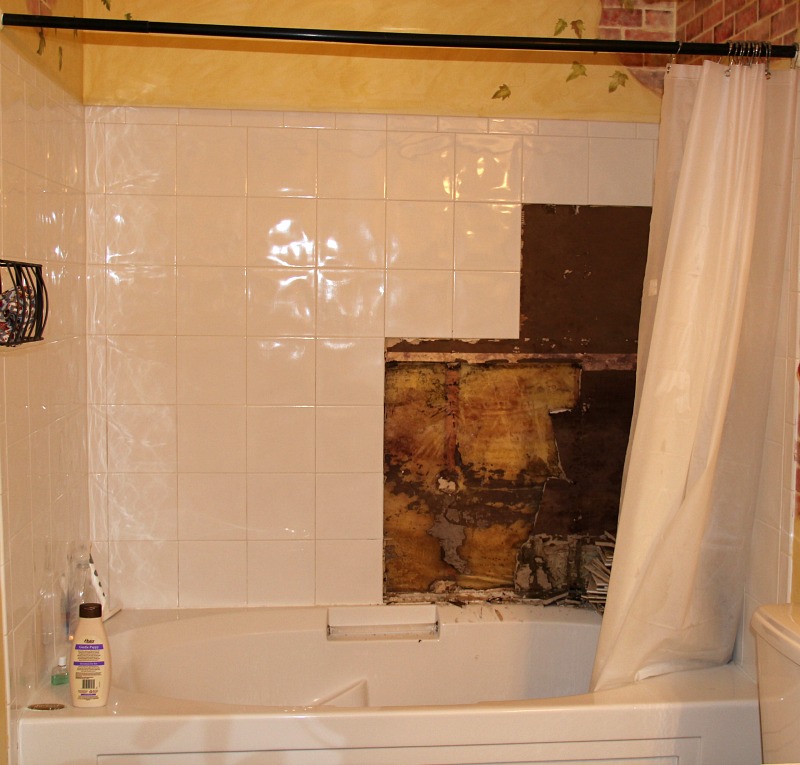 I pressed on some of the shower tiles earlier in this week while taking my normal loooong shower to wake up in the morning.  The tiles actually moved!  I pushed again and the "wall"  moved again (squishy).    I said a few choice words and rapidly finished my shower.   I dragged PT out of bed…..it was his Spring Break…..he got into the bathtub and pressed on them as well.  He didn't see them move!  I told him to press again….this time in the middle of the wall.  He did what he was told, and admitted that he thought that it moved. This may have been one of the isolated moments that we actually agreed on something…..regarding our home that is!  😉

We agreed that we would have to address this sometime soon, and then happened to look down.  Big mistake looking down!  One of the tiles bordering the tub had popped loose.  Huge bummer!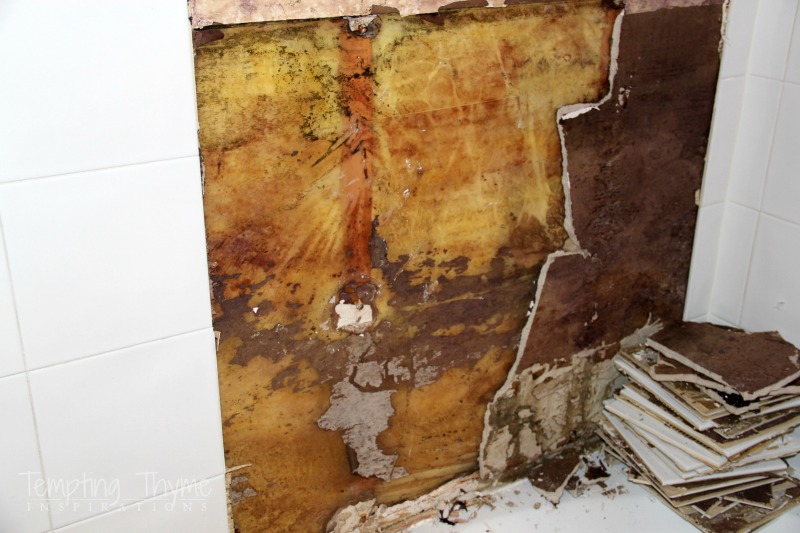 An S.O.S text went out to Dan (he did our shed doors) and he came out the next day.  Without removing any tiles, he told me that the tiles had more than likely been installed over drywall, not cement boards.  Seriously!!  I told him I wanted to see what was behind it.  One tile became two and so forth.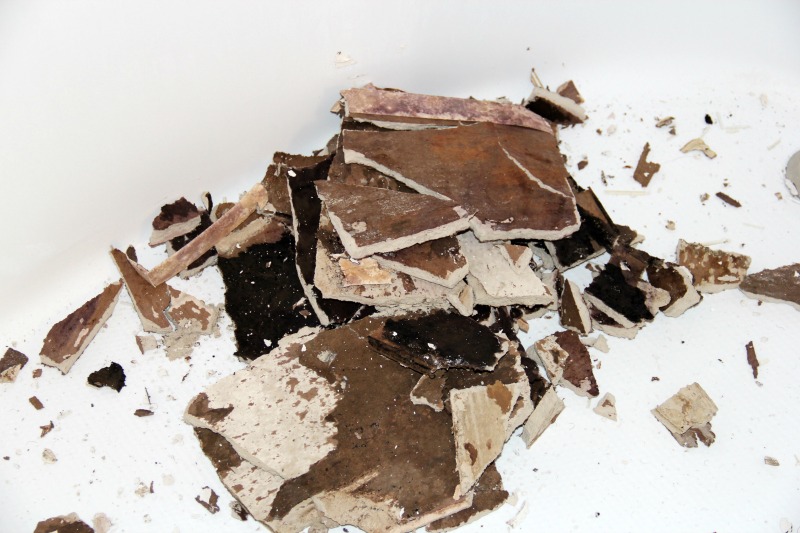 I was already on a mold kick, so seeing this black was freaking me out.  He told me that it wasn't for sure it was mold without testing it out.  It could simply be mildew.  It didn't matter……with the drywall saturated from tub line upwards to the tile meeting the paint we knew it was all going to come down.  Small blessing that at least a vapor barrier had been installed between the drywall and studs.  In situations like this you have to be thankful for the small things…….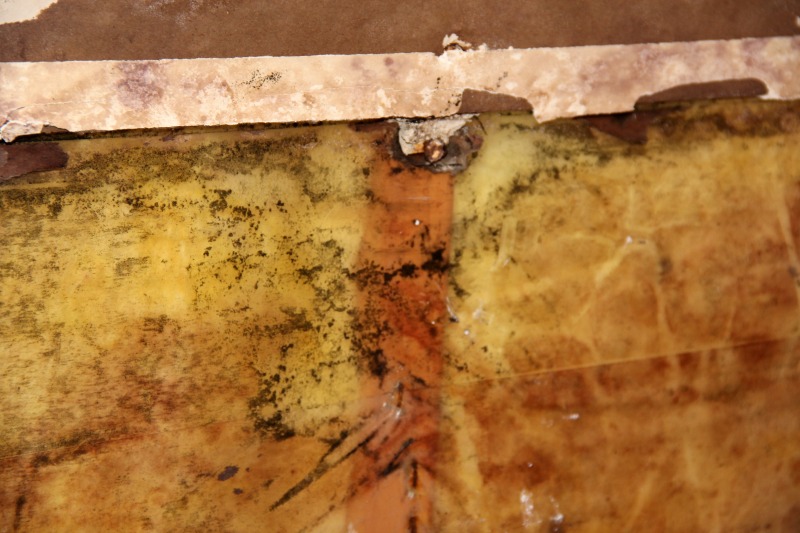 This was not in the plan….nor was it anything I had budgeted for.  Crap happens like that.  To all of us!  In our case, we have an emergency savings account.  Not much is in there…..but I am so glad that I set aside a smidgen of my paycheck for things like this.  Occasionally it even helps pay for a vacation!  I like to call it my kitchen fund.  I used to dream of saving $50k and gutting our kitchen.  I have to laugh, as it has never even come close to that amount (I am lucky if it even gets to 10% of that figure) before the latest household issue takes hold.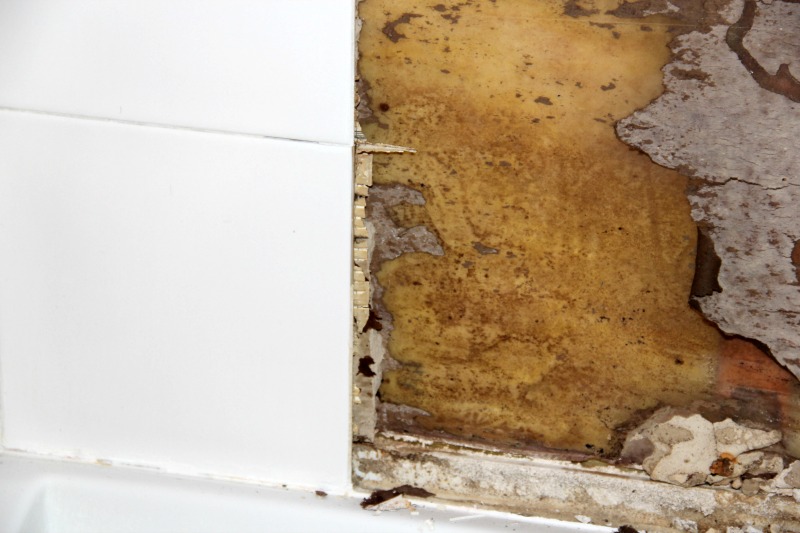 I should rename this savings account the 'this house will suck me dry and hopes for a new kitchen are zero' account!  Nothing fun has come from saving this money.  Although we did have a glorious week in Hilton Head 2 summers ago!  That was amazing!  I guess something good actually came from it!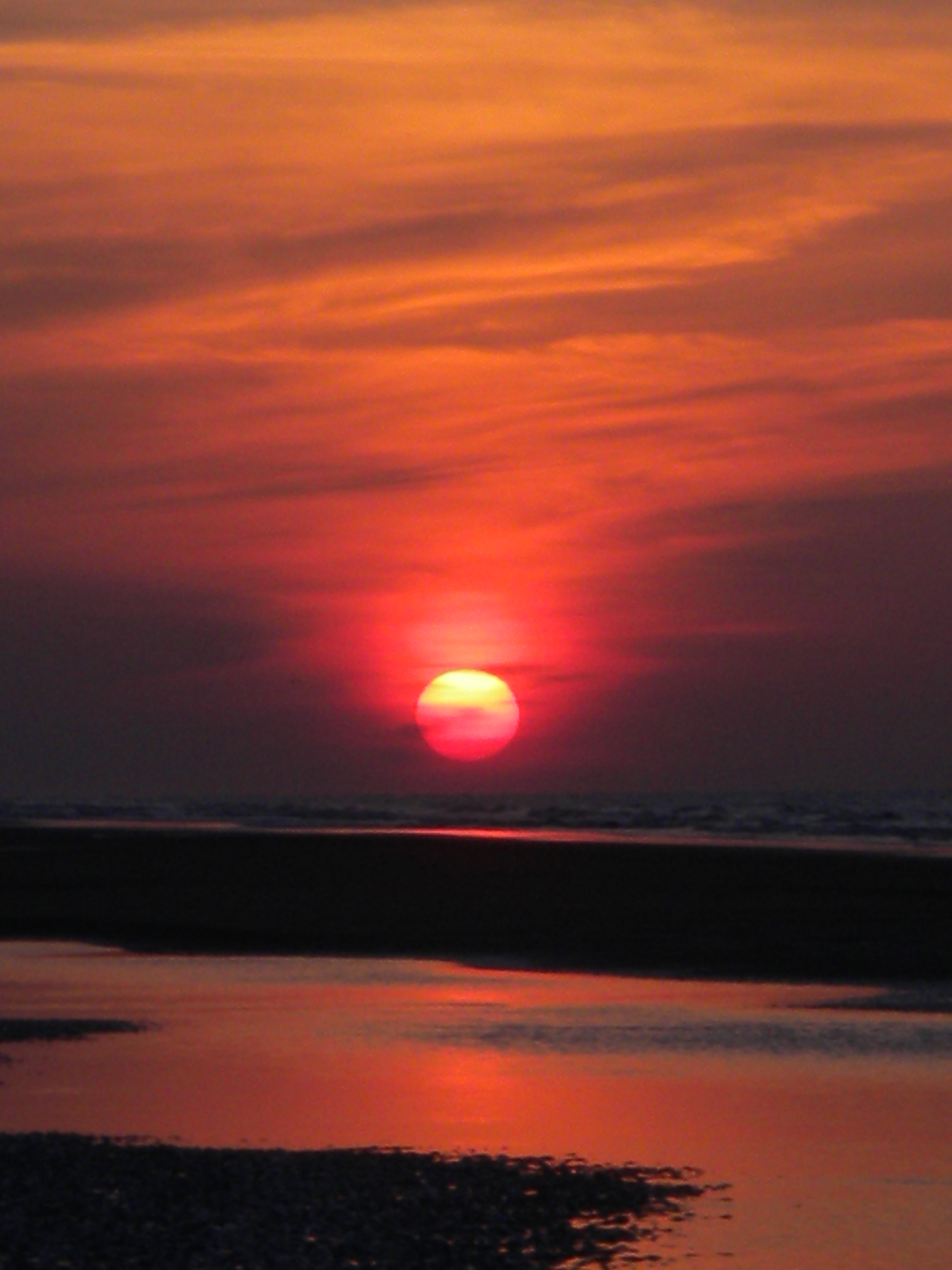 Okay, the bathroom wasn't in our 2014 plan…..but we have to do something about it.  No way do I want to live without 2 shower's for long!  Sharing a bathroom is for the birds……  At least the boys bathroom is slowly getting updated, and has an awesome curved shower rod (just like in the hotels).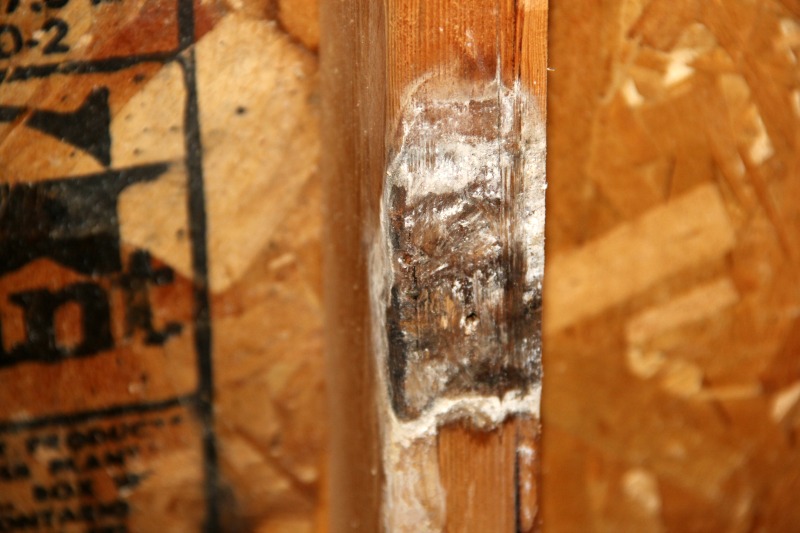 The day after we found the squishy/popped tiles I saw this on B's Facebook page, "For I know the plans I have for you," says the Lord. "They are plans for good and not for disaster, to give you a future and a hope." Jeremiah 29:11
Reading this came at the right time in my life.  This wasn't life throwing yet another lemon at me…..this was God giving us a sign.  If my internal "let's for kicks press on the shower walls", this problem could have festered and gotten so much worse, damaging not only more of our house, but our health as well!  I don't know if PT sees it like this, but I am definitely running with it!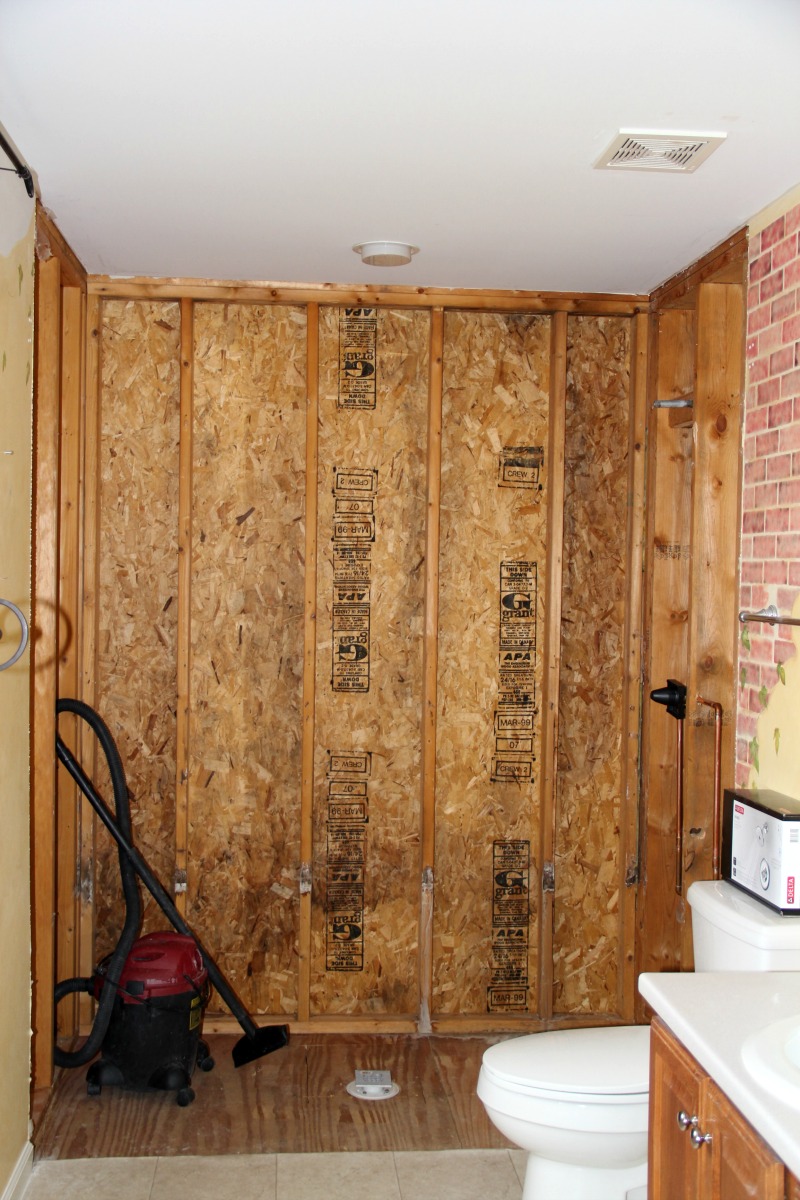 No we didn't want to touch this project right now, but we have so much to be thankful for:
1.  Dan made things happen very quickly for us……he knew my fear of mold and gutted the shower the next day.
2.  He pulled in some favors, and a plumber and tile installer showed up the next day for a consultation.  New copper pipes and fixtures were installed that afternoon.
3.  I took Friday afternoon off to price out the tile, and clearly saw that I was going to have to ramp down my vision.  It is amazing the cost of tile!  After putting 2 inspiration boards together for PT to look at, I headed home….my head was spinning.  Dan installed new insulation.
4.  Saturday brought the tile installers out again, this time to install the cement backing (I will have the proper name for you later) and to build the shower floor and ledge with cement.  Learning that they had only 3 days available next week to work on this (they are booked solid for the next month), PT and I headed to The Tile Store to pick out tile.  We were in and out in under 1 hour.  Unfortunately my 2 inspiration boards went out the window, as Pro Source closed at noon and we didn't get down to Cincinnati until 1pm.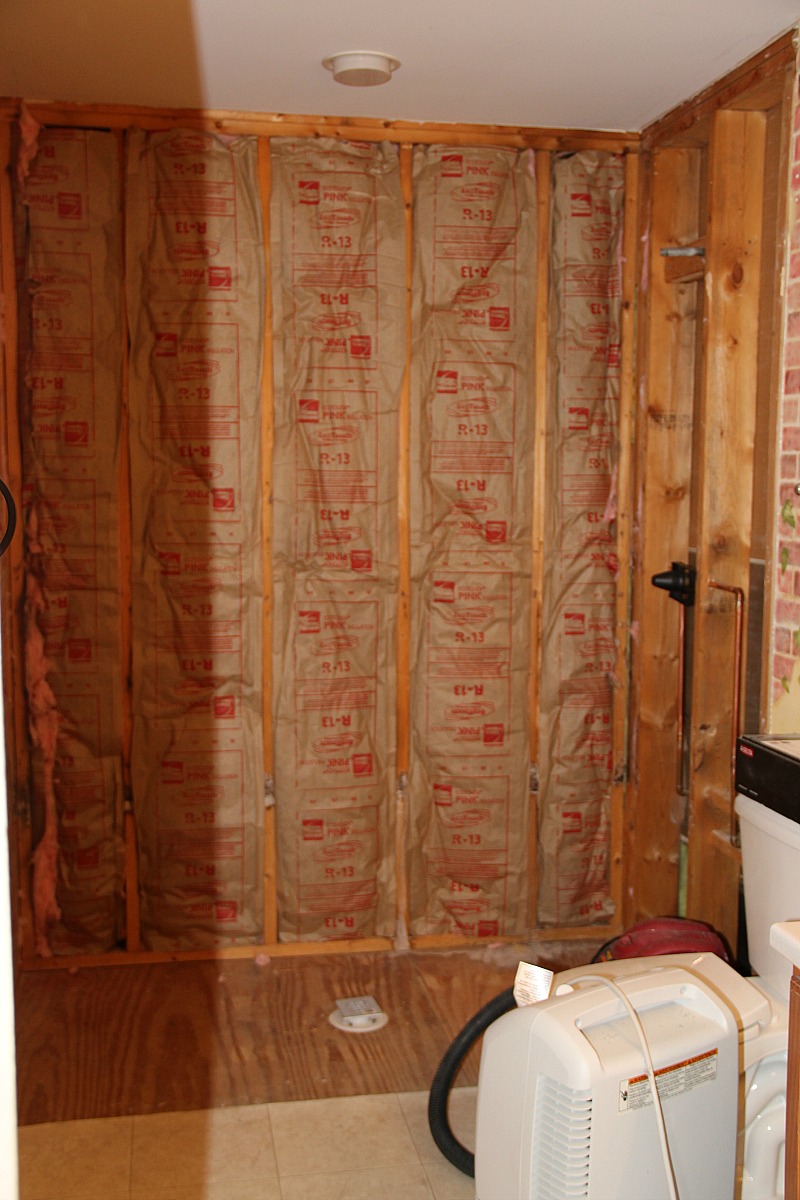 What I have learned in this entire crappy shower ordeal……..
Having to make decisions rapid fire is not necessarily a bad thing…….I cannot spend weeks stewing on the perfect tile and color palette.  It is amazing what you can decide when there is a deadline!!

It is fabulous having a contractor as a friend.  I feel pretty confident we are not going to get screwed by subcontractors and vendors!

I made the right choice buying that curved shower rod for the boys bathroom…..the shower is nice and roomy with it!

If we hated the soaker tub, this was the chance to get rid of it.  I can't imagine being stuck with it after spending all this money to fix the walls.  My knees will thank me too! 
This master bathroom was not on the docket yet, but I have to look at it as a blessing.  Actually, who in the hell am I trying to kid.  This sucks big time, as I now need to put the flooring, counter tops and stove on the back burner!  I am mad at this fact, but grateful the problem was discovered before it became a life threatening problem.  Is it possible to be mad and grateful at the same time?  Must be, as I have been feeling both this week!
What is your "DANG_____________" moment?