I feel like I struck gold last week when I finally figured out how to create a Transparent Watermark ….  and I was able to do it without Photo Shop!!!!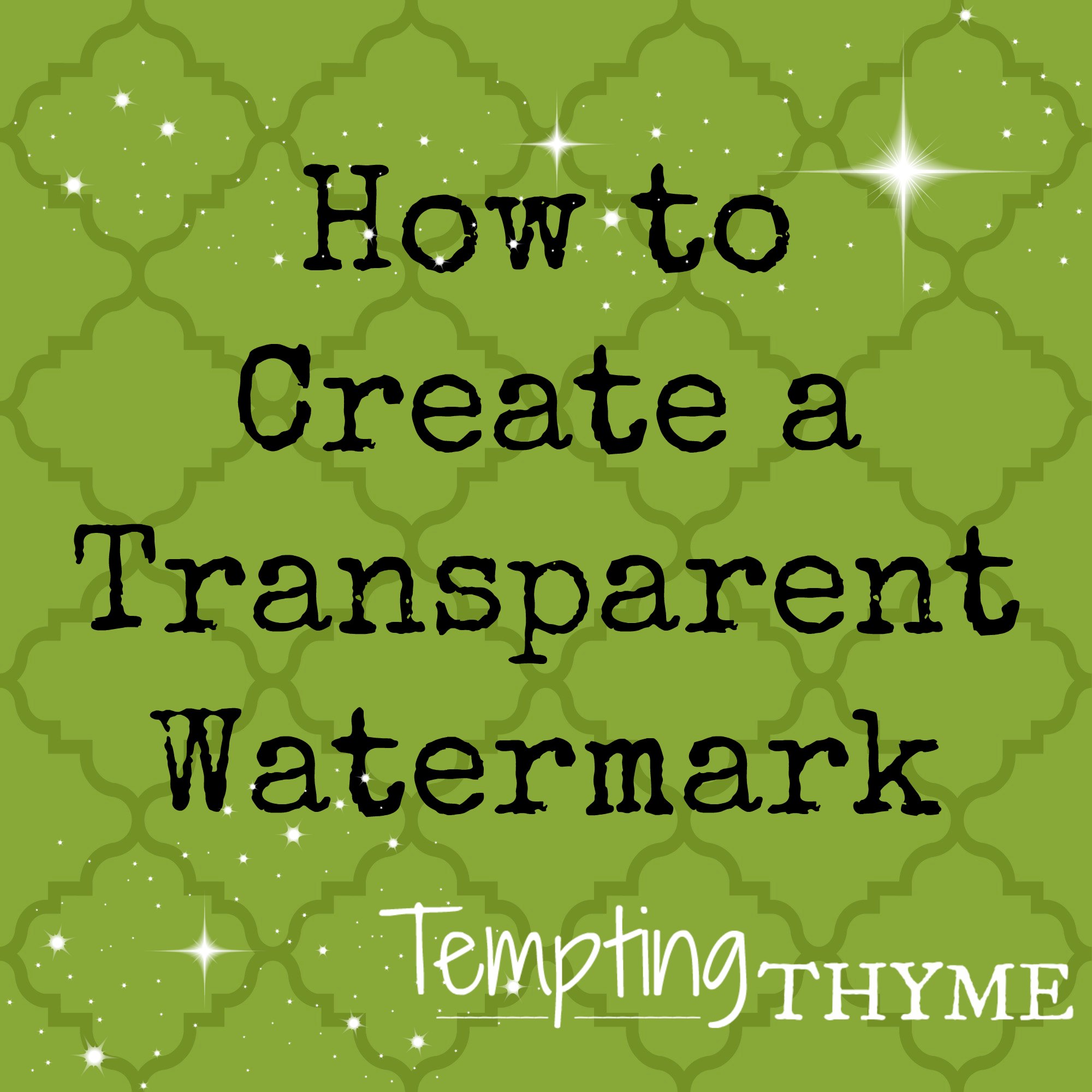 I don't know if you all noticed or not, but I have been adding a watermark to some of my photos displayed in each blog post.  Last summer I started to investigate how to create a transparent logo, but every Google search I did listed Photoshop as the primary resource to get it done.
I don't own Photoshop! 
I don't want to buy Photo Shop!  At least not yet!
Bottom line I was screwed!  Which led me to doing each one individually via Picmonkey……which takes time…….alot of time!!!!  Every photo had to be uploaded, choosing the font I wanted to use, typing in Tempting Thyme, changing it to white and then fading it out between 40 and 60%.  This was my solution for each and every photo I wanted watermarked.  I desired consistency, something more permanent that would also save me some time!  Time I would rather be baking, painting, reading or snuggling with my boys (I don't think B and K would call it snuggling, more like hanging out with their ole' Mom).
This is hopefully going to save me some time, and if I can save some time….why not share what I have learned with all of you, so that YOU can save some time as well?  Right?
Last week for the heck of it, I googled the question again, but instead of getting the same boring response……photoshop, photoshop, photoshop…..I was rewarded with 'How to make a Watermark in Picmonkey' over at Beginner Beans.   I was so excited I jumped right in and created about 8 different logos, and loaded them up on Google for a vote.  Even though 1 logo was hands down the favorite (and my favorite also), I was having so much fun, I created some more over the weekend, but this time using Ribbet (another online editing site that I have never used until this weekend).  Let's get started!!!
Creating your Watermark:
I am going to show you two online options  to create your personal watermark/logo.
Option 1:  This option uses my favorite resource….Picmonkey!  I use this site for everything ranging from my Subway Art to Tempting Thyme's Blog Header (more on this later)!  It is a free site that you all need to start utilizing!  Tell them I sent you!  LOL…..there is no way to tell them I sent you, it is not like they have a comment section!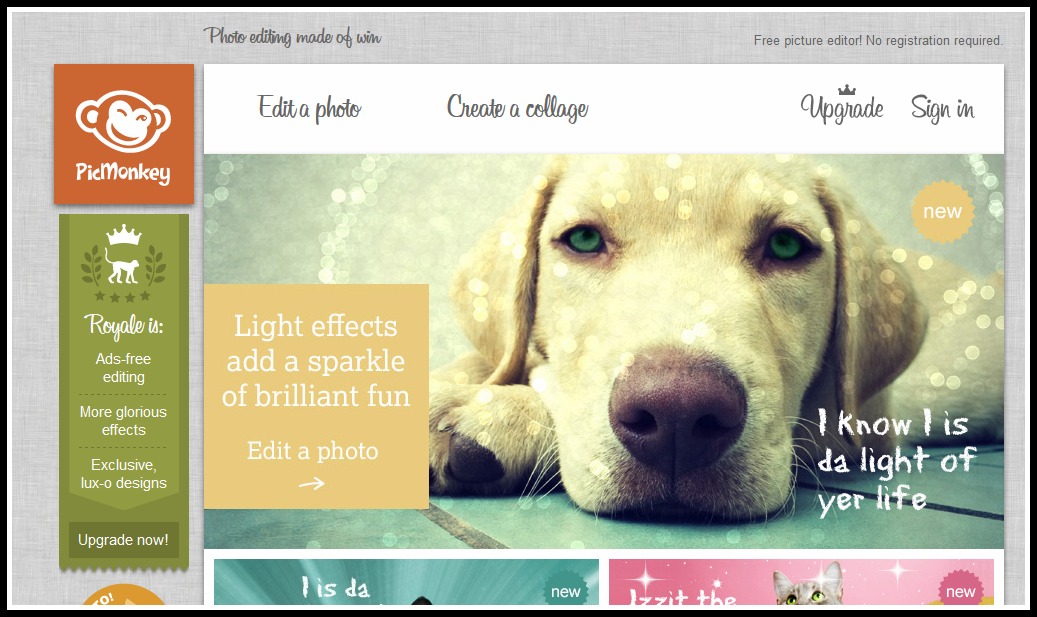 This is what you will see when you bring up their website.  Or you can just make it easy on yourself and just click here! Bring your cursor up to 'Create a Collage' and click on it….

See those options on the left?  Click the second one down and choose cards.  I chose the cards with the 2 grey areas, which brings it to the white area for you to start playing around with.  Click the 'x' to get rid of one of  the boxes.  You want one big area to work in.  At the bottom, you will see that you can change the size of the box you are working with.  You can adjust this now, or later….or just do what I did and leave it.  The dimensions were fine for my purpose.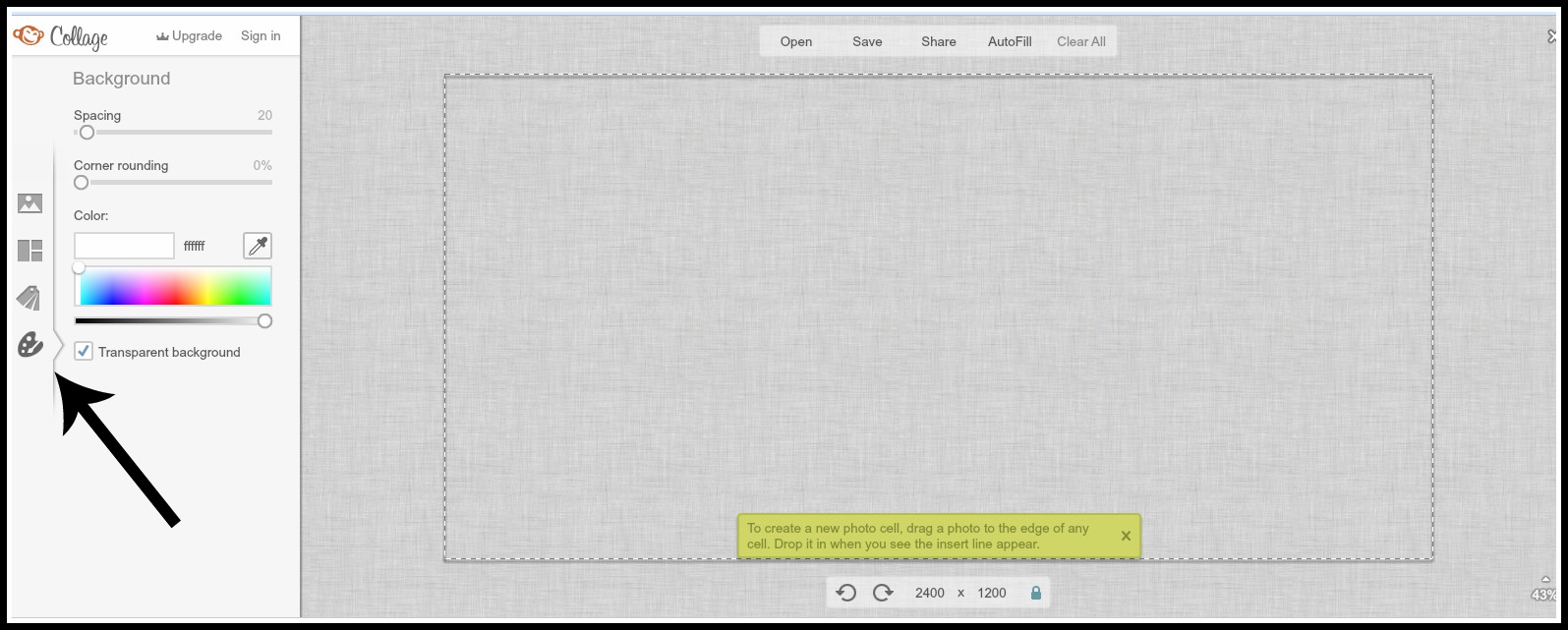 After you 'x' out one of the boxes, go to the artist pallet on the left hand side and click on it.  This will give you the option to change the spacing, make the corners rounded, and even give the background of your collage a pretty color.  Ignore all that and just click the box at the bottom that says Transparent Background!  Don't be alarmed, but your pretty white rectangle will disappear! Go to the top where it says 'Save' and click on it.  You want to save this transparent image to your computer.  Label it however you want, you can use this for many things….not just a logo on pictures.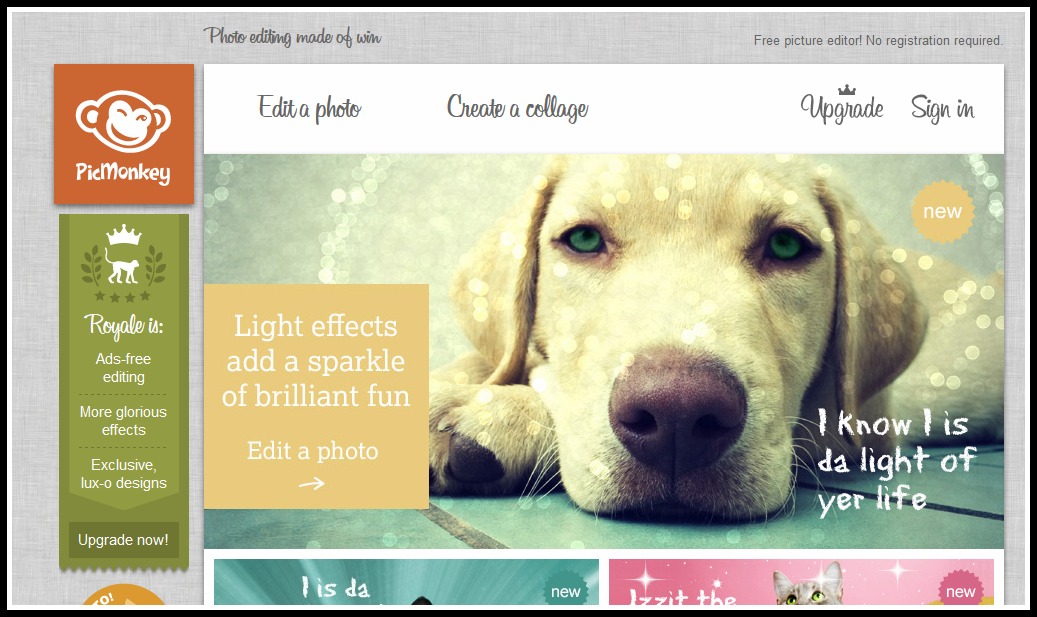 Once you have the transparent image saved to your computer, you are going to head back to Picmonkey's homepage, but this time go to the top and click on 'Edit a Photo'!  Upload that wonderful transparent image you just saved…….

This is where the fun begins.  Don't be alarmed, as you will be staring at a blank image, you will get used to it.  On the left hand side you will see 8 different icons.  They all represent items like basic photo editing, touching up photos, adding borders and backgrounds, and even adding in texture.  I use all of these when creating subway art, but for the watermark we are only going to use 1 of the icons.  Click on the P (Fonts), and choose the font you want.  Unless you want to purchase their premium service (monthly fee), stick to the fonts that don't have an orange crown next to it.  Highlight the font you want and click where it says 'Add Text'.  A box is going to appear in the middle, click on it and start typing.  You will be able to change the color and size of the text via the rectangle box on the right.  I also change the size by dragging the corner of the text box.

I used 2 different fonts for this watermark.  You can see that I created a line to divide them.  I dragged the box up between Tempting Thyme and Inspirations to separate the two.  You also notice that I changed the font to a black color.  I wanted to be able to see what I was doing and will change the color later.  You can get very creative and add in some additional elements or stickers by going to the 'Overlay' Icon.  It is the icon just below the P, and when opened you will see a lot of fun options you can add in.  Go crazy if you want, but for my purpose I wanted to keep it clean and classic…..at least for now!

When I was happy with the way it looked, I changed the font colors to white (FFFFFF or F5F5F5) in the text box and then dragged the 'Fade' to 40%.  This is what it will look like, and very hard to see.  Move your cursor to the top and hit 'Save'.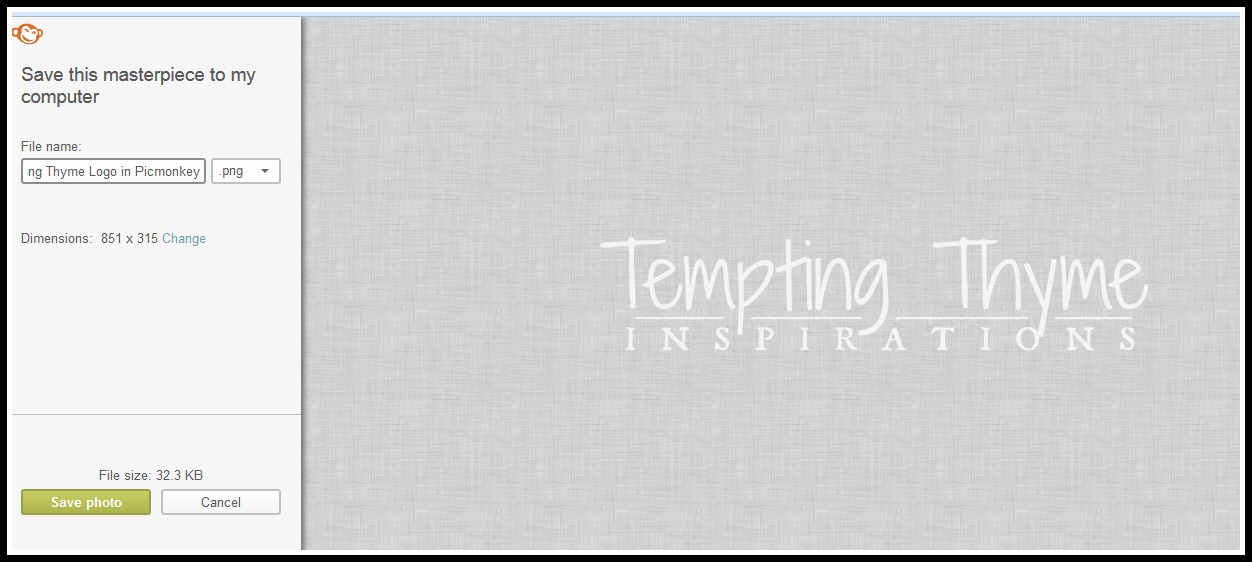 Label your watermark, and change the extension from .jpg to .png.  You will notice that the file is not very big, and will not take a lot of your computers memory….that is a very good thing.  Save this onto your computer.
You are done!  You have just created your very own Transparent Watermark!  Want to see it in action?????
Using your Transparent Watermark:
Upload your photo to Picmonkey.  Go to the 'Overlay' icon on the left (it is the one under the 'P' that has 3 different elements grouped together),  and click on it.  Go to the top and click on the box that says 'Add your Own'.  This is where you will add in that transparent watermark you just saved to your computer. =)  Find your beautiful watermark and click open.  Your watermark will pop up in the middle of your photo.  At this time you can drag the corners of the text box to make it as big or little as you want and also to move it to the location you want.  In my case, I added it to the bottom right.  When you are happy with it, click the save button .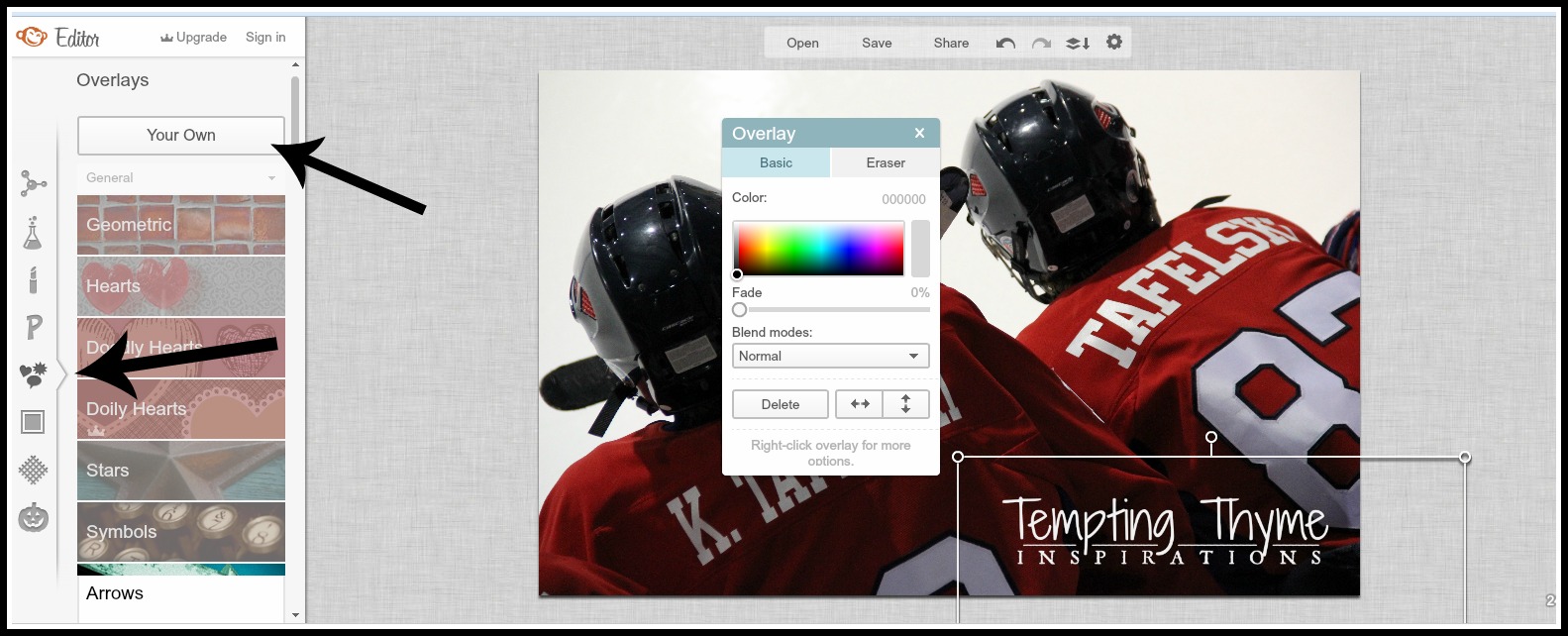 If you are going to upload photos to online sites, I would highly recommend watermarking your photographs!  It is amazing how many thief's are out their passing your photos off as their own!
Option 2:  This one is very similar to Option 1 (Picmonkey), but using Ribbet instead.  Before now, I had never used this site.  I don't know why, as it looks very much like Picmonkey.  I guess I am one of those steadfast people who sticks with what they know.  If it isn't broken….why change?  I still prefer Picmonkey, but Ribbet did save a step or two AND had a couple of cool fonts that Picmonkey does not have (look for Daniel….that is my favorite).

Head on over to Ribbet and click on Library at the top.  This will bring you to three different options.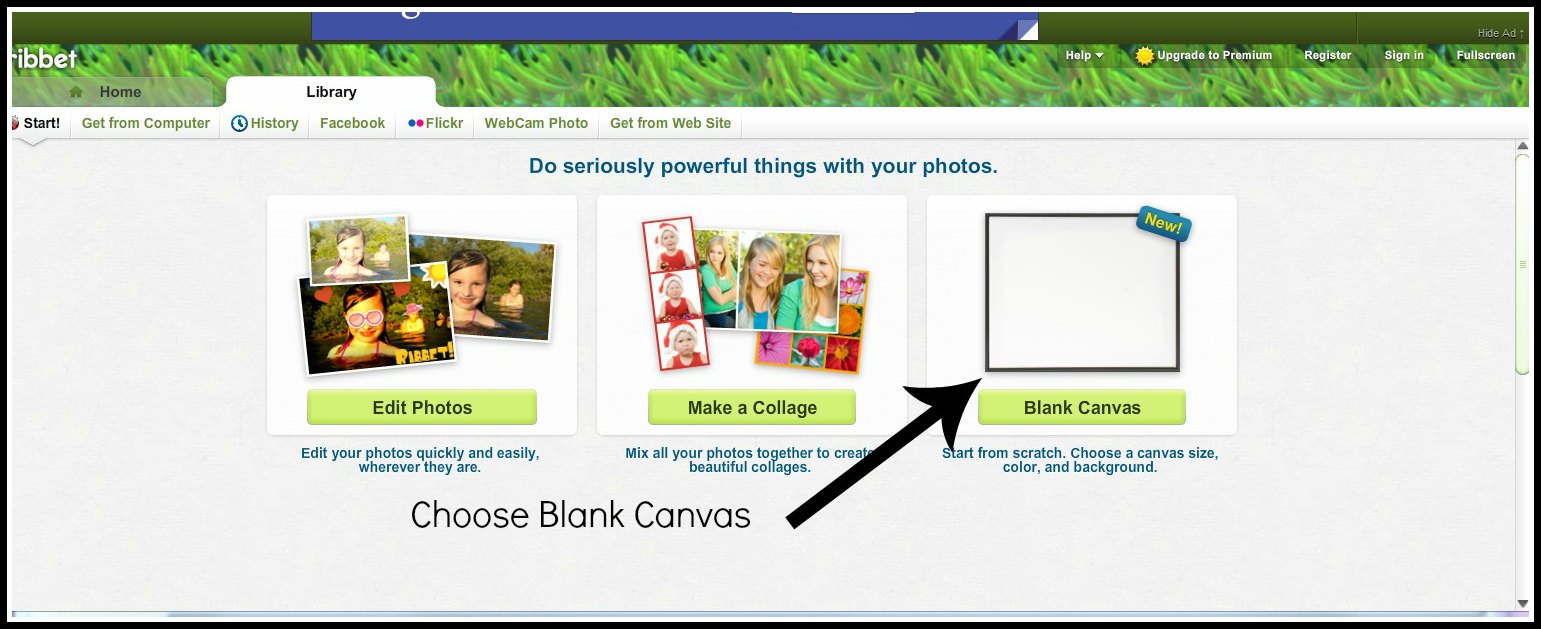 Click on the blank Canvas….

The only thing you need to do is check the transparent box and click OK!  This will bring you immediately to your work area without having to save it to your computer and then uploading it again.  This is the part that is different from Picmonkey!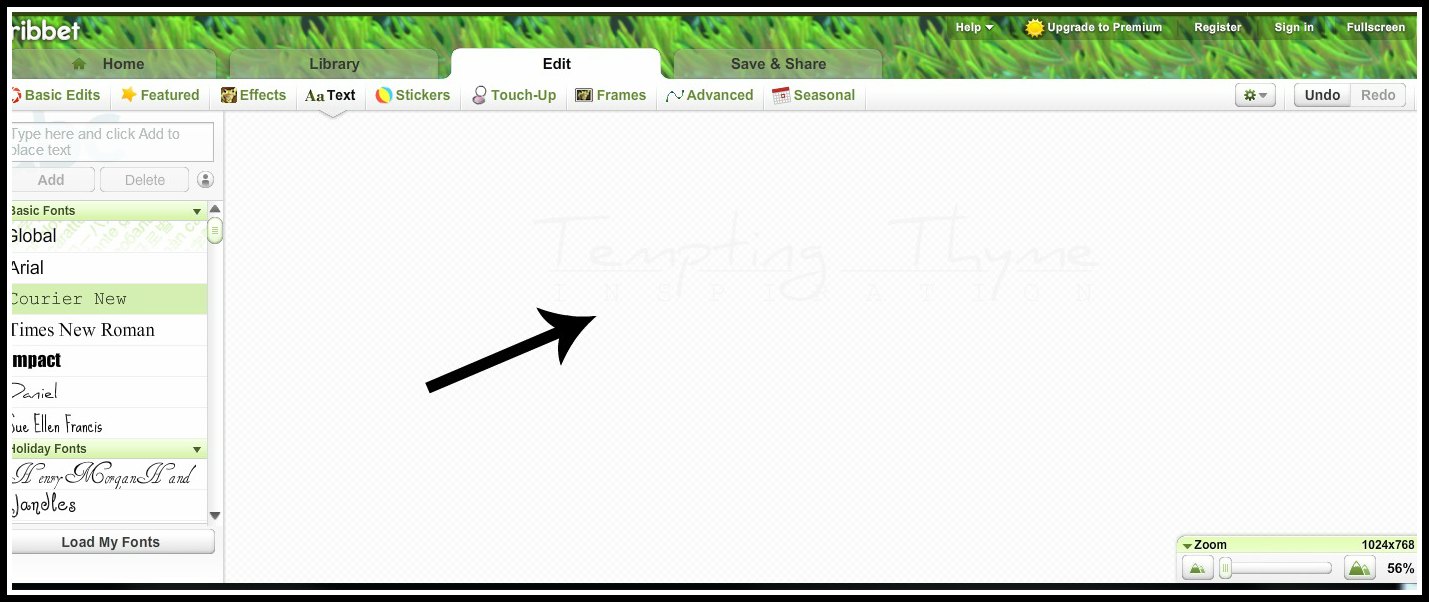 Follow the same steps as Picmonkey, except your icons are at the top….not the sides.   Click text, pick your font, go up to the text box, type in your words or phrase, then click ADD.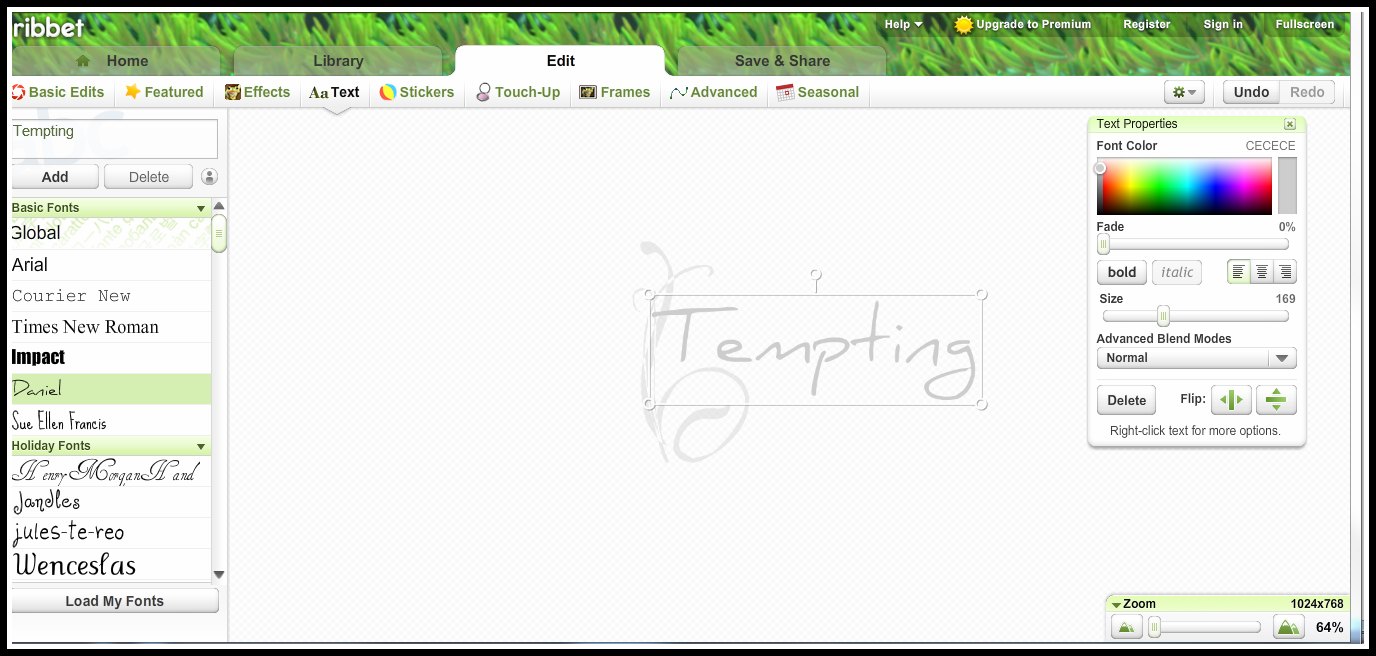 This time I added in a fun flourish from the sticker section.  Notice the box on the right…same as Picmonkey.  You can change the color of your text, size of it and fade it in and out.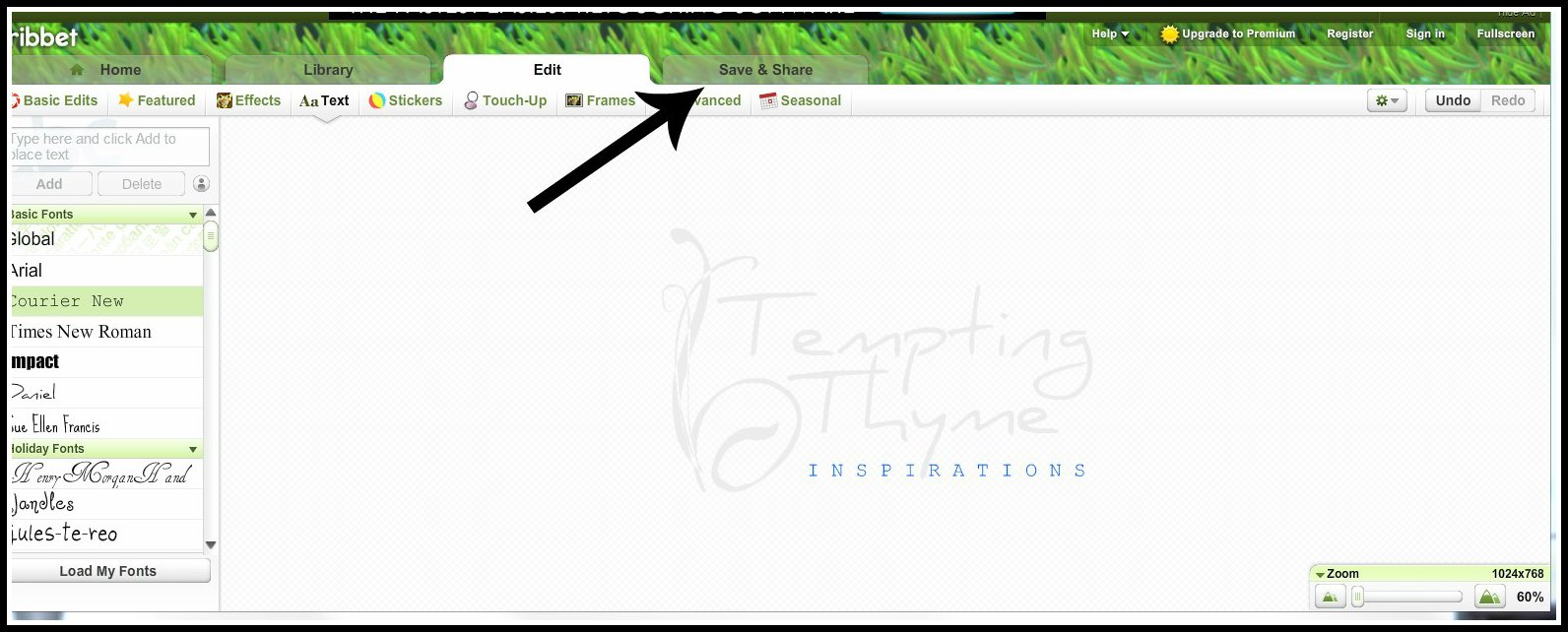 When you are done, click the Save & Share button at the top.  Save it to your computer as a.png file, and you are good to go for any future watermarking projects.
I hope you learned something new today!  If you already knew how to do this….please don't rub it in, LOL!  Computer graphics and technology is totally foreign to me, but I am slowly learning.  Speaking of learning…..I will let you know whenever I learn something cool that might benefit you!  Blogging and design is still new to me, and I cannot afford to hire a designer to make a really cool site for Tempting Thyme.  Instead, I google a lot to figure out how to do the things that I see on other cool blogs!  Why not share what I learn??!!
Until next time…..
                        Shaunna
Hey….by the way!  I found another great site talking about Watermarks……Mom on Timeout ….did one a few weeks back.  Saw a posting of it when I uploaded mine to let the Google members vote.  Maybe she found Beginner Beans too?  LOL!