Healthy Inspiration #6 brings to the table a very yummy
Blueberry
Pineapple
Smoothie! 
You are probably asking yourself…..why so many smoothies lately?? 
I know I would be asking that if I were on the other side of the computer….or tablet….or phone! 
The appropriate answer would be that I am trying to lose a little weight (which I am), and if I were following the Weight Watchers program (which I AM NOT), then fruits and vegetables would count as '0' points. 
The truth is, I have not lost a single pound since the start of the year, and I drink smoothies and juices at least 4 days of the week for breakfast and lunch.  Go figure, right?  If I was going to be totally honest …… and why shouldn't I….we are friends, and friends keep each other accountable, right??……. I would admit to you all that the reason I have not lost a pound is not due to the amazing juices and smoothies I am consuming!  It is simply that I have not given up my awful habits of yesteryear, and still consume lots of carbs for dinner, eating that dinner too late in the evening, and then occasionally snacking while watching mindless tv. =(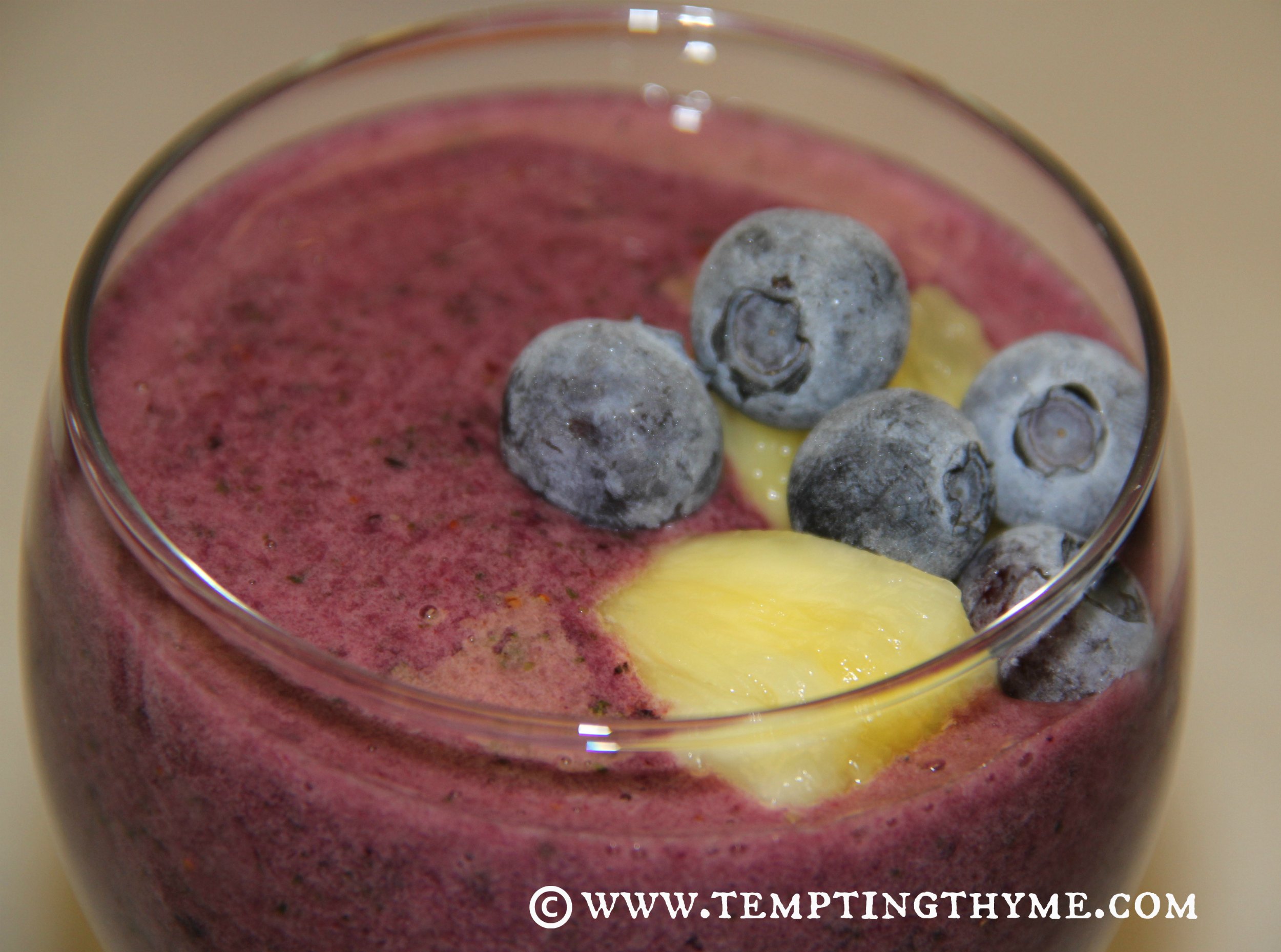 Yes, I am a work in progress, steadily growing (my mind, not just my booty) and making small changes each and every day.  That's okay, right?  I am still focusing on my word of the year….HEALTH!  It is just a little slower than I planned!  LOL!
They are often known as a super food due to their extremely high nutritional value and long list of healthy vitamins and minerals. I am not going to list all of the amazing benefits, instead I will direct you here and here.  These two sites will give you the low down on everything blueberries!
I love adding blueberries to granola and salads, but have only been adding them into smoothies recently.  This bad boy recipe came to fruition because I bought frozen Dark Sweet Cherries instead of strawberries. =(     
I was so bummed, as I don't work with cherries much…..other than to eat them off the stem….and spit out the seed!  Makes me drool for the summer months,  I know….it will be upon us soon….SIGH!

You are going to see a lot more juices and smoothies in the future.  I love getting half my daily quota of fruits and vegetables in 1 sitting!  Makes me feel better if my eating pattern isn't so good the rest of the day!  What I will promise you, though, is that I will not post anything unless I absolutely love it!  I have had some clunkers, that I have had to suck down with my nose pinched (yes, I am one of those who cannot waste food….especially expensive fruits and vegetables), but you will not see those recipes.  They will be yummy Tempting Thyme creations……at least to my taste buds!!!!
Notice the blueberry garnishment?  Frozen blueberries……they really are candy worthy when eaten frozen. 
What is your favorite fruit to eat frozen??
                                             Shaunna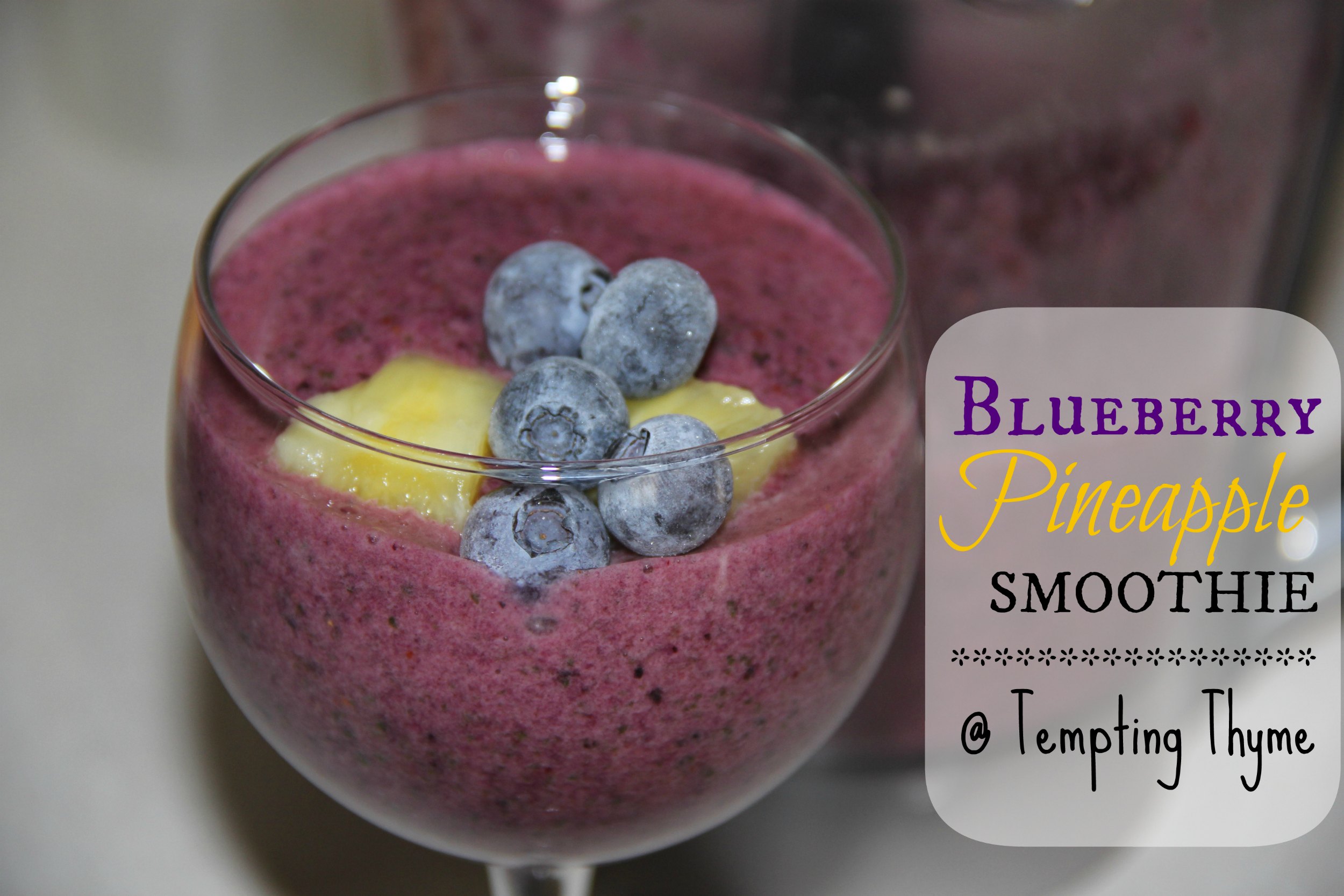 Blueberry Pineapple Smoothie
Serves:  2-3
Ingredients:
2 cups fresh spinach (I used 4 Spinach Cubes)
1 cup frozen blueberries
1/3 cup unsweetened Coconut Milk
1 cup fresh pineapple (use 8 oz canned diced pineapple, juice and all, if needed)
1/3 cup frozen sweet cherries
½ cup orange juice (if you are juicing, then 1 orange should be good)
Optional: Garnish with additional diced pineapple and blueberries
 Directions:
Juice 1 orange if necessary.  Combine all ingredients into a blender except for the optional garnishments.  Cover and blend until nearly smooth, scraping down sides if necessary.  If you prefer a silky smooth consistency, keep blending!
Divide between glasses and top with additional pineapple and blueberries.
Source:  Tempting Thyme