Pineapple Banana Smoothie = Healthy Inspiration Tuesday #4!
Today is also my sister's birthday——I will not tell you her age—-just know that she is older than me——will ALWAYS be older than me—-and I love her to pieces!  Happy, Happy Birthday Terri!

To help celebrate my sister's birthday, I created a Pineapple Banana Smoothie in her honor!   She lives in California, so I don't get to see her very often…..    Work, kids, health and $$ certainly put a damper on traveling and get-together's on a whim!  Those facts do not diminish that she is always in my thoughts.  Sister's are special, and the bond very hard to break!  Terri is 6 1/2 years older than me, and as a child I adored her.  She was the one left to watch over my other sister and I when my parents went out with friends on the weekends.  I remember one birthday celebration she planned for me……everything revolved around Root Beer…..and pretending it was the 'real deal'.  It was so much fun, and so thoughtful!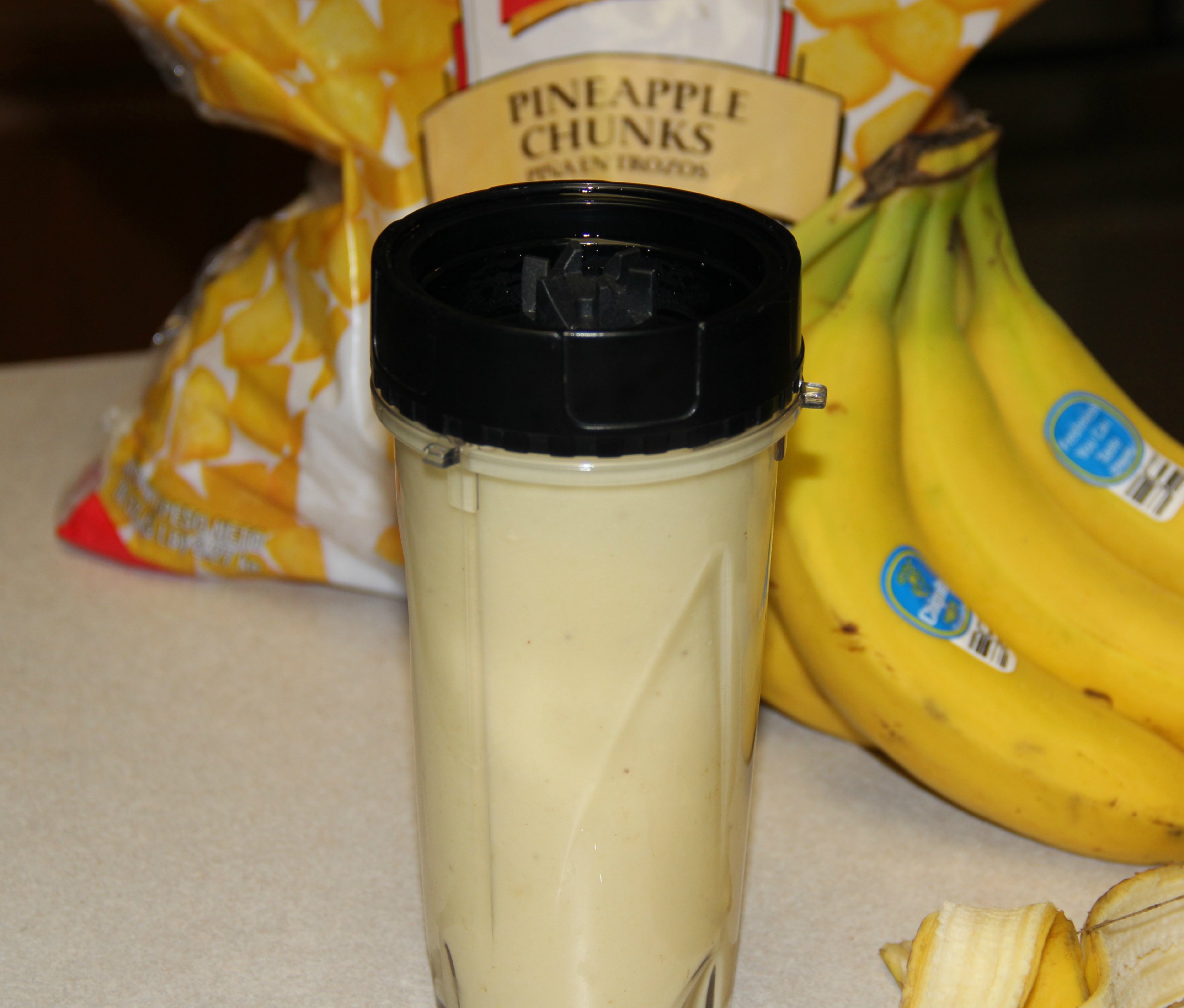 Why is this amazing smoothie in her honor?  For the simple fact that she is a vegetarian, and this pineapple banana smoothie is pure vegetarian…..vegan….clean….and everything else you can think of to call it!  Three ingredients make it quick and easy to make, even when you are trying to race out the door in the morning!

I was initially inspired when I saw a similar recipe on my friend's Pinterest page, except that it had yogurt and pineapple juice in addition to the fresh pineapple and banana.  What a serious 'sugar buzz' that would have given me!  I am trying to cut sugar from my diet, and wanted to give it a whirl without the yogurt and juice.   I am so glad I did!  This drink is simple, fresh and just the thing I need in the morning rush and craziness.  I blend it up in my Ninja 'to-go' cup and it heads to work with me.  As I am trying to figure out what task to tackle first, this cool blend of 'yummy'ness keeps me centered and focused!
What do you all eat, or drink, in the morning to start your day off right?
Oh……don't forget…..if you see my sister Terri today…..give her a shout out and tell her Happy Birthday!
                                     Shaunna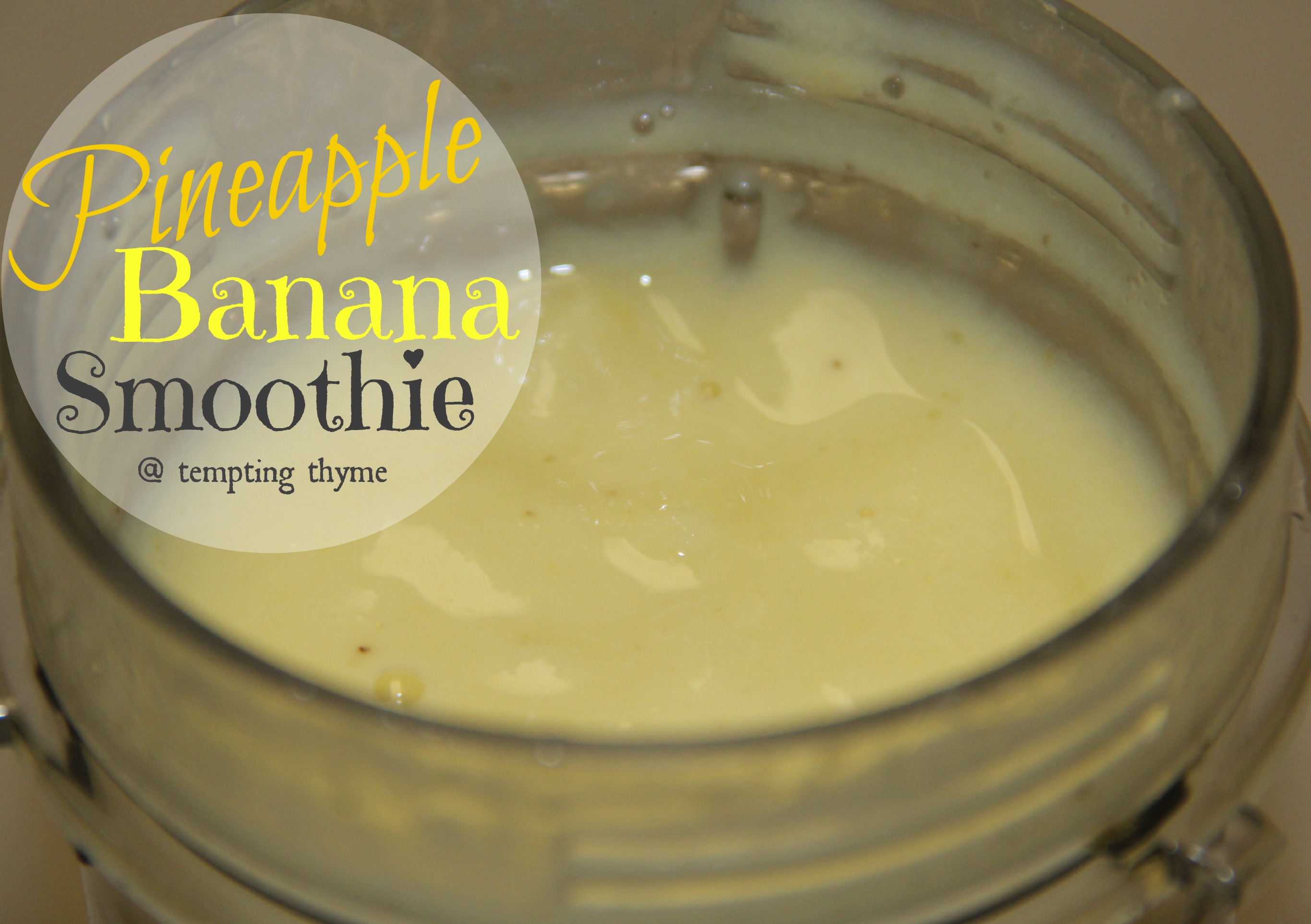 Pineapple Banana Smoothie
Printable Recipe
Serves:  1
 Ingredients:
1 ½ cups cubed fresh or frozen pineapple

1 medium banana

3/4 cups unsweetened Coconut Milk
Directions:
Blend the pineapple, banana and ¾ cup coconut milk until desired consistency is reached.  If you don't want the smoothie to be so thick, add in more milk.  Enjoy……this is so quick and simple!
Notes:  You can easily turn this into a frozen 'ice cream' dish by using frozen pineapple chunks, instead of fresh, and by reducing the Coconut Milk or eliminating it all together.
You may find Pineapple Banana Smoothie linked up to these great parties…..