Layered Tropical Smoothie ~ Mango, Strawberries, Kiwi and Bananas! 
Bright, Beautiful, Bountiful Fruit that are sweet and succulent on their own, but blended and combined literally make your taste buds dance in delight.
This layered beauty is not part of the Wicked Weekend Series, but it definitely qualifies as being Wicked!  The best part……….if you are a Weight Watcher's follower like PT………..it contains ZERO POINTS!  Yep, that's right.  Weight Watcher's ——-> ZERO POINTS!!!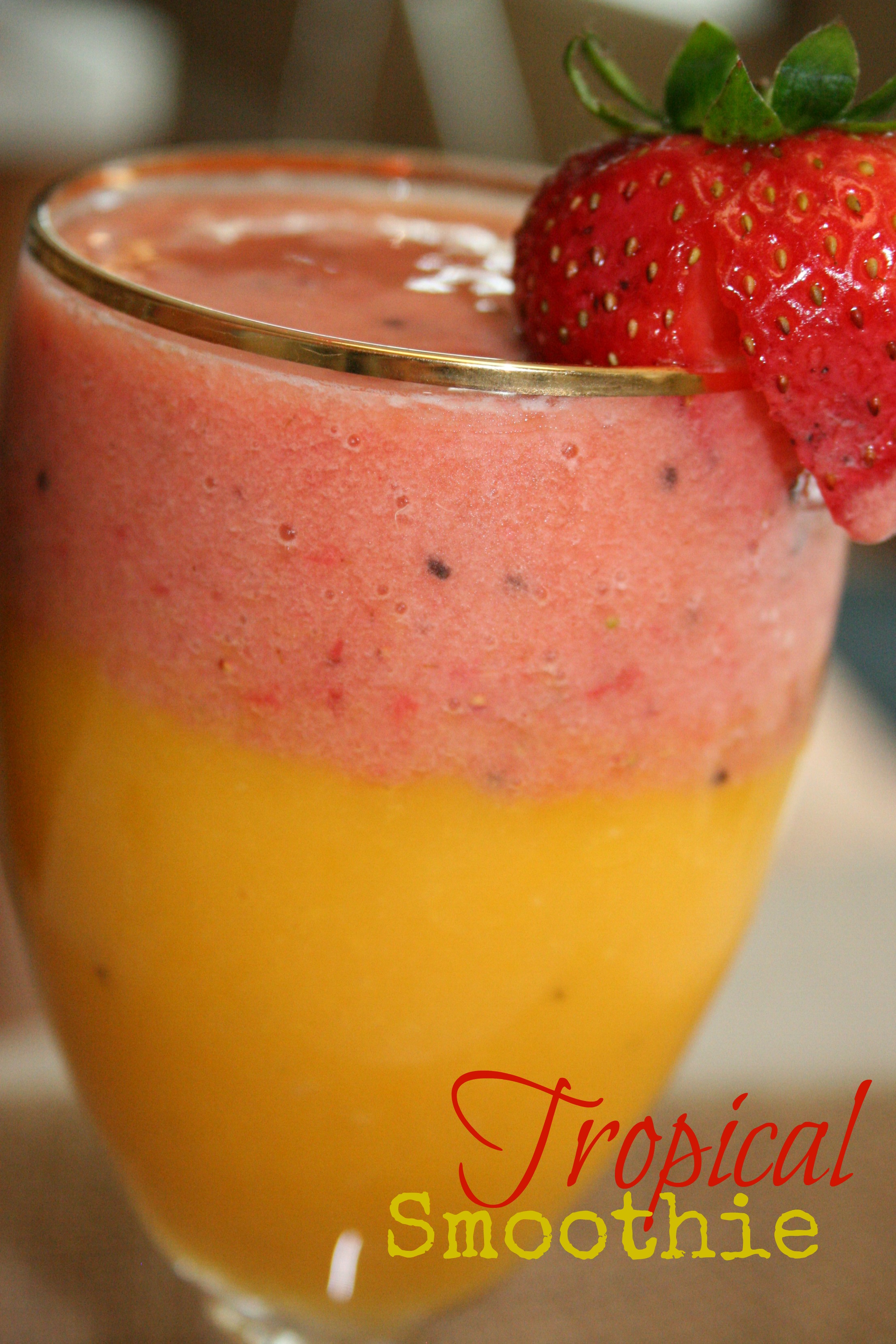 Why did I choose to layer it up?  Why not just mix it all together?  I was bored folks.  I know, go figure, happens to me….all….of…..the….time!  Doesn't boredom happen to all of us these days?  Last week I had to get creative…..I was eating/drinking nothing but fruits and vegetables.  If you missed the craziness called the Mean Green you can find the recipe here.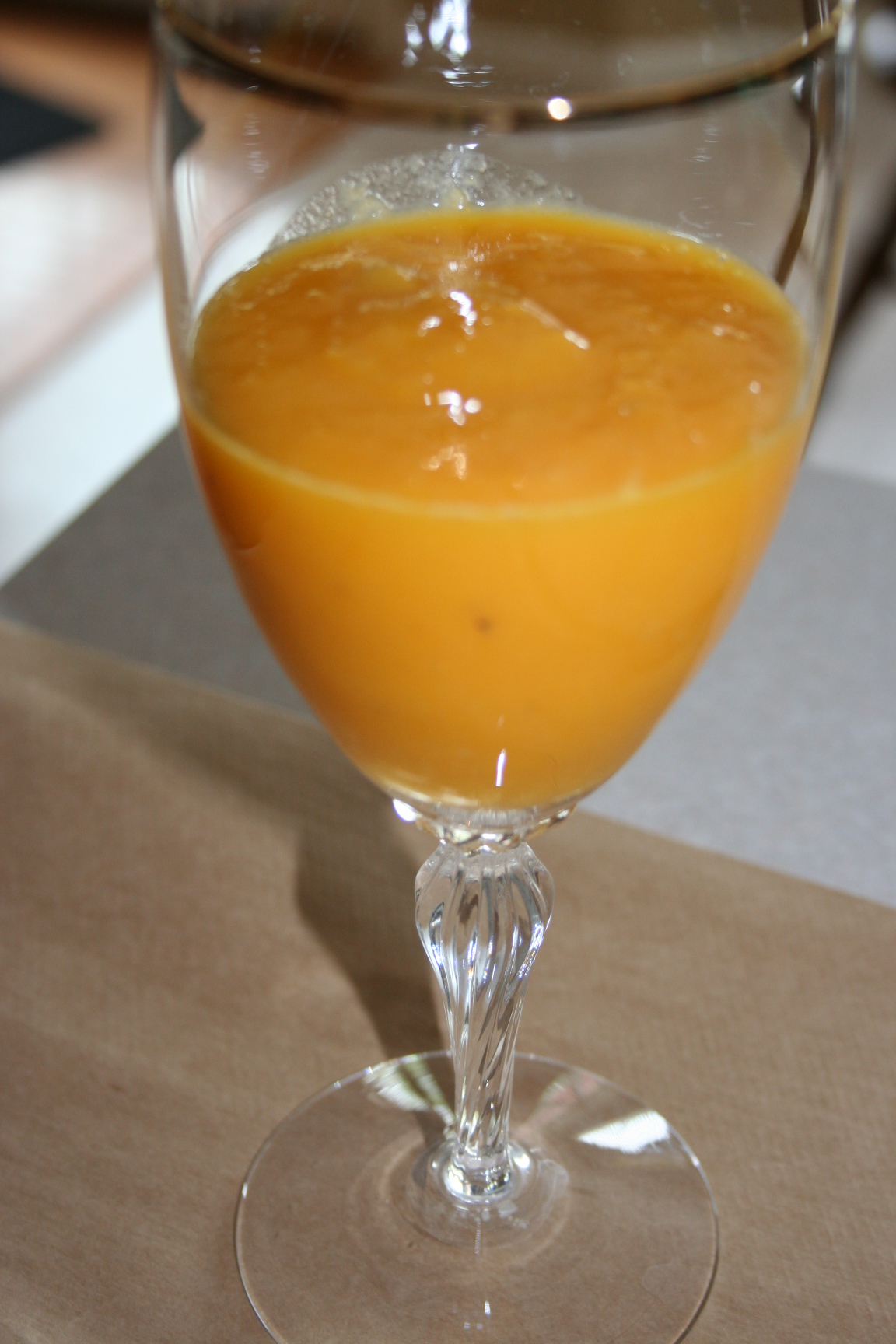 Mangos have been on special at Kroger's these past few weeks, 10 for $10, and I have been stocking up.  BTW….do I have the ONLY husband who thinks you actually have to buy 10 to get them for a buck apiece?  Thankfully, the boys drink a ton of milk, or he never would have heard the end of buying 10 quarts of milk!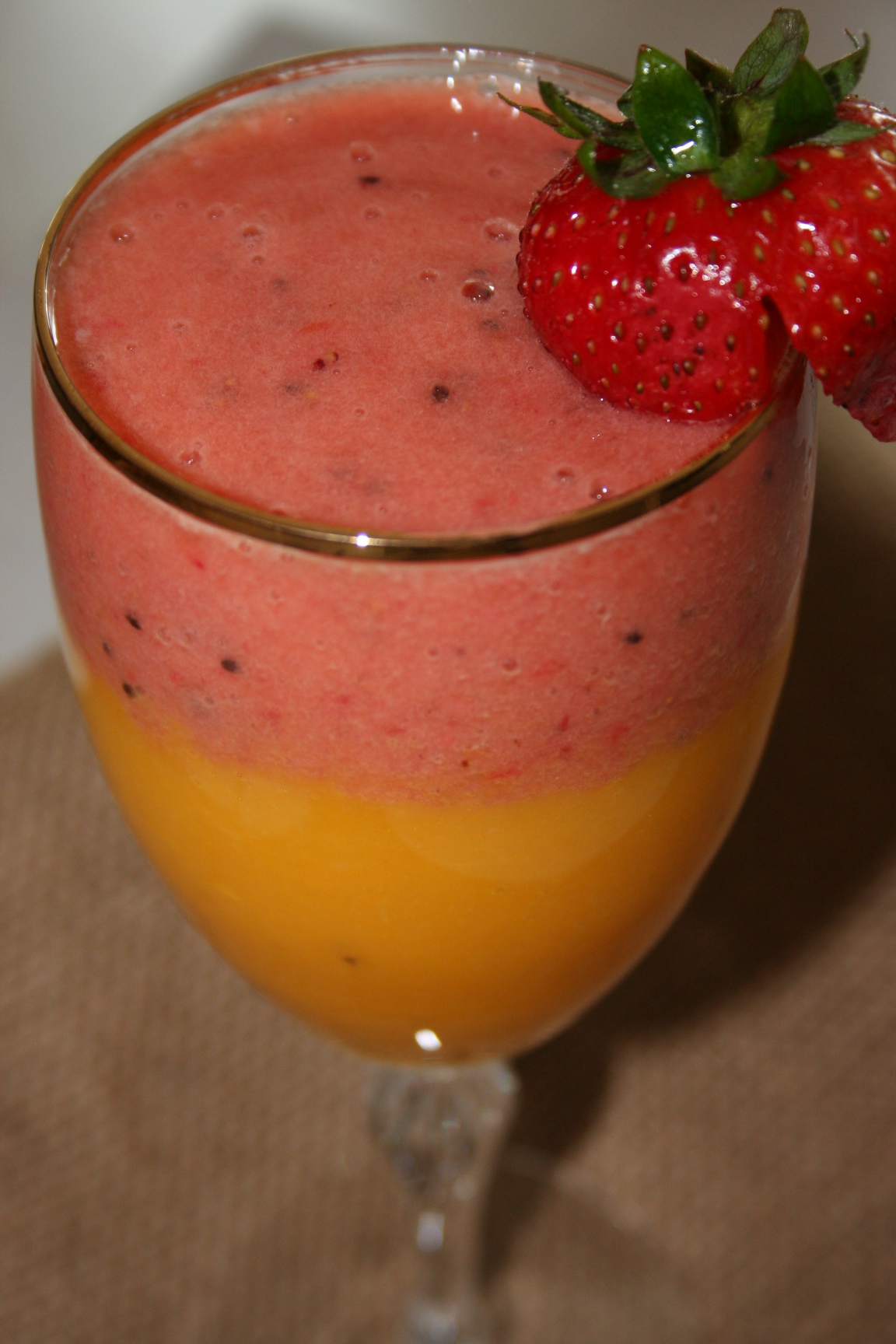 I had so much fun changing things up last week, and used mangos in just about every smoothie recipe I made.  Normally, I use yogurt in my smoothies, but last week I couldn't add in the dairy.  It was outrageous how INTENSE the fruit flavor was!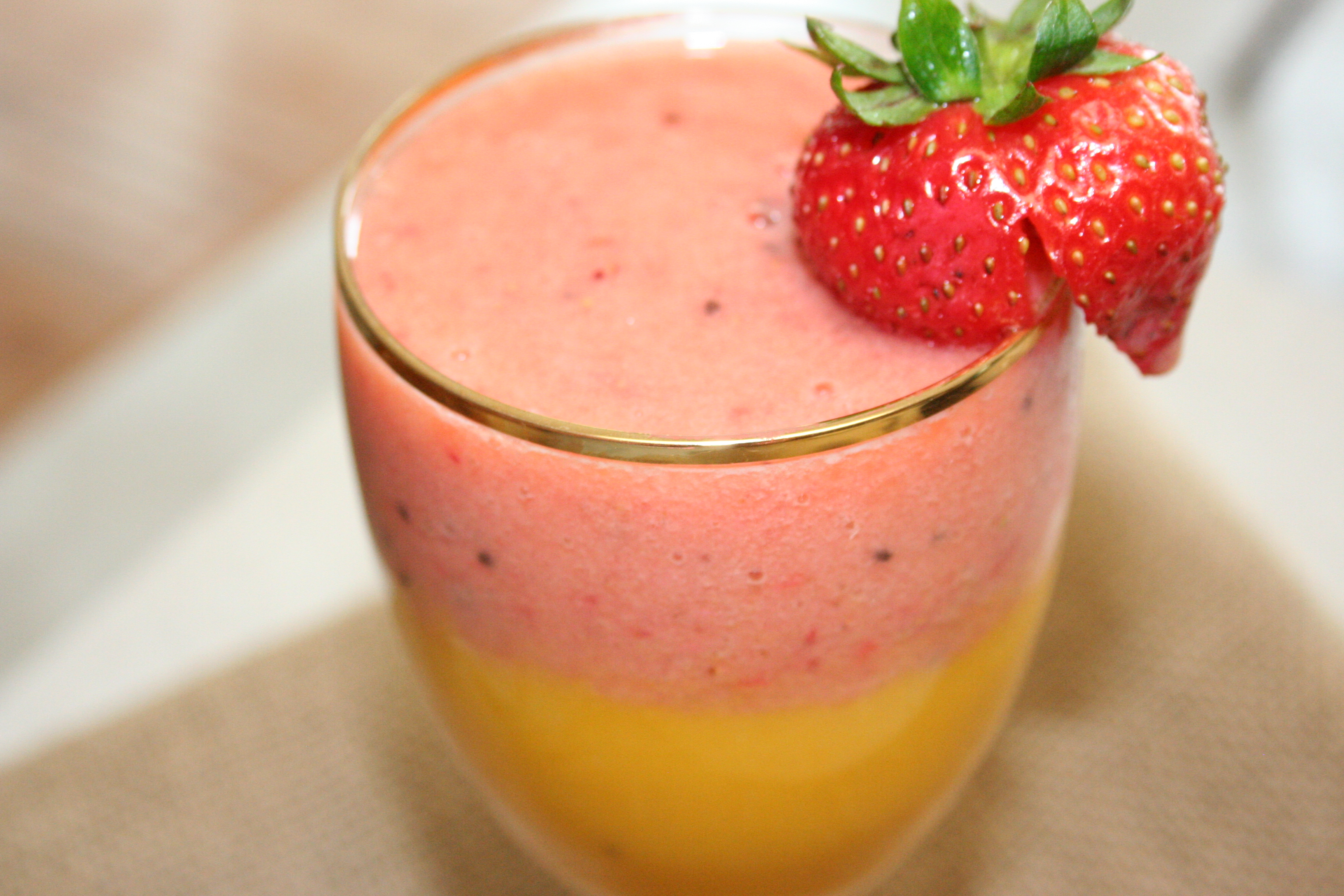 I enjoyed eating these 2 layers separately, but loved when my spoon hit both layers.  These 4 fruits together are sinful….combination of sweet, with a hint of tart from the kiwi.  Perfection!
Did you notice the beautiful crystal glass?  I am so tired of having the very expensive china and crystal that we registered for at our wedding sit protected, and unused in my china cabinet.  Isn't it sad that we have never used the china?  Twenty years of marriage and it hasn't seen the light of day!  Pathetic, I know!  We need to declare a National China Week, where everyone has to use their china every day of the week.  How fun would that be?  But until it becomes official, my advice to brides-to-be….do not register for china and crystal!!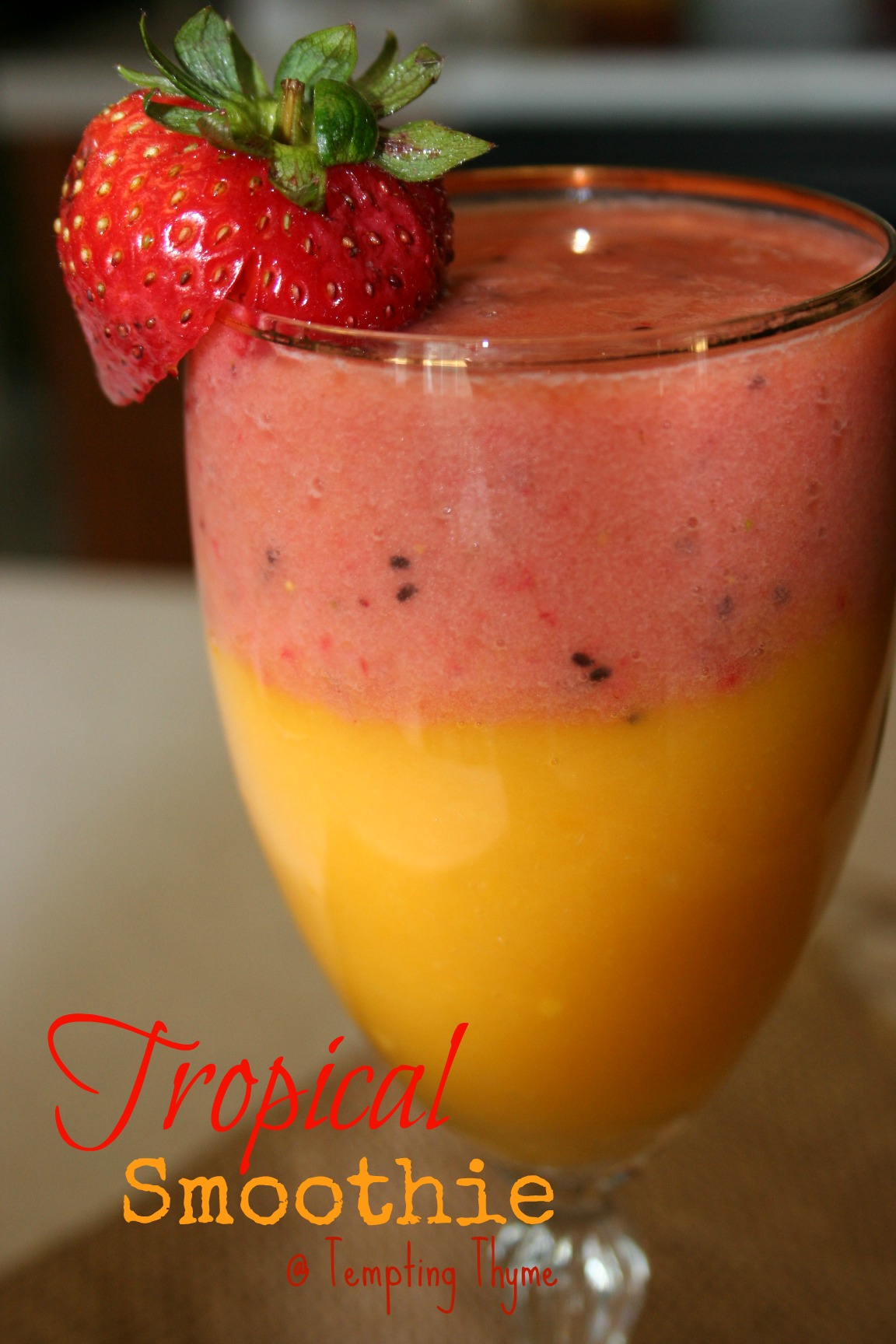 Layered Tropical Smoothie
(Serves: 1-2)
Mango & Banana Layer:
1 Mango, peeled and cubed
½ banana, peeled and sliced
¼ cup crushed ice
Kiwi Strawberry Layer:
2 Kiwis, peeled and cubed
10 strawberries, cored and sliced
¼ cup crushed ice
Directions:
*  Blend mango in blender, or mini food processor until smooth, and no bits or chunks are visible.  Add in sliced banana and crushed ice, and process until smooth and no ice is visible.  Pour into glass.
*  Rinse blender/food processor with water and dry.  Blend kiwi and strawberries until smooth.  Add in crushed ice, and continue processing until fully blended.  Pour slowly on top of mango layer.
Printable Recipe
What is your favorite smoothie recipe?                                    
                                                                 Shaunna