Wicked Weekend #9         Boy,  do I have a treat for you all!!!  We are combining 2 of our favorite addictions….cupcakes and chocolate chip cookie dough!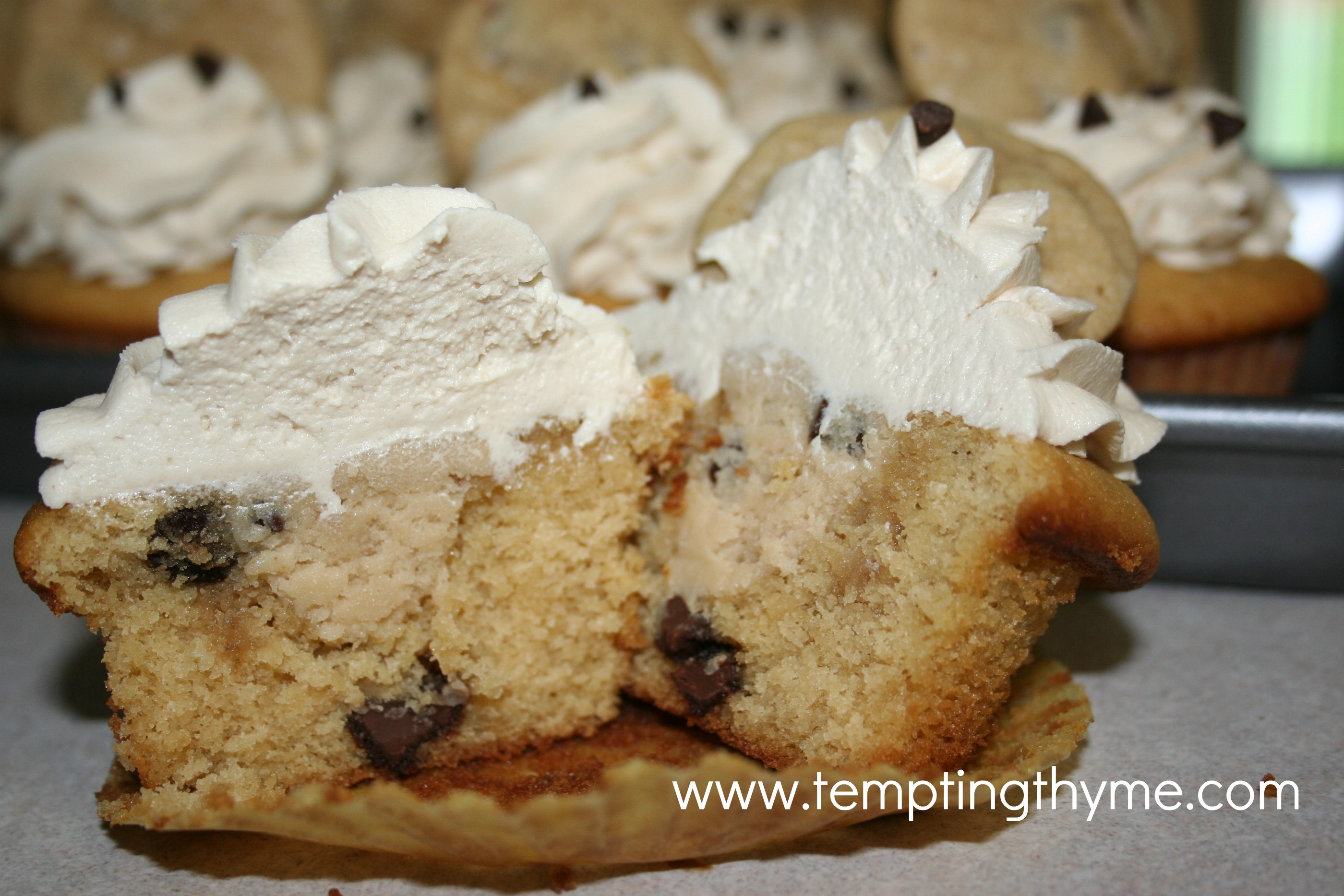 Can I admit a guilty pleasure?    I prefer my cookie dough straight out of the mixing bowl,  no baking necessary .  How many of you will admit to this one??  I know the hype and warnings about eating raw eggs and e-coli, but I can't help myself..spoonful here, a spoonful there.  Hmmm…maybe if they would stop injecting these chickens with so many growth hormone's we wouldn't have to worry about it so much.  Oh boy….I see a future post about the food industry…..anyone seen FOOD, Inc? 
I digress, need to get back on track.  What were we talking about?  Oh yes…..cupcakes and cookie dough.  Don't they look delish?  I can't rave enough about these little beauties.  Every last morsel….even the frosting tastes like cookie dough.  Brown sugar is the secret ingredient. 
For anyone who is nervous about raw cookie dough, the filling is totally safe…..no eggs were used!
I made these for Mother's Day, and couldn't be any happier with them.  Actually, I would be happier if they were calorie free…but we can't have it all!  
Warning, warning……..these cupcakes are not diet friendly, but you will enjoy every morsel you put into your mouth.  Splurge a little……that is why we call it Wicked Weekend! 
Notice the cute little cookies on top?  They are awesome!  I will post that recipe sometime next week
There is no way we could eat all of these, so the leftovers got divvied up between my co-workers and PT's 5th grade period history class.  How he chose that class over the other's is beyond me.  All I know is that everyone scarfed them up within minutes!
What do you think of them?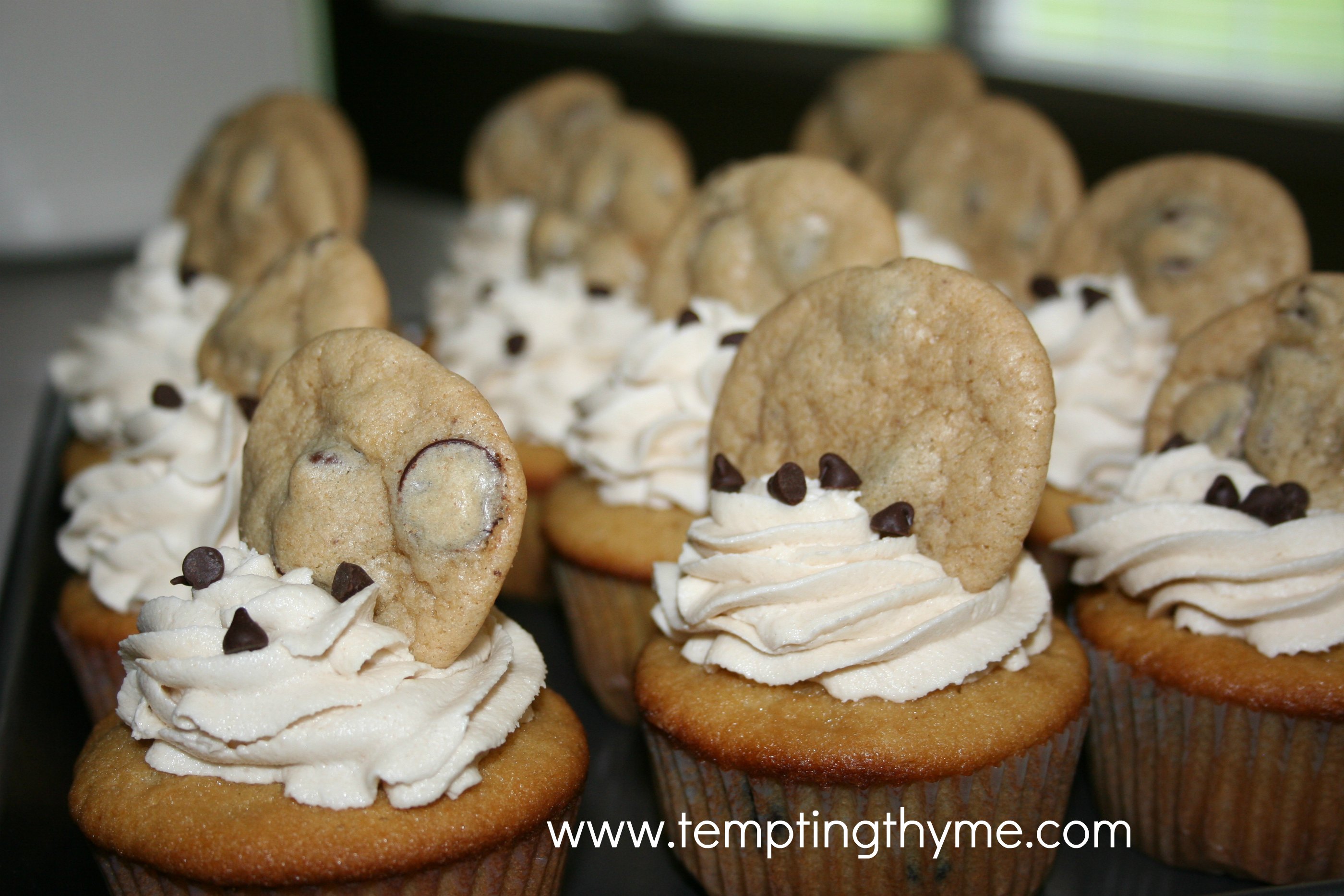 Chocolate Chip Cookie Dough Cupcakes
(Makes 24)
 Ingredients:
 Cupcakes:
 3 sticks unsalted butter, at room temperature
1 ½ cups light brown sugar, packed
4 large eggs
2 2/3 cups all-purpose flour
1 tsp baking powder
1 tsp baking soda
¼ tsp salt
1 cup milk
2 tsp vanilla extract
1 cup semi-sweet chocolate chips
 Filling:
4 Tbsp unsalted butter, room temperature
6 Tbsp light brown sugar, packed
1 cup plus 2 Tbsp all-purpose flour
7 oz. sweetened condensed milk
½ tsp vanilla extract
¼ cup mini semi-sweet chocolate chips
 Frosting:
 2 sticks unsalted butter, room temperature
½ cup light brown sugar, packed
2 1/3 cup confectioners' sugar
2/3 cup all-purpose flour
½ tsp salt
2 Tbsp milk
2 tsp vanilla extract
 Garnish:
 Mini chocolate chip cookies
Mini chocolate chips
 Directions:
 *  Preheat the oven to 350 degrees.  Line two cupcake pans with paper liners (24 total).  Set aside.
Cupcakes:
*  In the bowl of a stand mixer, combine the butter and brown sugar.  Beat together on medium-high speed until light and fluffy, about 3 minutes.  Mix in the eggs one at a time, beating well after each addition and scraping down the sides of the bowl as needed.
 *  Combine the flour, baking powder, baking soda, and salt in a medium bowl.  Stir together to blend.  Add the dry ingredients to the mixer bowl on low speed, alternating with the milk, beginning and ending with the dry ingredients, mixing each addition just until incorporated.  Blend in the vanilla.  Fold in the chocolate chips with a spatula.
 *  Divide the batter evenly between the prepared cupcake liners.  Bake for 18-20 minutes, until a toothpick inserted in the center comes out clean.  Allow to cool in the pan 5-10 minutes, then transfer to a wire rack to cool completely.
 Cookie Dough Filling:
*  Combine the butter and sugar in a mixing bowl and cream on medium-high speed until light and fluffy, about 2 minutes.  Beat in the flour, sweetened condensed milk and vanilla until incorporated and smooth.  Stir in the chocolate chips.  Cover with plastic wrap and refrigerate until the mixture has firmed up, about 30 minutes.
 *  To fill the cupcakes, cut a cone-shaped portion out of the center of each cupcake.  Fill each hole with a chunk of the chilled cookie dough mixture.  Replace the top of the cone, or enjoy as a snack…your choice.
 Frosting:
*  Beat together the butter and brown sugar until creamy.  Mix in the confectioners' sugar until smooth.  Beat in the flour and salt.  Mix in the milk and vanilla extract until smooth and well blended.
 *  Frost the filled cupcakes as desired, sprinkling with mini chocolate chips and topping with a mini chocolate chip cookie for decoration.
Store in an airtight container.
Linking up to: Tip Tuesday, Positvely Splendid, Handy Man..Crafty Woman, Creations by Kara 
Source:  Annie's Eats