Hey all!   I have been loving the weather we've been having in the little 'O' early this week!  Record highs in the 60's and 70's.   I seriously wanted to play hooky from work and just sit outside….. face upturned absorbing as much as the sunshine as I could.
Wanted to!
But I didn't!
Now we have rain!
Sigh!
A reader recently sent me a note asking if I had ever posted the finished product of the photo collage I did for K's senior night back in January. I apologized to her and said that I would get on that this week! Thank you DeAna for keeping me accountable.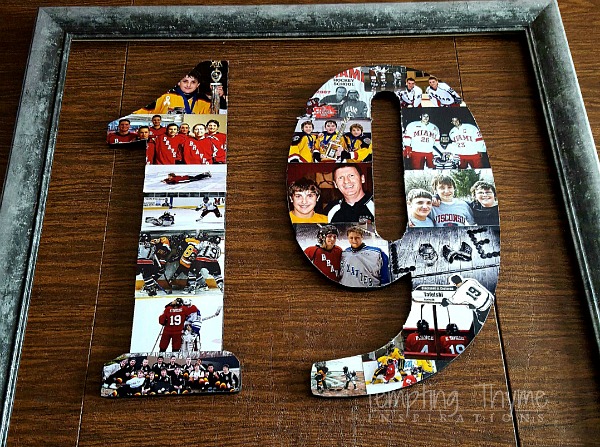 I don't have any photos of the process, but I will write down everything that I did so that you can feel comfortable enough to do this on your own……even if you are a 'visual learner'! 😉
The common theme of most senior nights is showing off your child's athletic (or academic) career……on poster boards!
I wanted something different!
Something he could display in his man cave when he is all grown up with a home of his own!
Then again, he does say he is going to live with us forever….
      …….just like I told my Mom when I was a teenager!
At least I said I was going to be their housekeeper……K will just be __________! 😉
He will move out eventually! He will have his own home!
I am starting to ramble! 😉
I found these large wood numbers at Hobby Lobby; which are 18" tall and about 1 inch thick!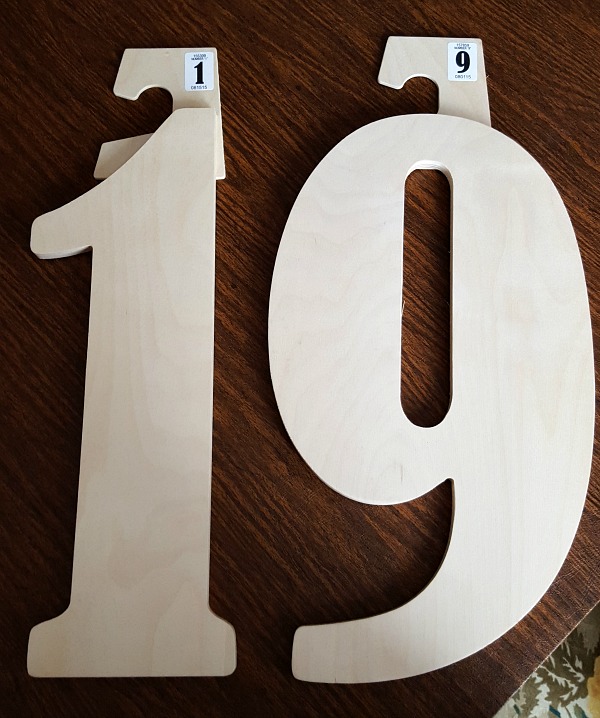 Strolling through the clearance aisle I also found a large, open back frame that was black with what looks like grey metallic dry brushed over the top.
Hmmmmm….
I put the frame on the floor, placed the numbers inside the frame and……
                      ding, ding, ding…..we had a winner!
I was going to suspend the numbers within the frame!   I didn't have a firm grasp on how I was going to make that happen yet, but I was very excited to get started on the project.
Supplies Needed:
* Photos
* Large Wooden Numbers (mine are 18″ tall)
* Mod Podge
* Foam Brush
* Trimmer/Scissors
* Paint (if you do not want the natural wood to be visible)
* Krylon Crystal Clear Acrylic Spray
* Sandpaper
Optional:  Open Back Picture Back Frame, eye hooks and laces)
1. I gave the numbers 2 coats of black paint (top, sides and back), with a very light sanding in between the coats. The paint brought up some of the grain and fibers and I wanted a smooth finish for the pictures to stick to, and didn't want the sides to be rough to the touch. I didn't care about the backs, so those I left unsanded.

2. I sorted through the gazillion photos that I pulled for this project.
In all seriousness; did I really think that I was going to be able to fit 200+ photos onto these numbers? LOL!
You might want to plan out the position of each photo ahead of time, but I did it as I went…..finding what photo would work when I came to a particular curve or angle.  I eye balled the photo and trimmed off most of the excess, BUT I did leave some extra around the edges just in case my eyes failed me!   **Don't worry….you will get this trimmed down once everything is dry!

3. I used a foam brush and applied some mod podge to the wood number, and gently placed the photo, smoothing out any bubbles and wrinkles with the back of my finger and an old cotton t-shirt.  I continued this pattern until both numbers were full of photos.  Set them aside to let the glue dry overnight.

4. At this time you can take your scissors and trim the photos to be flush with the edges of the numbers. I ended up using a wedge of sandpaper and lightly sanded the edges along the inside of the '9'.

5. Outside, or in a well ventilated area, spray the acrylic top coat onto the photos…..following the instructions on the back of the can.  I used the same spray that I used for the DIY Photo Coasters!  Repeat for a second coat if necessary.  Set aside and do not handle for 24 hours.

At this point your numbers are done!  😉  You can hang them, or if you bought numbers that have a solid base, you can set them on a table as decoration!
As I said, I had a vision in my mind involving spinning numbers in an open back frame.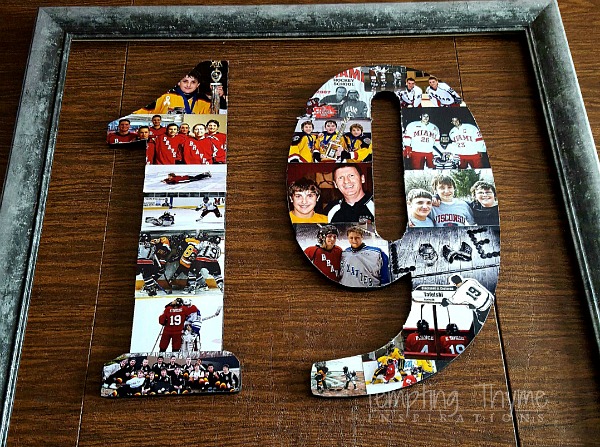 I originally was going to use wire to attach the letters to eye hooks, but found a new pair of hockey skates in the mudroom closet, and thought they would be perfect!
I made markings on the frame where I would be adding the hooks, and made very small pilot holes to screw in the eye hooks.  If you do not have a drill, no problem!  You can easily screw in the eye hooks without predrilling a hole, as the hook has a very sharp point, just twist and turn with a steady hand.
I had to modify my original idea and instead used 2 hooks on the bottom of the '1', and 2 at the top of the '9'.  With just one hook they were flopping all around with zero stability.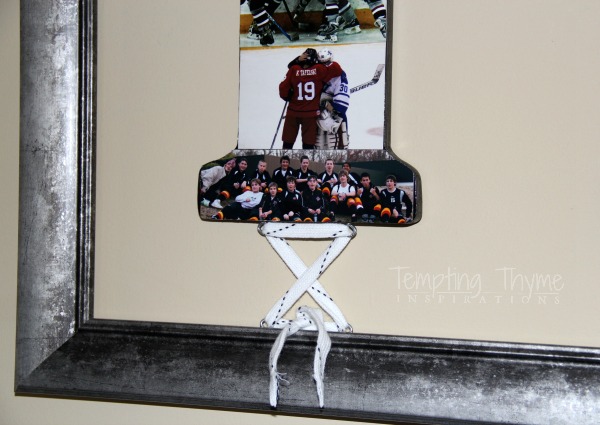 For each eye hook in the frame, there is the same matching set on the wood numbers.  I used a total of 12 eye hooks for this project.
I used a crisscross pattern when I stringing the 4 eye hooks, as I thought it replicated the look of a hockey jersey that has laces at the neckline!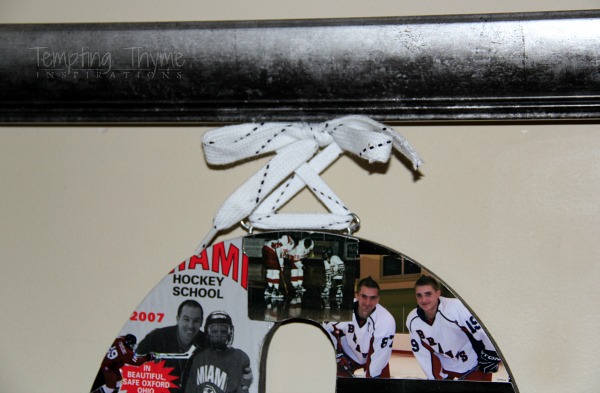 Look in the photo above.  On the left K is just a babe standing with Aaron Gates (the prior Director of Goggin at MU).  This photo was chosen to be on the cover of Miami's summer hockey camp brochure!
What a surprise!! 
I remember being up at Bowling Green for a game, and having a fellow parent all excited because she recognized K on the brochure flanking the wall. 
Needless to say, I think we have 50…..no, not that many…..copies floating around this house!
Look at the tiny photo in the middle.  K was invited to do a face off prior to a Miami game.  The player dropping the puck is none other than Andy Greene, who now plays for the New Jersey Devils.  
B would probably like me to add (as I had a phone call from one of his roommates asking me if it was true) that Andy was also his teacher at Kramer for one semester doing his 'student teaching' requirement before graduation!
Yes Dewie……he wasn't blowing smoke! 😉
Getting back to the DIY Photo Collage project……. I added 2 sawtooth hangers to the back of the frame and hung it on a wall in K's bedroom.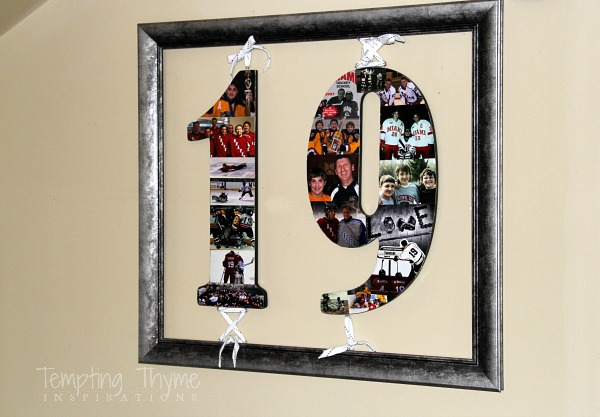 LOVE IT!
I did a horrible job on tying the hockey laces, but that will get fixed when my Mom comes down to visit sometime in the future.
I think I also need to fess up and admit that I did not have this totally completed for his Senior Night.  I also did not know what other parents were doing……so I caved and did a poster board also!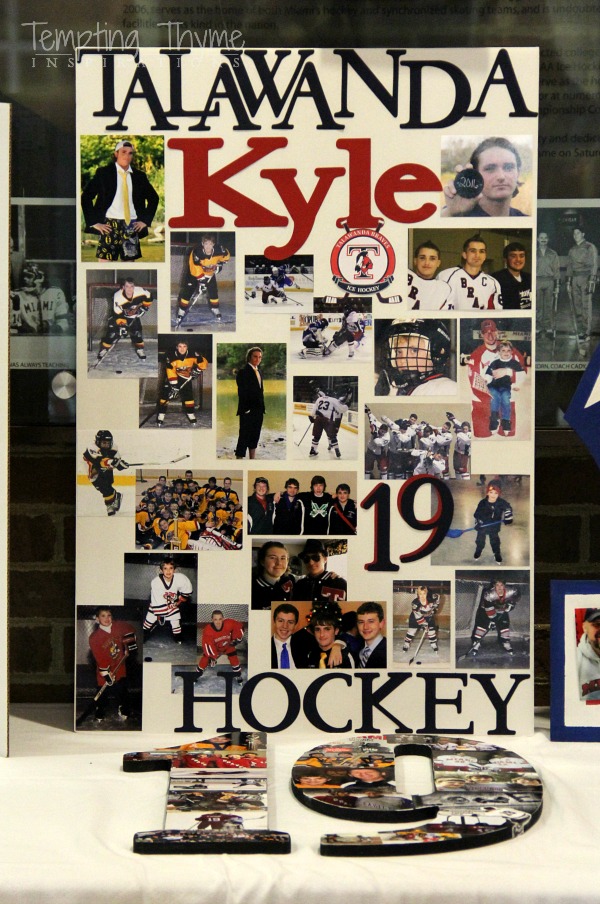 It is okaaaaay, but I still think that the photo collage numbers will look better in his man cave down the road!! 😉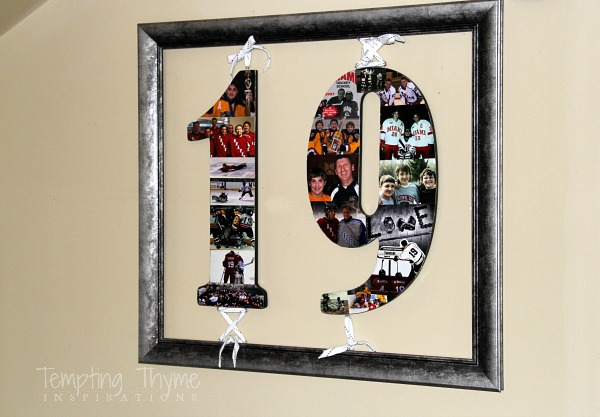 What is your favorite way to preserve photos and memories?
                                      

     Shaunna