I hope you all had an amazing Thanksgiving with family and/or friends! 
My parents are down for a few days, and PT's Mom and significant other were able to join us for the day yesterday. 
Great day with lots of wonderful food and company!

My Mom declared that she was going to be in charge of the turkey, as she saw a cooking segment on the Today show…..and Matt Lauer declared the turkey was the best he had ever had! 
Annnnnnd if Matt says it is good……..well then…..we are going to make it! 😉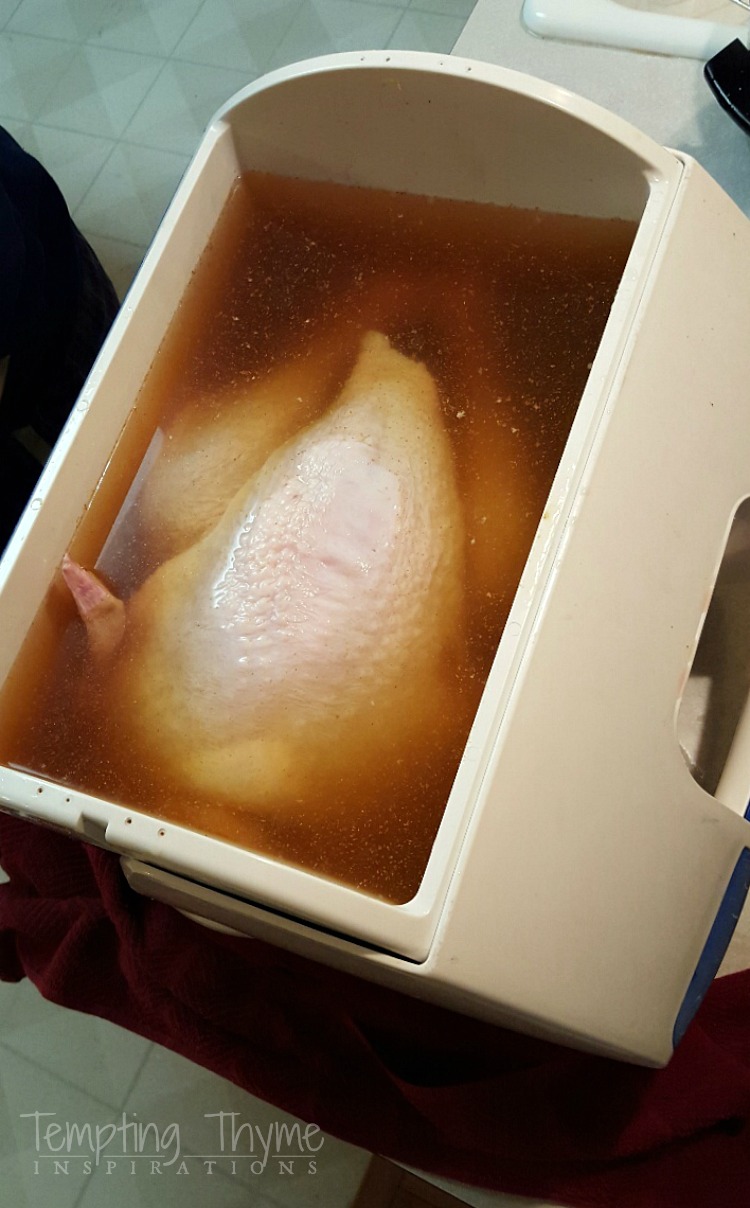 I will give my Mom, and Matt, some credit……..
…….the turkey was damn good! 
The recipe consisted of brining the turkey in beer and cajun seasonings overnight.
Yes, that is a cooler!
It is about the only thing we could find to have the bird totally submerged in the beer.
And yeeeeeesssss…….we she washed and sanitized the cooler before the brining could even begin. 
I get the heebie jeebies on stuff like that!
Unfortunately, we did have a little bit of adventure and excitement when I stepped in water around the sink when we they were starting to wash all of the dishes…….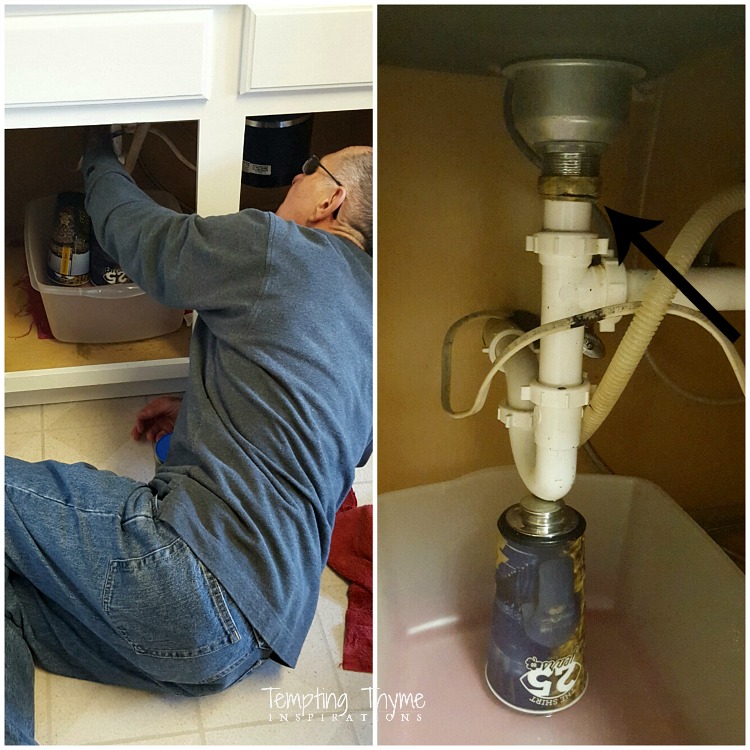 Not fun people!!!!!
See that arrow in the above right photo?  That part literally corroded and split in two…..
     ……..hence the water pouring out of it! 
Instead of calling a plumber on Thanksgiving Day and paying quadruple their normal rate…….we jerry rigged it with a tub, a 32 oz plastic drinking cup and a sink stopper. 
Aren't we creative!!! 
That's my handsome Dad trying to determine which size cup is going to work best!! 😉
Now we have a decision to make……
Do we call in a plumber and get it fixed, ooooorrrrrr do we take the plunge and find (very quickly) a new countertop, sink and faucet and just replace everything! 
I have been dreaming of countertops for months now….could not decide on what direction to go……but situations like this kind of force the issue. 
Know what I mean?? 😉
We are still thrilled with this quick decision……..
Hopefully I can convince PT to head on over to the granite store this weekend!!!
Speaking of kitchens, I have to say that Erin hit it out of the park with these DIY marble countertops…..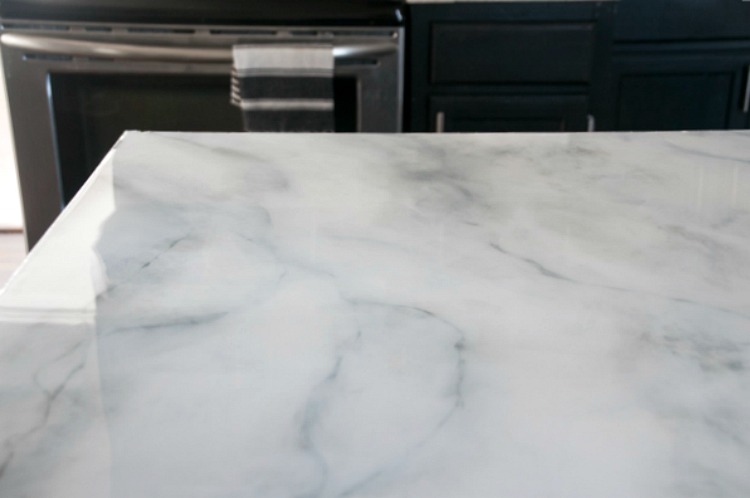 I was thrilled to be able to cross something off of my bucket list "wish list" this week!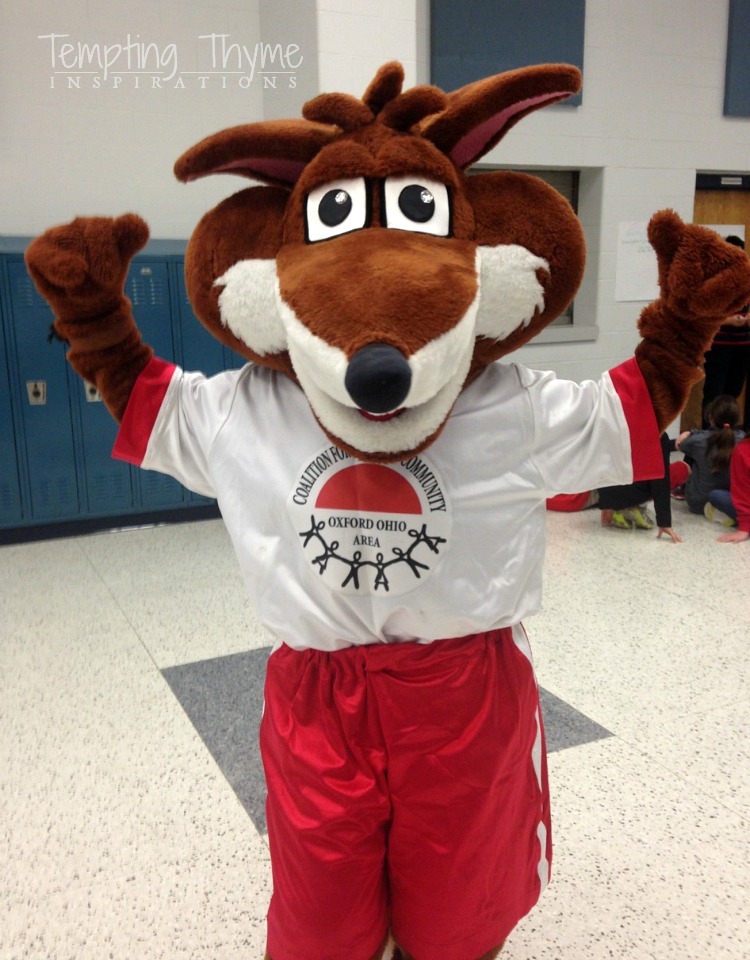 I have always wanted to be a mascot ……..  ideally Purdue Pete …… still dreaming on this one …… and was given the chance to be Rox over at our local middle school for a 6-8th grade program on healthy living and smart choices.
What a blast!!!!
Few observations on wearing a furry costume with a very large head (the snout was HUGE) for over an hour:
     ……. it is a lot of fun doing silly stuff when no one knows it is you in the costume!
     ……. some kids are freaked out and do not want to give a high five or be hugged by Rox!
Yes Mom and Dad……..I still remember the bear touching my hamburger when I was little and not wanting to eat it afterwards!!
    ……. speaking of getting freaked out.  I was standing stock still in the ladies restroom waiting to be led out by my handler, and a little girl came strolling in.  She absolutely flipped out, as she was not expecting to see Rox when she turned the corner. 
Needless to say, I am glad she didn't have a heart attack!!!
   ……. surprisingly, the paws were the hottest section of the outfit, and I had a hard time keeping them on!
   ……. the head was heavy……. especially when you are sitting on the ground surrounded by kids (oh I wish I could show you that picture, it is soooooo good) and they are pulling and pushing on it! 
I thought they were boys and was thinking that I would love to throttle them.  When I was texted the picture later that evening and saw that they were girls, I responded my surprise on that fact, and told Amy my thoughts……
……..and her comment was that throttling them would not have been a "healthy choice"!
Can you tell that Amy is our health and wellness coordinator? 
My response?
Thoughts are thankfully not reality!
As we all have Christmas on the brain now, I am going to leave you with 2 items…….
This Advent Calendar is precious, and you can create your own by printing out her adorable "free" tags……..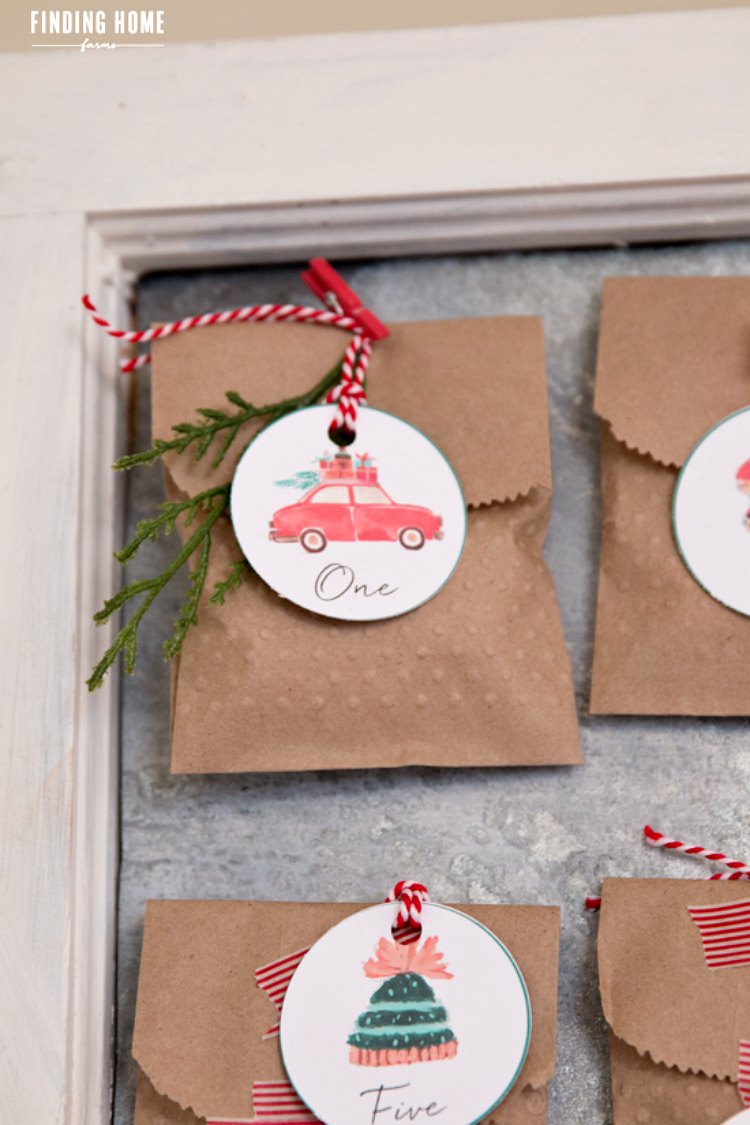 As we are all hosting and attending parties this upcoming month. 
It is the holiday season!!!!!  😉

I am intrigued by this Flourless Chocolate Cake by Skinny Taste!!!


Will be giving it a try soon…….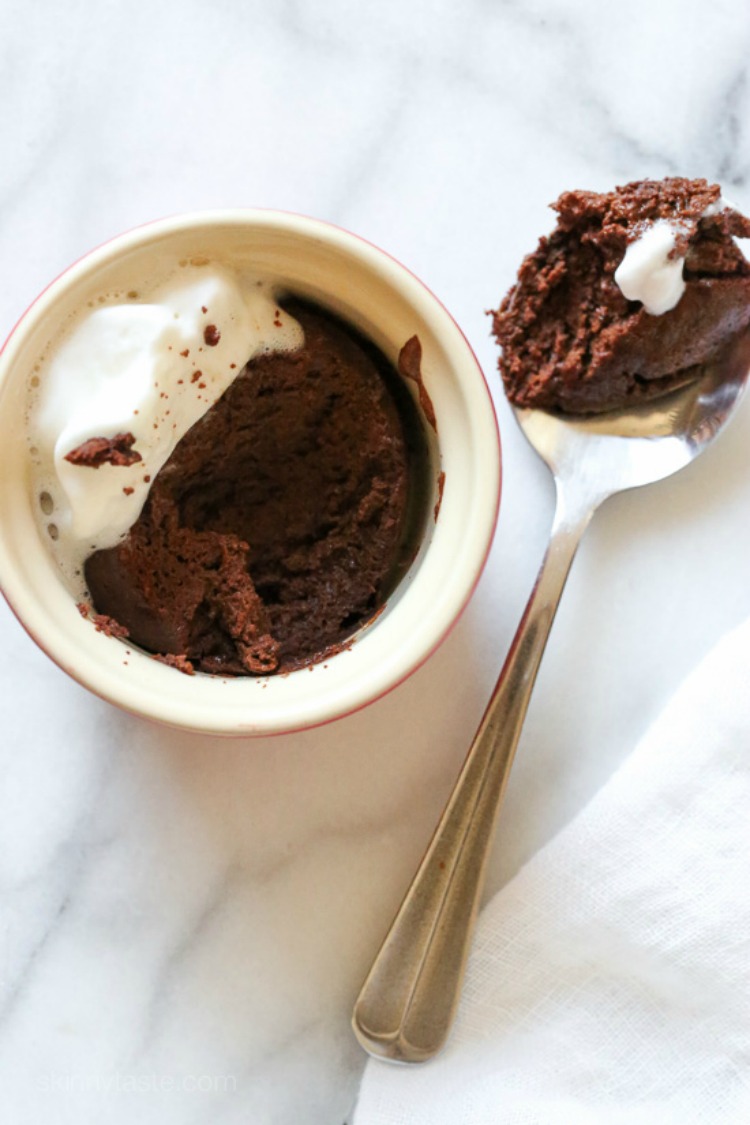 That is it for today!
If you are Black Friday shopping….good luck……and have FUN! 
I do not have the patience for the crowds, and will instead be found at the hockey rink watching K and his team playing in a couple of games! 😉