Did you catch the curves and notches along the edge of our DIY Industrial Pipe Table?  If not, head on over and take a quick look and come back on over here.
I didn't focus too much on the walnut table top when writing up that post.  If I had it was going to be butt ass long, and I already feel that I lost some of you with the length of it. 😉  I also wanted the focus to stay on the pipe base, and how adaptable these pipes are; adding a unique element in your home.  As a reader said…..they are just tinker toys for adults!  Very, very true!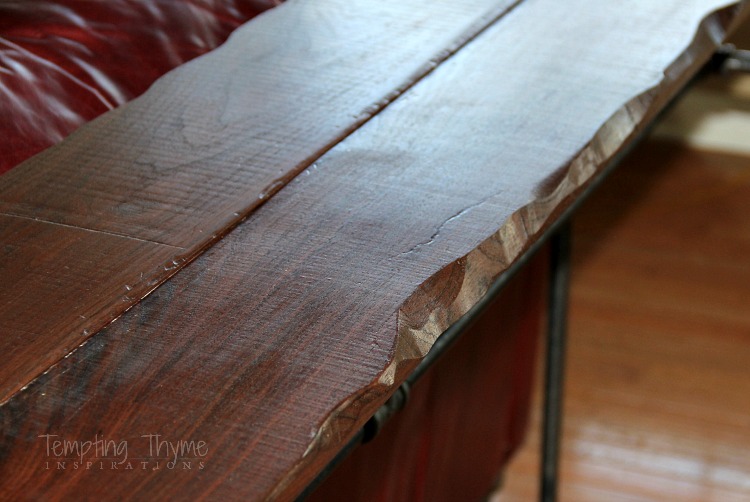 Today the focus is going to be entirely on the table top……and its living, breathing, fabulous "live edge".  I know you are probably shaking your head thinking that I have totally lost it.  How can a table have a live edge, when it is deader than a door nail?  I could be wrong, but I think it just means that there is movement in the edges, ebbing and flowing verses being cut in a straight line.  Movement equals life!  Stillness equals……. well we won't even go down that path right now.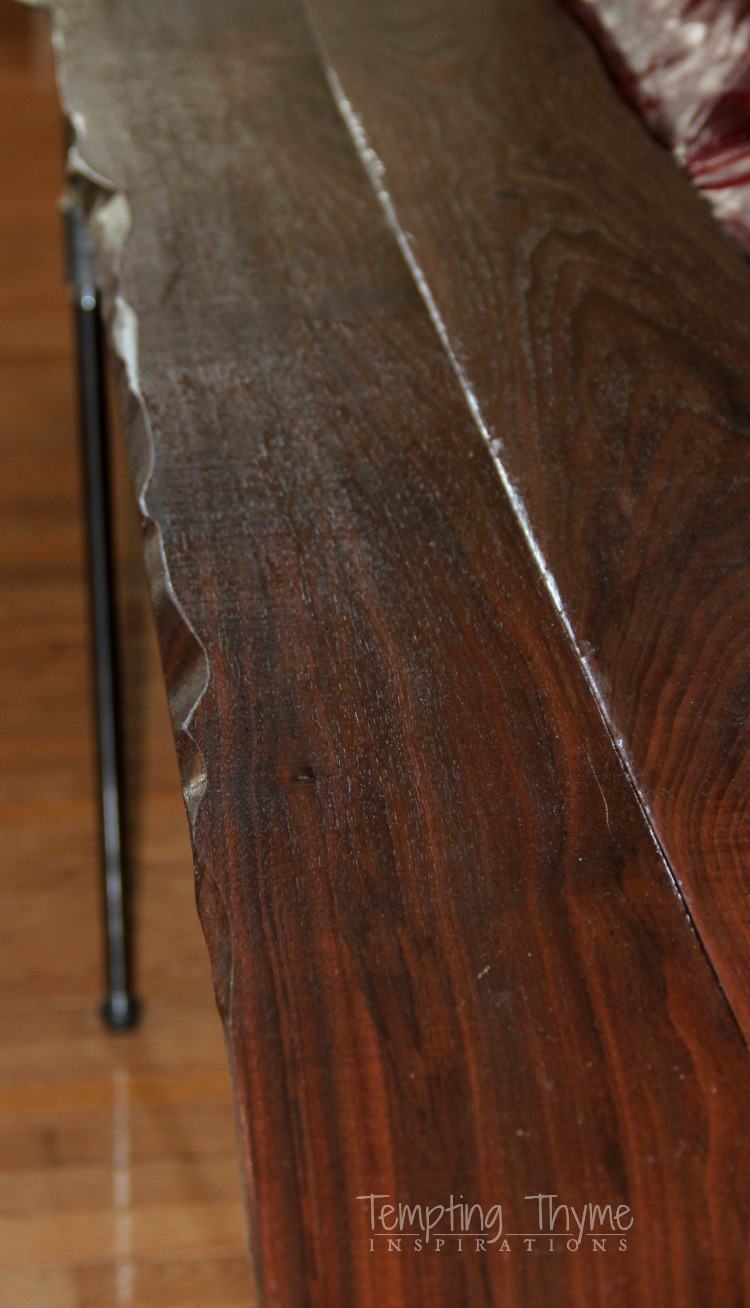 How did I come up with the idea of creating a live edge table?   I have actually had the notion nudging at me for almost a year now.  I was researching how to treat a tree stump so that I could turn it into a little table with pin legs (still haven't made it) and came across a picture of an entire dining room table that was made from a tree trunk.  It was virtually a slab of wood, cut vertically, (or depending on your view, horizontally)  so that all the glorious grains were prominently displayed. I didn't save that original link, but I was able to find a couple of others to give you the general idea…..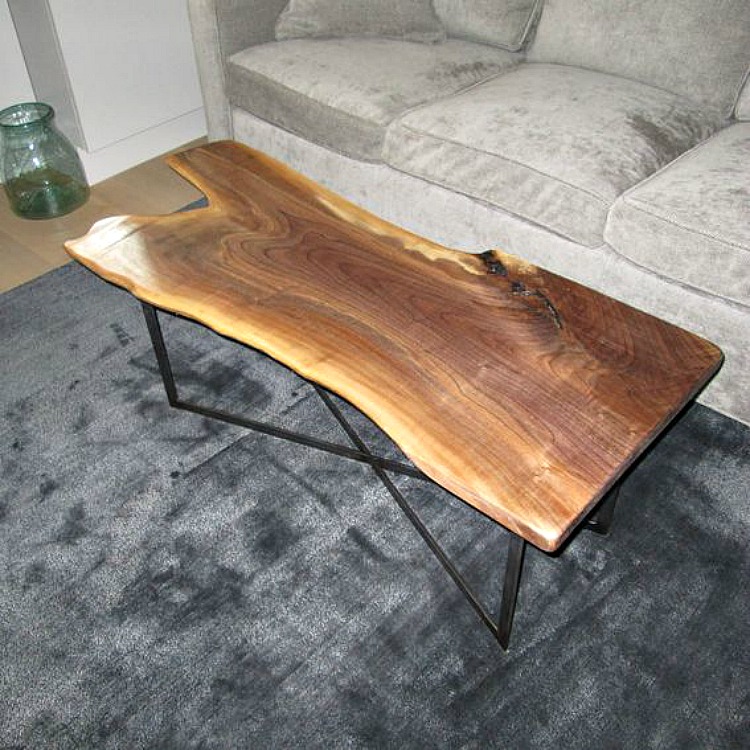 Source:  Couldn't locate the origins of this photo.  Clicking the link brought me to dead space! 🙁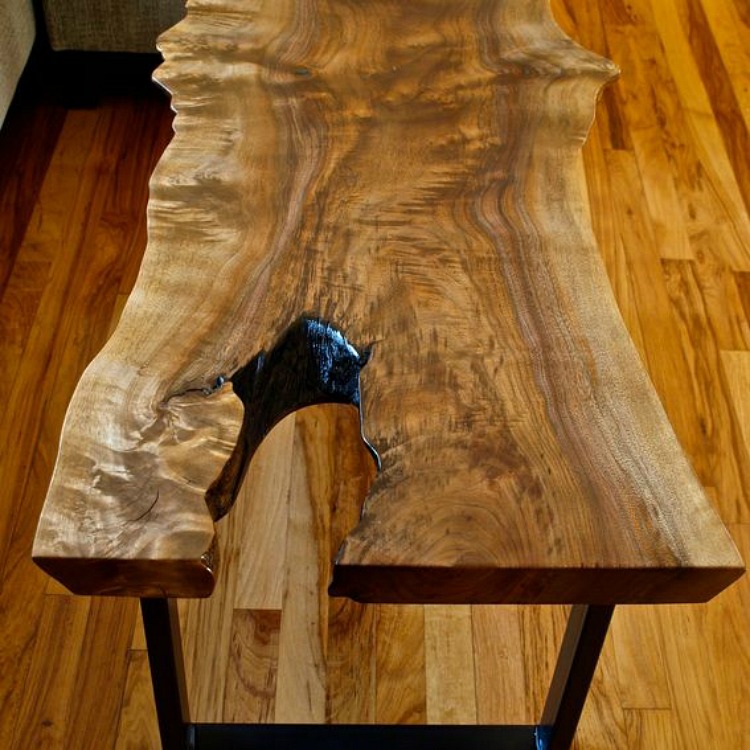 Source:  Custom Made
Aren't they beautiful?  Couldn't you see one of these in my dining room?  Not going to happen, as we already have a really nice dining room table…..but I can still crave something like it.  Want to know how much they were asking for those tables?   What would you say if I told you they were charging upwards of $1900 for them?   Here is where you would insert the bug-eyed, palms on either side of your face Macauly Culkin face.  I know I certainly did!
Would you pay these outrageous prices?  Even if I had the money, I don't think I would.
I love everything about these tables….except for the price.  I finally got my chance to create one when I built the sofa table.  What better way to accentuate the modern, industrial  base than to contrast it with a "live edge" table top!?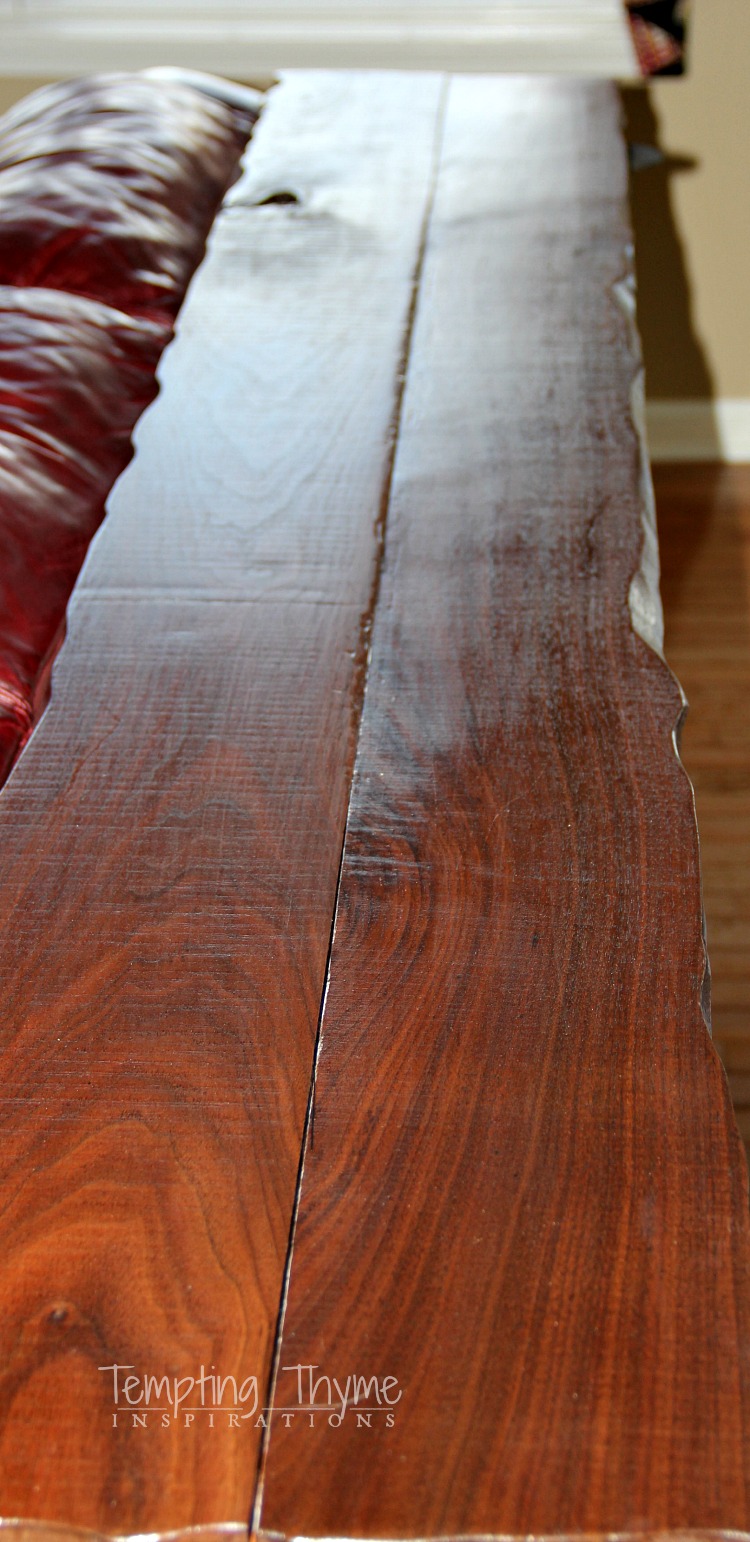 I was a very lucky lady to receive some walnut planks from a friend recently. Kris and her husband Dave live in what most of us call the mini Mt. Vernon.  It sits on the outskirts of town on top of a slight hill overlooking vast amounts of land and fields.  They had some walnut trees cut down and turned into tongue and groove planks for an outbuilding that they basically dubbed the party room, these planks line the interior walls! 
I jokingly told her that I would love to do a photo shoot of her home to show you all.  Now I realize that I wasn't joking and that I would love to take photo's of all the wonderful elements they have included in their home!!  You have to see how awesome this house is…….they have even included George Washington's portrait in their dining room!  What do you say Kris??
I used two of the planks to make this sofa table, and although they are 2 slightly different depths I was able to make it work with the flexibility of the industrial pipes.  I cut each board down to equal 75″ in length, and kept the width at 6 1/2″ per board.  I mean, why would I cut off the tongue and groove……it was perfect the way they were!
I do not have a picture of it, but I did use some of the small pieces cut off from the length of the wood to form braces.  I cut each end at a diagonal so that the braces wouldn't be seen when you look at the table from the side.  I attached 4 braces to the underneath of the table using 2″ wood screws.  They have a system on the market called the Kreg, allowing you to attach 2 boards together at an angle and site unseen……and although I own one, I haven't taken the time yet to figure out how to use it.  For this project, using the simple brace method was good enough for me.
Once the boards were joined together, the fun began.  To create the movement, I used my old jigsaw and cut out the wood in sections, and at various angles.  I didn't have a concise plan, just wanted to take things slow, step back and cut out more as I saw fit. If you don't own a jigsaw, you could easily use a saw-saw, or even an orbital sander to create the movement in the wood.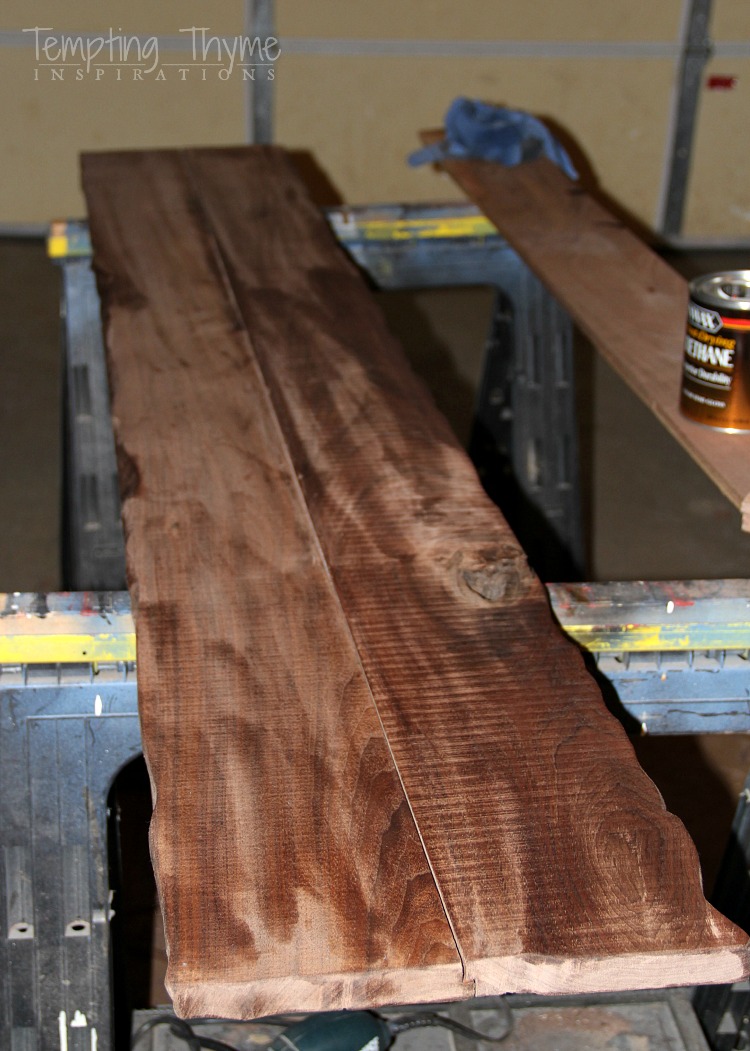 After all of the cuttings were made, and I was over the moon happy with it, it was time to sand the table down……using 60 grit sandpaper first, transitioning it up to 220.  This took a little time as the planks were pretty rough.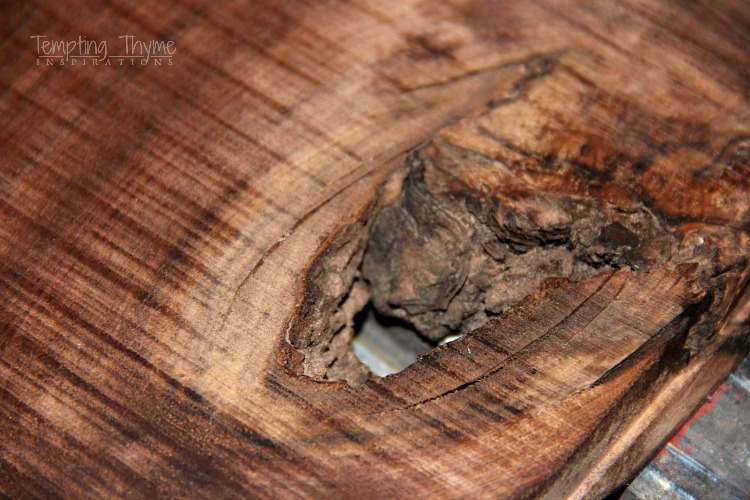 I fell in love with this board when I was at Kris' house…..all because of this hole!  I don't know if it is a worm hole (although the size of that hole would indicate a snake 🙂 ), just a simple knot hole, or I should really admit that I have no idea what made it…….I just craved this board because of this defect.  Now that was a run on sentence!  I thought this would be perfect to thread a lamp plug through it so that the cord is not taking up valuable space on the table.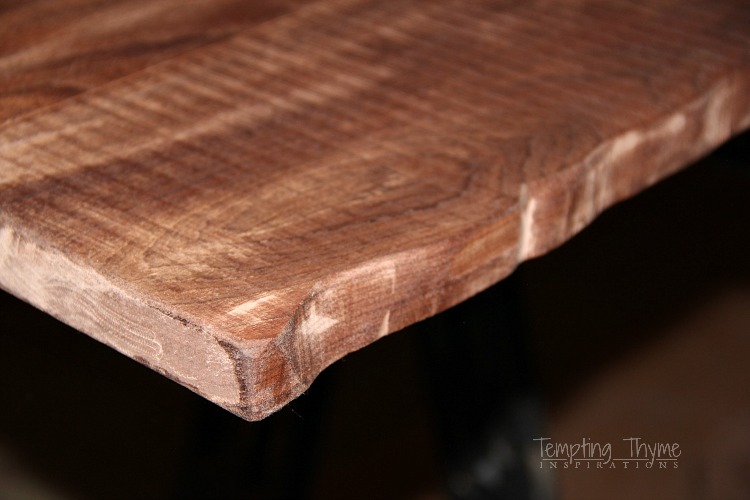 I wanted the natural beauty of the walnut to show through, so I only treated the table with minwax fast drying polyurethane.  I ended up putting three coats on, sanding lightly after the first coat.
The final size of this "live edge" table is 74″ x 12″ x 1″……..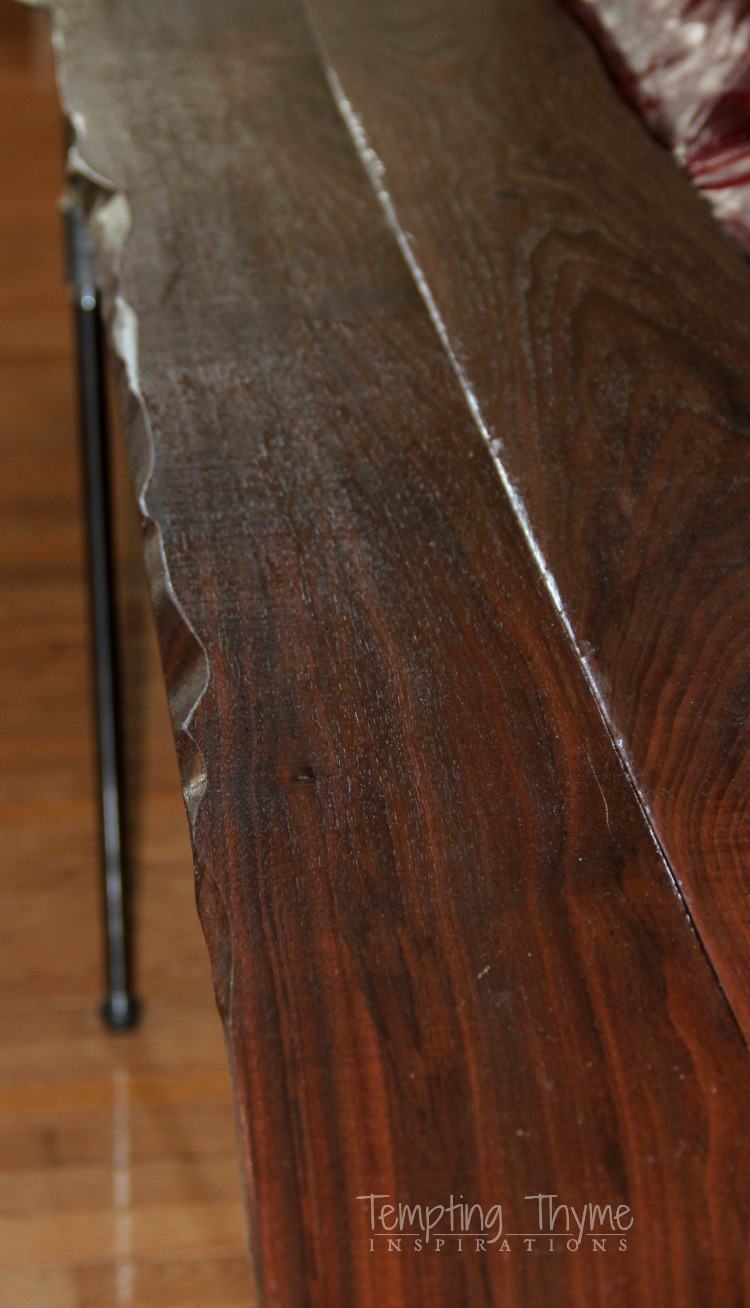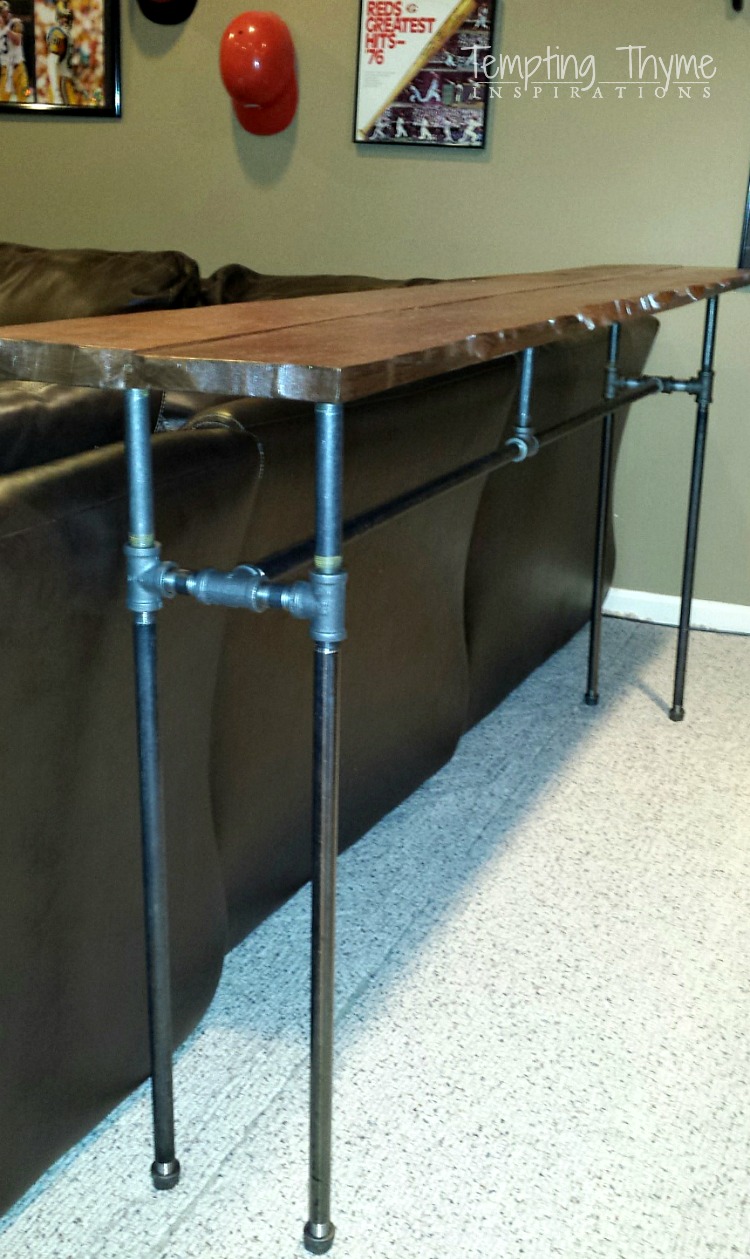 What do you think of the "live edge" table?  Can you picture having something like this in your own home?  Why or why not?
                                      

          Shaunna
*You may find this DIY Live Edge Table linked up to these great parties…..