I still can't believe that I did it!
I might even declare temporary insanity if you ask about it today!
I also can't believe PT actually allowed me to do it!!
I have loved this bed even before we found it at Ethan Allen over 20+ years ago.  Having a canopy bed was always something I craved when I was a girl, and would even cut out photos from the decorating magazines and add them to my "dream" binder.  I might even still have that binder around here somewhere!  😉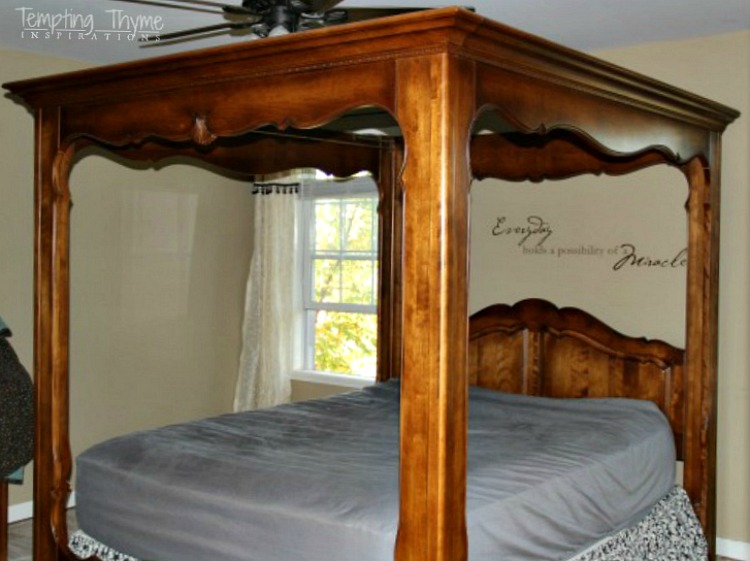 So there was no doubt when PT and I got married that we would be purchasing a canopy bed for our home.
We will not even discuss my fixation on Ethan Allen many moons (and children) ago.  I am soooooo over it now!!!!!
We will also not discuss why I couldn't take a better 'before' picture than the one above.  Let's just say we were too busy ripping up the carpet in preparation for the new hardwood floors, and I was in no mood to try to set the perfect scene.  In fact, this picture was taken so that I could remember how to put it back together once the flooring was done.  Who knew that it never would get put back together!  😉
If you follow me on Facebook and Instagram then you have seen some of the photos while I was cutting into the canopy.  I even declared my love for this bed on social media!
The burning question that many of you have emailed is, "If I loved this bed so much, why would I cut it up"?
Two reasons come to mind.
The first being that we needed a new mattress, and we wanted to transition up to one that was king sized…….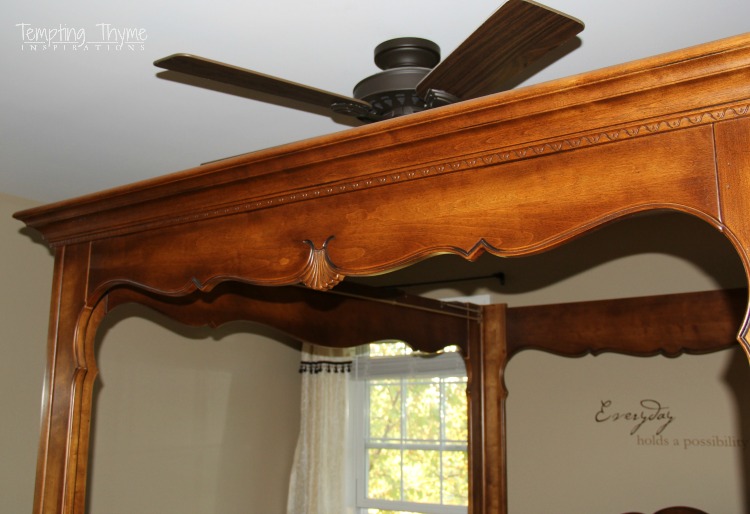 …….and two, this bed was taking up way too much "visual landscape" in our bedroom.  See how close it is to the ceiling fan?  We only have 8 foot ceilings, and this bed was 7 feet tall!!
Am I happy that I did it?
Yes, and…..
No!
Am I happy how it turned out?
Yes, yes…..a resounding YES!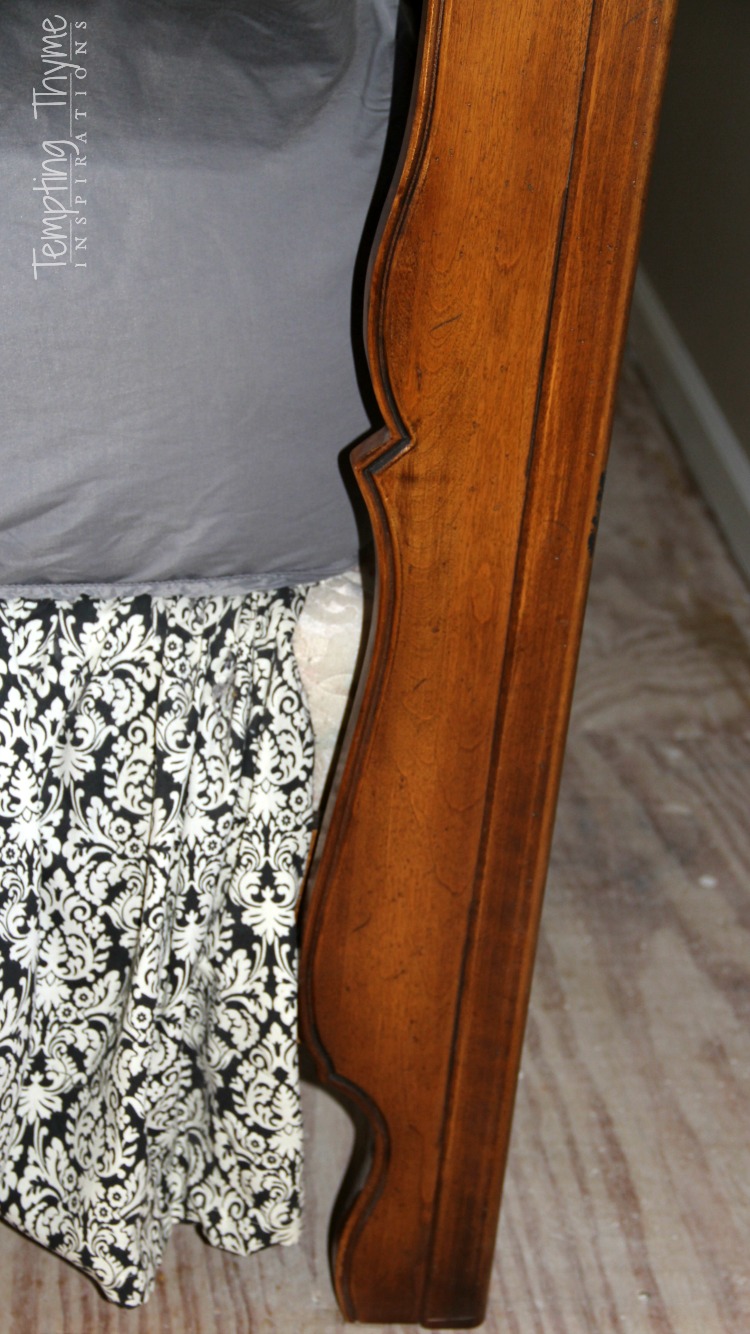 I was able to keep the integrity of the bed intact, which was very important to me.  The swells , points and curves are spot on to the original design.  I was also able to match up the stain so that you would never (unless your nose is right up against it) know that we didn't purchase it "as is".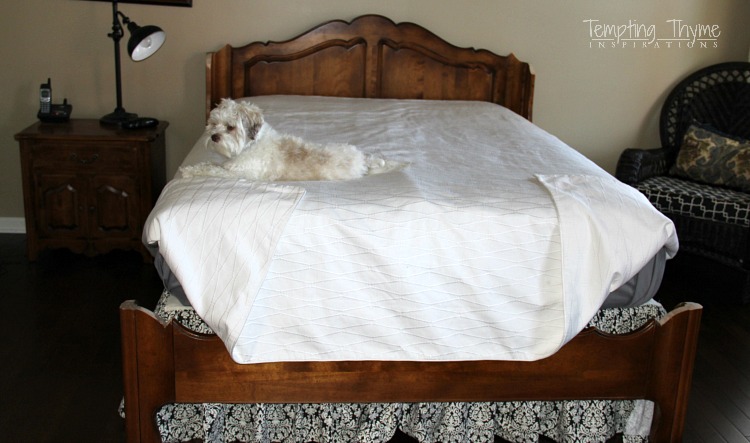 So what am I grumbling about?  Why am I indecisive on my happiness?
Maybe it's because of that girl, from long ago, dreaming about the future stretched out before her……. wondering how many babies would be cuddling with her on lazy weekend mornings…..
Or it could just be that I loved that bed to pieces!!!! Yes, I am nuts!  LOL!
For those of you that asked, I did try to sell it. I priced it a little too high, $500, which would tell you that I really hoped it didn't sell. I even had some interest on Craigslist.  One who would have paid me on the spot if I was willing to store it for another 5 months as she wanted to pick it up during her move from Pennsylvania to Wisconsin.  As much as I wanted to say yes, I knew that it would be agony seeing it in our garage everyday. Plus, I wanted to be able to park our cars in the garage during the winter! 😉
I think the final straw for me was K requesting a larger bed as well.  In my mind, we could give him our queen sized bed and mattress, purchase a king size mattress for us…..and only be on the hook financially for our king mattress and frame.  It wouldn't cost any additional money, AND I would still have this wonderful frame in our home.
So how did I do it?

I used a Jigsaw and a Saw Saw.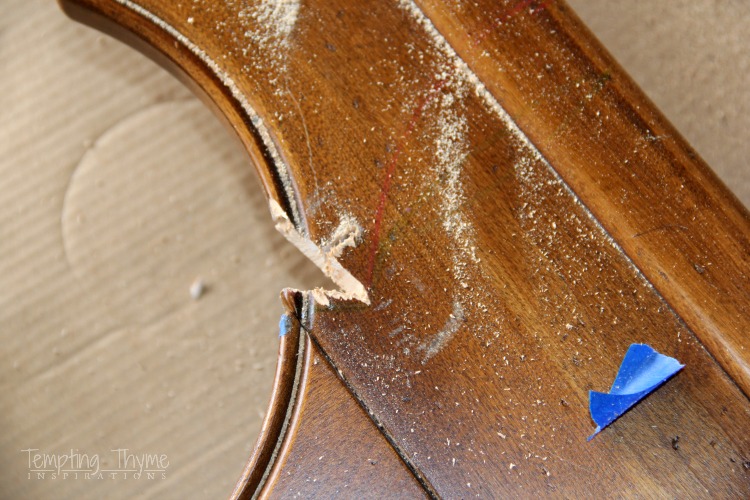 I made a template from the curves in the foot and headboard, and traced it onto the wood using a sharpie, and held my breath while I made the first cut……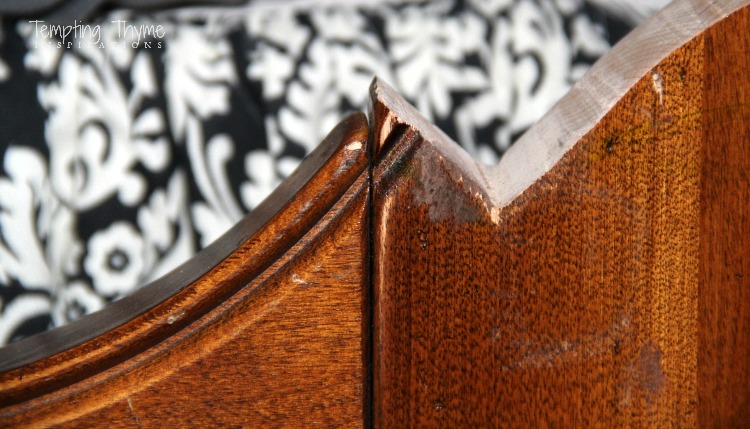 Here is a shot after I reassembled it, but before staining and polishing…….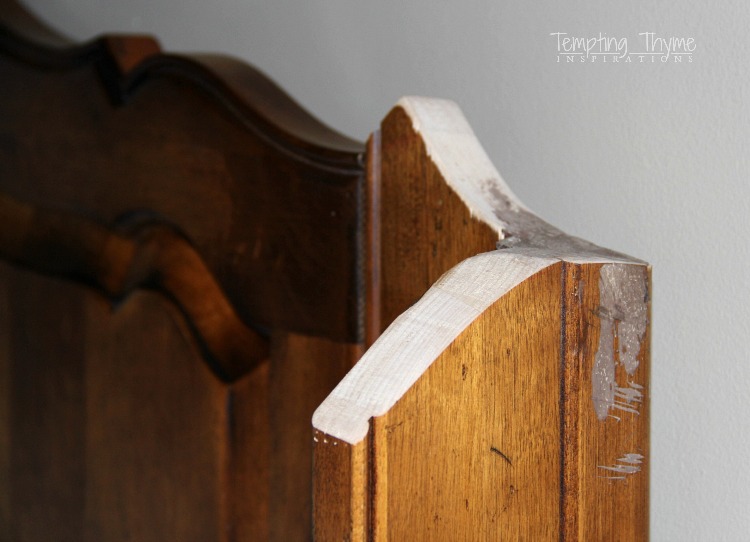 I had to use some wood putty to build up a few sections, as it was a tough angle on all of the edges!!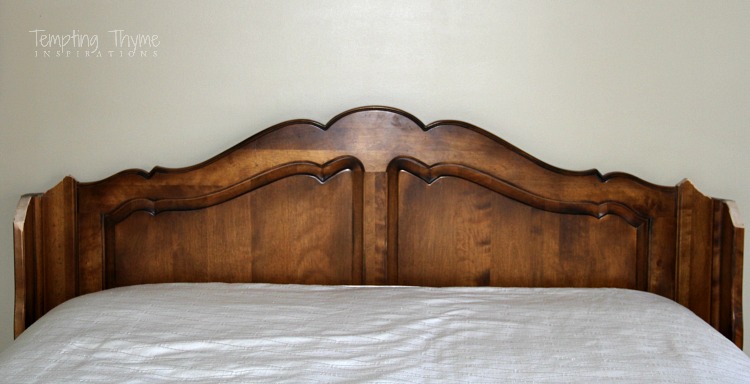 A full shot of the headboard!
Yes, I have stained it since these were taken. 😉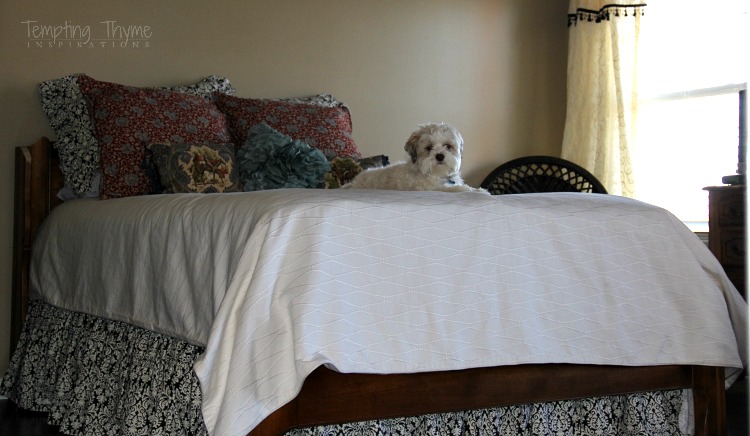 And yes, Rudy does appear in a lot of my shots!  He follows me everywhere when I am home…..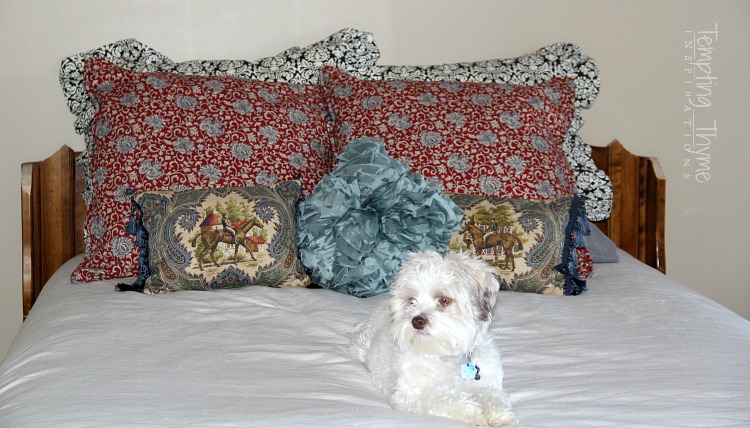 That's the simple truth of the "why" and the "how" I made our beautiful canopy bed that was heading out of our lives, into a fashionable bed that will remain in our home for the long haul!
What do you think?       Love it or hate it?
                                               Shaunna