You can all blame PT's 6th period class for the creation of Buckle up for this Sweet Ride "bitty bite" Oreo Cupcakes!  Definitely Wicked Weekend worthy!!!
What a name?  Why not just call it mini oreo cupcakes?  Come on….you know you are shaking your head thinking that I have lost my mind!!  I admit I have……but can we keep that a secret?  I named these Buckle up for this Sweet Ride "bitty bite" Oreo Cupcakes because it is FUN!  Kind of like that macaroni and cheese recipe floating around called Smack Yo Mamma Mac and Cheese.  It grabs your attention and you want to make it.  Like, right away!  I personally had that Mac and Cheese at our neighbors, and I will fess up and say it was good, but I still prefer mine.  Haven't tried mine yet, check it out here.  It is scrumptious loaded with a variety of cheeses.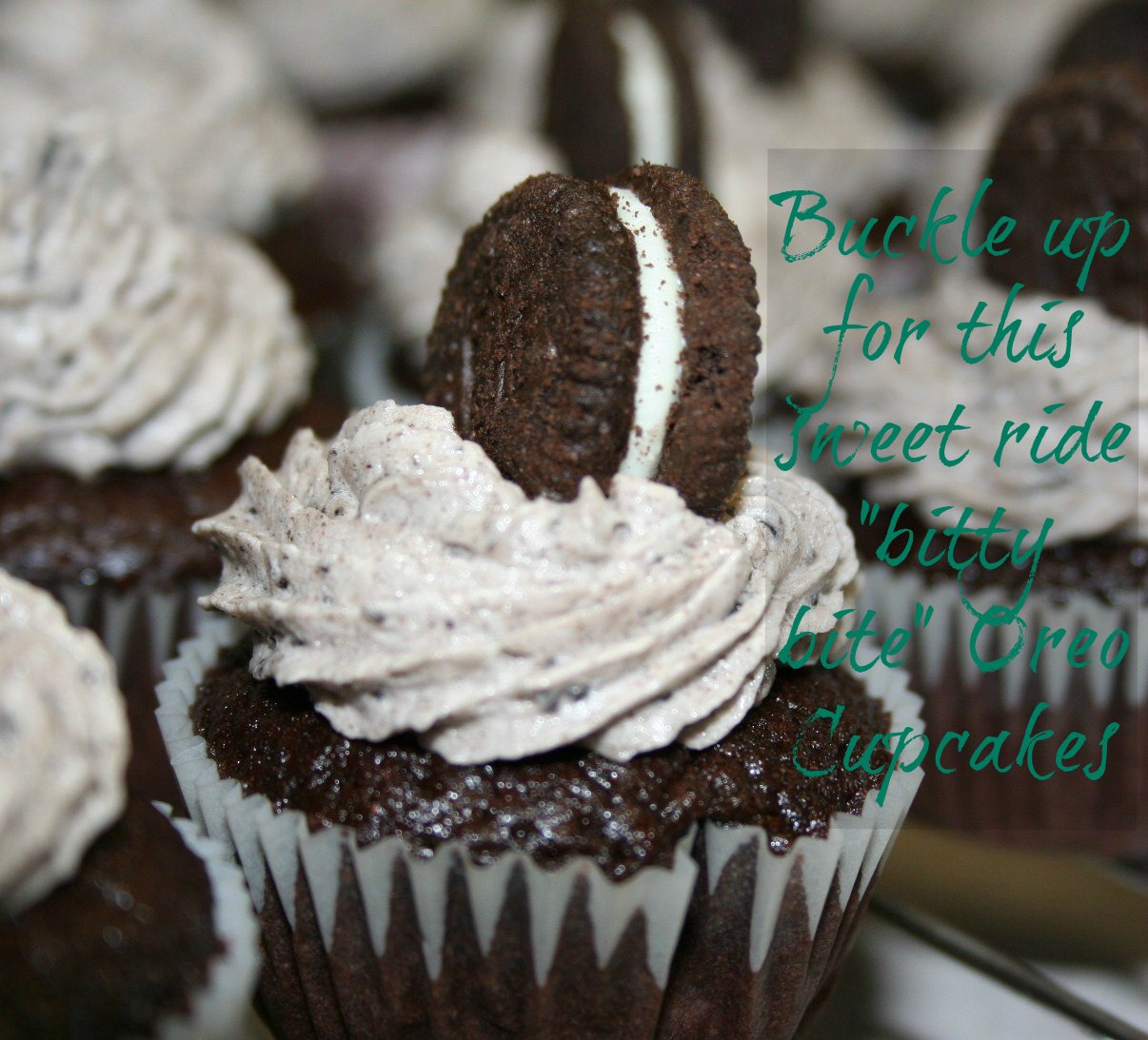 And life should be fun!  Right?  We bust our humps every day, working 1-2 jobs, raising kids and shuttling them to and from all…..of…..their……activities, cheering them on  (yes, I am a hockey mom to the core, less enthusiastic baseball mom, and just starting to become a very quiet golf mom), helping them with homework, folding piles of laundry, doing our best to turn them into upstanding citizens, yada, yada, yada!  Life is busting out at the seams for everyone, why not add a little bit of fun to the craziness?!  From now on, I will try very hard to come up with unusual names.  Or, at least the first thing that pops up into my tired brain!  Maybe I should ask all of you for suggestion's on all of the recipes I have already posted.  Hmmm!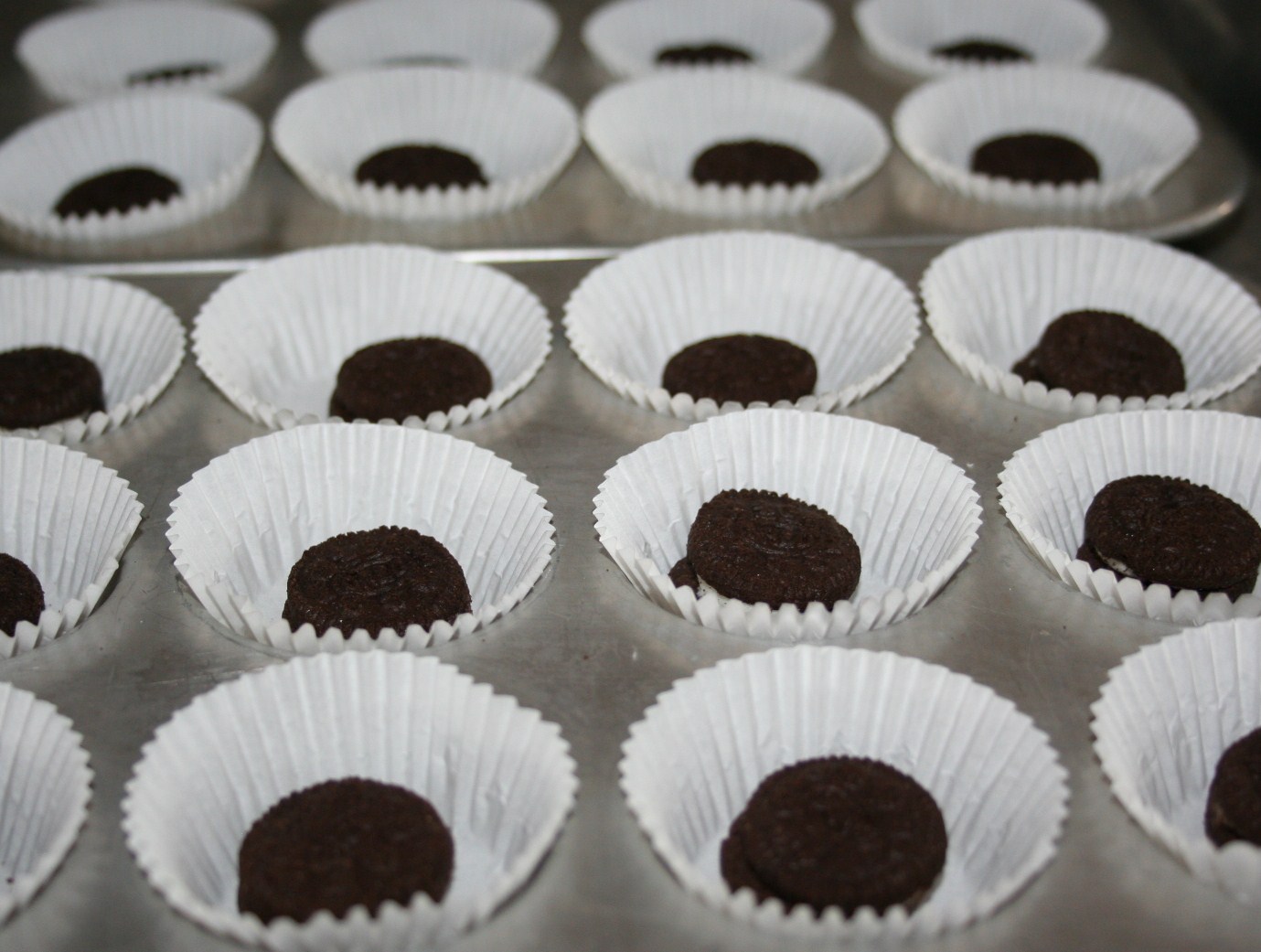 Like I said, we have one of PT's 6th period class to thank for these yummy treats.  Last Spring I had some cake pops leftover from an event, and I had to get them out of the house.  I was eating way too many of them…..not good, I know!  This is part of the reason I did the Mean Green for an entire week…..I have a sugar problem people!  Anyway, I sent those cake pops with Patrick figuring he could give them away to his fellow teachers or students.  PT did just that…..I don't know how he chose the class he did, but they loved them.  Fast forward to the current school year, and he has a student who happened to be in that class last Spring, and this boy told the 6th period all about them.  A few of them even requested them via Tempting Thyme's comment section.  I gotta tell you, between the personal requests and PT telling me weekly that they keep asking for them…….they beat me down.  I told them I would give them treats, I just didn't tell them what kind!   I  did not want to put all of the time and effort into cake pops.  They are time-consuming!  I can see you shaking your heads up and down, you know they take forever if you do them the correct way.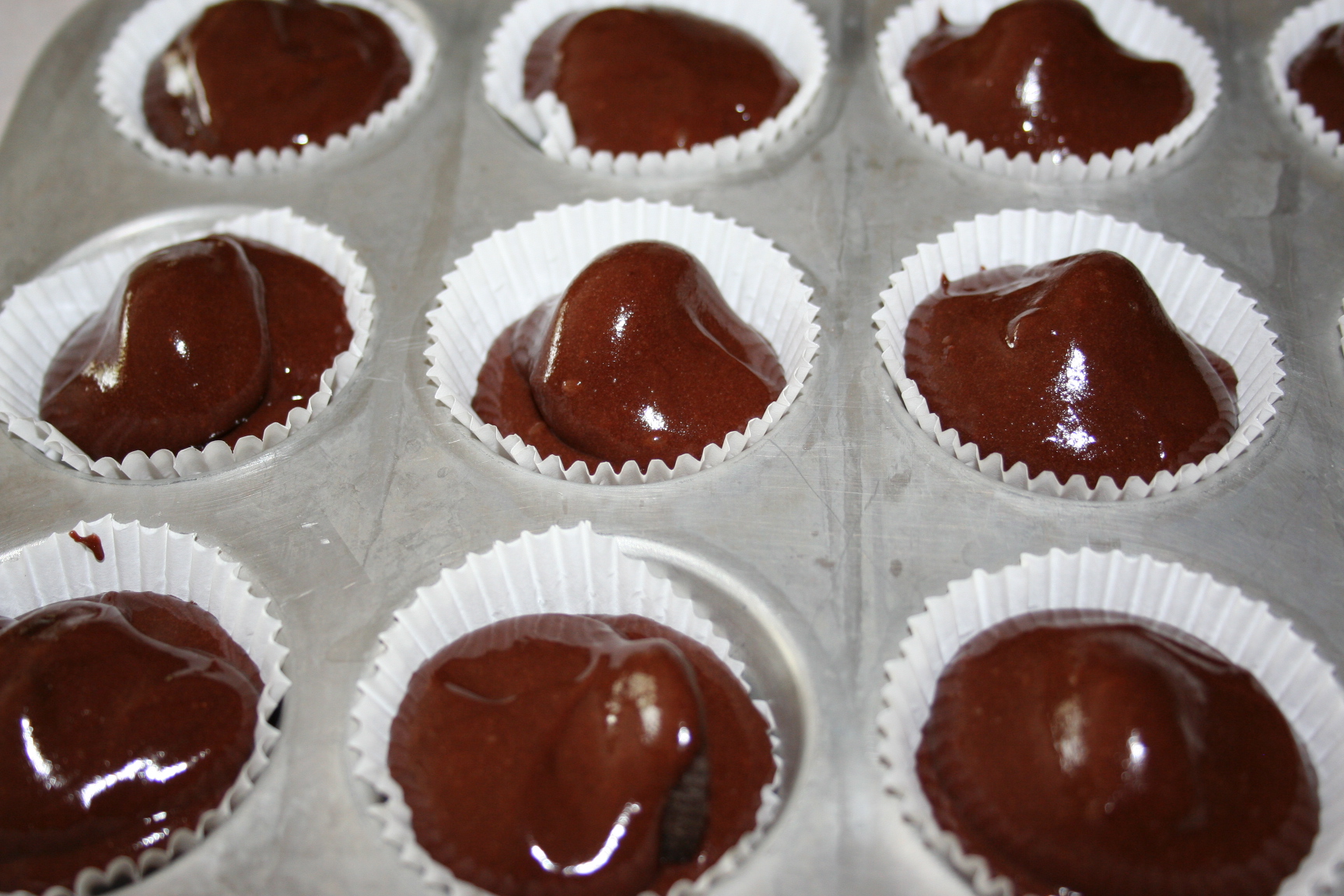 I decided to switch things up a bit, and these are quicker than they look, and no one can resist oreos.  Can they?  Plus, they are mini's……so you can have 1 without feeling guilty.  It is up to you, though, not to eat the entire pan.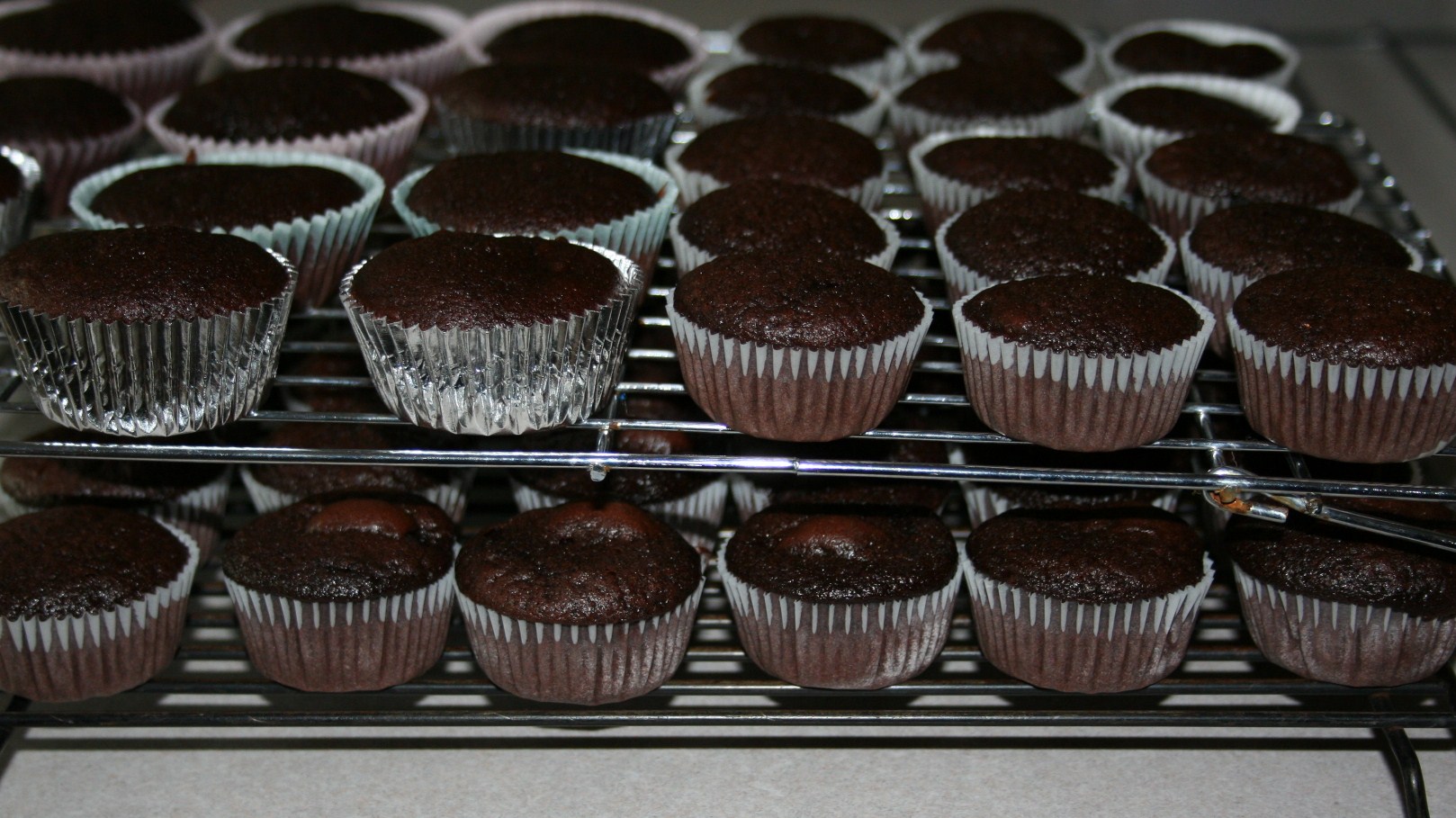 You will notice I used a cake mix.  Don't get me wrong, I have some fabulous homemade chocolate cake recipes, but you can't beat a mix for time efficiency.  At least I doctored it up a bit with a pudding mix and my fave…..sour cream!  I tell you, sour cream works like a dream to add a little something something to mixes!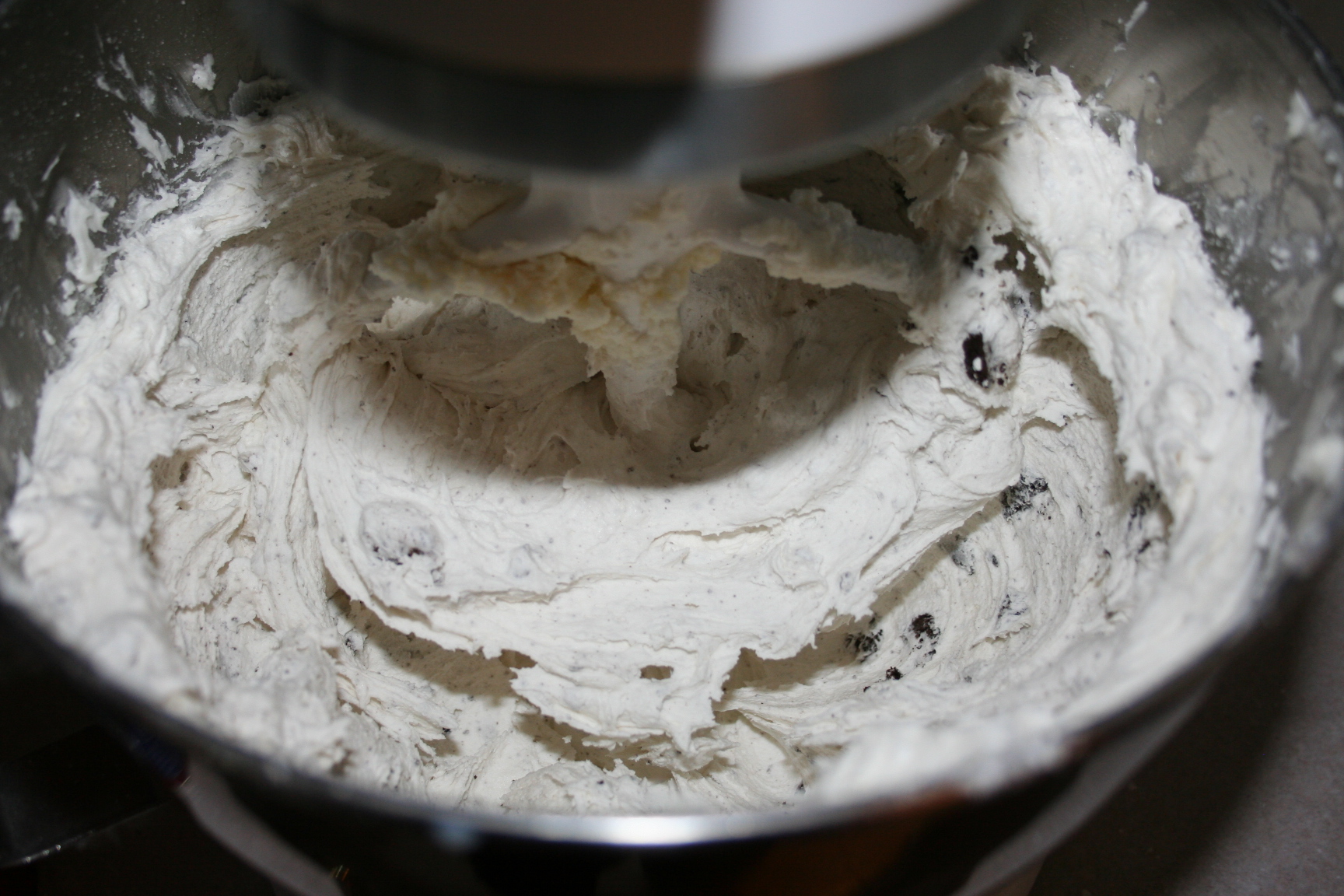 I used my favorite Oreo Buttercream recipe.  If you don't have it in your recipe box, you can find it here.  I adore this recipe!  Nothing bad about it, and if you must know, it is utterly sinful!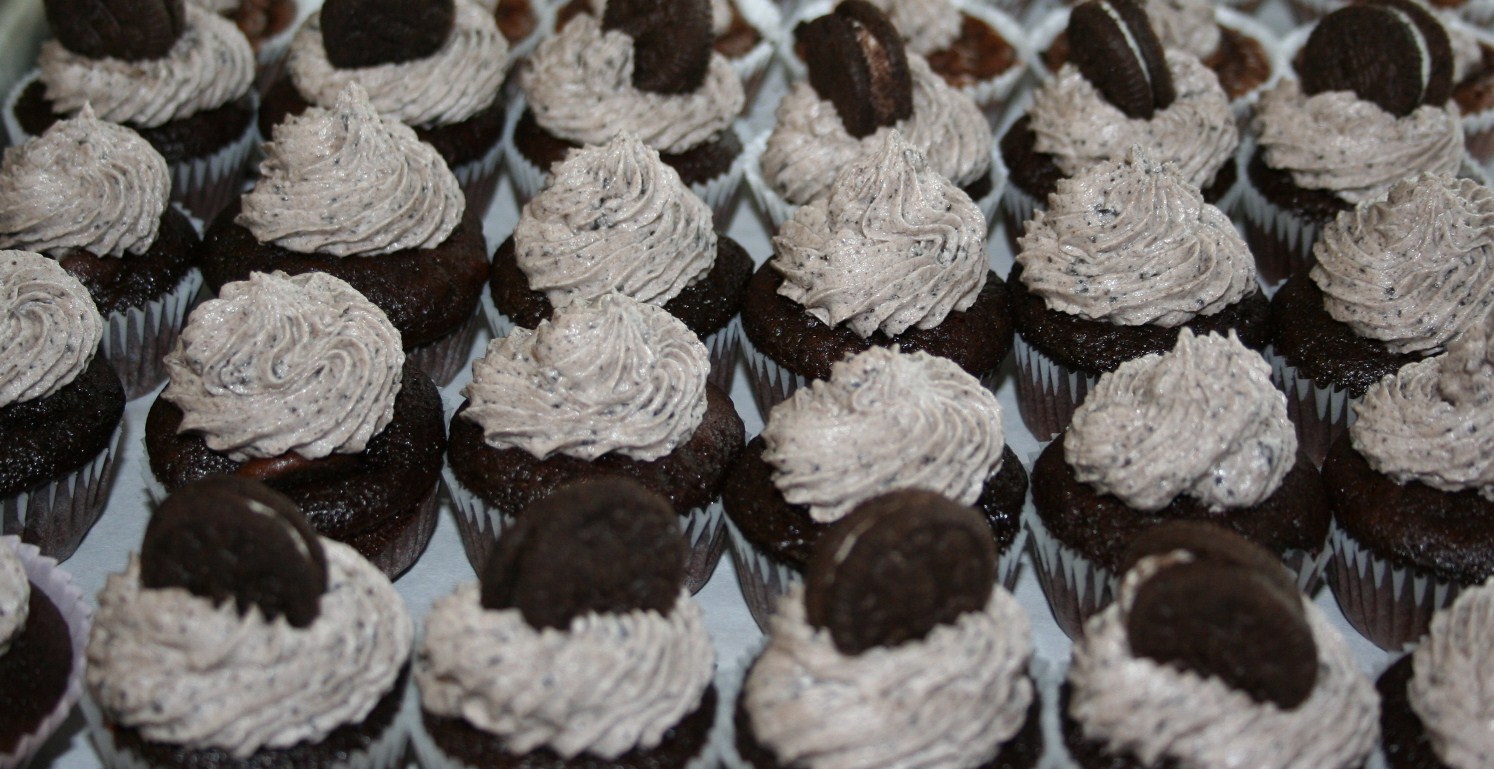 Aren't they yummy looking?  Want to just reach in to that picture and grab one, don't ya?  I know……me too!  If you are questioning how I frosted the mini cupcakes, I used a pastry bag with a jumbo tip.  I switched this up about a year ago, thought they looked better than just swirling it on with a knife or spatula.  I think the presentation is more appealing.  I personally use Wilton tips, sizes 1M and 2D.  You can put them directly into the pastry bag, or you can use a coupler.  You will need a jumbo coupler, the normal sized couplers will not work with the jumbo tips.  Found out the hard way. =(
I have to say, I am into these mini cupcakes….. I see many more "bitty bites" in my future.  There are so many combinations, the possibilities are ENDLESS!
Oh, I forgot to tell you…..6th period loved them!  Problem is……… they still want the cake pops!  Geez, a girl cannot win! Maybe someday.  But in the meantime, I will just send any leftovers that need to get out of my house STAT!  They should be happy with that…….. Right?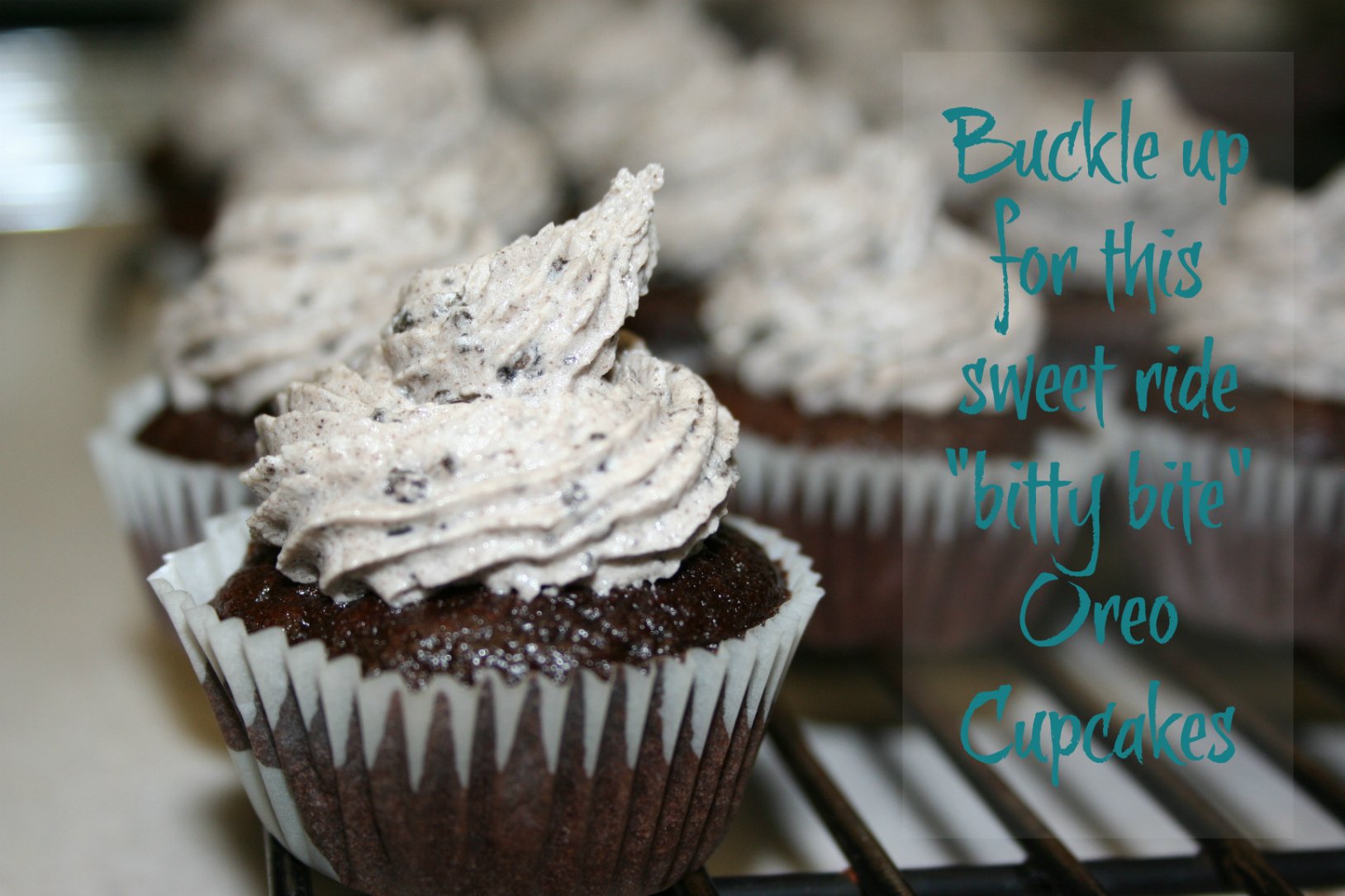 Buckle up for this Sweet Ride 'bitty bite"Oreo Cupcakes
• Serves: 48
Ingredients
For the Cupcakes:
1 (18.25 oz) package Betty Crocker's Super Moist Devil's Food Cake Mix
3 oz package Chocolate Instant Pudding
1 ¼ cup water
½ cup vegetable oil
½ cup sour cream
3 eggs
8 oz pkg Bite Size Mini Oreo
For the Double Stuffed Oreo Buttercream:
6 oz unsalted butter, room temperature
25 Double Stuff Oreos, centers removed and backs set aside
5 Double Stuff Oreos, crushed and beaten
3-4 cups powdered sugar
Milk to thin
Directions
For the Cupcakes:
1.  Preheat oven to 350 degrees F. Line mini muffin pans with 48 mini cupcake liners. Put 1 mini oreo in the bottom of each liner.  Set aside.
2.  In a large bowl, mix together the cake and pudding mix.  Add in eggs, water, oil and sour cream. Beat on low-medium for 2 minutes.   Fill mini cupcake liners ⅔ of the way up the liner…about 2 Tbsp.
3.  Bake for 12-17 minutes, depending on the reliability of your oven.  Bake until tops are springy to the touch and a wooden toothpick inserted comes out clean. Cool cupcakes for at least 30 minutes before inverting onto a wire rack.  Allow cupcakes to cool completely.
For the Oreo Buttercream:
1. Beat softened butter and oreo filling for 3 minutes on med-high speed, or until smooth and free of lumps.
2. Add in the powdered sugar, 1 cup at a time, mixing thoroughly after each addition.  Add in 5 crushed oreos, and some of the saved oreo backs (if you haven't eaten them all).  Beat until thoroughly blended and not too lumpy.  If frosting is too thick, thin with milk 1 Tbsp at a time.
3.  Using a pastry bag, and jumbo tip, frost the cupcakes.  Top with remaining mini oreo's, if desired.
Your family will love you for making these this weekend!  Go for it!  I promise you will be the recipient of lots of hugs and kisses!  No one can resist Chocolate and Oreos!!
                             Shaunna
You will also enjoy these posts:
Lemon Frosting
Reality Check
Chubby Hubby Truffles
You may find Buckle up for this Sweet Ride "bitty bite" Oreo Cupcakes @ these great Linky Parties