You say Tortilla Bowls, I say Taco Bowls…… 
Who doesn't love these golden, crispy bowls?  Who sometimes orders taco salad just to eat the bowl?   Better yet……who breaks apart the tortilla bowl and uses the pieces to 'spoon' the salad?
Me, me, me…..
I love tortilla/taco bowls….fried….golden….lots of crispy air bubbles!
Mmmmm!
No getting around it, we have all seen the infomercial's for the Perfect Tortilla Bowl…..for $10, and if you act now they will throw in a second one for free, just pay the extra $7.95 in shipping and handling (okay, I admit…..I made that last part up)!
Give a shout out if you own one of these?
I think I might be the only person not to own one……..  Oh, well!
This is when creativity needs to take over.  Especially when I have a hankering for taco salad, but DO NOT want to eat out….again!   Last night you would have found me hunting down bowls that could withstand being in the high heat of the oven.  All I could come up with were baking bowls, which were too wide and shallow.  I thought about using a drinking glass, but thought it would shatter in 400 degree + heat.  Problem solved when I was swapping a load of laundry from the washer to the dryer.  Looking up, I caught sight of a box of canning jars.  PERFECT!!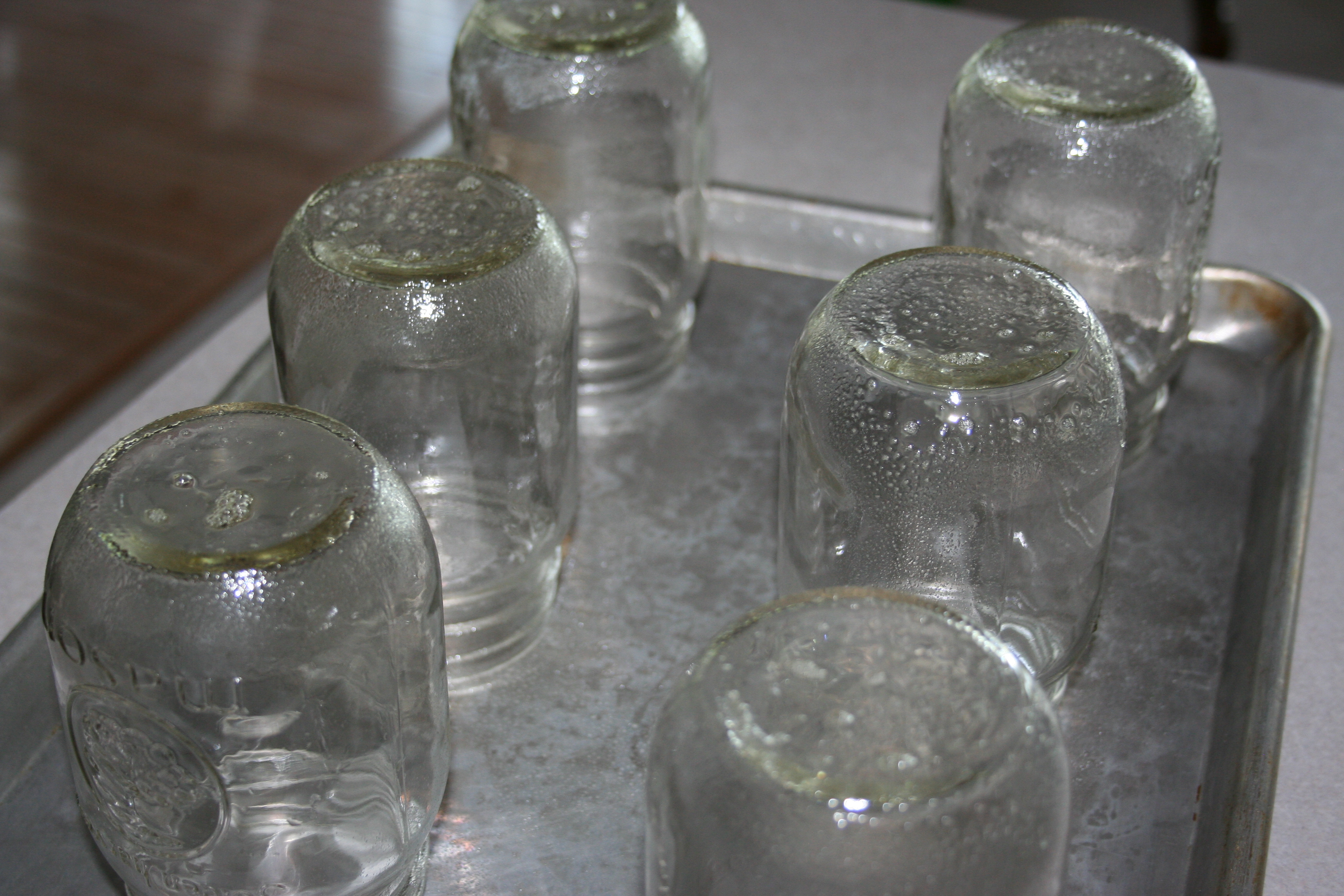 I pulled down the box, grabbed 8 out, and washed them in hot, soapy water.  I then put them upside down on a large cookie sheet spraying the bottoms with vegetable spray.  Preheat your oven to 450 degrees.  Don't forget to take the roasting pan out of your oven!  Don't laugh…I forget all the time!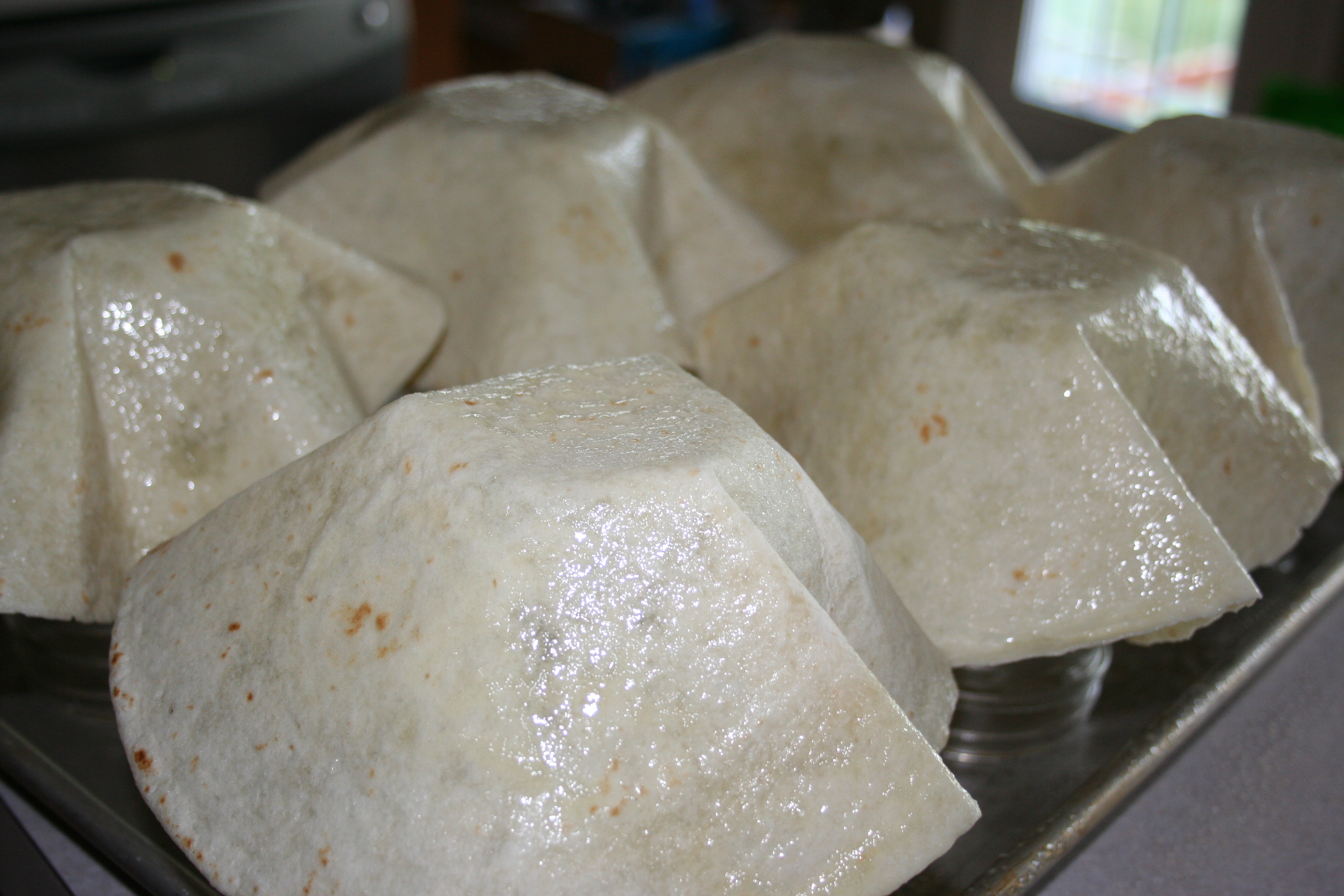 Warm up the flour tortillas in the microwave.  I did mine for 45 seconds, but only because I had them stored in the refrigerator.  You want them warm enough to be pliable.  Lay a tortilla over each canning jar and wrap your hands gently around so that the tortilla conforms to the shape of the jar.  Spray each tortilla with cooking spray.  You could use oil, but we are trying to get away from additional fat and calories.  Plus, you won't be able to tell the difference!  Once the oven is preheated, carefully put the cookie sheet onto the lower portion of the rack.  Bake for 6-8 minutes, watching carefully so they do not burn.  I turned the baking sheet halfway through the baking time, as a few of the tops were getting brown quickly.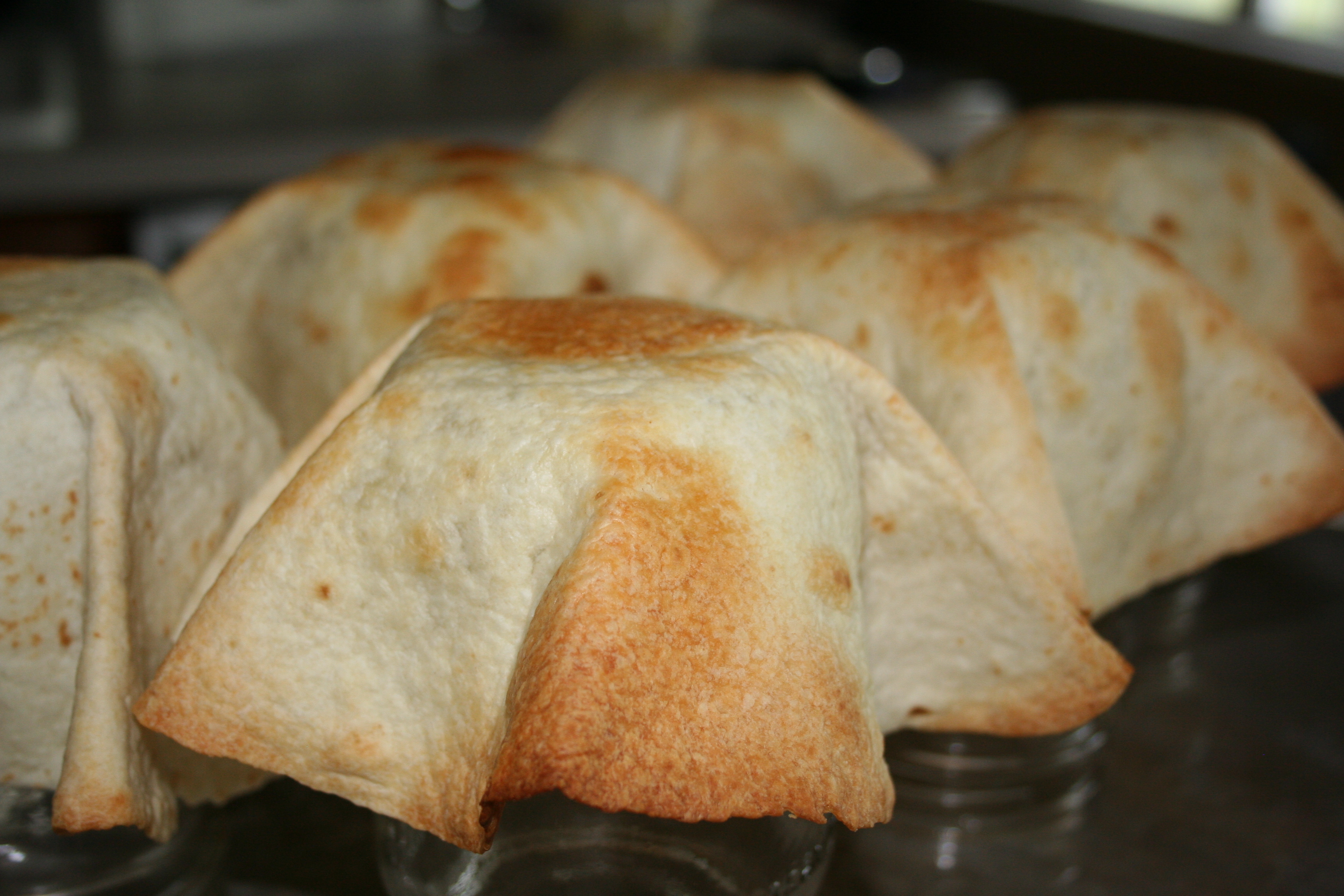 Don't they look scrumptious?
And healthy (okay, let's be honest…healthier)!!!
Let them cool for 5 minutes, and then carefully remove them from the jars.  Place on wire rack to finish cooling.  Watch out, the jars will be very hot.
Can you believe how easy that was?  You don't have to go out to eat to enjoy Mexican anymore.  Bonus—-they were easy on the pocketbook also.  It cost $1.49 for 8 large flour tortilla's and I already had the cooking spray.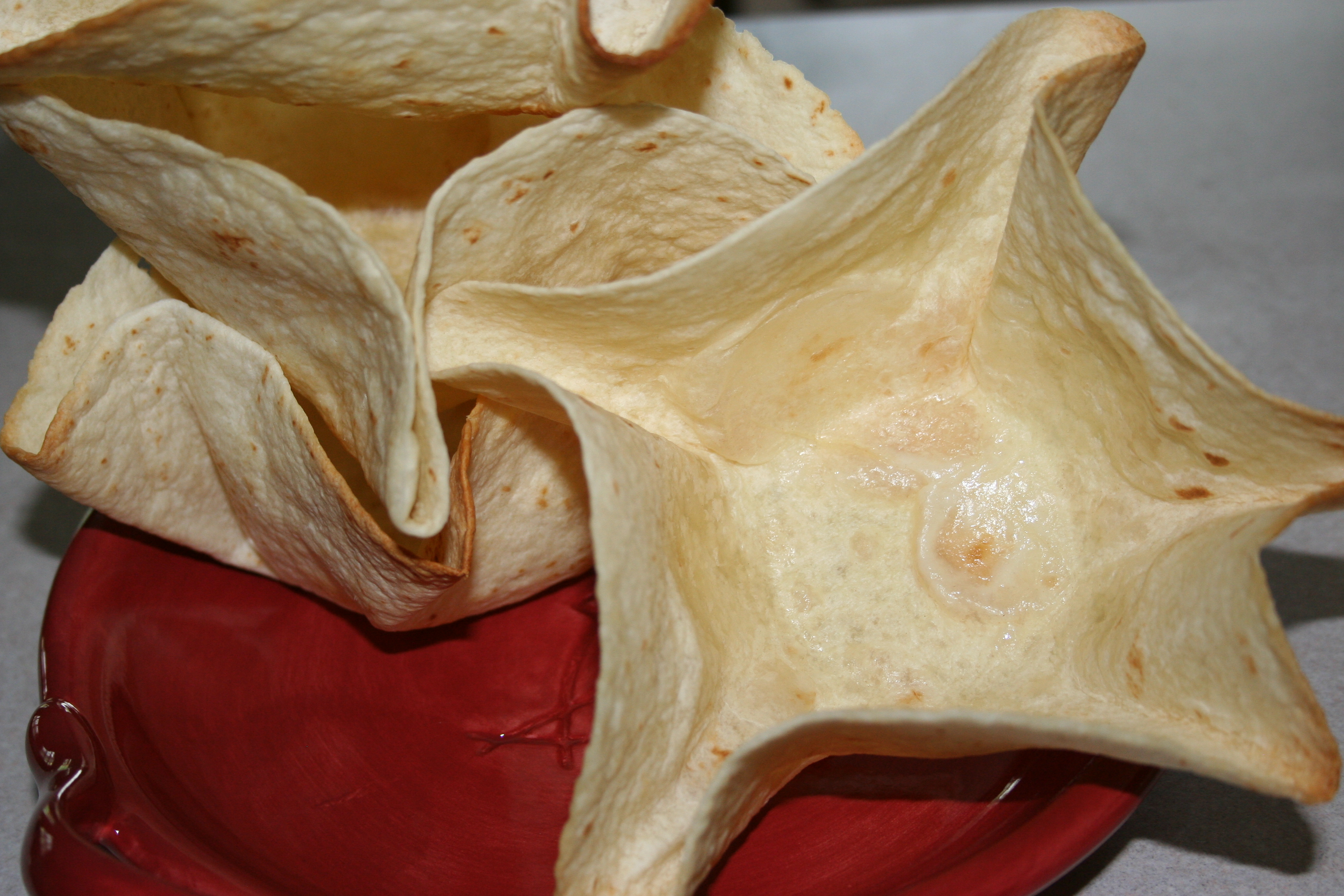 Now you are only limited by your imagination.  You could fill these with chicken or tuna salad, a yummy side salad, or how about a fruit bowl?  If we are talking sweets, why not sprinkle cinnamon sugar on as soon as they come out of the oven.  Let cool and then put in vanilla bean ice cream with drizzled fresh maple syrup??? Or better yet, vanilla ice cream with fresh raspberries and blueberries, with a warm berry sauce (fresh berries and sugar sauteed on low for 20 minutes, stirring often to break apart the juices of the berries)!
Now doesn't that sound good?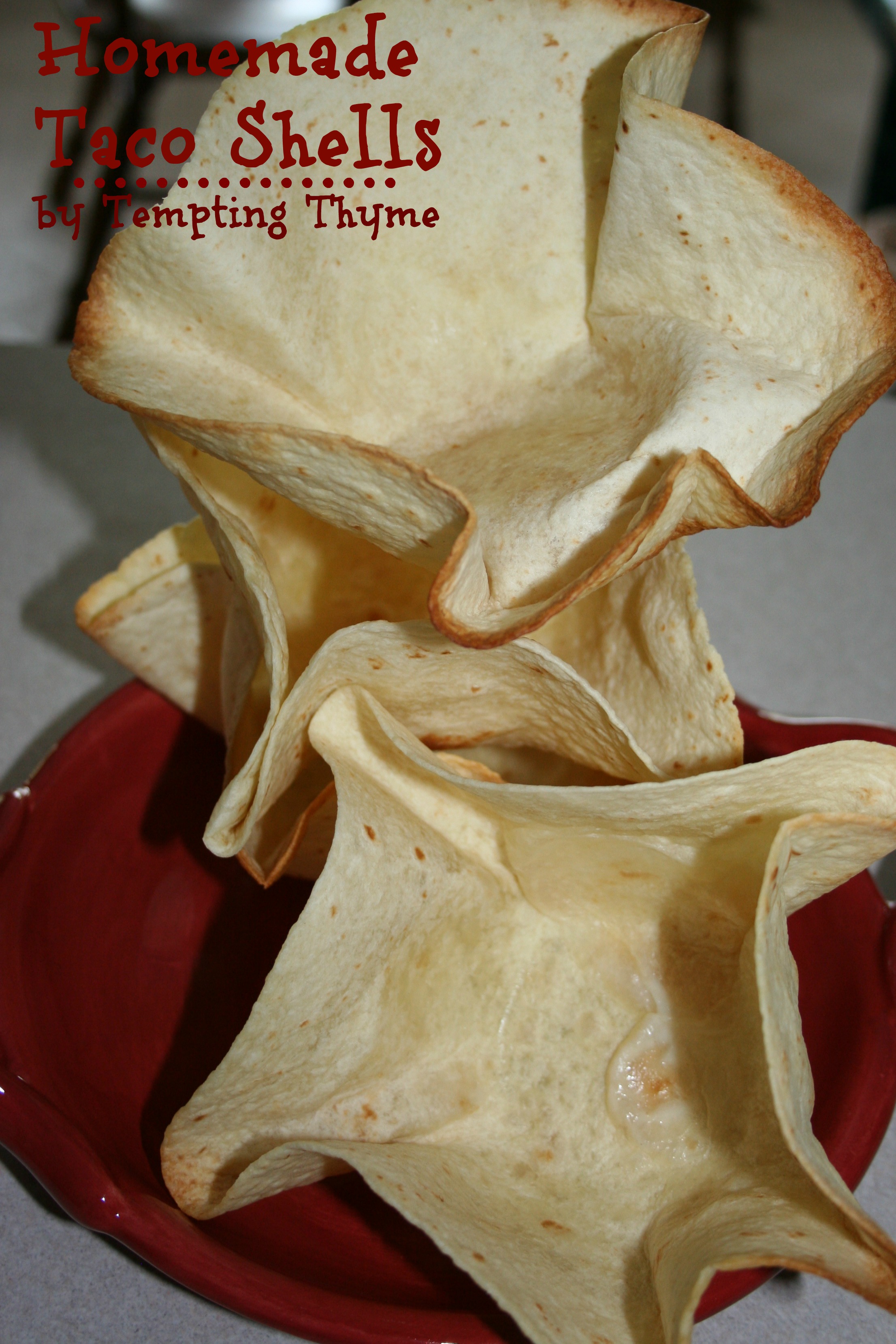 I decided to go with a Taco Salad!  Can't believe I almost bought the 'Perfect Tortilla Bowl' Pan!  What a riot, and I would have kicked myself for wasting that money.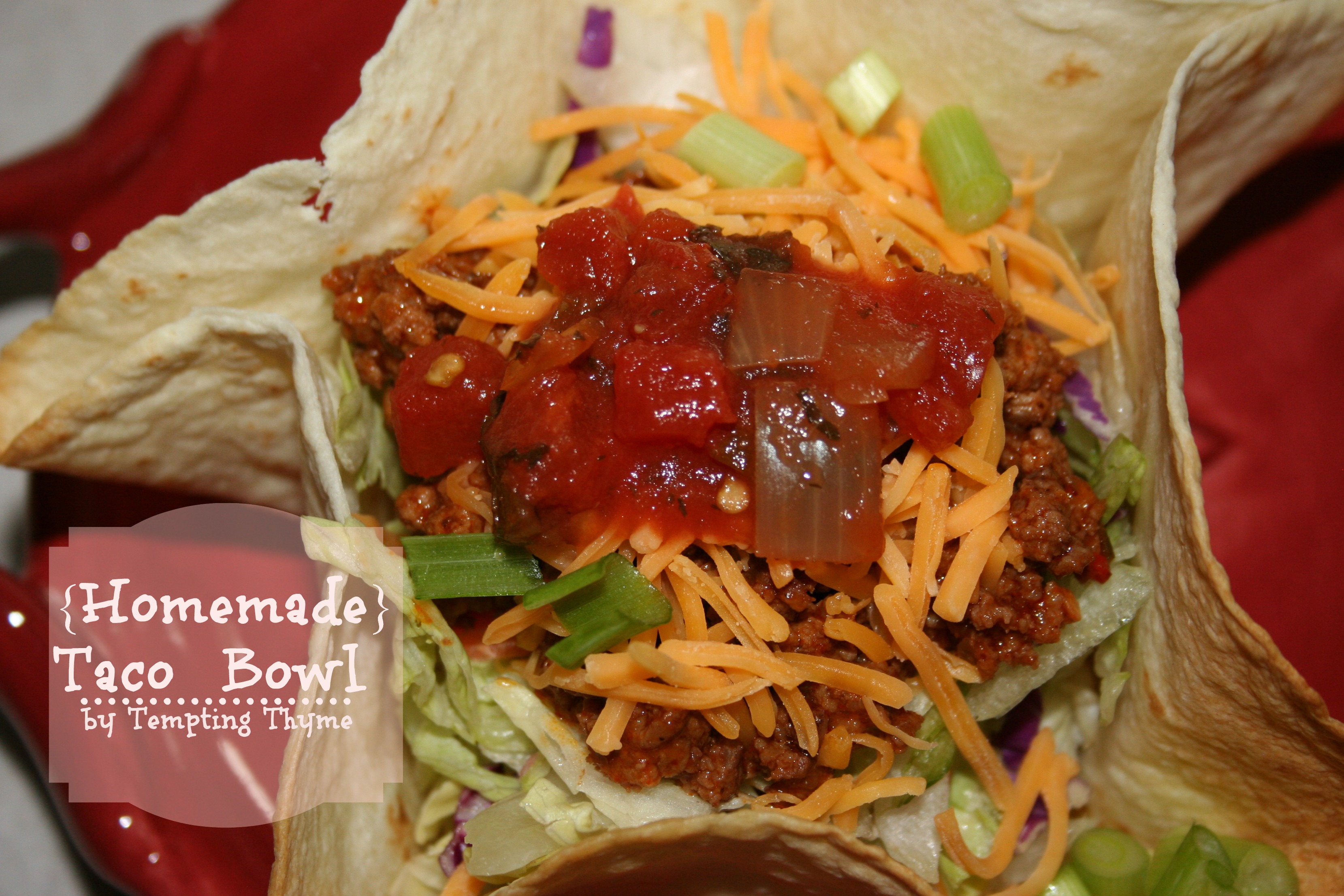 Homemade Tortilla Bowl
Ingredients:
Large flour tortillas-Burrito size
Cooking Spray-such as Pam
Directions:
1.  Preheat oven to 450 degrees.
2. Turn canning jars upside down onto large cookie sheet.  Spray bottoms with cooking spray.  Warm tortillas in microwave for 30-45 seconds, just until pliable.  Lay a tortilla over each jar and press down gently, molding the tortilla around each jar.  Spray with cooking spray.
3.  Bake at 450 degrees for 6-8 minutes, or until golden brown and crispy.  Remove from oven, and cool for 5 minutes before removing the bowls from the canning jars.  Finish cooling the bowls on a wire rack.
How do you fill your tortilla bowl?  Do you use them only for dinner, or do you have a sweet tooth like me?
Shaunna