Wicked Weekend #10
I hope all of you have some fantastic plans for this Memorial Weekend! 
I kicked off the weekend by going to a pool party with B.  We missed PT, but he was better off resting in bed…hoping to feel better for the Indy 500 tomorrow.  K was MIA, as he was riding a bus back from his 8th grade field trip to Washington DC.  I can't wait to hear all of his stories…. what they saw….what they did….is Connie still protesting in front of the White House against nuclear weapons…..did people try to sell him goods out of suitcases…..did he get to see the President, as B swears he did on his trip a few years back?   Being Memorial weekend, I hope they did a special tribute at the Arlington Cemetery.  We wouldn't be able to enjoy the liberties that we have without the soldier's who have defended us.  Too many have lost their lives', so please enjoy your weekend…but take some time to reflect on what you have, and say a little thank you to the great men and woman who laid down their lives for us.
I have to say I cheated a little for this Wicked Weekend post.  Can you believe that this is my tenth one?  Remember those cute little cookies on top of the Cookie Dough Cupcakes?  Well I am using this weekend to post this legendary recipe.  I was even smart enough at the time to take a few photos of them before they made their way on top of the sinful icing.  See the glass of milk….it is an elongated shot glass from one of my favorite stores…IKEA!  How cute is it???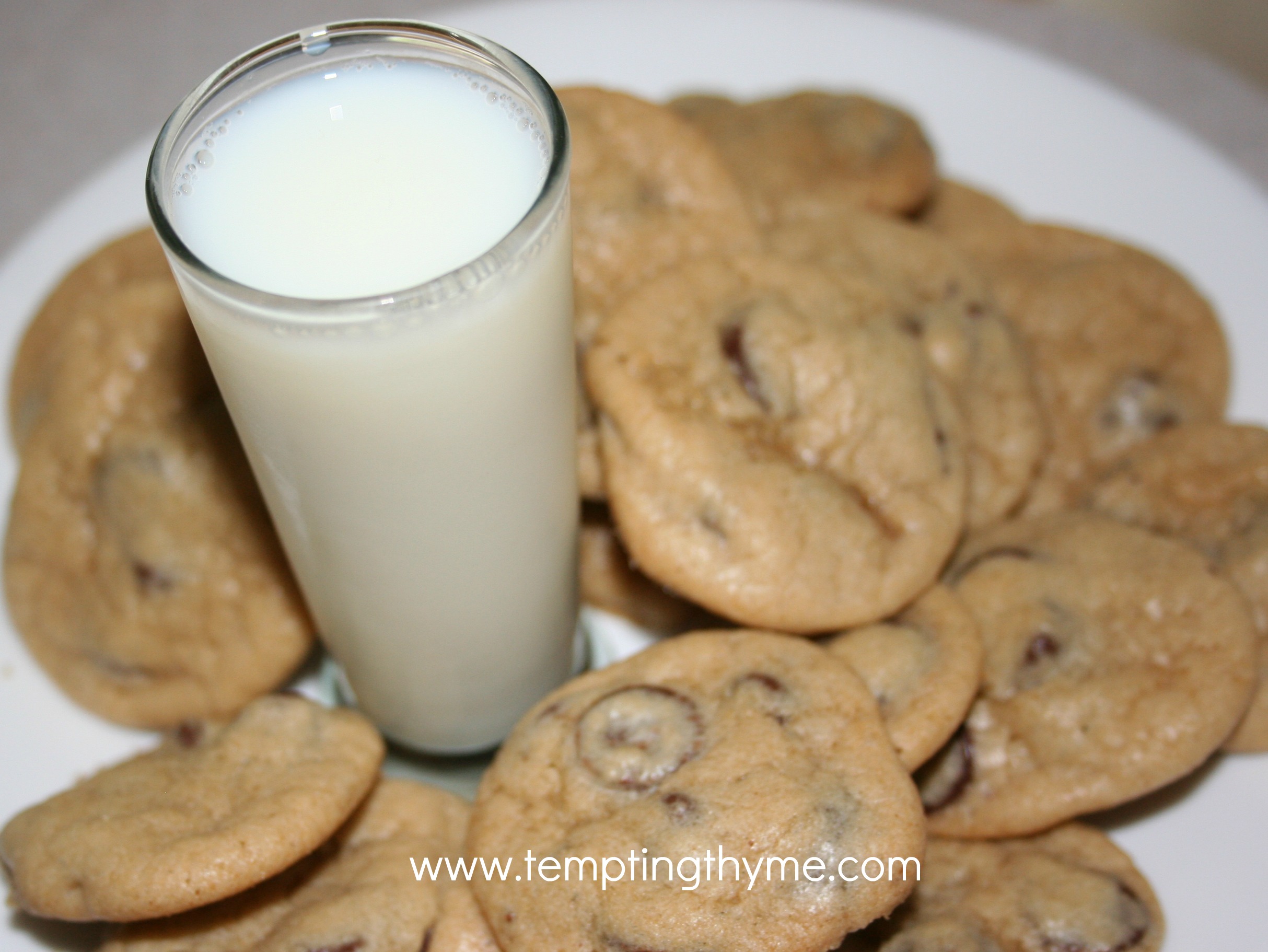 The recipe is for Jumbo cookies, but I needed 24 small ones, so I did some modifying on the size and the length of time to bake them.  Everything else about the recipe is accurate.  For the mini's, I baked them at 350 degrees for 9-11 minutes.  Notice how this calls for more brown sugar than white?  This creates a rich, chewy cookie.  I hope you enjoy these as much as my family does.  Next week I will be bringing to you one of K's favorite treats.  A friend asked me for the recipe just this week, and it made me realize that I haven't made them in a while.  Think brownies, marshmallow, caramel, chocolate, butterscotch, toffee and m&m's………….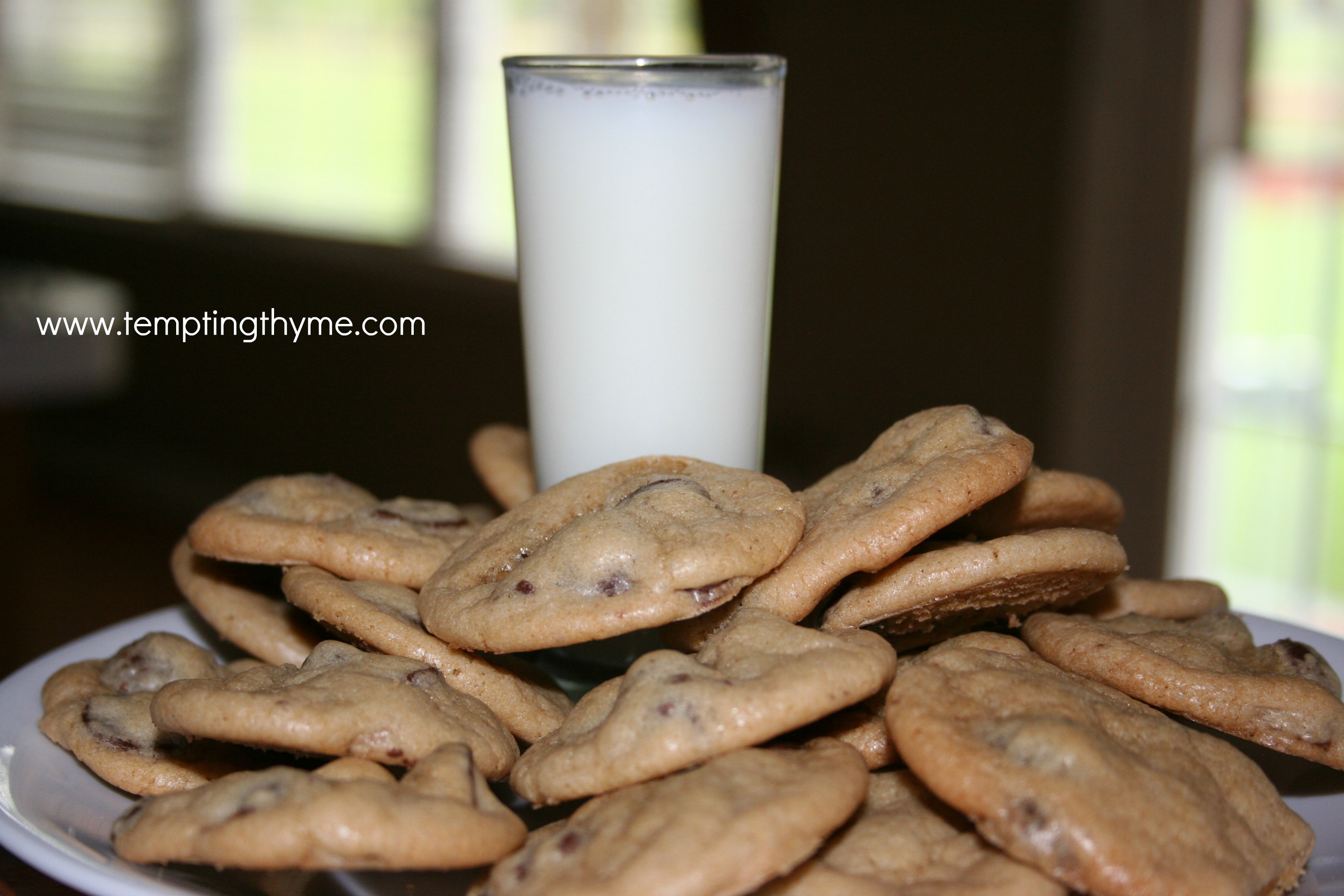 Legendary Chocolate Chip Cookies
Makes 7-10 Jumbo Cookies
 Ingredients:
1 cup unsalted butter, softened
1 ½ cups firmly packed brown sugar
¼ cup white sugar
1 Tbsp vanilla extract OR whiskey
2 large eggs
1 egg yolk
2 ½ cups all-purpose flour
¾ tsp baking soda
½ tsp salt
2 cups semisweet chocolate chips
1 ½ cups chopped Lindt semisweet chocolate
 Directions:
 * Preheat oven to 350 degrees.  Line baking sheet with parchment paper.  Arrange oven rack to upper third position.
 * In large mixing bowl, cream butter with both sugars until well blended.  Add in eggs, egg yolk and vanilla, mixing until combined.  In small bowl blend flour, baking soda, and salt, stirring with a fork.  Fold the flour mixture into the butter, along with the chocolate chips and chopped chocolate and blend well to make a thick batter. 
 * Scoop or form balls of 7-8 ounces of dough (approximately 1 cup) and place on prepared baking sheet about 2-3 inches apart.  You will only be able to do a few at a time.
 * Bake 20-24 minutes or until cookies are nicely browned on top and just set up looking.  Remove from oven and let cool on baking sheets 15-20 minutes before removing.
Source:  a passion for baking