Wicked Weekend Part Deaux!    Last weekend we truly splurged with Salted Caramel Chocolate Chip Bars, so this week we need to tone in down with something a little more subtle.  I can't get enough of these pretzel nuggets!  What makes them even better?  They are ready in less than 15 minutes!  Woo hoo!  You have surprise company and need a snack…. you have a party to go to and didn't have time to pick up a hostess gift….your child is feeling hurt or angry….cinnamon sugar nuggets to the rescue!
Take my advice, don't skimp on the pretzel.  I will be the first one to buy the store brand of anything and everything, BUT I am telling you not to for these.  I have tried many different store brand varieties and nothing, I repeat NOTHING, compares to Hanover Snyder's sourdough pretzel nuggets.
MANGIA…MANGIA!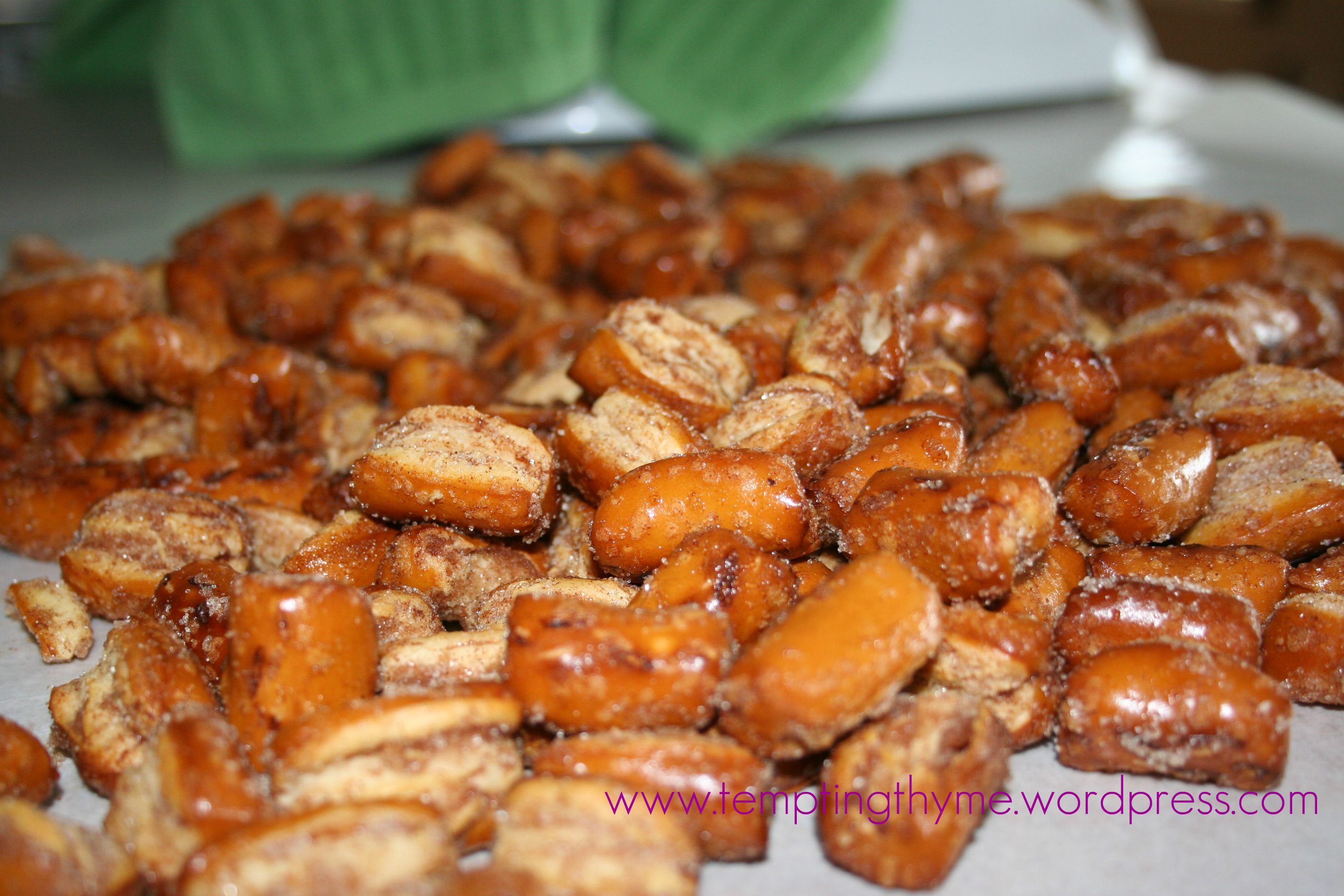 Cinnamon Sugar Pretzel Nuggets
(Originally from Taste of Home's Treasury of Christmas Recipes)
Ingredients:
1 package (15 to 18 ounces) sourdough pretzel nuggets (I prefer Snyder's Hanover)
2/3 cup vegetable oil
1/3 cup sugar
1 to 2 teaspoons ground cinnamon
Directions:
– Place pretzels in a microwave safe bowl (I use a big glass pasta bowl).
– In a small bowl, combine oil, sugar and cinnamon; pour over pretzels; toss to coat.
– Microwave, uncovered, on high for 2 minutes; stir.
– Microwave 3-4 minutes longer, stirring after each minute or until oil is absorbed.
– Spread out onto parchment or waxed paper, and cool to room temperature.
*What's hiding under that green towel?  Yummy cinnamon roll dough proofing, of course!  I thought I had a fool-proof recipe, but I made it recently for K and his friend, and they just fell short in my opinion.  Yes, I am my own worst critic!  Stay tuned….also working on a yeast free version as well.