Wickedly Good Weekend!
It brings me straight back to the 80's when I say the word wicked.  It was our go to word for anything and everything amazing.  Love how it feels coming off my lips…wicked… 
We are going to start considering weekends 'Wicked"!
Shouldn't all of our weekends be celebrated with decadence?  Of course!  We deserve it! 
Some of you relish your wines and alcohol.  Ahhh…don't get me wrong, I will take a Mike's Hard Lemonade, whiskey sour or my favorite Jingle Juice on special occasions,  but my true guilty pleasure is sugar.   Caramel corn, cake, cookies…and everyone  knows I have  a serious weakness for Mike and Ike's.  Not the original, those are my Mom's favorites and I can resist those any day of the week.  My downfall are the Tart and Tangy and the  Lemonade Blends.  Okay, I am digressing…shame on me.  But first let me say that I was having such a hard time finding the tart and tangy variety that I actually ordered 2 cases from Amazon (that is 48 movie size boxes….what was I thinking….geez). Yes, I have a problem.  Which is why I gave them up for Lent!
Here is the first dessert in the Wicked Series.  My wonderful friend CW introduced me to Starbuck's Salted Caramel Hot Chocolate right before xmas.  She was so clever she came up with her own version and I declare it would knock your socks off.  When I saw this recipe on Brown Eyed Baker, I knew I had to give them a test run. Normally, I would use my all time favorite chocolate chip cookie recipe (it's the base for the Triple Threat bars), but thought I would give this version a go.  Come on….we can all use a variety of chocolate chip cookie recipes, right?!  The only difference is I screwed up, wasn't wearing my glasses and actually put in baking powder instead of salt.  Didn't realize it until after I had it in the oven, and I was writing down the recipe.  The other item that is different is the whiskey, instead of vanilla.  I love using whiskey in recipes, really like the additional element that it adds to the finished product.
These didn't survive long in my household, less than 24 hours!!
**Next time I whip these up, I will add in a chocolate sauce over the caramel sauce.  Salted caramel, chocolate sauce sandwiched in between 2 layers of chocolate chip cookie dough….oh my!
Mangia….Mangia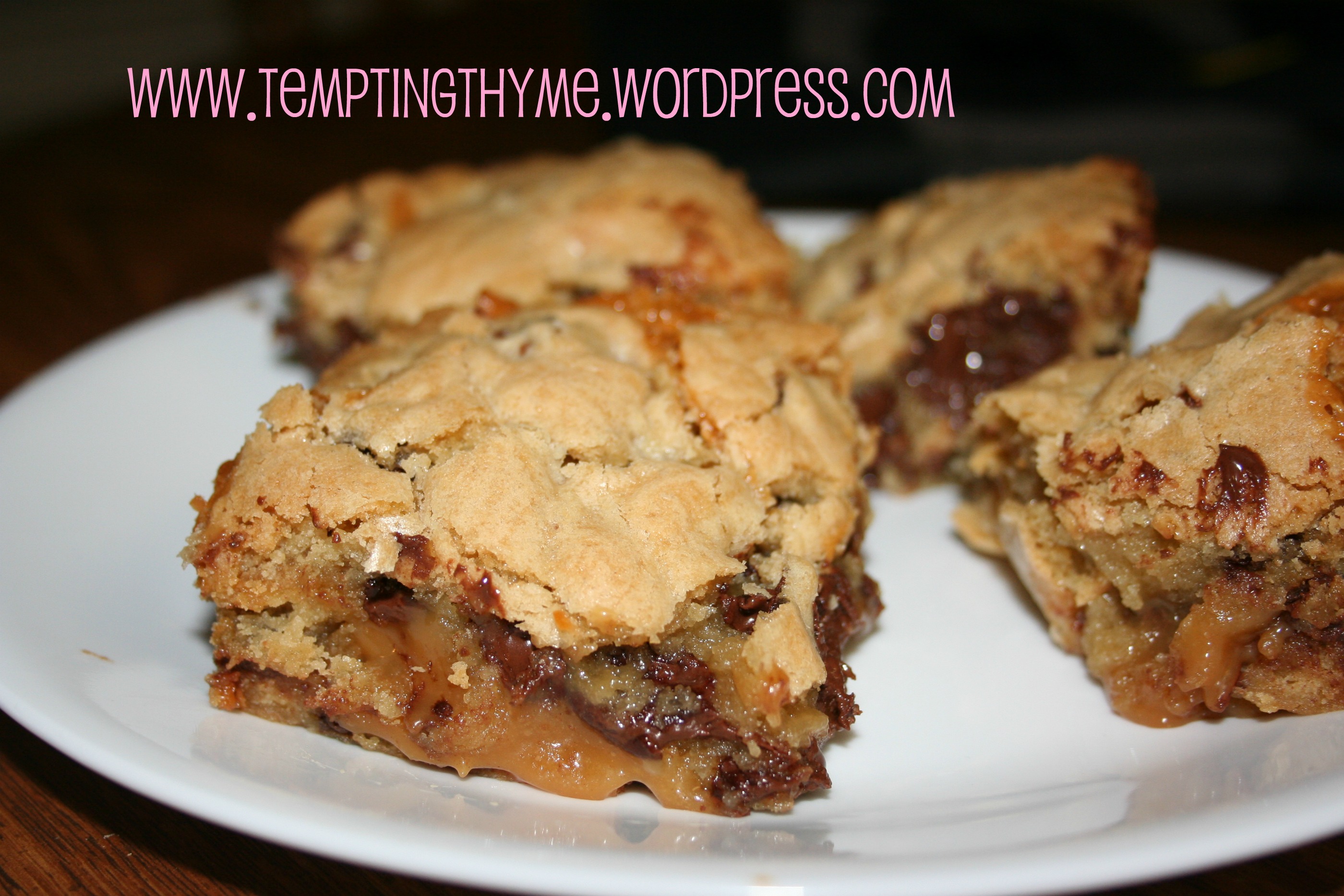 Salted Caramel Chocolate Chip Cookie Bars
(adapted from Brown Eyed Baker)
Ingredients:
 2 1/8 cups all-purpose flour
½ teaspoon baking soda
½ teaspoon baking powder (supposed to be salt, but screwed up)
12 tablespoons unsalted butter, melted and cooled to room temperature
1 cup light brown sugar
½ cup granulated sugar
1 egg
1 egg yolk
2 teaspoons favorite whiskey
2 cups chocolate chips
10 ounces caramel candy squares, unwrapped
3 tablespoons heavy whipping cream
Sea Salt for sprinkling over caramel and bars (I have been using a Mediterranean Salt and love it)
–   Preheat oven to 350 degrees F. Spray a 9-inch square pan with cooking spray; set aside.
–   In a medium bowl, whisk together the flour, baking soda, and baking powder(or salt); set aside.
–   Using an electric mixer, combine the melted butter and sugars on medium speed. Add the egg, egg yolk, and whiskey; mix until smooth. Slowly add the dry ingredients and mix on low, just until combined. Stir in the chocolate chips.
–   In a medium microwave-safe bowl, combine the caramel squares and heavy whipping cream. Microwave on high until the caramel are melted, stirring every 20 seconds. This will take about 90 seconds. Press half of the cookie dough into the prepared pan, smoothing the top with a spatula. Pour the hot caramel over the cookie dough and spread into an even layer, leaving some empty space around the edges, about ½ inch. Sprinkle the caramel with the sea salt. Drop the remaining cookie dough in spoonfuls over the caramel and gently spread the dough with a spatula until the caramel is covered. Sprinkle the bars with additional sea salt.
–   Bake the cookie bars for 30 minutes, or until the top of the bars are light golden brown and the edges start to pull away from the pan. Cool the bars on a wire rack to room temperature, then refrigerate for about 30 minutes to allow the caramel layer to set. Cut into squares and serve. Store leftovers in an airtight container at room temperature.