Can you believe it is already August?
Literally feels like we blinked and June and July passed us by…….
I hope you have had a great summer so far!

Some of you may even have kids that are starting back to school!
Yikes!!!
Remember when we didn't start school until the end of August, and then escaped before Memorial weekend for a full 3 months off? 
Aaaahhhhh!
Those were the days! 😉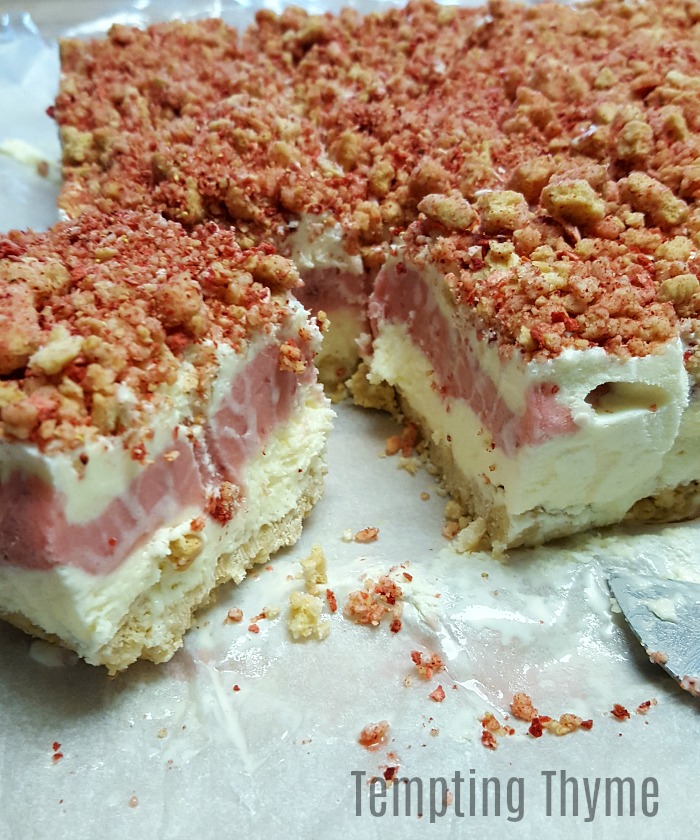 While we have a little bit of summer left, I have to share this fabulous dessert with you all!
I know that you will want to make it this weekend! 
It is that good…….
Or maybe you can't wait another day for the weekend to start. 
Go ahead…….make it tonight……summer is made for cool, refreshing ice cream desserts! 
Right?
This dessert was first made for me at a pool party we attended over the fourth of July weekend.  She pulled it out of the freezer and wanted me to guess what it reminded me of.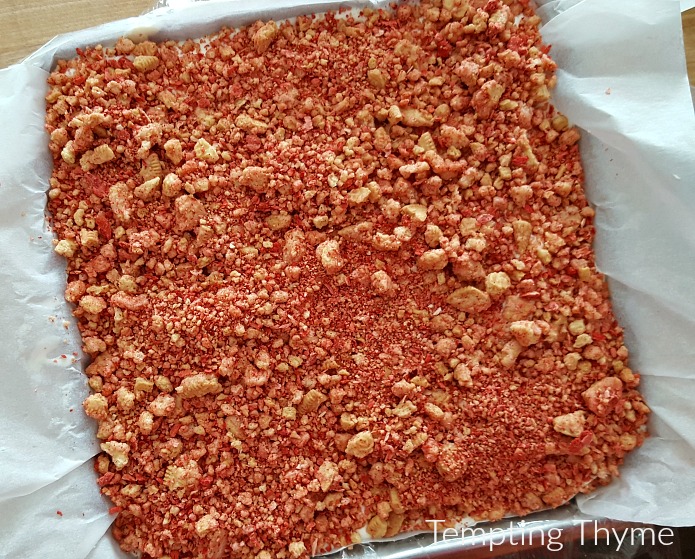 Hmmmmmm……
I had no idea, but her family piped in and said ground beef.
Seriously……..no fooling!
She tried to get me to think about my childhood, visions of eating way too many Popsicles and Fudgsicles to count….and I was drawing a blank.
She finally gave up on me and told me that it was a copy cat version of the Good Humor Strawberry Shortcake Dessert Bar! 
I was still clueless!   
In all of my recollections………and yes, I know that I am losing my cotton pickin' mind…….I do not recall ever having one of these bars.
Definitely my loss folks!
Oh my Lord, this dessert is GOOD!
All it took was one bite, and I knew that I would be making it the next day for a neighbor gathering.  It is so easy to put together, you should be able to have it done and setting up in the freezer in under an hour.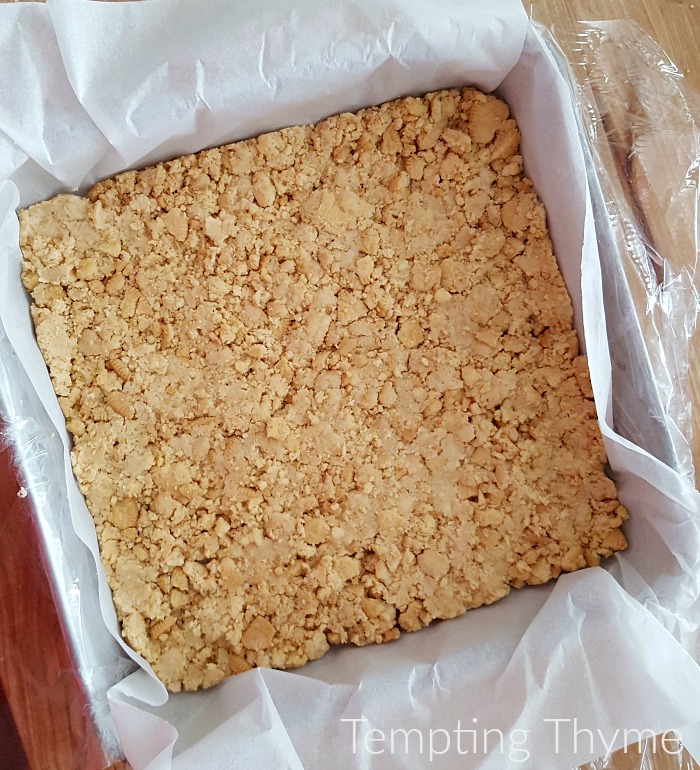 The crust is crumbled/crushed Golden Oreo's.   Use a food processor, but if you don't have one OR don't feel like washing the bowl and blade, then put the cookies in a storage bag and roll over them with a rolling pin to crush them to your desired texture. 
Mix the crushed cookies with a little melted butter and press into your prepared 9×9 pan.
See the parchment paper overhang on all sides?  They make perfect handles for lifting out desserts, making cutting and serving a breeze.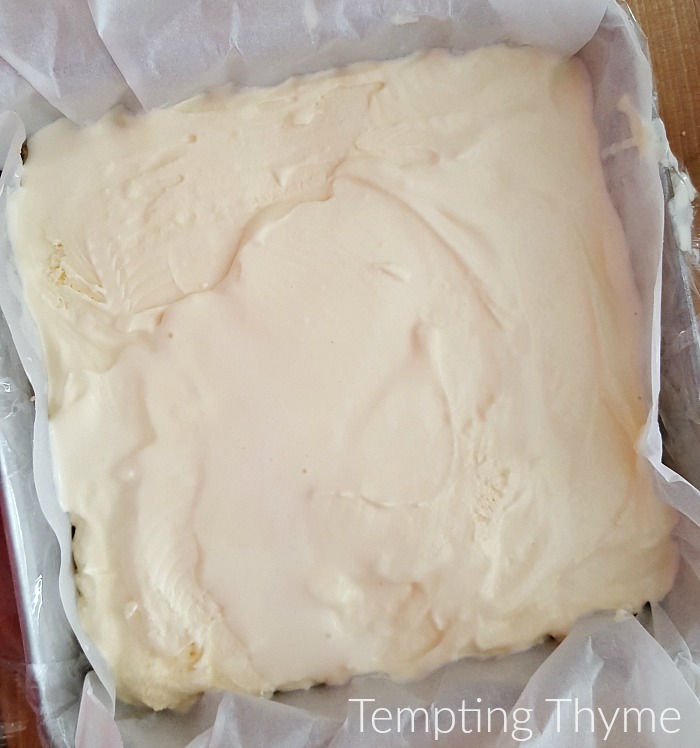 Spread a layer of thawed vanilla ice cream over the crust.  I find it easier to use an off-set spatula for spreading ice cream, but you could use a regular knife.  Place the pan in the freezer for about 10 minutes to allow the ice cream to set up a bit.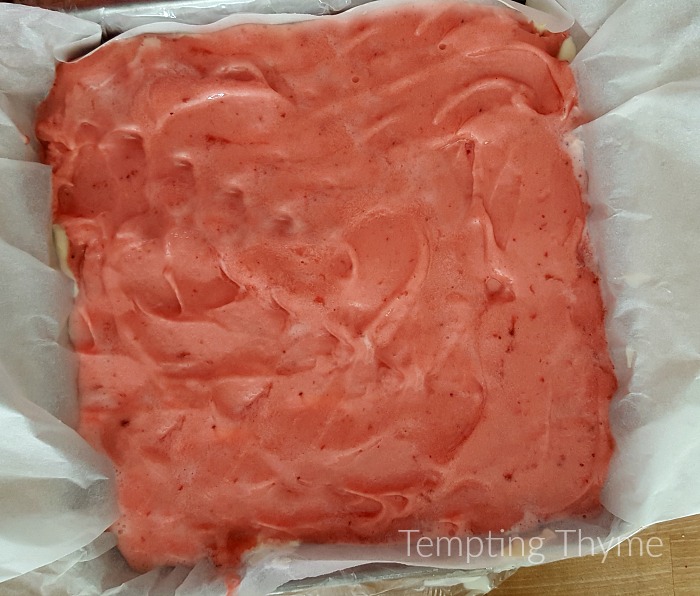 The next layer is the strawberry sorbet.  This was hard to find folks!  I had PT on the hunt for it at our local Kroger's, and we almost had to settle for strawberry ice cream, but he finally found some in pint size containers. 
I had him buy 3 not knowing exactly how much I would need.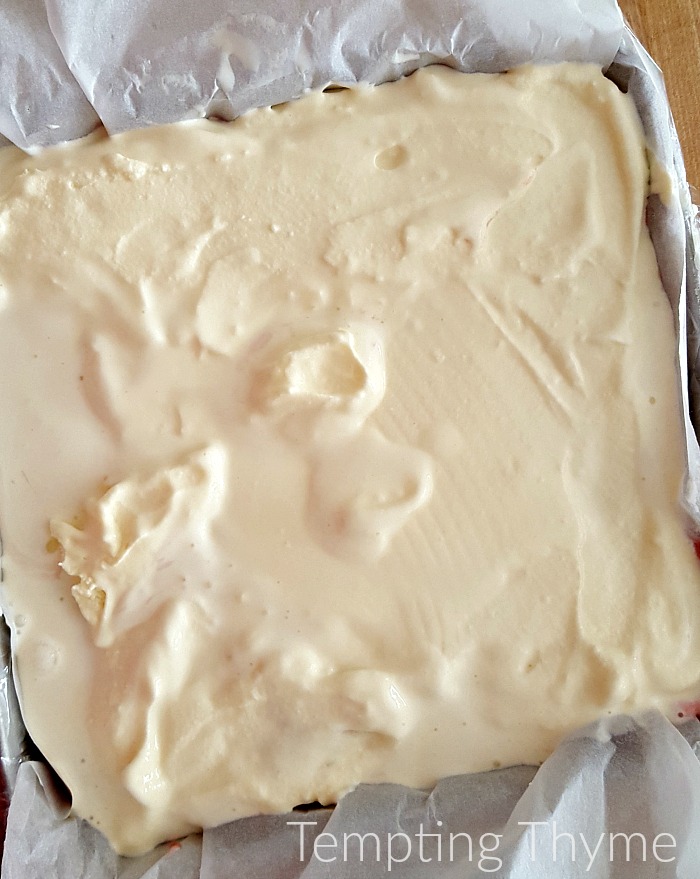 The top layer is once again your favorite vanilla ice cream…..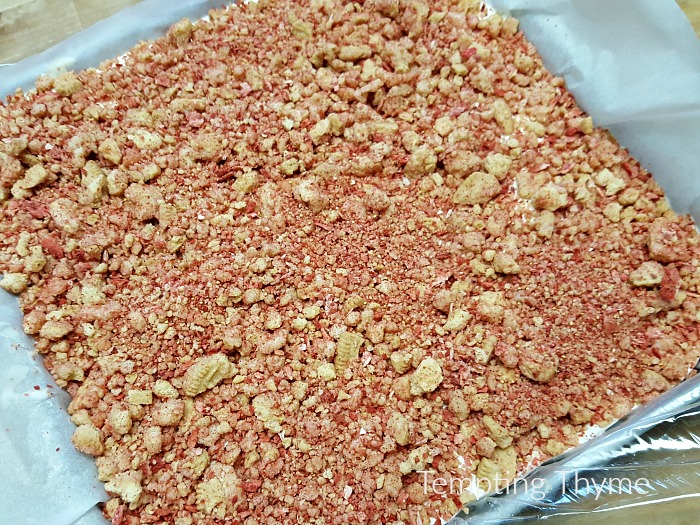 The crunchy topping that finishes it all up is a combination of chopped Golden Oreo's and crushed freeze dried strawberries. 
A food processor would make quick work out of coarsely chopping the oreo's and pulverizing the dried strawberries, but I used ziploc bags and a rolling pin for both.  Worked like a charm, and if you happen to be a little frustrated, just whack that bag with the rolling pin…….might make you feel a little better!  Combine the two and then evenly spread it over the last layer of vanilla ice cream. 
Cover with saran wrap and freeze for at least four hours before serving.  This dessert is very forgiving so if you need to make it ahead of time, just freeze it overnight.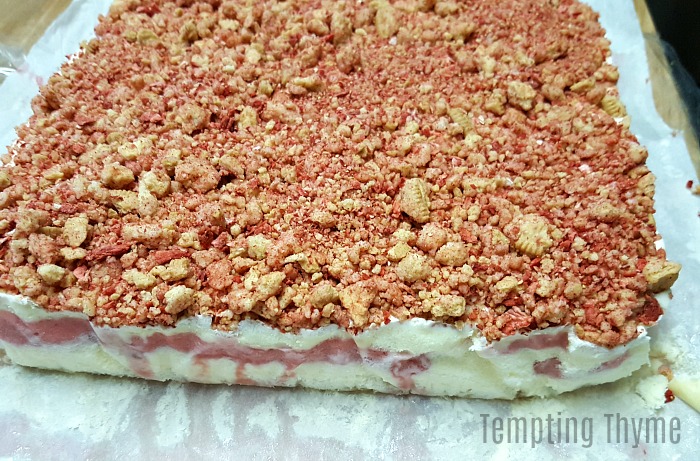 When you are ready to serve, just take it out of the freezer and let it sit for a few minutes before cutting.  By using the "handle" method you can lift the ice cream out, cut it into squares and then lift it back into the pan if you need to transport it to a social gathering. 
Here is a tip for making cutting even easier.  Dip the knife in hot water…..it will go through the ice cream like butter!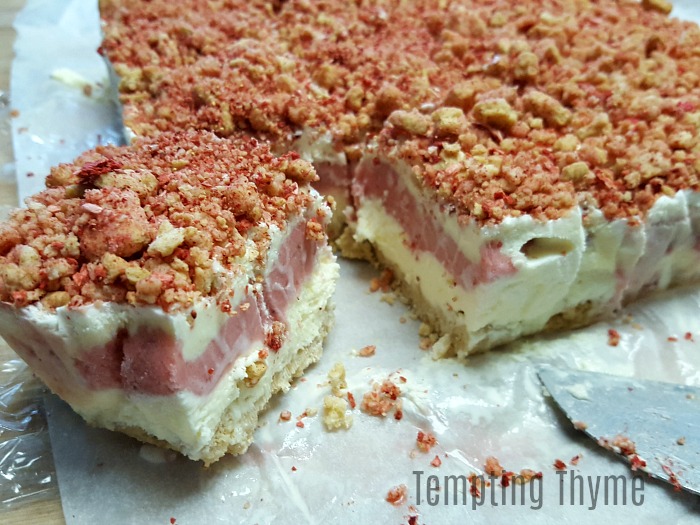 I know that my friend followed a recipe to make hers, but I just kind of eye balled everything when I put mine together.  If the pan looked like it needed another cup or a half cup of ice cream/sorbet…..I added it.  I also only had one bag of the oreo's, so I had to make it work.  We had enough of these, with a few to spare.  Good thing, as I had 2 young men swarming the kitchen while I was putting it together. 
By the way, if you are not familiar with freeze dried strawberries, you can find them in the health food or organic section of the grocery store.  My favorite brand right now is Crunchies!  Love, love, love their freeze dried grapes!
Even if you have never ever had a Good Humor Strawberry Shortcake Dessert Bar, I know that you are going to love these ice cream bars. 
They will hands down become one of your families favorite summer dessert!

Strawberry Shortcake Ice Cream Bars
This light dessert will certainly hit the spot on a hot summer day. If you have ever had a Good Humor Strawberry Ice Cream Bar, and wanted to make it at home.....this is your recipe! Layers of crushed golden oreo's, vanilla ice cream, strawberry sorbet and topped with even more golden oreo's and dried strawberries.
Ingredients:
Crust:
20-24 Golden Oreo Cookies, crushed. I purchased the 14.3 oz bag. (If you can't find golden Oreo's, then use any vanilla creme sandwich cookie)
3 Tbsp melted butter
Ice Cream Layers:
48 ounces of Vanilla Ice Cream, softened. Use your favorite brand
1½ pints of Strawberry Sorbet, softened. I used the Private Selection brand.
Crumble Topping:
10-12 Golden Oreo Cookies, crushed
1.2 oz package of freeze dried Strawberries, pulverized - I used Crunchies
Directions:
Crust:
Line a 9x9 pan with parchment paper making sure to leave enough on each side as an overhang to make removal of bars even easier.
Add 20-24 Oreo cookies to a sealed ziploc bag and using a rolling pin crush them until you have reached your desired texture. If you have a food processor, you can make them into "fine" crumbs quickly. Add the melted butter and mix until combined. Press your cookie mixture into the bottom of your lined pan. Place in the freezer for 20-30 minutes to help it set up.
Crumb Topping:
Take the remaining Oreo cookies and crush them into large crumbs, using either the same ziploc bag or the food processor if you have one. In a separate bag crush the dried strawberries until they are pulverized (using a rolling pin). If you have a small food processor, use it, it will work much faster than the rolling pin. Combined the crumbled cookies and the pulverized strawberries together and set aside.
Assemble:
Let the vanilla ice cream soften for about 15-25 minutes.
Remove the cookie crust from the freezer and spread 2-3 cups of vanilla ice cream as the first layer. Place the pan in freezer for about 15 minutes.
While the first layer is in the freezer, remove the strawberry sorbet and let soften. Spread the sorbet evenly over the vanilla ice cream and place back in the freezer for a little bit; 5-10 minutes should suffice.
Add the final layer of vanilla ice cream (2-3 cups) and spread evenly over the sorbet. Sprinkle the strawberry cookie crumb mixture on top, pressing down with light pressure.
Place pan in the freezer for 4+ hours. This is a great dessert to make ahead and freeze overnight!
Lift the ice cream dessert out of the pan using the "loose" parchment paper handles. Let it sit on the counter top to soften up a bit. Use a sharp knife cut into squares and serve. Store any leftovers in the freezer for up to a week.