Merry Christmas Eve everyone!
This is the day where most of us are running around trying to tie up loose ends for tomorrow. 
My family is still snuggled under the covers, but for some reason my internal clock said to get up at 7 this morning.  Dang clock!
I am thankful for these peaceful mornings ….letting me get my thoughts together…..or read a book with a cup of coffee!
If you are anything like me, then you have forgotten someone on your gift list.  🙁
Or better yet…… have no idea what to buy them!
Peppermint Bark is one of the easiest recipes to make, and is "out of this world" good!
Think Williams-Sonoma good!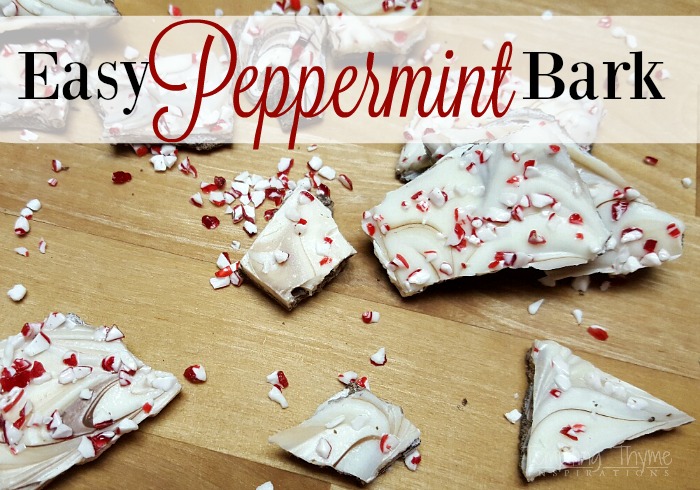 I have been making this for over 12 years…..
     …..ever since I tasted a sample at the Williams-Sonoma store in Cincinnati. 
I immediately thought that it would be a piece of cake to make….why pay their high price!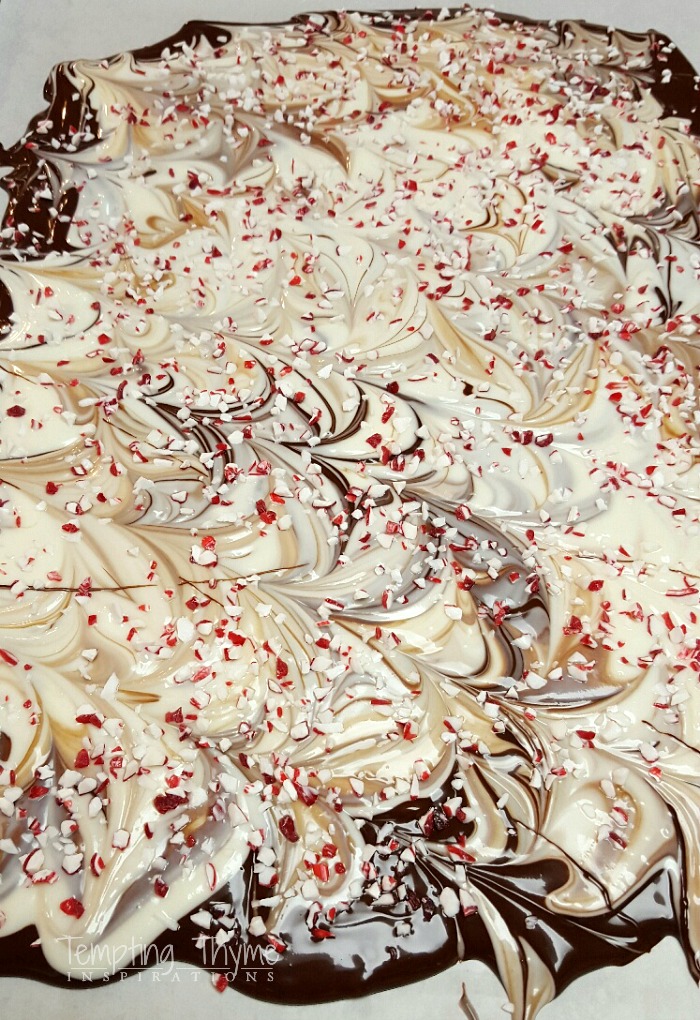 I was wrong…….the quality of the ingredients DO matter. 
I am not saying that this can't be made with chocolate chips, but I do believe you get a better quality bark by using a premium baking bar.  My personal choice is Ghirardelli, but if I don't have this on hand I will use Hershey's premium chips. 
No matter what chocolate you use, just monitor the melting process at all times. 
Short intervals, at 80% power, and stir, stir and stir some more in between each cycle.  You will find that the chocolate continues to melt when you are stirring it.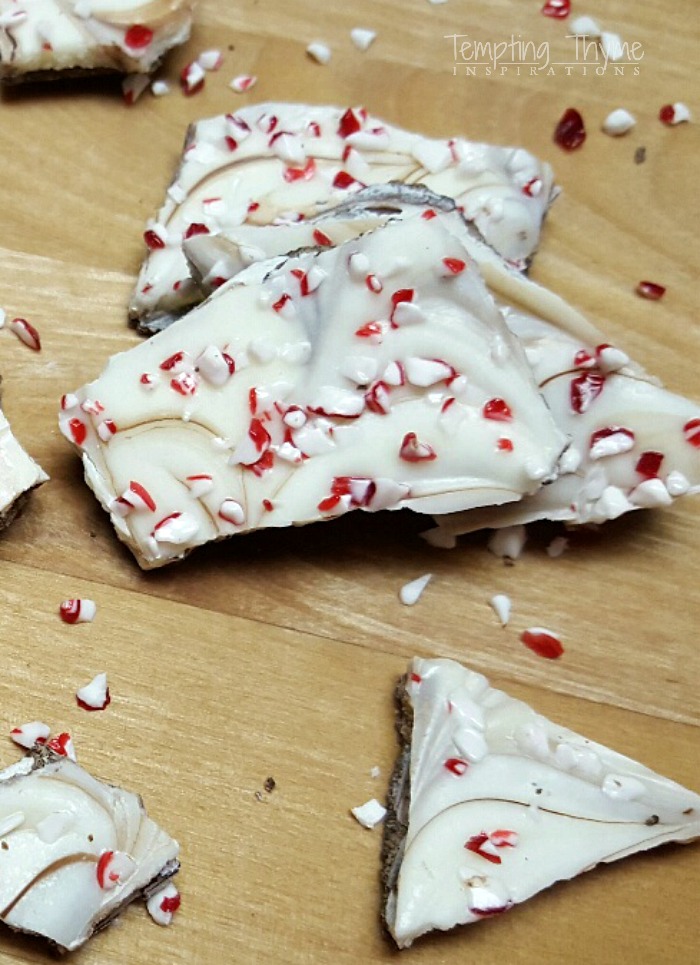 I also prefer pure peppermint extract versus the peppermint oil.  My chocolate was separating when using the oil, but not when I use the extract.  Odd, I know.
I have also gotten lazy and now purchase my peppermint candy already crushed.  Whoever came up with this idea….GENIUS! 
Why didn't I think of this?
You will not be able to stop nibbling on it, so you will need to make a double batch of this Peppermint Bark. 
This makes the perfect hostess gift….or if you and your neighbors exchange baked goods, why not surprise them with this Peppermint Bark! 
Merry Christmas!!!!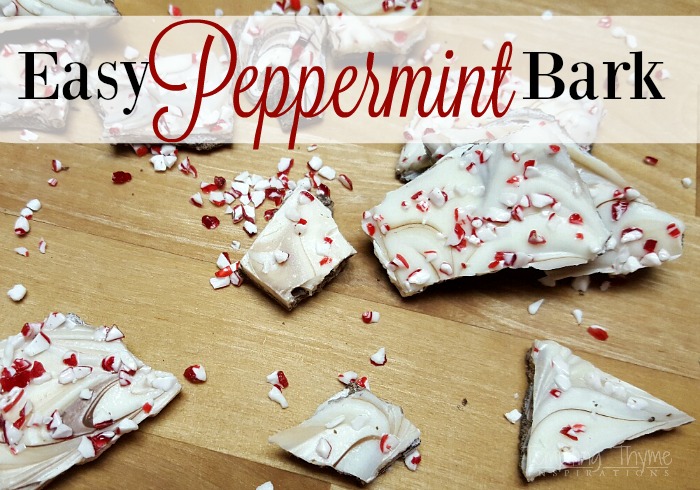 Easy Peppermint Bark
Peppermint Bark is one of the easiest recipes to make.... perfect for gift giving or just nibbling on during the Holidays!
Ingredients:
12 oz Premium Dark Chocolate
12 oz Premium White Chocolate
1 tsp Pure Peppermint Extract
Crushed Peppermint Candies
Directions:
Line a large baking sheet with parchment paper; set aside.
Using a

microwavable

safe container, melt the dark chocolate according to the back of the package. I like to melt it at 20 second intervals at 80% power, stirring in between. Remove from the microwave and stir in the peppermint extract until thoroughly blended.
Pour the melted chocolate onto your parchment paper, spreading as thin as possible.
In a clean

microwavable

container melt the white chocolate according to the back of the package. I follow the same steps as the dark chocolate above.
Pour melted white chocolate on top of the dark, spreading as thin as possible.
With a knife, swirl (pull) the two chocolates together. Sprinkle the crushed peppermints on top, and set aside to allow the Peppermint Bark to set up. To speed up the process, you can place your pan in the refrigerator for 30 minutes.
Break the bark up into smaller chunks, and let the nibbling begin!
Store your bark in a covered container for up to 1 week.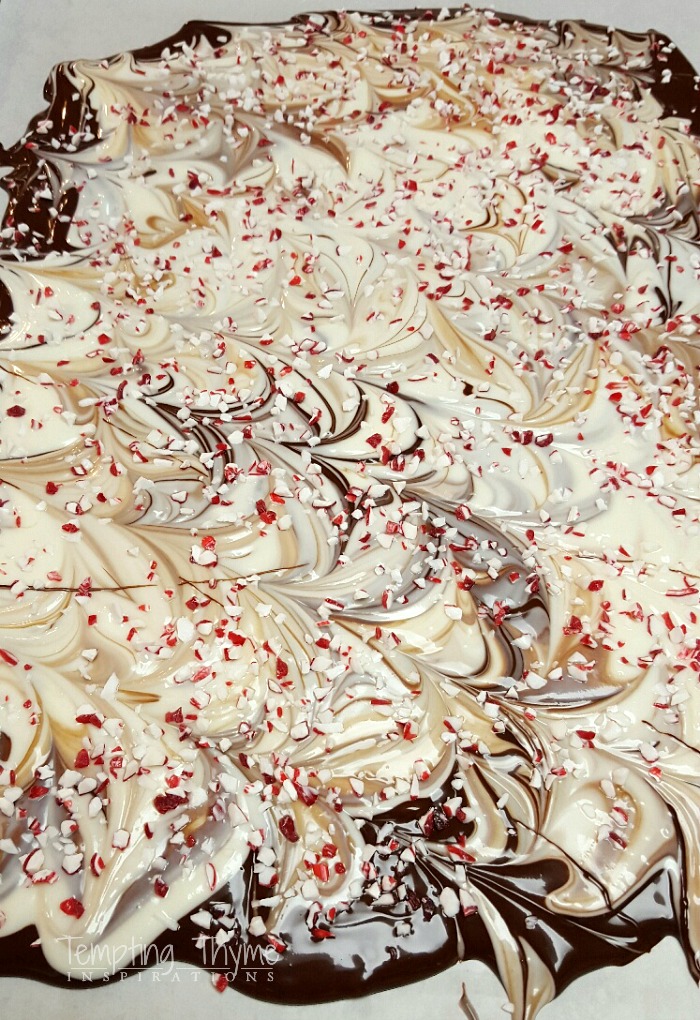 *This post contains affiliate links*