As we enter the Holiday Season, I am going to give you all a challenge!
I can already hear your mind spinning, putting on the breaks, and even closing out the browser!
I know….I know…..who wants a challenge when the month of December puts most of us over the edge stress wise?
Trust me; this is the kind of challenge that will not only make YOU feel good, but the recipient as well.
I know…..get on with it! 😉
For the next six weeks I want to challenge you to #SpreadCheer to those around you.
Yep, you heard me right!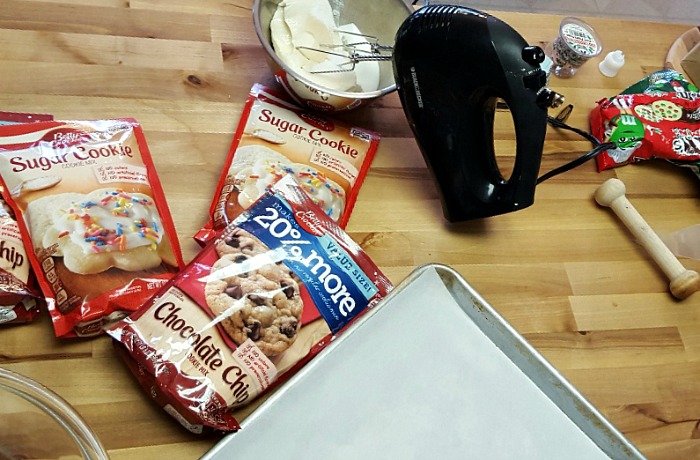 I have partnered up with Betty Crocker to push forward a new (fun) movement called #SpreadCheer. Think "I've been booed", but with cookies instead!!
We can all get caught up in the "expectations" that the Christmas commercialism and social media throws at us.  It is easy to feel trapped and overwhelmed and forget what the meaning of the holidays is really about.
I totally get it…..I don't have our tree up, decorations are still tucked away in the storage room and attic, and I do not have a single present purchased!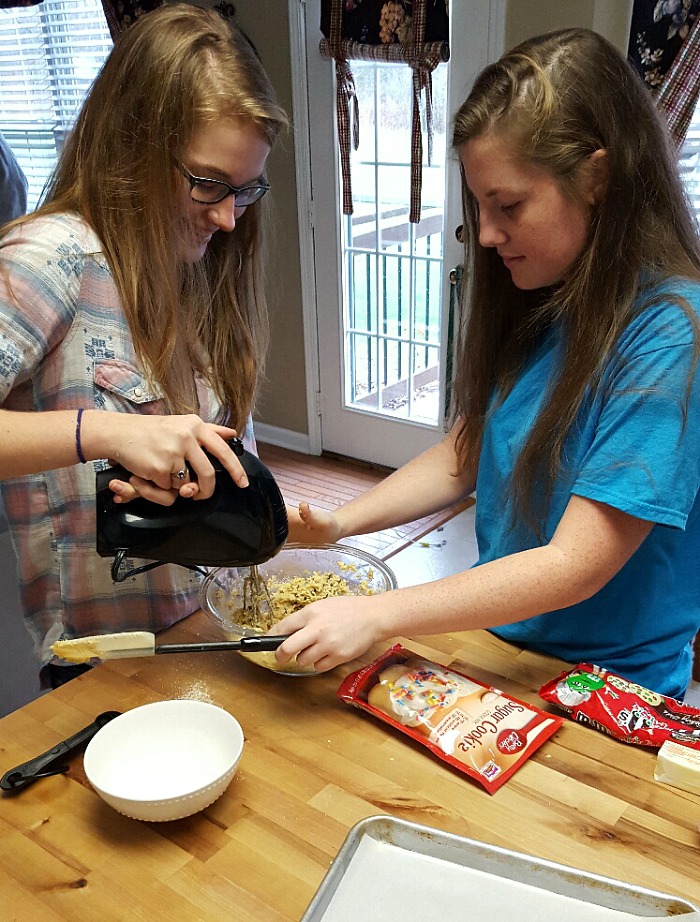 But wouldn't you agree that there is nothing more rewarding than putting a smile on someone who was not expecting to be thought of?   Could be your neighbor, teacher, bank teller…… and even the cashier at your local grocery store.
I took a break from the hustle and bustle this past weekend, cozied up in the warmth of the kitchen to spread a little cheer of my own….
1. I went to my local Kroger's and picked up 4 bags of Betty Crocker Cookie Mix. 

2. I brought in reinforcements to ensure that I didn't eat all of the cookies 😉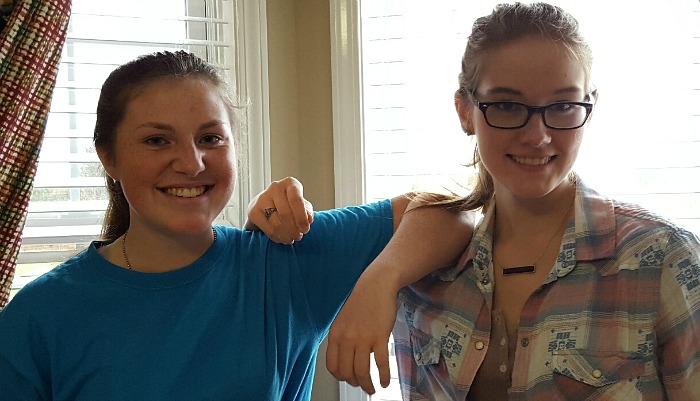 I found 2 beautiful girls that were easily recruited to be my 'faux' children, and 2 very stubborn young men (my 'real' children) who finally saw the light of day mid-way through the baking process, strolling in remembering how much fun it was to be in the kitchen baking with Mom!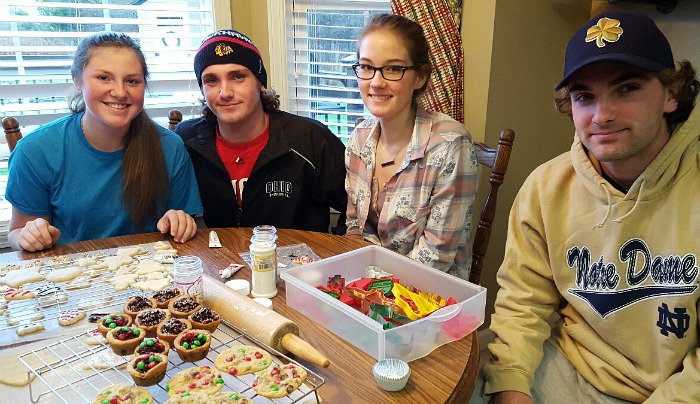 Yep, I am going with that last one! 😉
3. We made an assortment of rolled sugar cookies, chocolate chip cookies with M&M's sprinkled on top…….and to round it out, we made a mini chocolate chip cookie bowls and filled them with chocolate icing!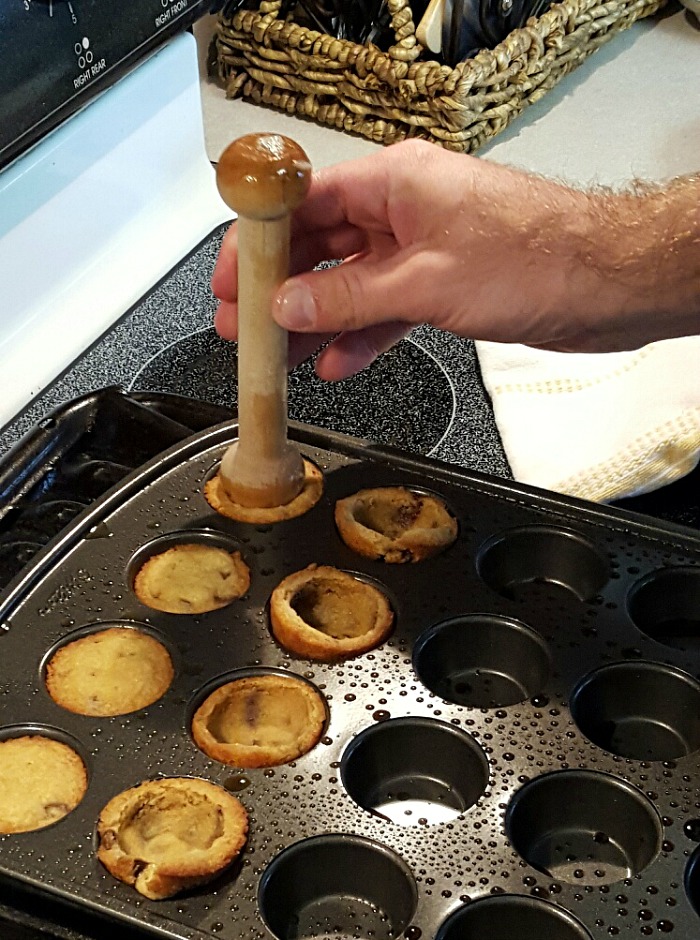 Betty Crocker Mixes are quick and easy to use when you are short on time. Unless you are making rolled sugar cookies, you will not even need any measuring cups! 
You will be using real butter and eggs, so there is zero skimping on taste……and no one will ever know that it started with a mix!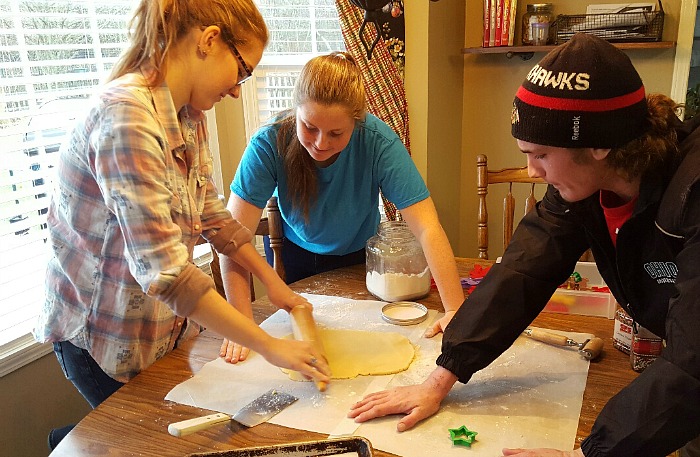 Just follow the easy directions on the back, and then put your own spin on decorating them.   Easy Peasy!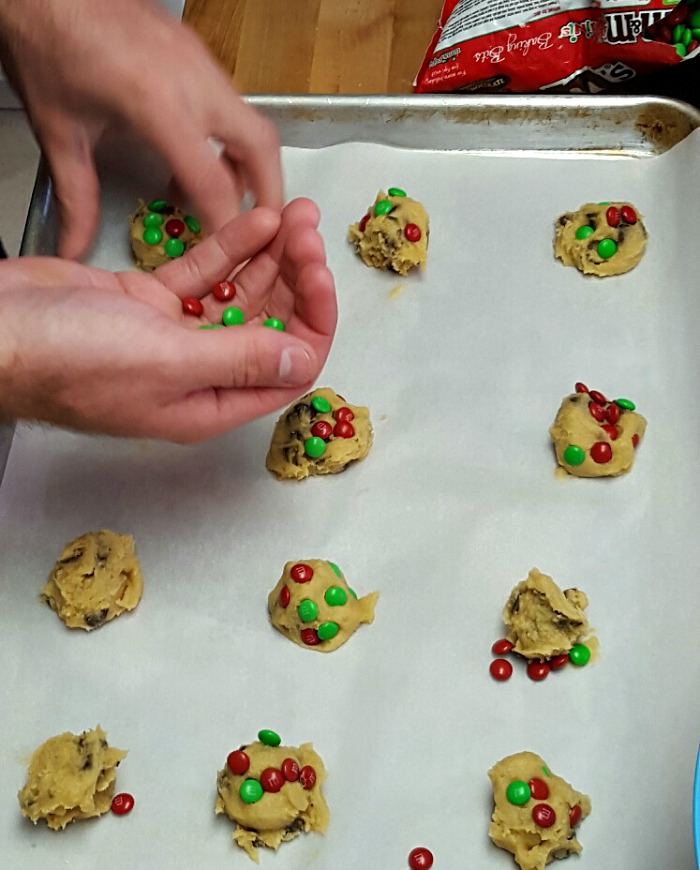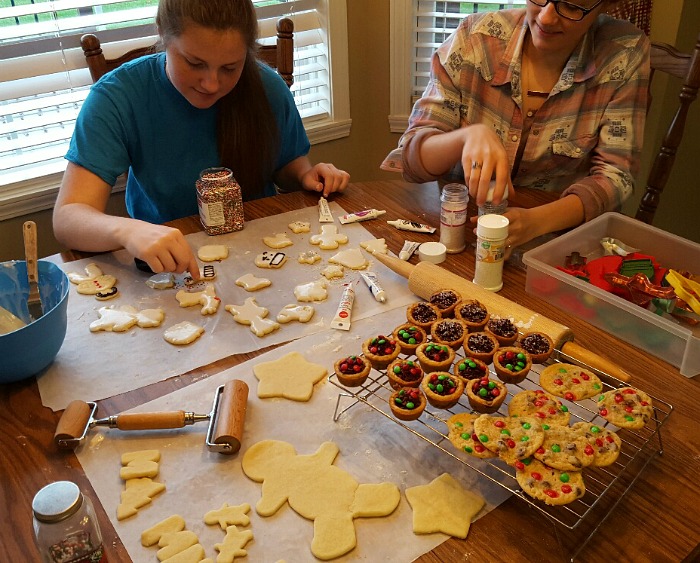 4. We gathered our supplies for packaging up the cookies…..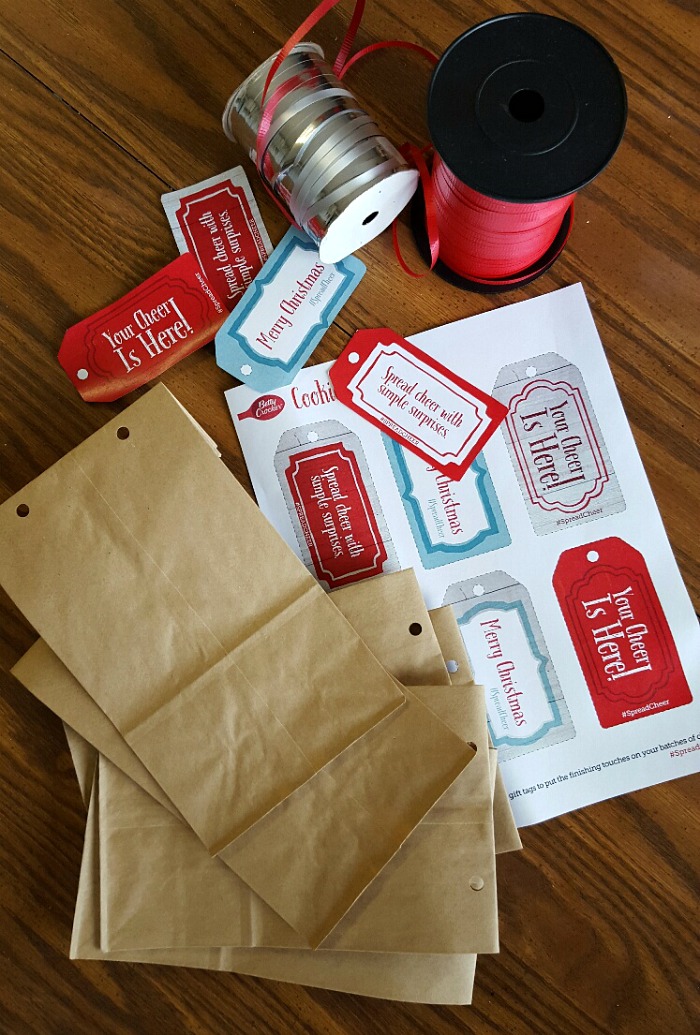 You can use virtually anything to package up the cookies; cello bags, mason jars, gift baskets, etc.   We used Ziploc bags to keep each of the cookies separate from each other. 
I wanted the presentation to be as simple as possible and decided to punch holes in paper lunch bags, tied ribbon through to create a handle…… just to make it easier to loop around a door knob.
For the tag I used these free printable gift tags! They are so cute and make gift giving that much easier.
Did I mention that they are FREE?! 😉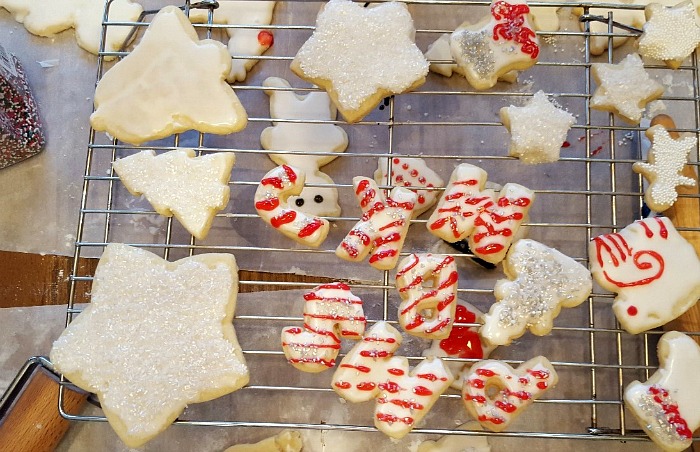 We chose two of our immediate neighbors to #SpreadCheer to first……
The first has 2 little girls that we absolutely adore, and the second are neighbors who are really like a 2nd set of grandparents to my children.   They have suffered some serious medical issues this past year, and we try to put a smile on their faces any chance we get.
The rest of the goodies were boxed up so that M1 and M2 could take them to school with them to #SpreadCheer throughout the halls of their high school!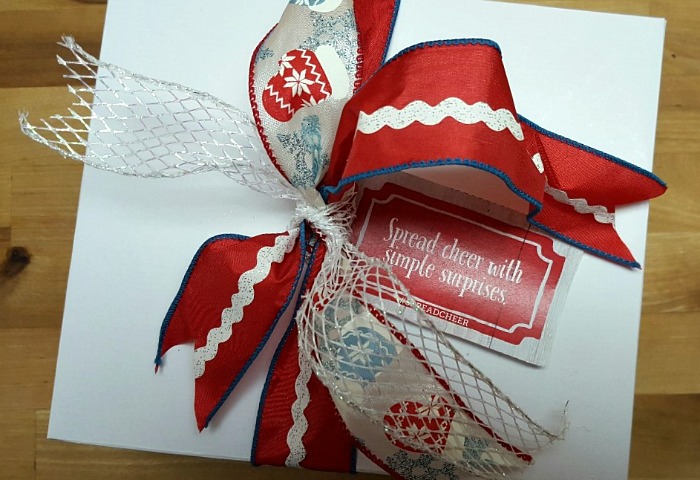 Did I tell you that the girls have the same first name?
So let me remind you what your challenge is ……
For the next 6 weeks spread as much cheer as you possibly can in your community!
Make it FUN!
Bake up those sweet treats using some amazing Betty Crocker products and drop them off at someone's house or place of business.   
Don't forget to:
• Download the $0.50 coupon to save $$$ on your Betty Crocker Cookie Mixes.
• If you need recipe ideas or inspiration….head on over here!
• Print out these adorable free gift tags!
• Capture the moment with a photo, tag it on social media with #SpreadCheer and keep the fun going throughout the Holiday Season!
To help you get started, I am giving away a $25 Amazon Gift Card.  This can buy a lot of cookie supplies!!!
To enter just follow the Rafflecopter link below, and don't forget to leave a comment telling me your favorite cookie recipe OR idea you found over at Betty Crocker!
a Rafflecopter giveaway

I almost forgot to tell you my favorite part of our personal #SpreadCheer project….
We all left to watch K play in a hockey game (2 separate cars), and when we got back we had our own paper bag of goodies on our doorstep.  M "squared" must have circled back to give us a little cheer of our very own! Here is the note they wrote on the back: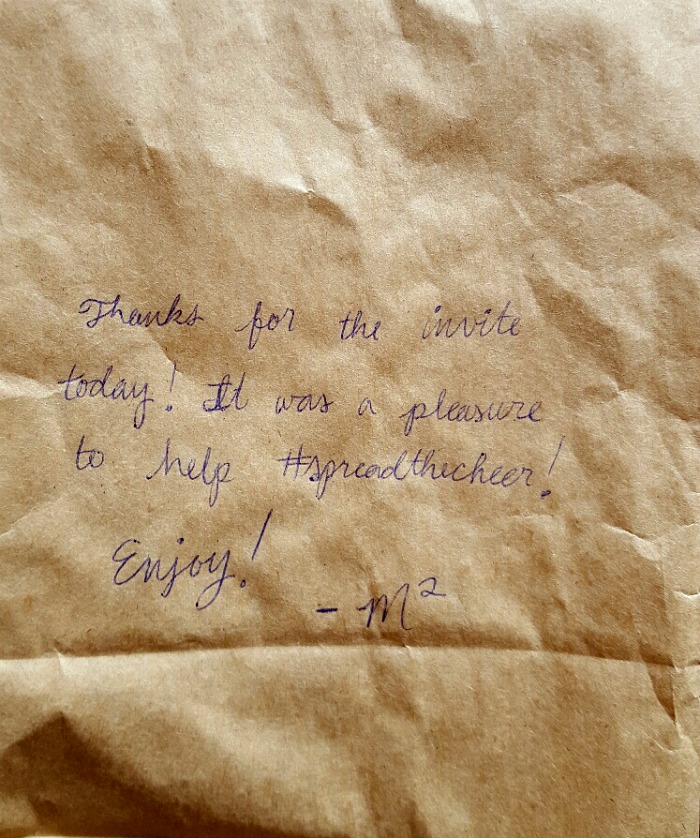 I adore these 2 girls……and hope they come bake cookies with me soon! 😉