I hope you all had an amazing weekend! 
Do you ever have a weekend where you just putter around, doing a little of this and a little of that?  This was my weekend!
I worked out in the yard for a few minutes, as I quickly realized I didn't have any yard bags…..and was too lazy to drive to the store and buy more! 😉
In the meantime, please excuse the pile of yard clippings in my front landscaping beds!
I think the highlight was taking Rudy for a drive through Houston Woods so that he could become acclimated to his new booster seat!    I have long since retired the children car and booster seats to now having a car riddled with a dog seat!! 😉  
The benefits are huge though….as he can stick his head out the window without being on our laps (the seat has an additional clip to attach to his collar so that he can't jump out the car window)!
Anyway……my ramblings over the weekend and Rudy are not why you are here today!!!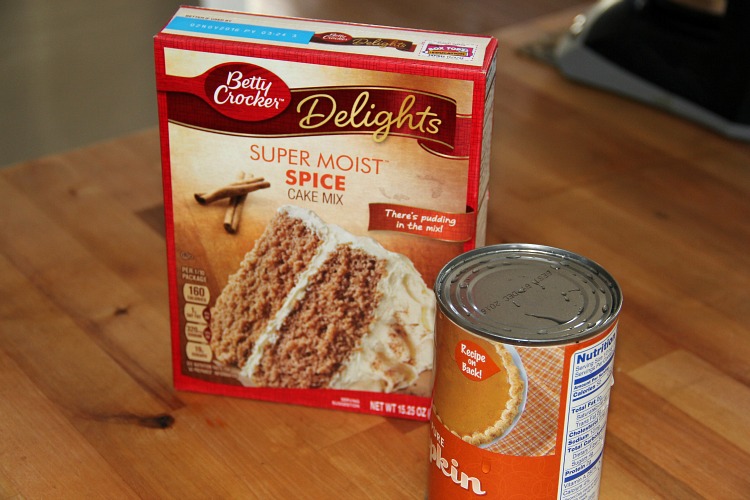 My puttering including making these amazing Two Ingredient Pumpkin Muffin Bites! 
OMG….these are so quick, easy and good! 
Who knew that you could just dump a can of pumpkin puree into a box of cake mix and call it a day?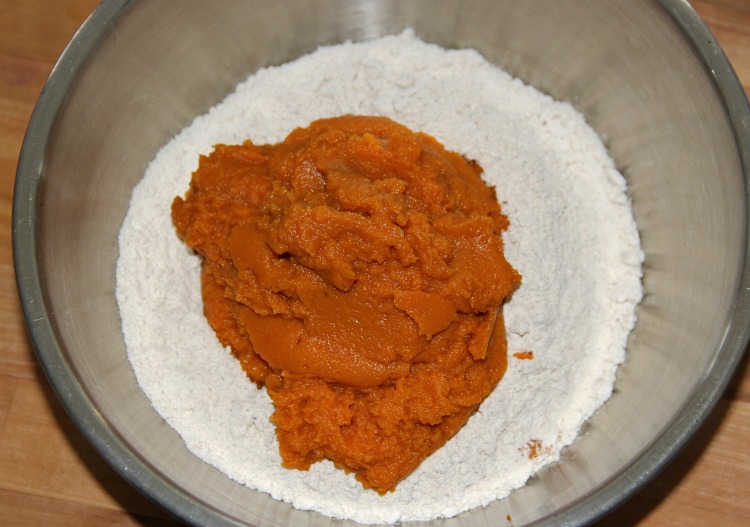 BTW……I never proclaimed that these would be healthy….we are using a cake mix as the main ingredient!  😉
I first saw this idea on Salvage Sister and Mister…. they got the idea from someone else, who got the idea from someone…..so on and so forth!  With the internet these days, you may never know who the original curator is!  Sad, but true!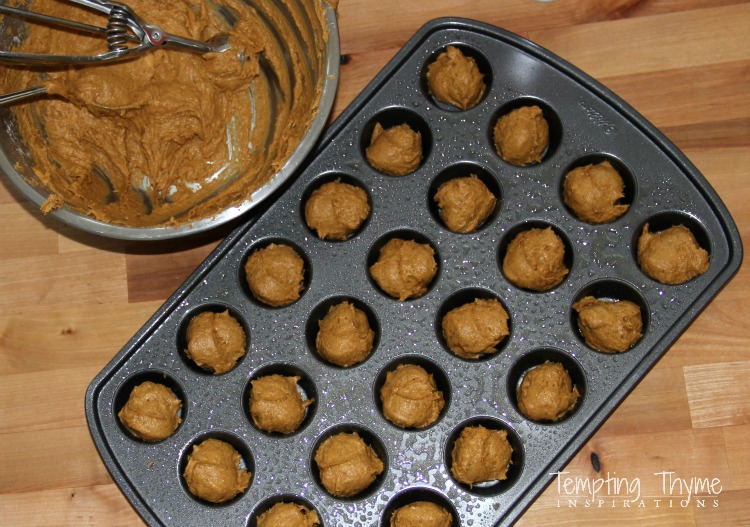 They used a yellow cake mix and added in their own spices.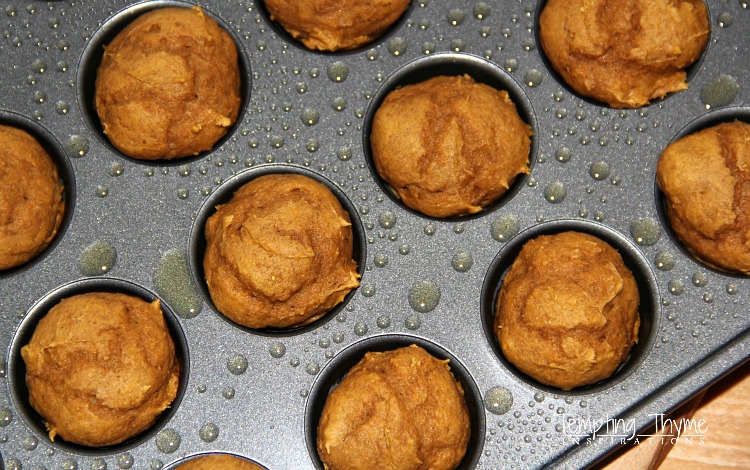 I took the easy way out and just bought a spice cake mix! 
I used Betty Crocker's new Super Moist Spice Cake Mix, because……
A) Super Moist has to be better, right?…..and B) It was 10 for 10 at my local Kroger's this week! 
Love things on sale!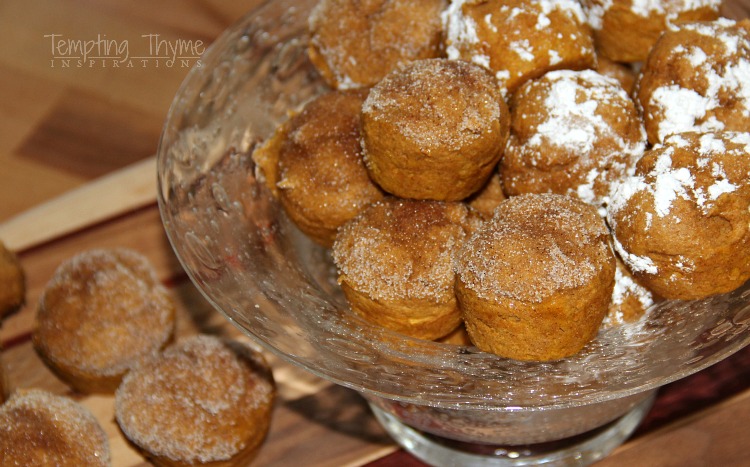 And NO…..I did not buy 10 cake mixes. 
Thankfully, Kroger's does not make you buy 10 to get the sale price of $1 apiece!
I did buy 2 though, as I knew these would be so good that I will have to make them our Thanksgiving company!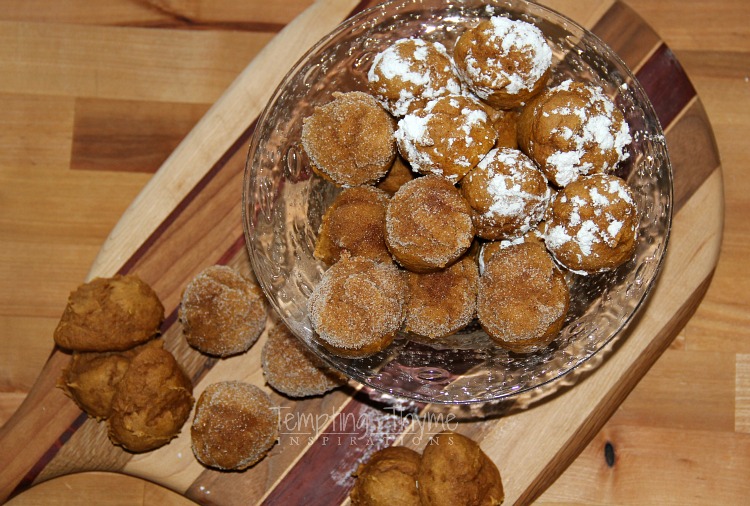 A few thoughts on these Pumpkin Muffin Bites…..
I love using my muffin scoop for uniform sized muffins and cupcakes.  I have a small, medium and large and they can be used for baking, ice cream, and I have even used them to form meatballs!
The optional toppings are not necessary!  I love that these are not too sweet, but if you want to turn these into a mini "donut drop" versus a muffin bite, then by all means add on the toppings to sweeten it up a bit. 
Speaking of donuts….if you have a donut pan, then this batter would be perfect to create a healthier (remember, we are using a cake mix) baked donut!
Who knew that you could bake without using eggs……awesome!!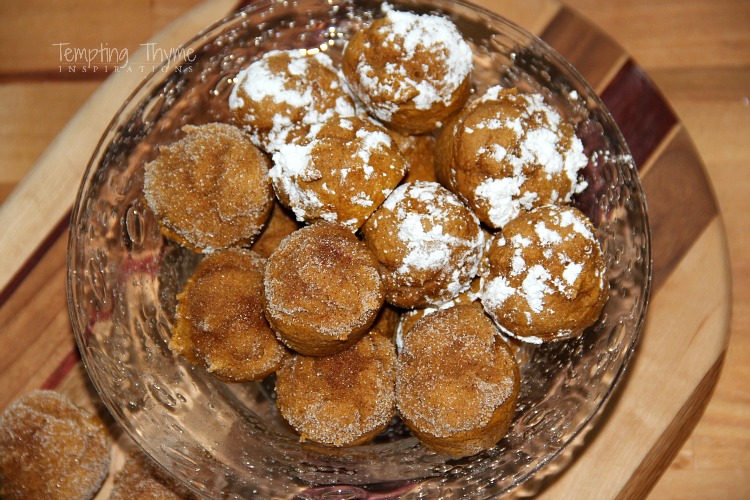 Have a wonderful week!!!
                                       

  Shaunna
Two Ingredient Pumpkin Muffin Bites
This is one of the easiest pumpkin muffin recipe's you will ever make. Doesn't get any better than two ingredients!
Ingredients:
1 (15½ oz) can of Pumpkin Puree
1 (15.25 oz) Spice Cake Mix
Optional Toppings: Powdered Sugar, Cinnamon Sugar
Directions:
Preheat the oven to 350 degrees. Spray a 24 mini muffin pan with baking spray; set aside.
In a medium bowl, gently mix the pumpkin puree and spice cake mix until thoroughly combined.
Spoon the batter into the prepared pan using either a small muffin scoop or the equivalent of 2 teaspoons of batter.
Bake the muffin bites for 9-11 minutes, or until a toothpick comes out clean from the center of a muffin. Remove the pan from the oven and place on a wire rack to cool. Store the Pumpkin Muffin Bites in a sealed container for 2-3 days.
Optional: If you prefer to "dress" up your pumpkin muffin bites, you can either sprinkle some powdered sugar over them, or you can brush a little melted butter over the tops and dunk them in a small bowl of cinnamon sugar. If you do add the toppings, then make sure you do so right before serving.
Two Ingredient Pumpkin Muffin Bites slightly adapted from

Salvage Sister and Mister

!
**This post contains affiliate links……