Happy Tuesday!! I hope that you were able to jump the sluggish hurdle we all call Monday, and the rest of the week is smooth sailing for you!
I took a very quick…. fun filled….. trip to Greenville, SC with my Mom last weekend.
We arrived "wet" at my sister's doorstep Friday night, and left "wet" Sunday morning.
Like I said….a very quick trip!
The scope of the trip was to attend the Notre Dame-Clemson football game, but it was also my sister's birthday!! I won't tell you how old she is, BUT I do like to remind her that she will always be older than me. 😉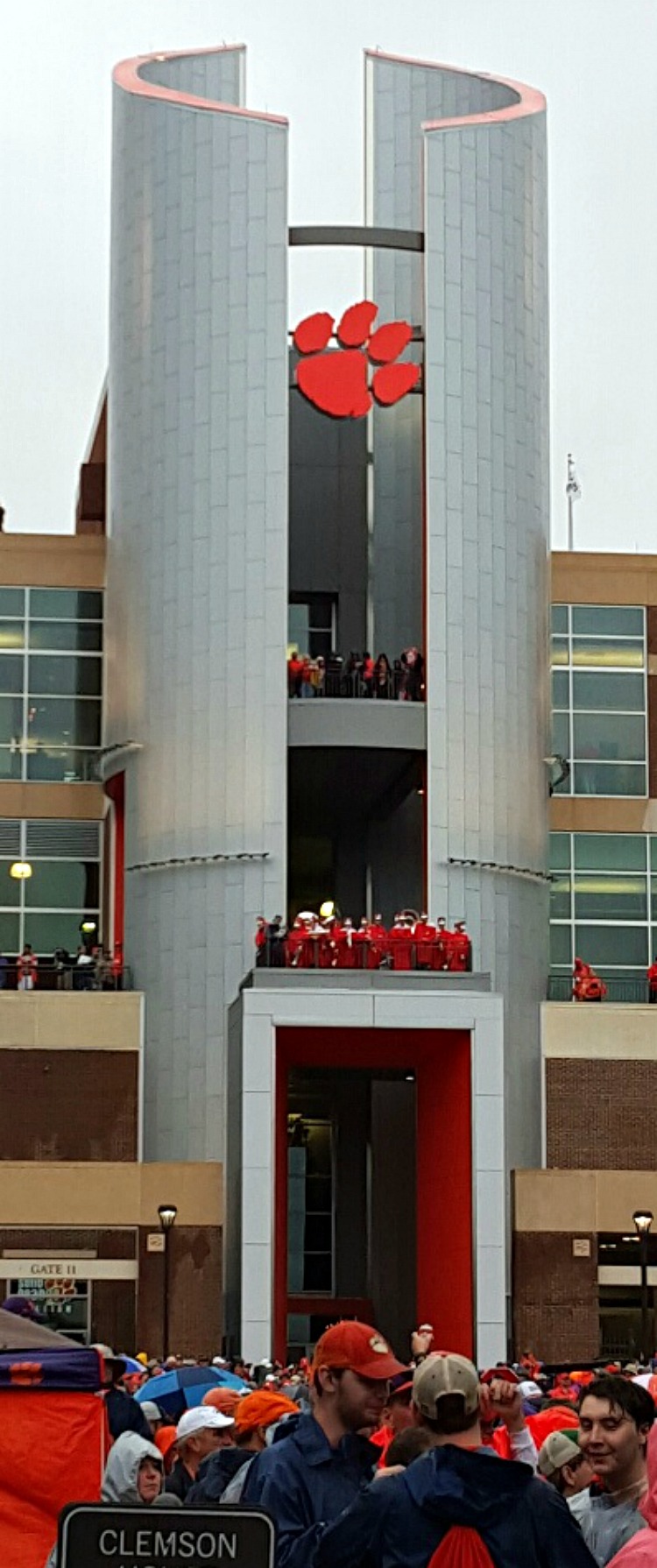 My nephew hit it out of the park with this gold bracelet!! Engraved on the top are the latitude longitude coordinates for his birth.  What an amazing gift for my sister!! 
Hint, hint to my boys!! 😉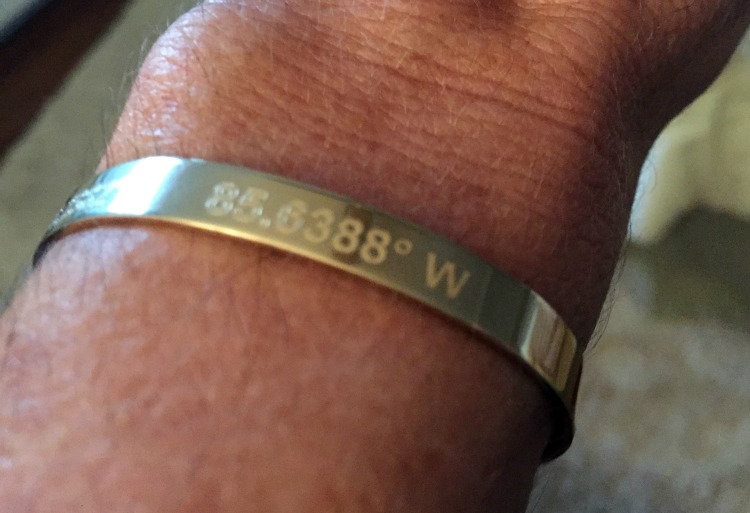 He told me he bought it from a website called Lat & Lo!  Ever heard of them before?
What did I mean by "wet"???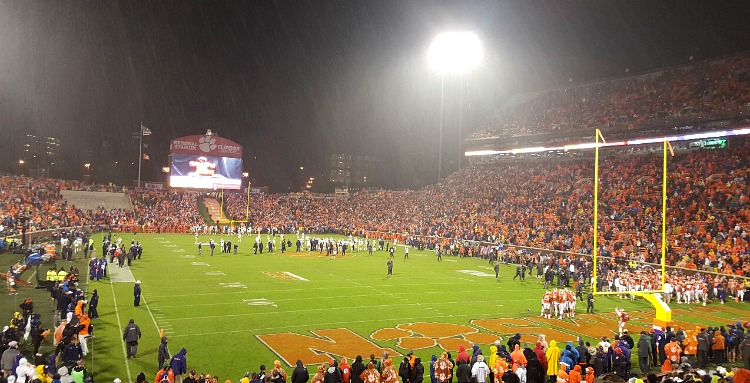 It never stopped raining!
I was looking forward to strolling through downtown Greenville on Saturday morning, taking in all of the great sights and sounds of this eclectic city!
Disappointed, but definitely all good…..I will just make another trip down there…preferably in the summer!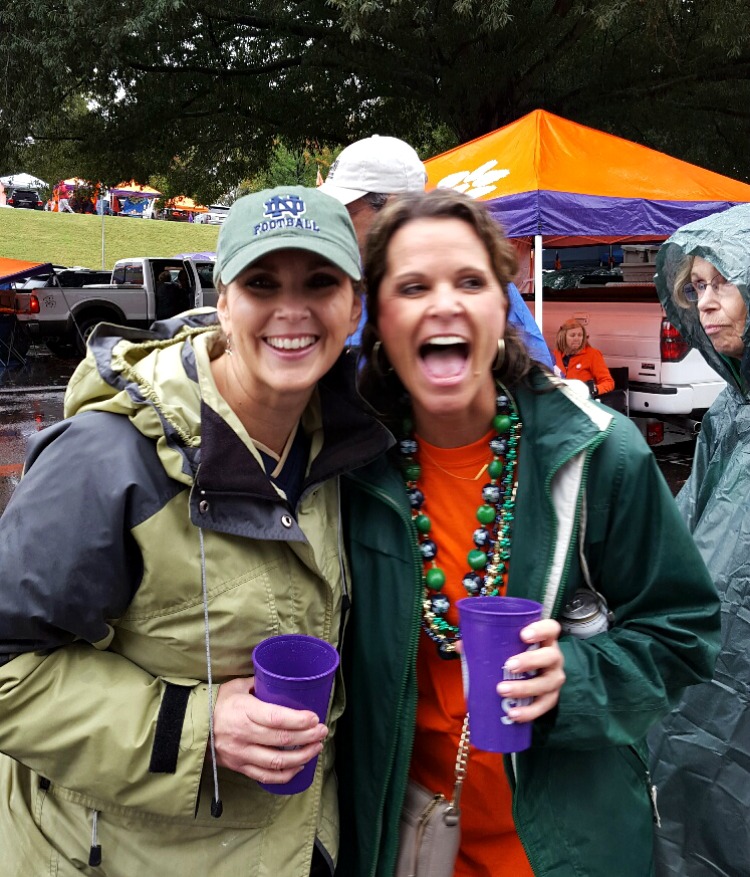 The one thing we all learned….take the family shot the minute you all walk in the door.  
I sent my nephews a text asking them to send me any photos that they took.  W may have taken some photos, but the rain destroyed his phone during the game…..and I don't think M took any at all.
Who doesn't get a family shot when they haven't seen each other in months (or in my nephew's case, years)???
The pictures you see are the only ones that I could round-up.  ;(
Pitiful!!  Can you see my Mom peaking through on the right hand side of the photo above?
BTW…..I get the best sister/daughter award, as I stood in the pouring rain for tailgating AND the entire game…..and I could have cared less who won!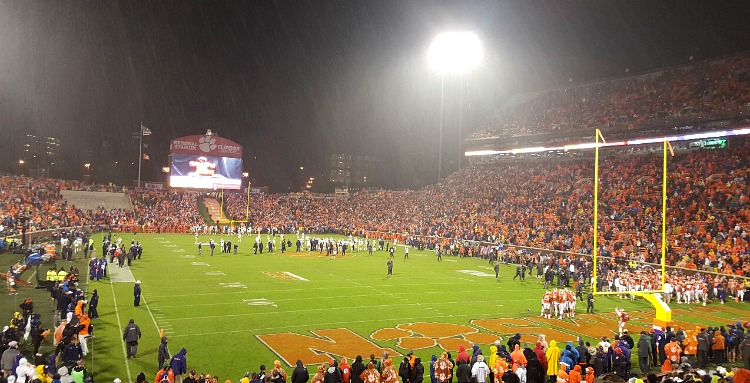 My take on the game?

Clemson rules on being the loudest game that I have ever attended (kudos to all of the fans who never sat down and never shut up). Having zero dog in the fight allowed me to have fun, without a care in the world!  😉

Now that I have had a week to dry out……

I am definitely going to make these Mini Caramel Apple Bites.  So cute, and totally FUN!
This article from Shauna Niequist really hit home—–> Why it Doesn't Matter How You Feel about Your Friends!

Love her name…..spelled a little different, but it all sounds the same!!
This is still my new favorite snack!!

I love this simple centerpiece of white pumpkins. I have 2 iron baskets that were destined for charity….so glad that I finally figured out how to use them!
This is what popped up in google when I typed in "scenic drive from Oxford to Clemson".    OMG….I want a pair of these Purdue shoes.   Shouldn't my question be….how did google come up with that one! LOL!
I learned about Aging Dust from the Little House of Four.   I can't wait to use it on some furniture pieces and signs.  
Did you notice that she made a vintage sign out of foam board?   Crazy coolness for very little money!!
To end this round-up of Bits and Bytes, I think we all need to rethink what is "perfect".
What do you think our lives would be like if we stopped striving for someone else's perfect?
                                                     Shaunna