I had a "first" a few weeks ago, when I attended Miami Universities annual auction. 
We have lived here for just about 16 years, and I have never gone. 
I know…..get out of here!!!!  What took me sooooo long?? 
I think I originally thought it was just a place for them to get rid of all the bikes that students leave behind, or computers and filing cabinets that have gotten to old.  Then I was told that they have other fabulous stuff there like tables, chairs, memorabilia, cars, trucks, kitchen equipment……..and I kept forgetting to go!  The only reason I knew about it this year is that our copier was being repaired a couple of days prior and the repair guy mentioned that he was popping into Millett Hall on his way back to the office to see what Miami was bringing in.
First of all……Miami needs to do a better job advertising it so that people like me can plan on attending!!!
Second of all…..Miami needs to continue not advertising it so that more people like me can't show up!! 😉
Can you believe I actually convinced PT to go with me?  What a good sport he was!!  I had followed Mr. "repair guys" footsteps and made a beeline to Millett (MU's basketball arena) to see if it was even worth the trouble.  I had no idea what to expect…..was just happy to snoop around to see if I wanted to come back the next morning for the bidding.  I was definitely not expecting this…..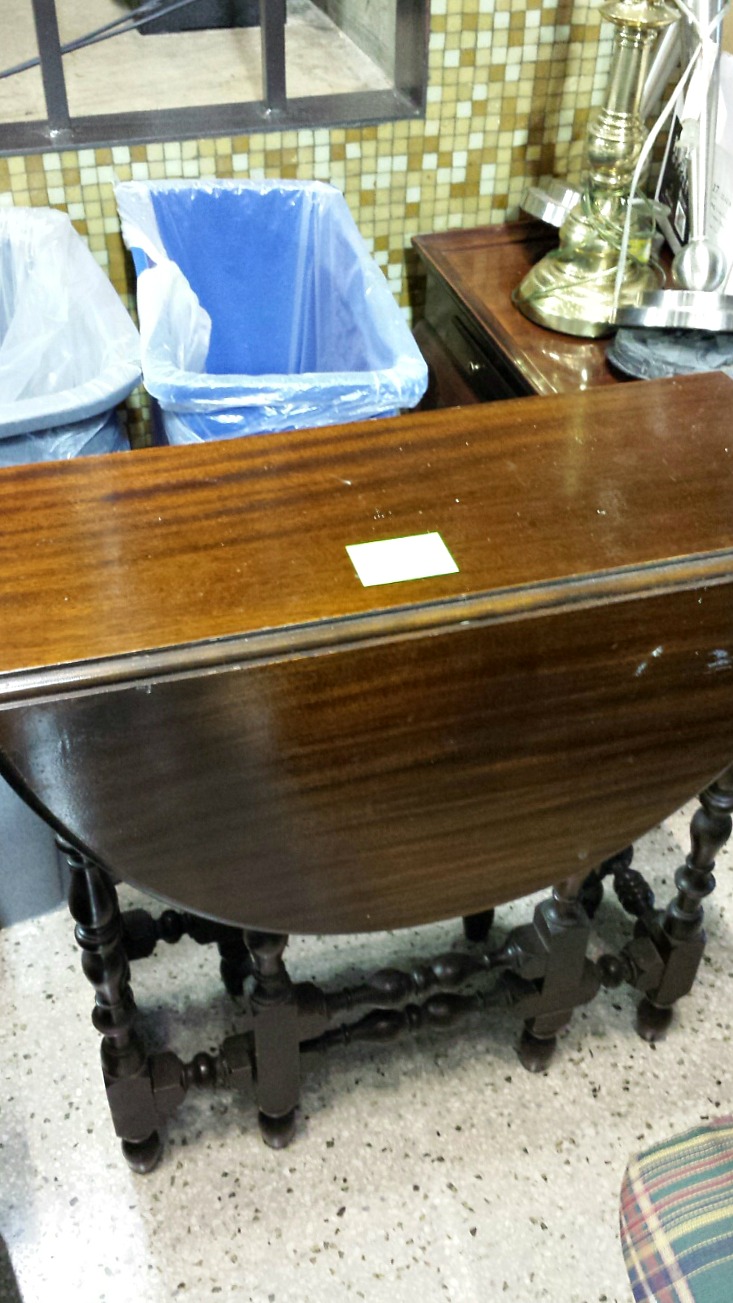 Or this really cool looking green headboard…..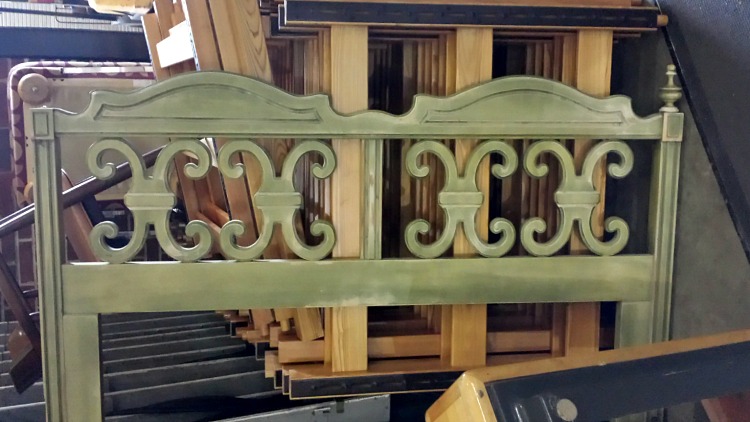 With its matching green dresser on the opposite side of the gym!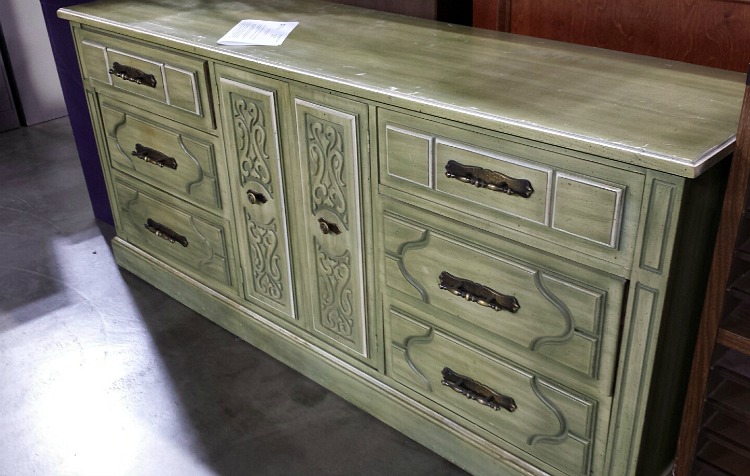 I can tell you that I was NOT expecting to find cool looking furniture there!
I can see some of the tables occupying space in the President's, or even a Dean's office, but to see an ornate headboard with matching dresser and armoire (which I didn't get a picture of) blew me away!
This is the table that I wanted very badly……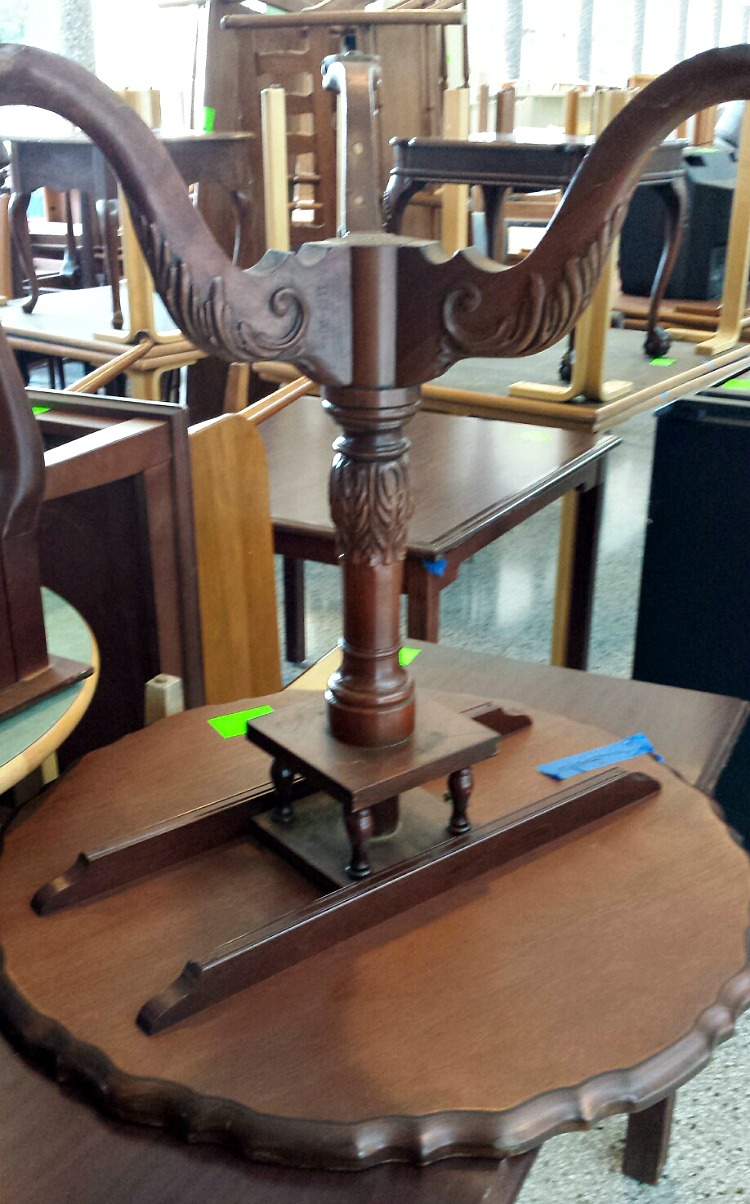 ……which I lost out on as I wasn't willing to go past $55.   ;(

I know it is hard to see the detail since it is upside down, but it is the perfect size to be utilized as an end table, but could also be used as a bar cart in a corner of a dining room.  I don't know what I would have done with it….I just loved the intricate scroll work along the table edge!
This is the table that I won, but had to pay $95 for it, as the auctioneer decided to run a bidder's choice on a dozen tables.  I had to ask what that meant before joining in the bid. The person who places the highest bid gets their choice of the tables. 
OMG…..someone was going to pick this table (as it was the best one out of the bunch) and I was going to lose again!!!!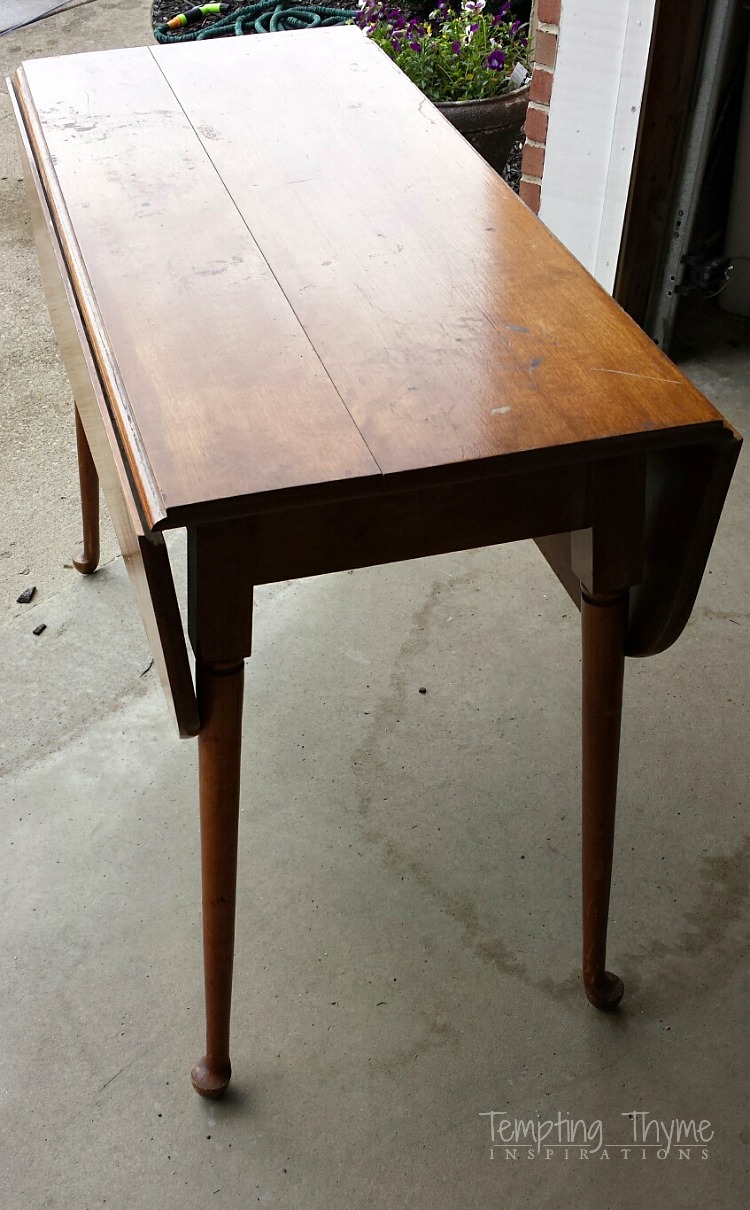 I can't tell you if I went that high because I really wanted the table or if it was the thrill of being part of the bid process; but I have to tell you that I got a huge high from holding my bid card up and nodding my head in acceptance.  Thank the Lord my competitor backed out at $95, as I only had $100 with me.  Well played Mr. Auctioneer!!
How much did these other tables go for?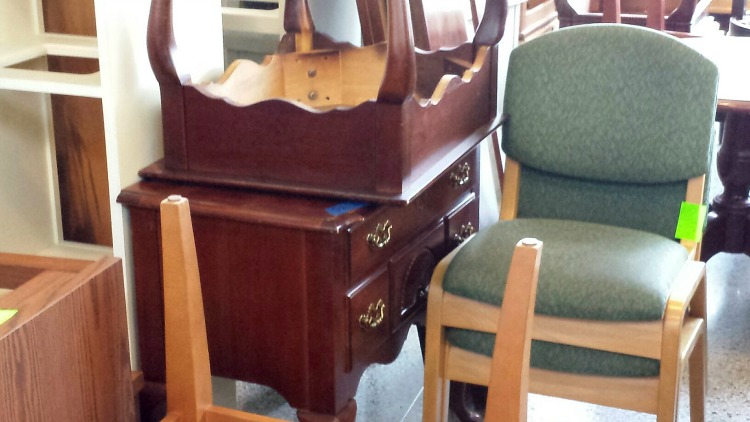 Anywhere from $2-$40. 
I will repeat this with a huge smile on my face.  😉  I tip my hat to you Doug Ross Auctioneers….well played!!

I also was able to purchase these 2 rolling metal filing cabinets for $1 each.  They held cash registers on them (no I did not bid on those), have no idea what I will do with them, but for $2 total I figured I had nothing to lose.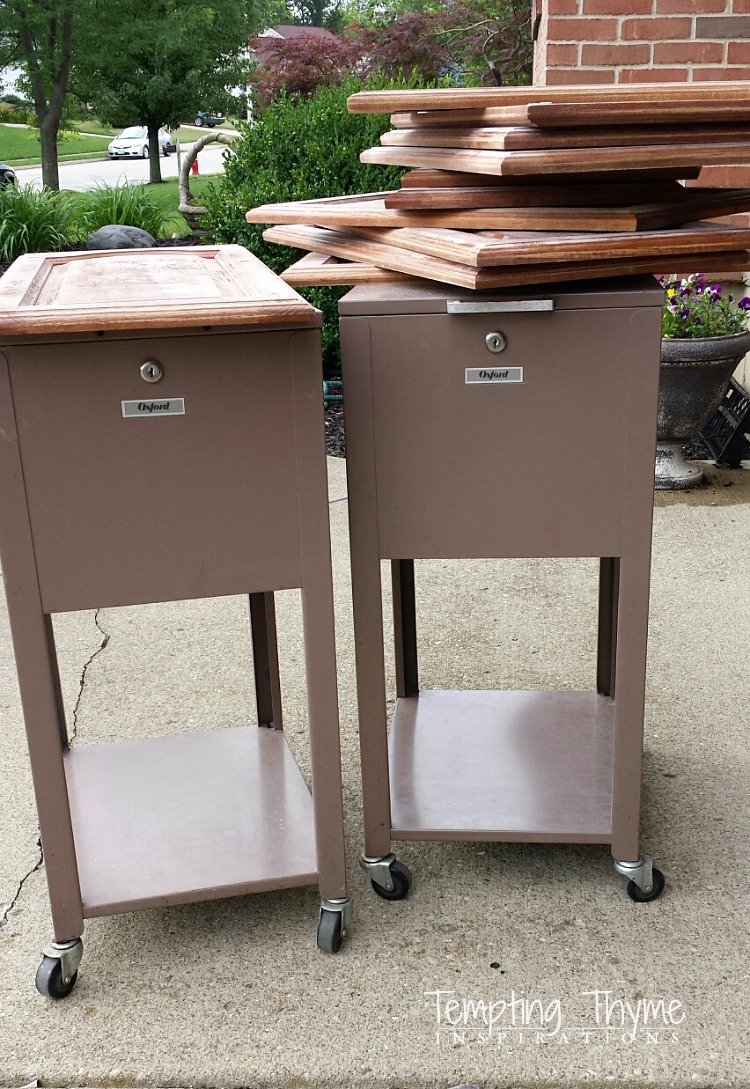 Until I come up with a plan…..they were a godsend holding all of the cabinet doors waiting for a thorough washing, sanding and fresh paint!
At this point in time, I only had $3 left, and it was only 11am.  The place was packed with merchandise to auction off, with no idea when they would actually get to the green furniture and this little beauty…..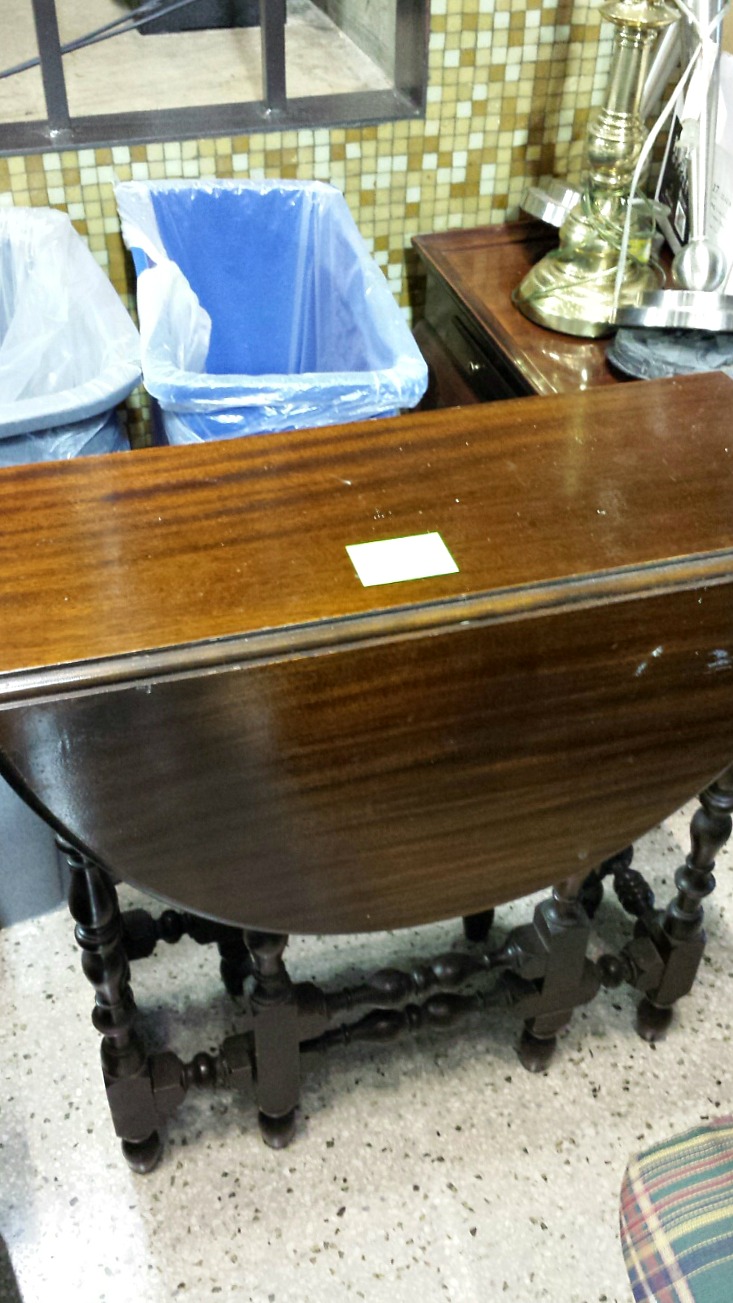 It was time to pack it in and get our my treasures home.
After making my first trip to this unique auction, I do believe I will be attending again. 
Next year I will have a little bit more cash….. an ipod to listen to some great music, and a book to read while I am killing time waiting for that special something something to come up for bid!
Are you a lover or a hater of auctions? 
Know of any good one's around the Cincinnati area?
Have a great weekend everyone!!
                     

          Shaunna