I hope your week has started off smooth and easy!
While I try to wade through the mess called mini "kitchen facelift", I thought I would share a few pictures of our dining room.  A dining room that very rarely gets used…. is usually a dumping ground for whatever household project I am tackling…..but a dining room none the less. 😉
I am using this same principle and technique to the kitchen cabinets that we used for the dining room crown molding when we moved into this home in '99. 
Let me rephrase that……
I told the builder that I wanted to add some small trim to the crown molding he had just installed…… went to Lowe's and bought the additional molding (called Cap Molding)…… and trusted him to install and paint it to my specifications.  We won't get into the fact that he only spaced it 1 1/4 inches from the crown molding bottom, and I asked for a 2 inch space.
I got over it pretty quickly!!! 😉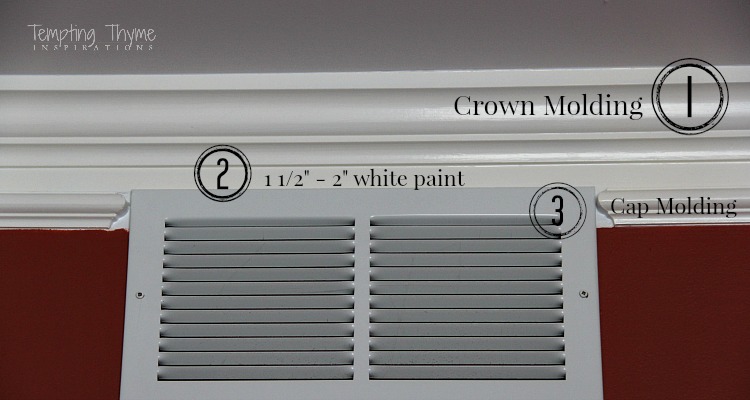 This little trick is not my own creation, but one that I picked up from another builder down in Louisville while visiting my sister and her kids. 
We were walking through some of the open houses in her neighborhood, and if memory serves me correct, she was actually helping a few of them with the decorating choices in the fixtures and materials that they were planning to use.  I could be wrong on that fact though! 
I commented on all of the fabulous crown molding, and she told me to take a closer look.  I am telling you that I had to really focus on it, as they did a phenomenal job…… they tricked us by using a smaller piece of trim, spaced 2 ½" – 3" underneath the crown molding, and PAINTED the section in between with the same color of trim paint.
The paint and small trim gave the crown molding the illusion of it being one fabulous bulky piece of crown molding!!
I loved it!!
I loved it so much that I asked my neighbor at the time to help me install some in our existing house. 
At that time, I had no idea what I was doing and was scared to death of any type of construction tools. 
Now I still have no idea what I am doing…..but am pretty good at faking it 😉 …… and I am definitely not afraid of these fabulous construction tools!!
Then we moved to the "Little O", and I wanted big, bulky crown molding again!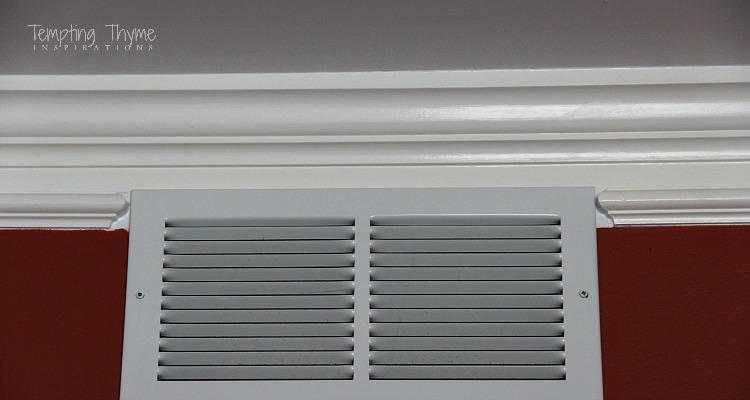 Our builder (I really shouldn't call him our builder, as we bought the house when it was 7/8 completed and we didn't get to choose many of the materials used within it) was very skeptical and could not see the vision; but he was definitely impressed after it was installed and all was painted. 
We won't discuss how much better it would look if he had actually listened to me and spaced the molding 2" apart! 😉
He liked it so much he started to use this trick in the houses he built after ours!!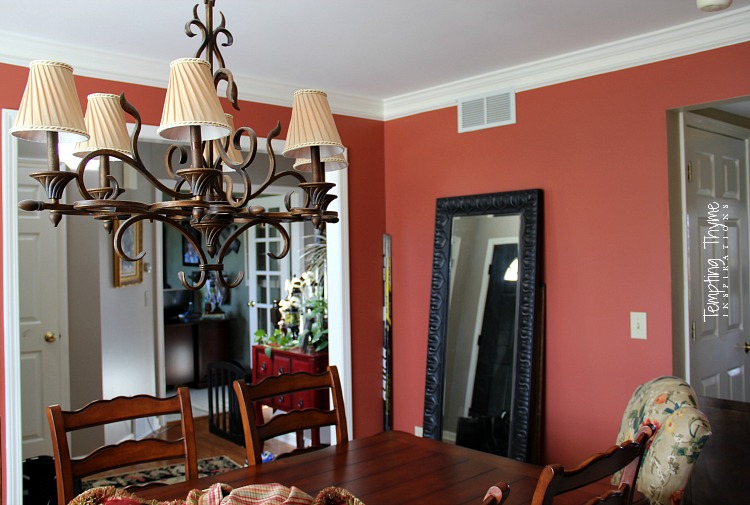 I don't think I have ever shown you our dining room before this! 
Even though it is kind of nice the way it is, I have big plans for this room.  The carpet needs to get ripped out, and a nice hardwood needs to get installed.  Rudy has demolished the carpet with his "accidents" and no matter how much we clean it, the stains keep seeping up.  This is why I made this doggy gate, but the stinker can still sometimes find a way in to do his business. Dang-it!!
Maybe we would use this room more if I wasn't so embarrassed by the carpet.  For food and parties that is…….not the project "hold all" that it is right now!
I also want to add in some wainscoting, similar to the board and batten, but not as tall and definitely more ornate.  With this, a fresh coat of paint and maybe even some curtains it could be even better than it is already. 😉
Someday!!!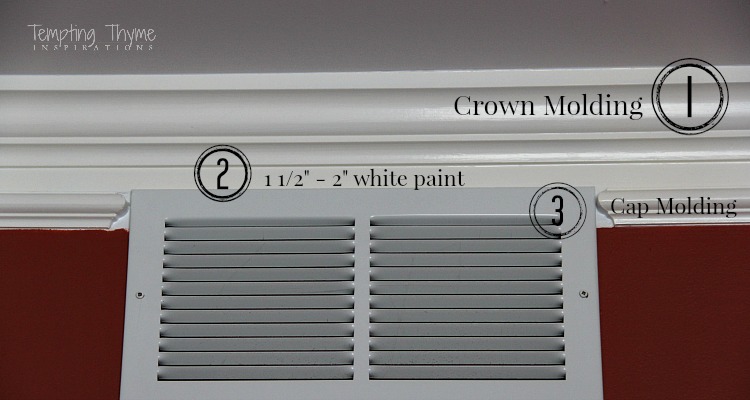 Have you seen this crown molding trick all over the internet, OR used it in your own home?
                                   

        Shaunna
**Clarification:  If you are using smaller crown molding like our builder did, then the space between should be between 1 1/2″- 2″.  If you already have a little beefy molding AND have tall ceilings (ours have only ever been 8 foot) then go with the 2 1/2″ – 3″ that the Louisville builders did.  Let your ceilings and existing molding be your guide!