I hope you all are having a great week and looking forward to the weekend that is just around the corner!
I can't wait for Friday night to roll around, as B is coming home for a visit. 
It is very strange not having him home this summer…… 
Reality likes to step in and slap me in the face every now and then, letting me know that my kids will truly be on their own soon.  So very proud of both of them, but gosh dang…….I do not think 'empty nest' will look its best on moi! 😉
Why don't I stop pouting, and let you all in on what has been going on in our household this past month. 
I finally bit the bullet with this project, which dominoed into our kitchen getting a face lift.  Not the sledgehammer, taking everything down to the studs kind of facelift…….but a small little something something that will hopefully brighten up the entire space.
I will be the first to admit that there truly wasn't actually anything wrong with our kitchen.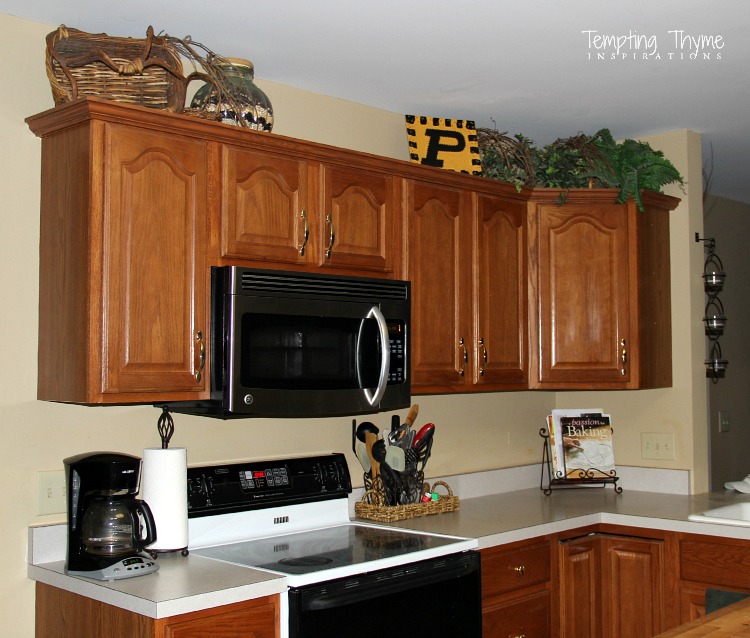 All except the white oven!  Now that is a problem!  😉
Nothing like it not matching the other stainless steel appliances.  I don't have to have everything matchy matchy, but geez louise I do want my appliances to match!  This will be fixed before long!!  YEAH!
I was just plain tired of the orange oak cabinets and felt it was ready for a change.  I also dreamed about having the cabinets extend all the way to the ceiling like these….
I can't say that I am a fan of the white back splash, but love everything else about this kitchen.
The countertops might be granite, but look a little like soapstone to me.  I really like the light cabinets, dark countertops and medium tone wood floors.  This to me is very classic.
Here are a few more that truly did inspire me to purchase lumber to frame out the space above our cabinets……
Look at all the additional space they have for storage, and for displaying special knick knacks!  Loving the wide planked floor!
I can't say that I want my dining room table in my kitchen, but I still drool over the tall cabinets!  Now that I think about it…..something is very familiar about that table.   Give me a second!    LOL!!   I knew it……. that looks just like our dining room table and chairs minus the ruffled cushion.  😉  Small world!!
All of the cabinets do not extend to the ceiling, but enough of them do which adds interesting layers to this kitchen!  Look at the feet on the cabinets……. I will definitely be adding some of these to our kitchen.
Although P has no problem with me tackling the kitchen, he does have a small problem with my vision.  He can't see me building the framework and doors on top of our existing cabinets.  I have tried showing him pictures, but he would rather see the interesting layers like the kitchen above.  Maybe also like this one….
Have to hand it to him….he picked a winner!  I could move right into this kitchen.  LOVE IT!
Looks like they added the height to the molding to beef them up a bit and make them more pronounced.
This cabinet molding is really exaggerated and beefy looking.  If these cabinets were stained a deep brown, I think the molding would look too heavy, but with them painted white they are able to pull it off.
I can't seem to get away from the cabinet on top of a cabinet!  😉  

Don't you think it would be a piece of cake to frame this out on top of ours???? 

I am also intrigued by the cabinet above the fridge. 

The doors on the cabinet we just installed do not match the other upper cabinets, and I am thinking of doing something like the photo above.  I could take the doors off of the old 'half cabinet' we took down and make half of it storage and the other half a display shelf.

I could also do something like this…….
Same idea as the previous cabinet, but instead of a shelf, they have added a wine rack.  Clever!!
I can't say that we drink wine, but this would be a wonderful way to store all the

vanilla extract

that I have been making!!
I think you can finally see the vision that I am after…….on a VERY tiny budget!
I almost forgot to give you the sneak peek on what has been consuming my life the past month!  Shame on me!  😉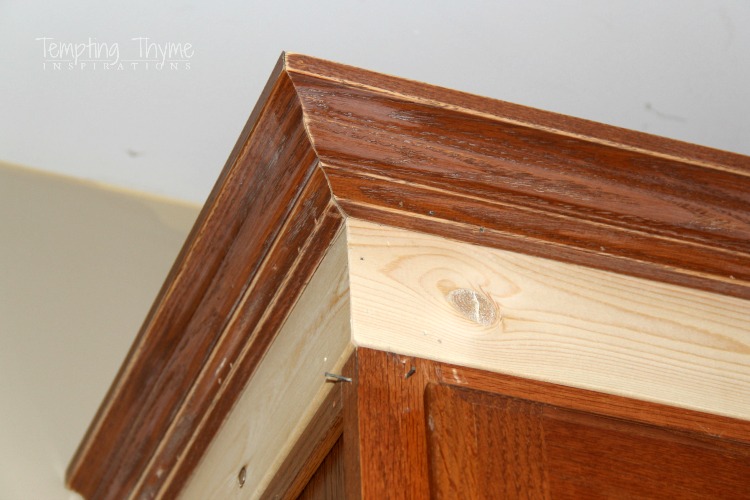 Can you tell whose vision one out????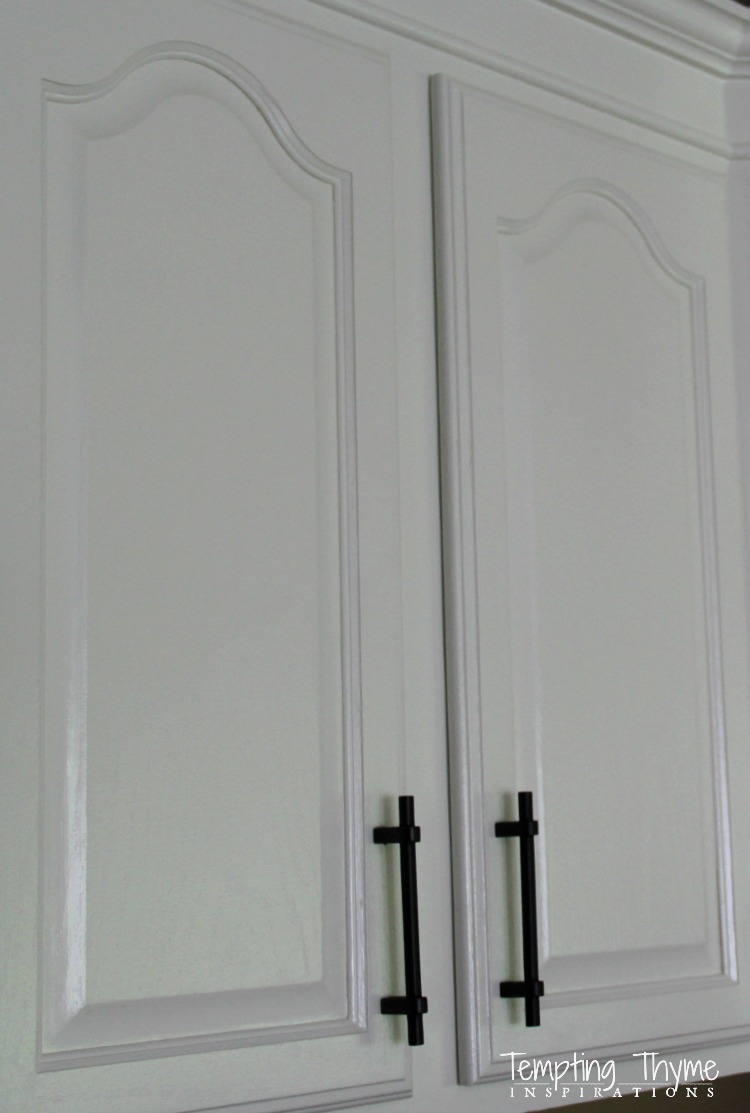 I can definitely see a light at the end of the tunnel!  😉
A few more moldings to be added with a couple of tweaks, and I will be ready to show you stage 1 of our kitchen 'facelift'!!
What have you done OR want to do in your kitchen????
                                     

                   Shaunna