If you happen to follow me on Instagram, then you will know that I have come across a couple of treasures lately just waiting for the trash man.  
I get so sad when I see perfectly good (some even beautiful) furniture sitting curbside. 🙁  
Seriously, why not take the time to call the local Resource Center, Amvets, and even Habitat for Humanity Restore??  
I believe all of them will come and pick it up from your house!!
I realize that wood does not have feelings……OR does it 😉 …… but it has to feel so unwanted, unloved and unworthy waiting to get crushed. 
OK, I will stop!  LOL!
Part of me is kidding around, but if I could bring everything I find home with me I would!! 
I just have one small problem. 
His name is PT, and he is already having a cow at the items that I am bringing home waiting to be refurbished.  With the remarks that he has been making lately I wouldn't be surprised if I came home from work one day to find that he either bought or leased a local barn or warehouse for me to tool around in. 
Now that would be awesome!!!!! 
I hope he finds a cool multi-level warehouse that could house a workroom in the back, an office/retreat on the second floor and then enough space to set up a small retail store up front.  I can't keep everything that I refinish……no matter how much I would want to.  😉
I would have the fun of bringing an item back to life, and then a fabulous person gets to take it home and love on it! 
Maybe I need to bring home even more gems…..give him that extra little push!!
In the meantime, here is the little table that I found in my neighbor's trash.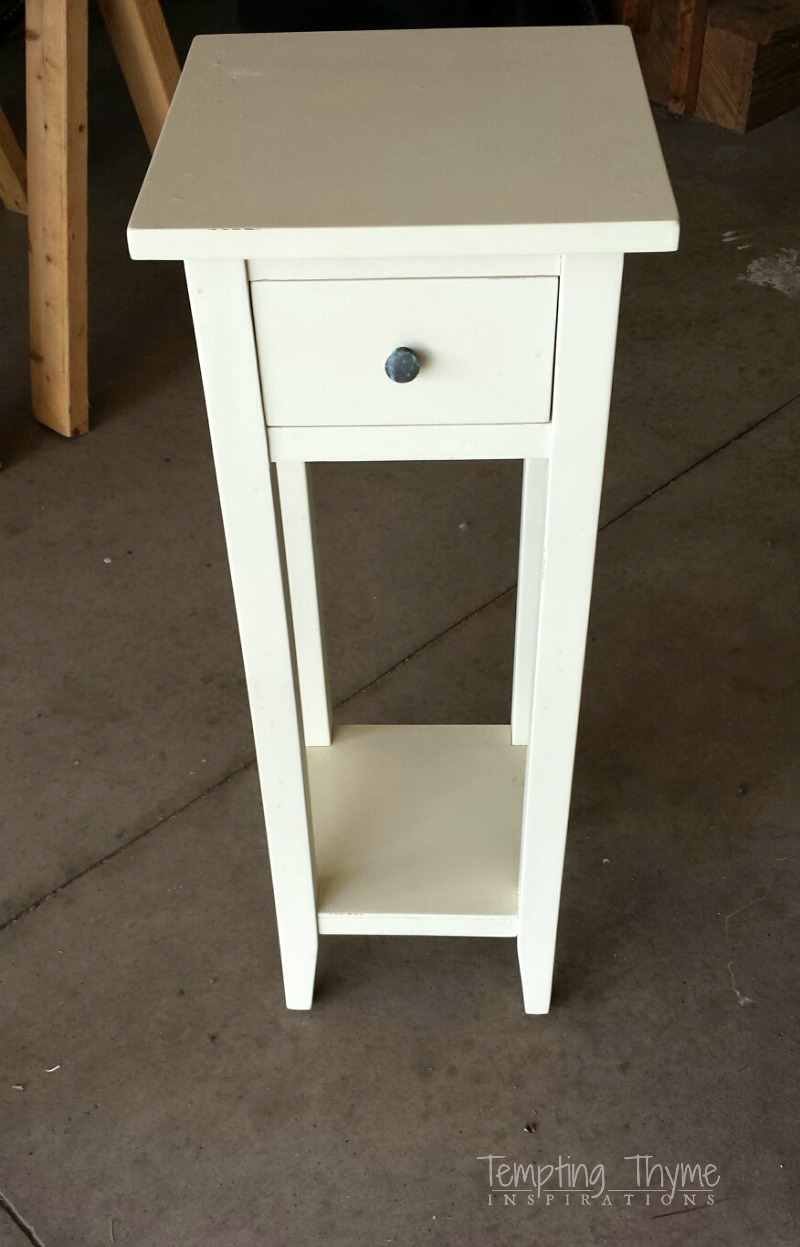 Before you say that is creepy, I will tell you that they are moving…..I am not friends with them….. and there are enough houses between us that they will have no idea it was me that drove right up and threw it into my back seat.   I passed it on my way home from work, did a little u-turn, and snagged it right up. 
It was in pristine condition!  Sticker on the bottom said that it came from Pier One, and even had some extra (unopened) knobs in the drawer.  I could have sanitized it and brought it right into the house.
But that wouldn't be any fun, right??
I immediately knew what color I wanted this table to be.   I love the combination of red and turquoise (here is one of my favorite projects using these 2 colors), but this table is too small for both of these vibrant colors, so I settled on the turquoise.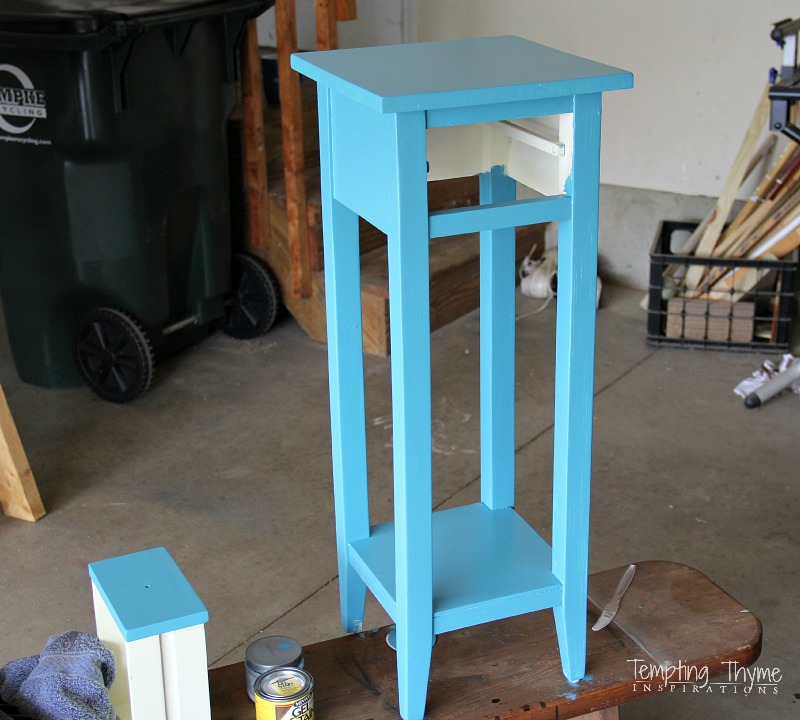 I prepped the table by giving it a good cleaning and sanding, wiping it down to make sure that there weren't any small dust/wood particles on the surface.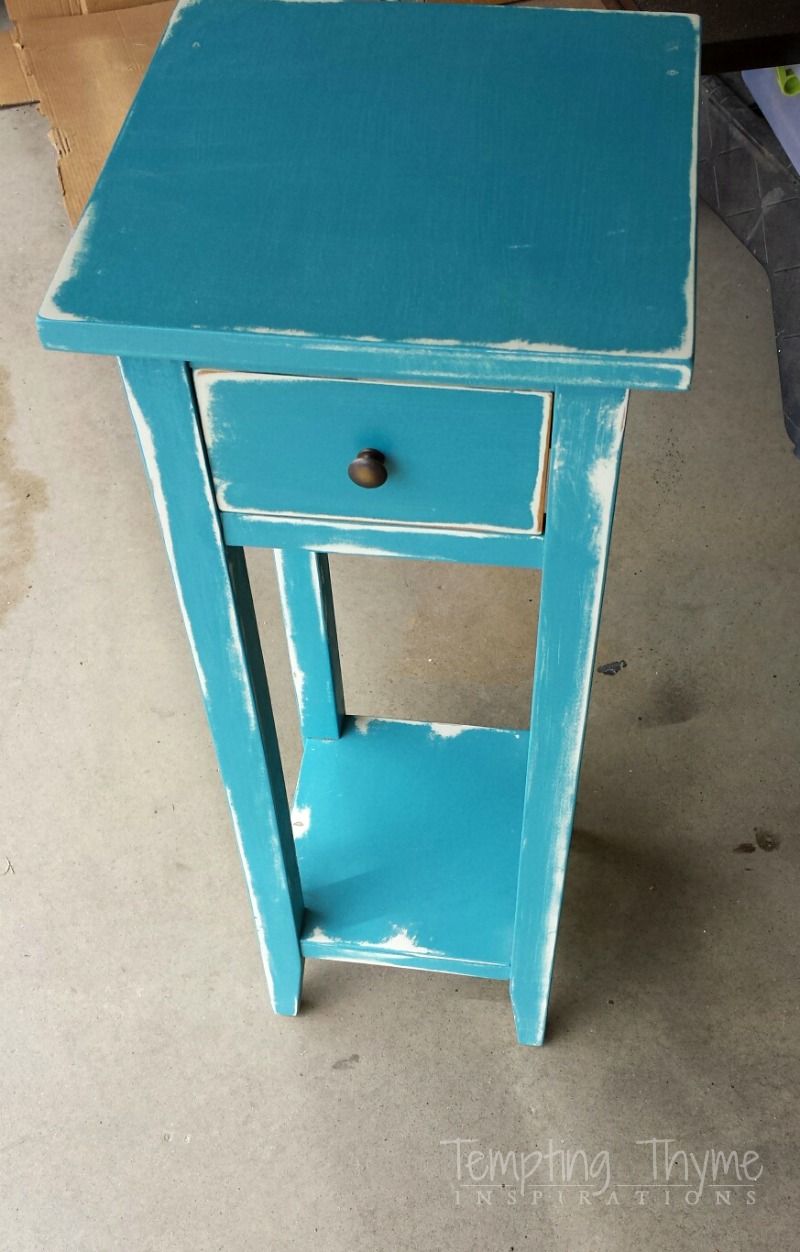 I had no intention of making this a "shabby" distressed table, but it had a life of its own once I started to lightly sand it after two coats of paint.  Maybe I shouldn't have used my electric sander!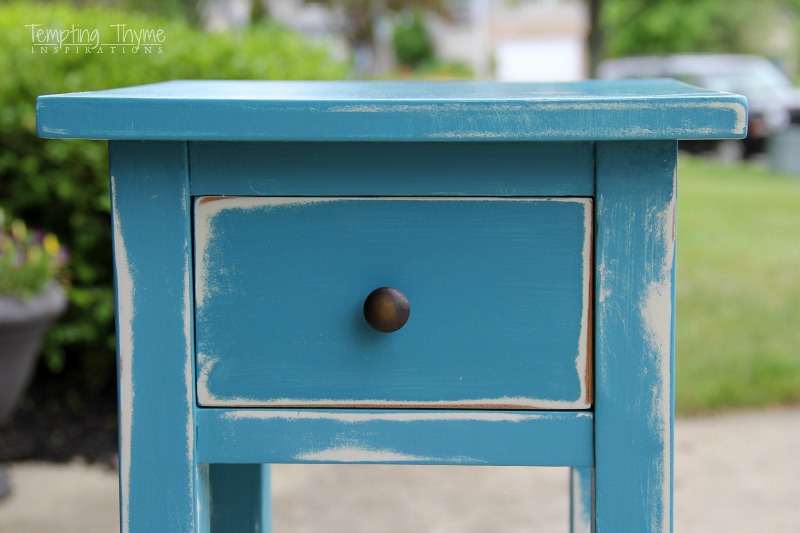 I finished it up with two light coats of Polycrylic, but only on the horizontal surfaces. 
I figured the legs really didn't need the protection, but as I don't quite know where this is going yet I didn't want to take any chances with it getting harmed if the boys dumped some change on it; or maybe even placed a sweaty drink on top.  I can guarantee that there will be some coaster's in that drawer, but I can't stand over them 100% of the time! 
I am not sold on the little knob, but for the short term I think it will have to do.  I might try to find a crystal or glass knob the next time I am down at Hobby Lobby.
Just to remind you of the 'BEFORE':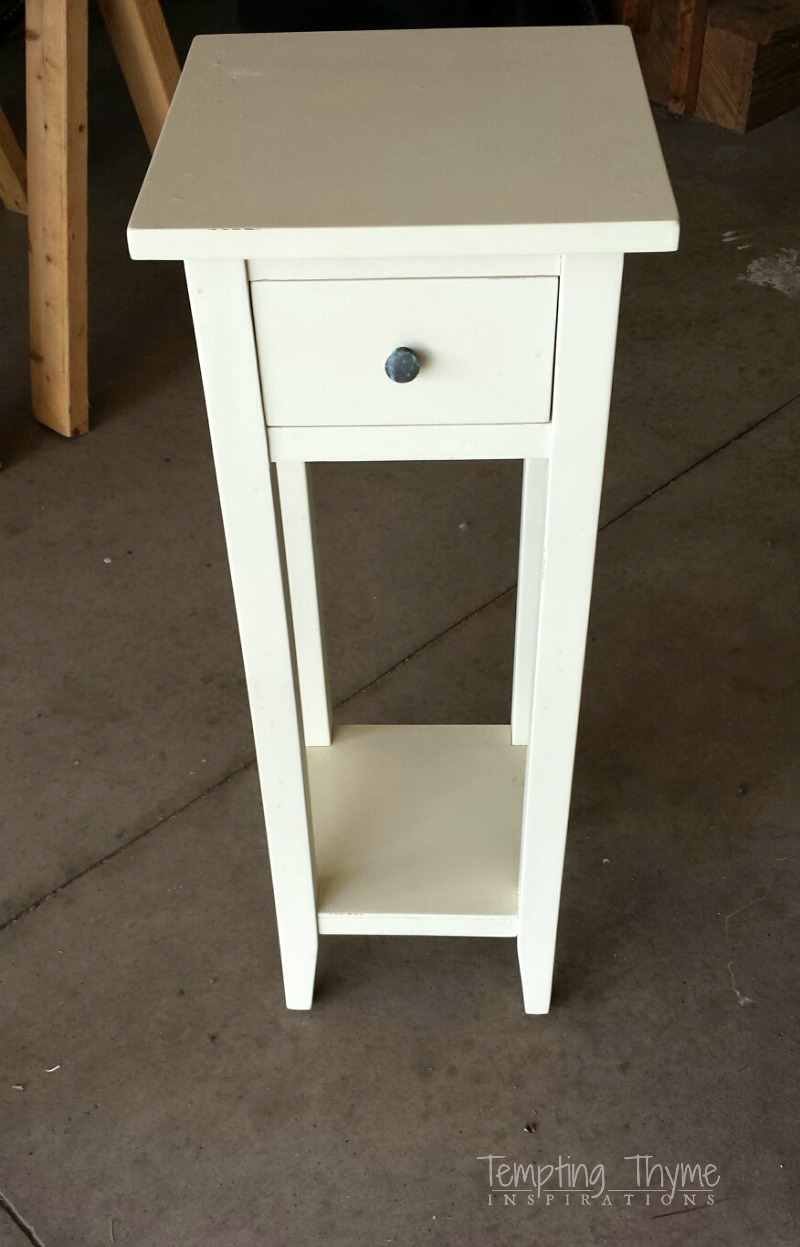 And the 'AFTER':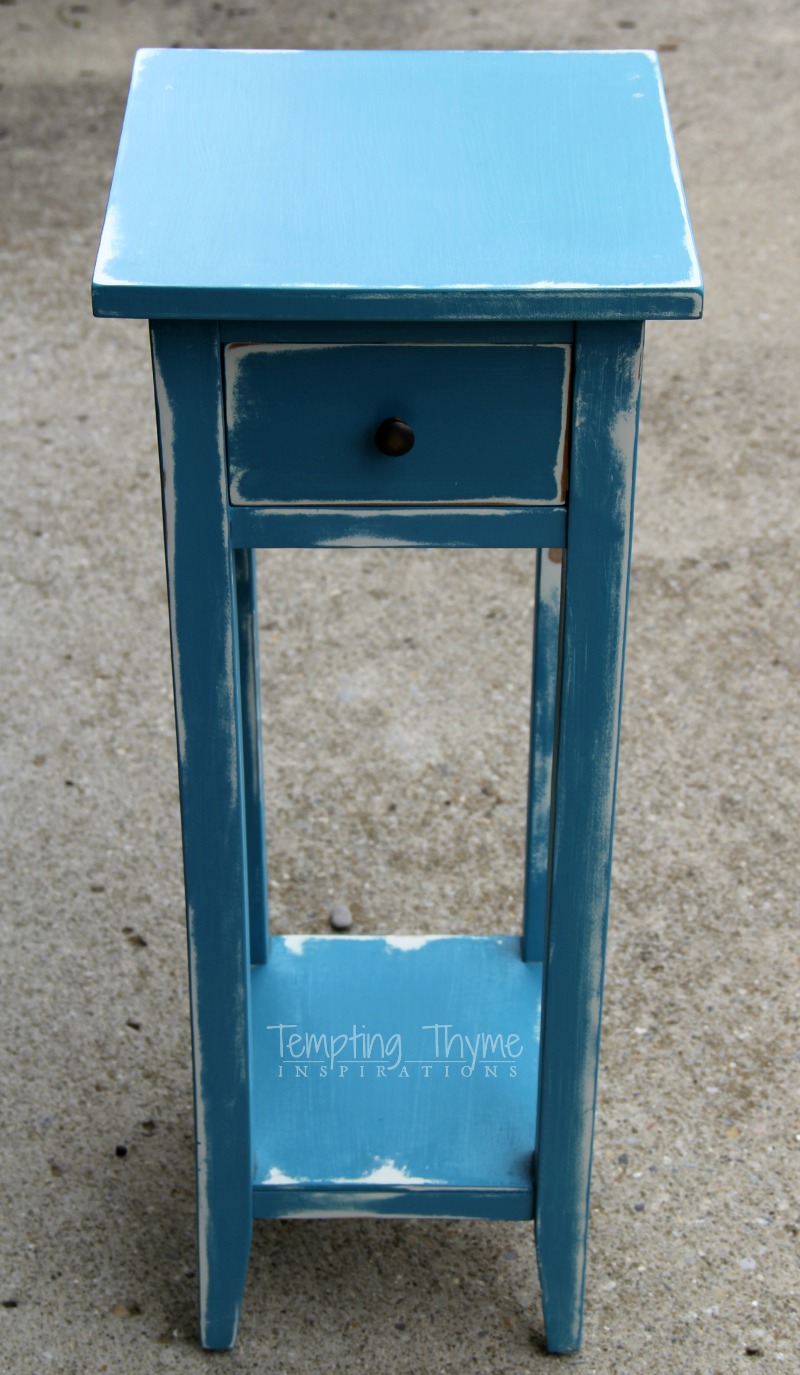 I am in love with this tall, skinny table.  I see a lamp with a small photograph on top and a pile of dog-eared books on the bottom shelf!!!
Here is the paint information if you love this vibrant color too.  It was a custom mix called Tropical Oasis, using the Valspar 7.5 oz samples that Lowe's offers.  Below is a picture of the formula….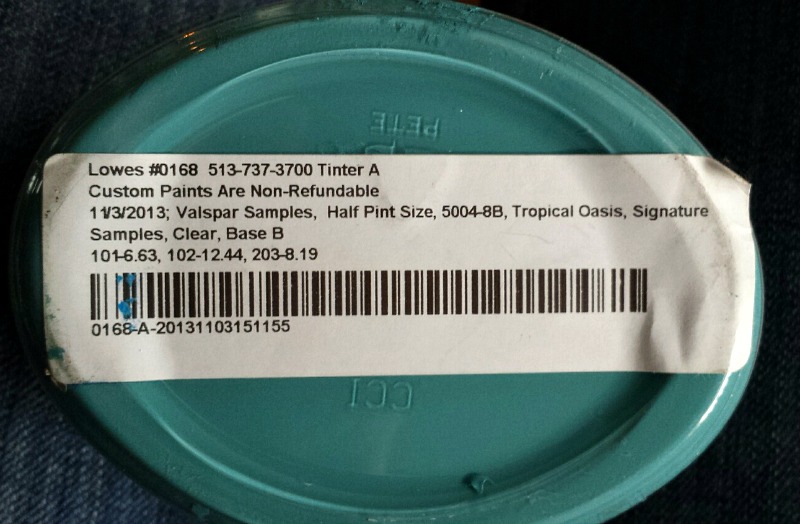 I am a huge fan of these sample jars.  They are so much better than buying a quart…..only to use a 1/4 of it for your project.  Where I live they cost $2.50, which is even better than buying the craft paints at Hobby Lobby or Michaels.  The colors are endless as they will custom mix this sample from any little square of fabric or cardstock that you bring in!  😉
Would love to hear what you think of this #RoadsideRescue???
                                 

Shaunna