I feel like it has been forever since I have spoken to you all!
It is officially summer in our household, with school wrapping up finals on Thursday.  Can I get a holler!!!
It doesn't matter that PT starts teaching summer school today…… and now that I think of it….K is starting his first "real" job today working grounds for our school district.  I hope his first day is amazing!!!  😉  
If you see him mowing, weed whacking, digging ditches along the road or whatever else they have him doing, honk your horn and give him a wave!  I am sure he will just roll his eyes and wave, knowing that I put you up to it! 
It also doesn't matter that I work year round (so it is really not a break for me), and B is not home as he started his Co-Op program with the University of Toledo, and is working for The Douglas Company up in Toledo.   Happy for him…..sad for me!!!
The only important information I just gave you was that it is SUMMERTIME!!!
I know that you are as happy as I am!
The glorious sun warming our faces, putting the cold winter firmly behind us!
No more reminding and looking over homework!
The smell of fresh-cut grass and gorgeous flowers blooming in the yards!
More BBQ's and cookouts with friends!
The only negative that I can think of is the increased activity in and out of the house.   A stretch …… I know………. but I can tell you that the bottom of our doors have taken a beating with all of the dirty feet and/or the shoes that somehow stayed on the feet versus being taken off at the door. 
That is my only negative of summer! 
Well……that….. and that it can't be summertime all year round.  But we won't even go there right now!  😉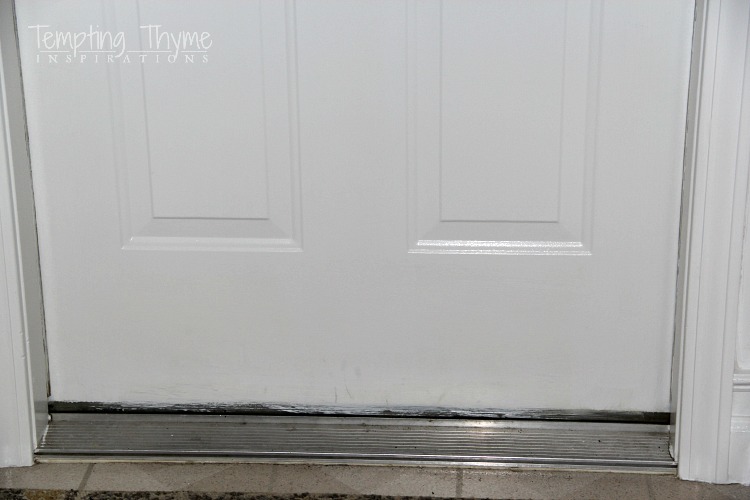 I failed to take a "before" picture a couple of weekend's ago when I finally painted all of the doors and trim in the mudroom.  It has taken me a long time to choose the right shade of white!  LOL!
Adding a kick plate was not even on my radar while painting.  BTW……I scrubbed this door to try and get all of the scuff marks off, but finally had to settle on 3 coats of high gloss paint to fully cover them all.  Now that was a bummer!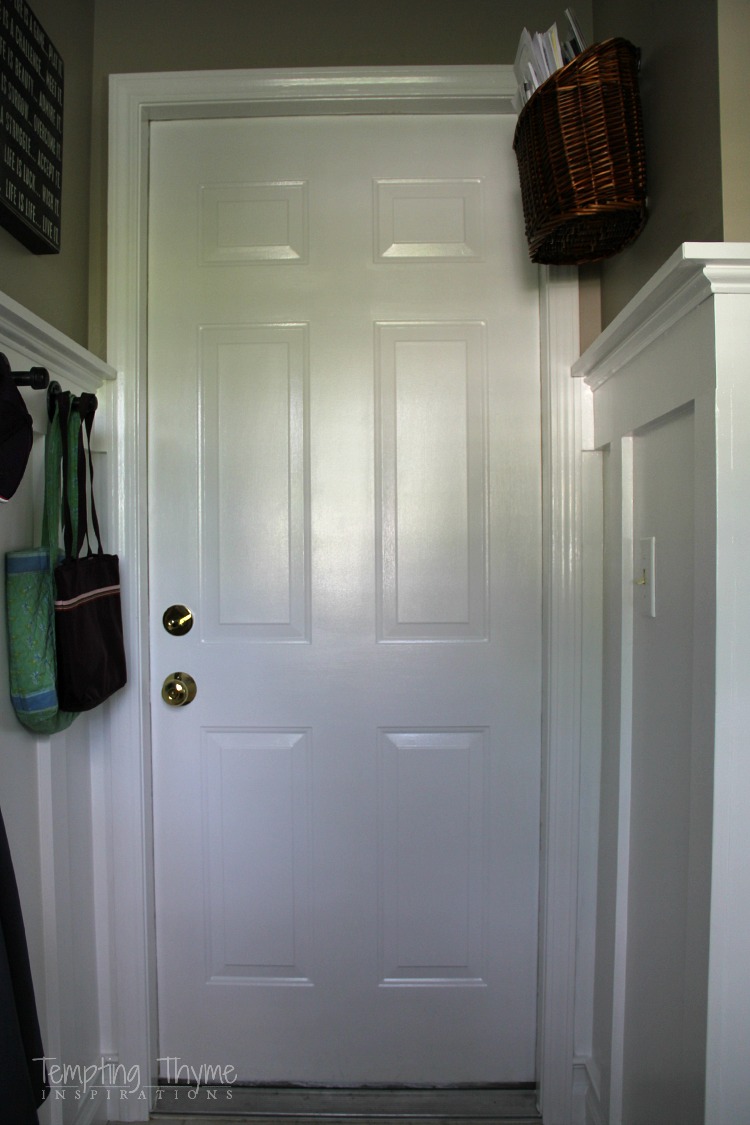 I have stared at the freshly painted clean door, wondering when the first mark would happen.  I even lost sleep over it!!
Just kidding!
I went to get a hammer this past week and saw all of the scrap plywood hanging around and the wheels started to turn……..
I found one that was a little too wide, but was the perfect length.  I cut it down using my jigsaw, sanded it to make sure there were zero rough edges, and then let it sit for a few days! 
I wasn't convinced that it was a good idea.  I mean…..who has ever heard of a plywood kick plate? 
I certainly haven't!!  Let alone one that would be on the inside of the house! 
We used to have one on our exterior front door at our old house, but have never heard of one being on the inside of that exterior door!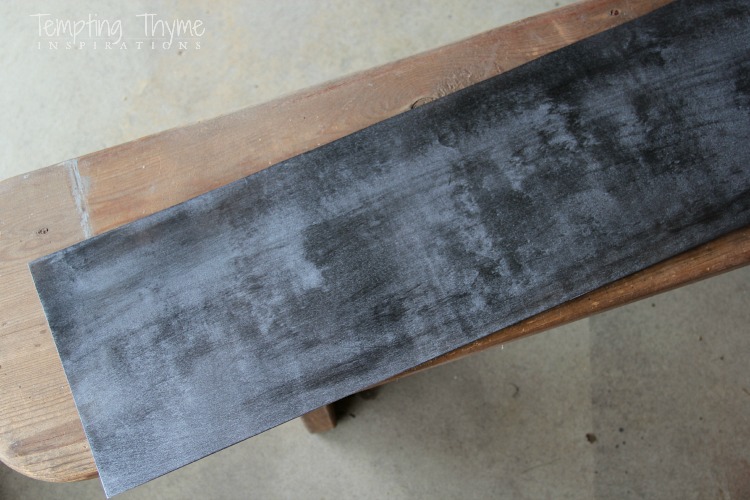 After tossing it around, and even getting PT's opinion, I thought "what the heck", I have nothing to lose by giving it a whirl!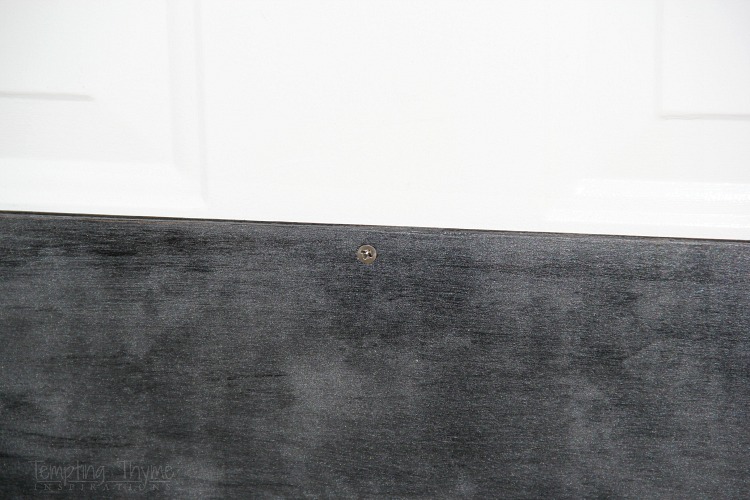 I don't know if I would do this on an exterior door (unless you have a large covered porch), but I think it is the perfect alternative to spending $30 or so on a thin piece of brass or metal.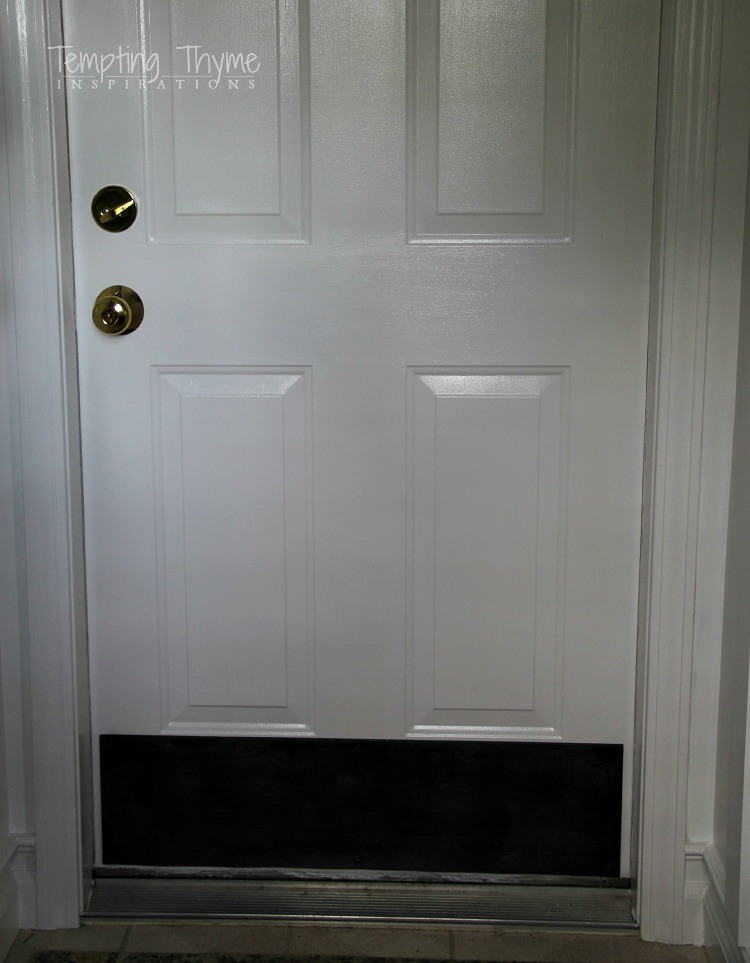 I didn't prime this 1/4″ birch plywood, but did give it a quick spray with black spray paint, followed by dry brushing some Gunmetal Gray Metallic paint ( Folk Art) until I had the look that I was trying to achieve.  I finished it off with three coats of Minwax Polycrylic. 
I thought about attaching the plywood kick plate with liquid nails, but after the debacle with the boys bathroom, I decided to use 1/2″ flat head screws.  There are a total of 6 screws in this plywood, 4 in the corners and 2 in the center.  As the screws were silver I did dab a little of the Gunmetal Gray paint onto each one, hoping that they blend in with the board versus standing out like a sore thumb.
Here is the "BEFORE"…….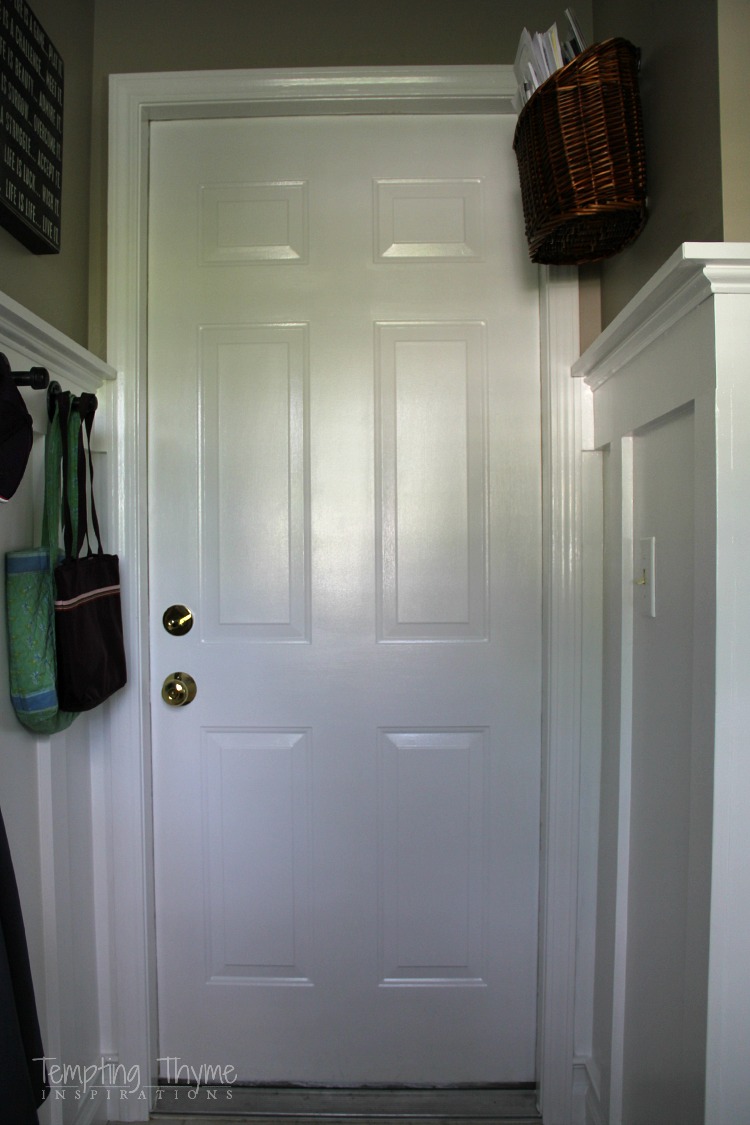 ……and here is the "AFTER"!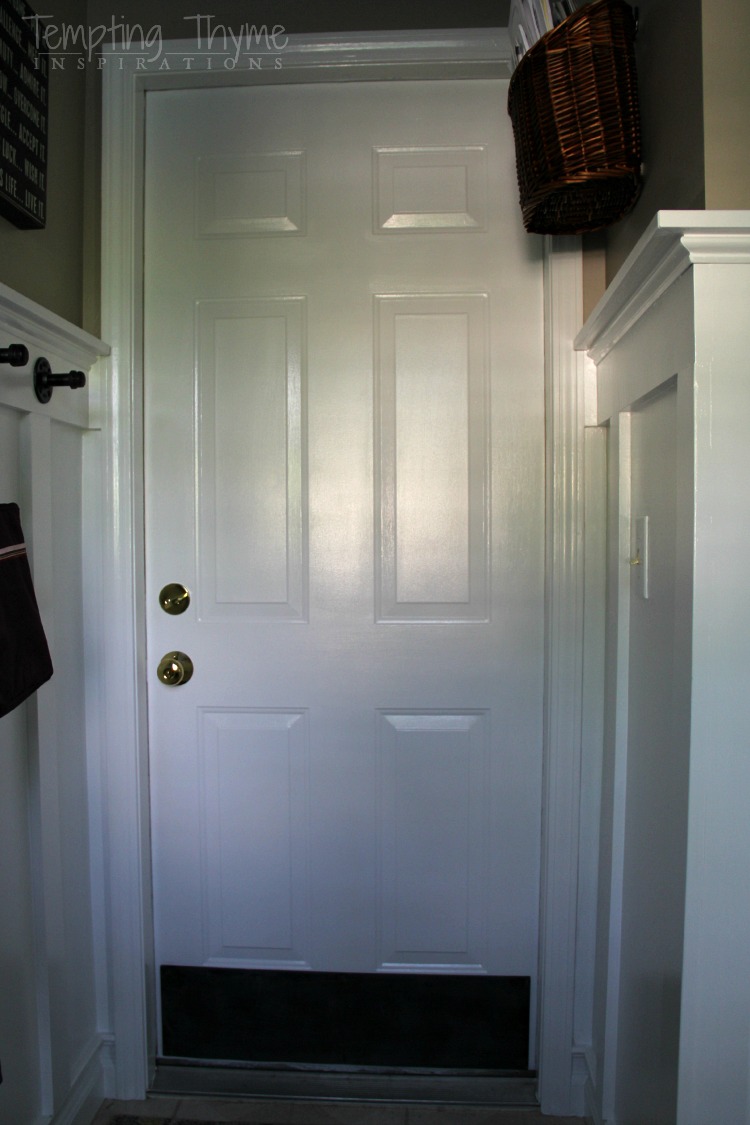 What do you think?  Would you add this plywood kick plate to your interior door?
Shaunna