Don't you love the Holiday Season? 
Pulling out the tree (yes….we have a fake one), decorating it with long treasured ornaments, hanging the stockings on our mantle, and making loads of food to enjoy with family and friends.
This month brings out the best…..and the worst……in people as they scurry around frantically trying to make things perfect for the family!  The older I get the more I face the fact that 'perfect' is just not going to happen. 
At least for me!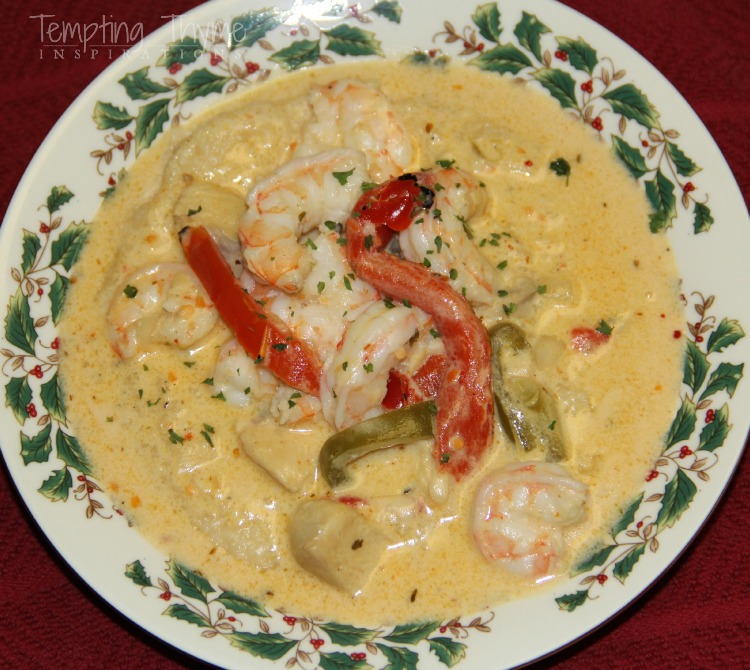 My focus these days are on family ….. both blood relatives and those that I choose as my family …..  and making as many wonderful memories as I can with them! 
These cherished holiday memories, past and present, generally contain food and much laughter. 
Did I say food???  😉   A social gathering is not complete without FOOD!!! 
Right????

When I was growing up we didn't have much family living around us, so we made up for it by gathering with other families in similar situations.  We were the lost misfits of West Lafayette, finding our way to each other every year!!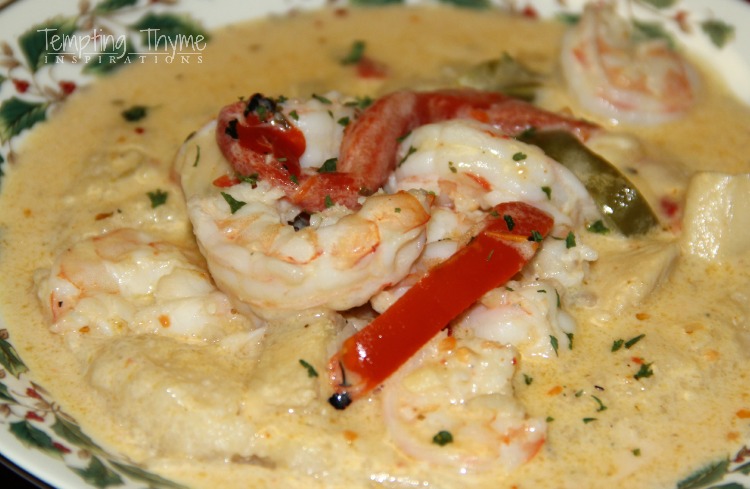 A common theme for all of these shared meals were the relish trays.  One of my favorite memories is loading up the olives onto each of my fingers, walking around the house eating them one by one ….. fingers waving and dancing in the air.  I remember doing it again when my kids were little, hoping that they would see the fun in it and do it with me……
Unfortunately, they just thought I was weird!!  😉

Seeing as I am all about the food and holiday recipes, I was very excited when Mezzetta contacted me asking me to make one of my favorite holiday recipes using some of their products.  I will tell you……… I did not have to be asked twice! 
Not only do they have some wonderful mainstay products that have been around since I was a little girl……..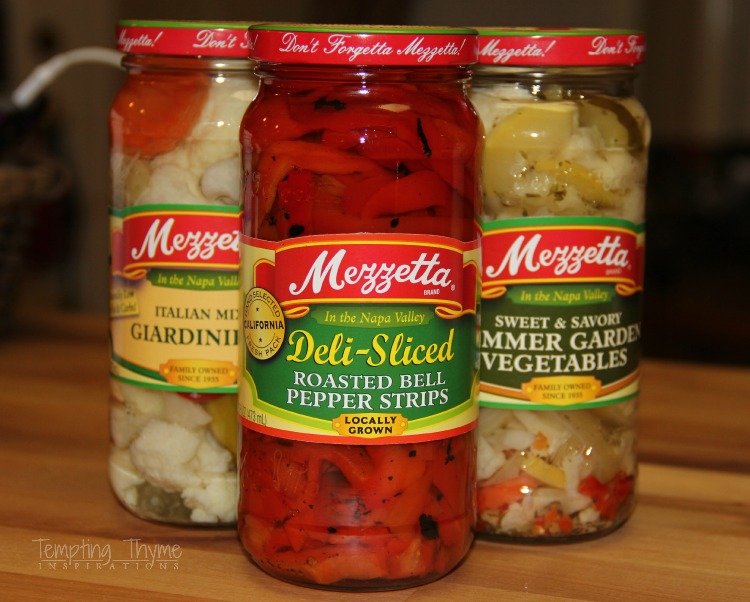 but Mezzetta has some amazing new ones like these 'everything spreads'!!!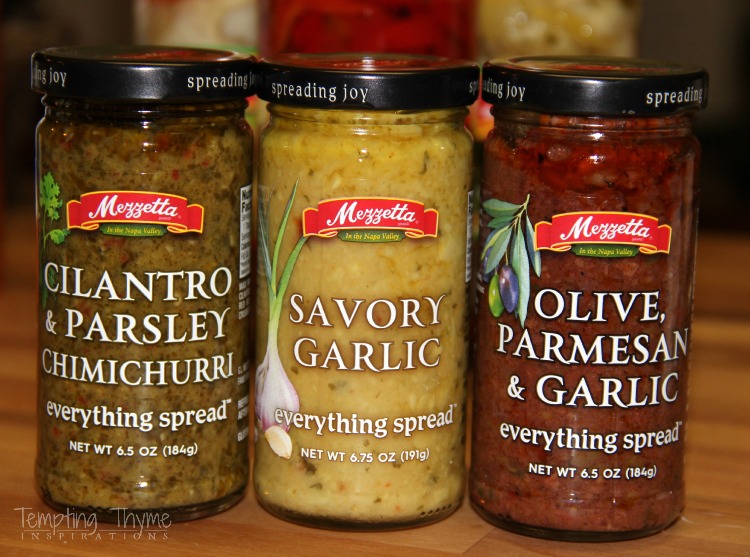 These are a great little pick me up for any dish!  Spread them over your chicken or fish, add a dollop to your mashed potatoes…..or even add a couple Tablespoons to some cream cheese and sour cream to make a quick and easy dip for your crackers or bread slices. 
I would personally spread the Savory Garlic onto some sliced Italian bread……top with some crumbled blue cheese and broil until the bread is lighlty browned and the cheese has melted.  OMG…..I think I may need to run to the store and pick up some bread.  Just talking about it is making me crave it!! 😉
What else do I appreciate about Mezzetta?  They have been a family owned company since 1935, and they are committed to bringing their customers the highest quality foods available. 
As a special thank you to all of us, they are giving away a their Mezzetta Favorites Holiday Gift Basket every day this month.  I know that I will be entering every day, and you should too!!  This is just a glimpse of what 31 people will win…..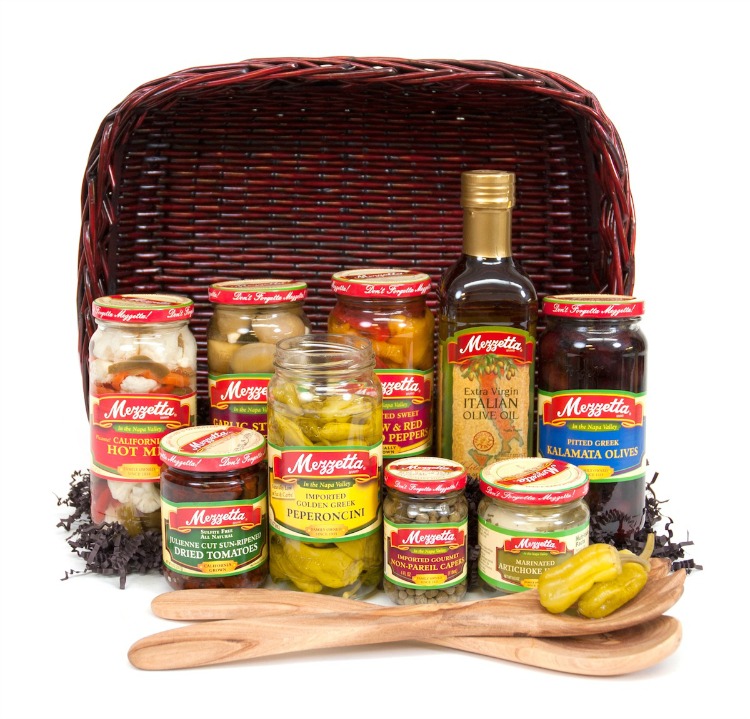 As I know you want to enter, just head on over here…….   You can enter everyday until December 31! 
One winner will be announced each and every day! 
While you are over there make sure you get the $.50 cent downloadable coupon they are offering as well.  We all need to save some money where we can these days!  This is even more valuable if you have a store that offers double coupons!

Are you tired of me rambling and want my recipe for Creamy Shrimp and Chicken with Cheesy Grits?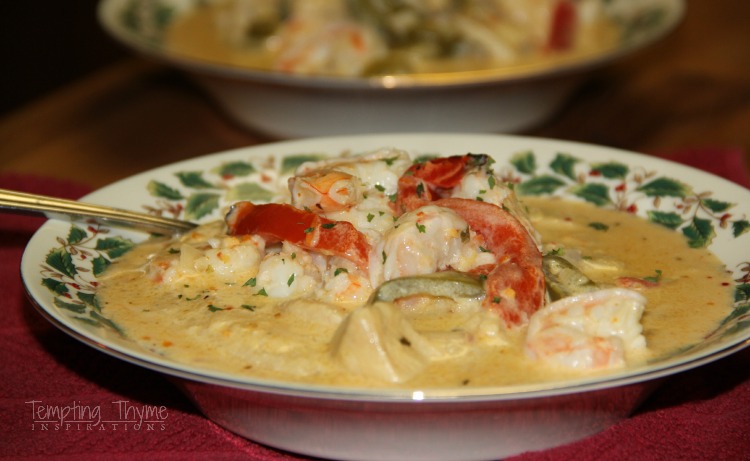 I thought so!!
I am such a huge fan of shrimp and grits, but if I have any hope of my kids eating it then I have to also add in the chicken.  This recipe will be easy for you to adapt if you would prefer shrimp and sausage……chicken and sausage…..or to any protein combinations you may prefer!
I don't normally add in the roasted red pepper, but I am really glad I added in the Mezzetta Roasted Bell Pepper Strips.  Definitely gave a festive spin to one of my favorite recipes.  I also replaced the normal minced garlic for the Savory Garlic everything spread.  The garlic filled the kitchen as it was cooking last night!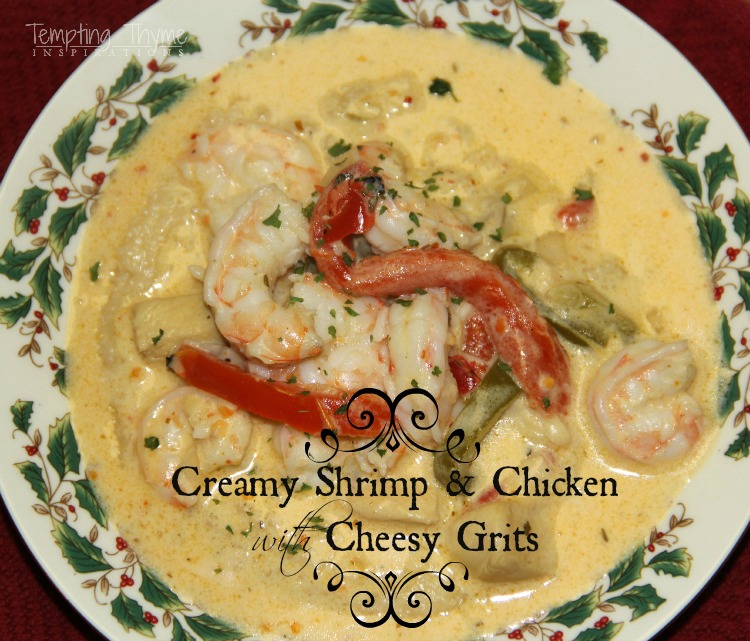 Now that I have shared a favorite memory of mine, AND one of my favorite holiday recipes….I think it is your turn!
What is your favorite Holiday Memory? 
                             Shaunna
Creamy Shrimp and Chicken with Cheesy Grits
Author:
Shaunna @ Tempting Thyme
Ingredients:
1 lb chicken, cut into bite sized pieces
1 Tbsp olive oil
½ cup white wine
¼ cup butter (half a stick)
1 lb peeled and deveined jumbo shrimp
8 oz mushrooms, wiped clean and sliced thinly
¼ onion, diced
1 green pepper, stem and seeds removed and sliced thinly
½ cup Mezzetti Roasted Bell Pepper Strips
1 cup heavy whipping cream
1 container (5½ oz) plain Greek yogurt
2½ Tbsp Mezzetti Savory Garlic everything spread
2 Tbsp Creole Seasoning or Southwest Chipotle
Grits (I use instant)
Chicken Stock
¼ cup butter (half a stick)
¾ cup shredded sharp cheddar cheese
Optional: Hot Sauce
Directions:
In a large saucepan over medium heat, saute the diced chicken in 1 Tbsp of olive oil until lightly browned. Add in the diced onions and 1 Tbsp of the Savory Garlic everything spread and saute about 1 minute. Add in the butter and wine, adding in the shrimp once the butter has melted. Cook the shrimp until the bottoms are just pink and slightly opaque. Flip them over and add in the mushrooms, green pepper and roasted red pepper, sauteing for an additional 2 minutes. Remove the chicken and shrimp; set aside and cover with foil or towel.
In a small bowl whisk together the heavy whipping cream, Greek yogurt, remaining savory garlic spread, and the Creole seasoning until combined. Add the cream mixture to the saucepan and continue cooking, on medium, until it has been reduced by a third; stirring constantly. This may take upwards of 10-15 minutes. Season to taste with salt, pepper, and hot sauce if desired.
Return the shrimp and chicken to the pan and stir to coat. If needed, reduce the heat to low while the grits are finishing up.
While the cream is 'reducing', cook the grits (for 6 servings) according to the directions on the back of the package. I like to use chicken stock instead of the recommended water. Once the grits are cooked, stir in the ¼ cup butter and ¾ cup shredded cheese.
To serve, spoon the creamy shrimp and chicken sauce over heaping mounds of cheesy grits.
When planning your Holiday menus, don't forget about the downloadable $.50 off coupon that Mezzetta is offering.  The coupon is located on the campaign landing page and is available through December 31.
I want to thank  Mezzetta for sponsoring today's post and inspiring me to get creative and create a festive recipe for the Holidays!
You may find this Creamy Shrimp and Chicken with Cheesy Grits linked up to these great linky parties…….