Some days just require a creamy…..rich…..velvety smooth bite of heaven! 
Other days may require more than just one bite. 
Know what I mean?  😉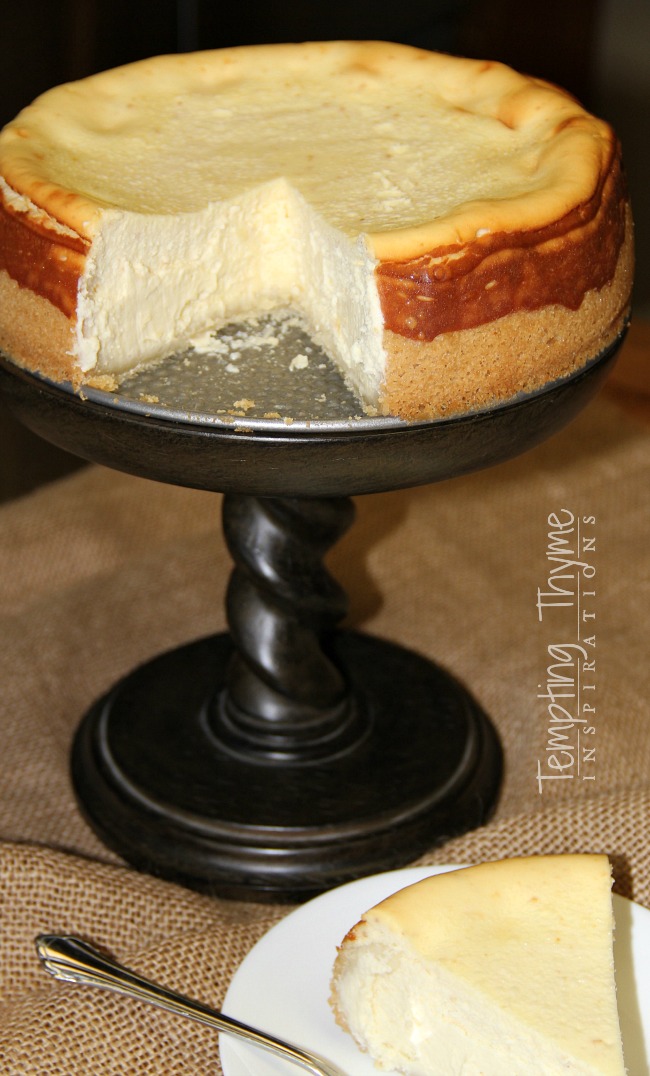 Don't you agree that the simpler the cheesecake the better?
Letting the fresh cream cheese stand out and be the star of the show!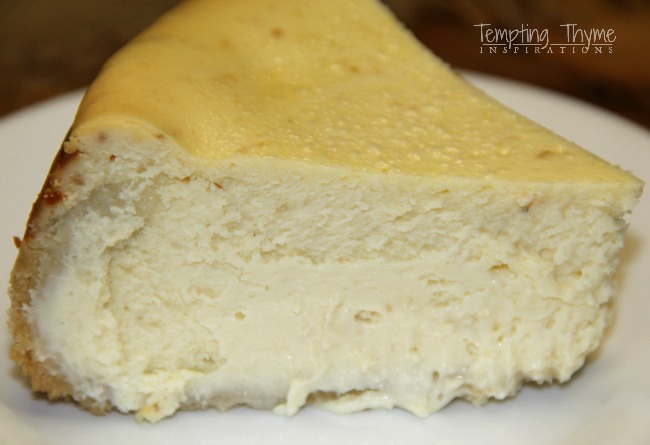 I like to be creative, throwing in various ingredients…..chocolate, peanut butter, caramel…..just to see how expansive and loud I can make the dessert, but my taste buds thank me when I make the cheesecake as simple as possible.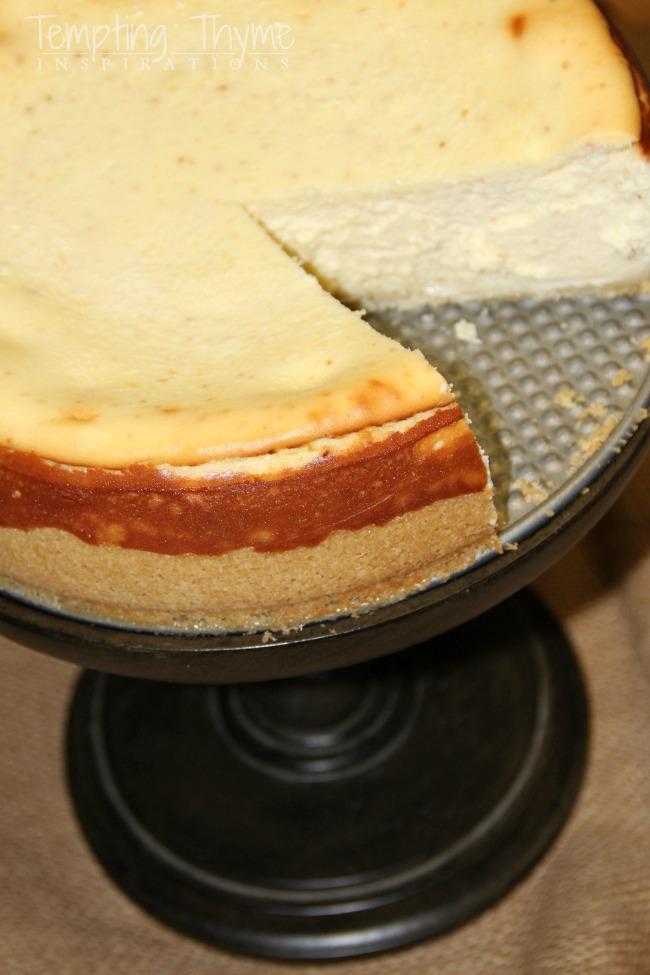 Why don't we make cheesecake more often? 
It really doesn't take too much time to throw together.  The baking and cooling of the cake takes the majority of the time.  Perfect for folding laundry, sanding down a ladder, writing a blog post……sitting my fanny in front of the new Sunday night drama "Madam Secretary"!  I adore Tea Leoni!

Mixing the ingredients together……easy peasy!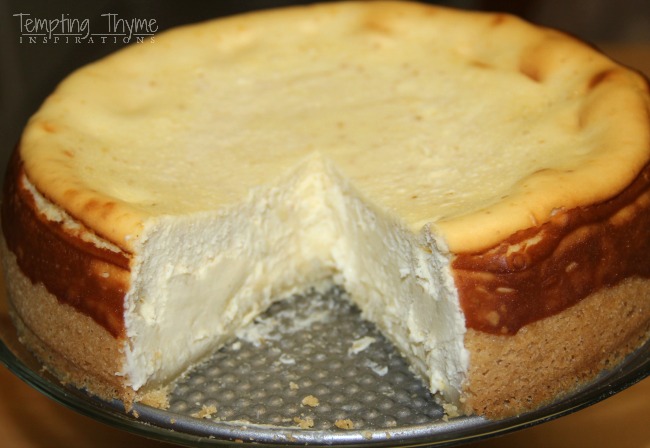 I made the crust a little bit different for this Sugar Cookie Cheesecake.
I just used store bought sugar cookie dough.  Yes, I could have made my own favorite recipe……but I was crunched for time and honestly wanted to take a short cut.
I promise…..no one will ever know the difference!! 
But if you want homemade sugar cookie dough….go for it!  Just let me know when you are making it so that I can come over and snag a spoonful. 
I love me some fresh cookie dough!  😉
Maybe I shouldn't admit that I still eat raw cookie dough!
Shhhh!  Keep my secret please!!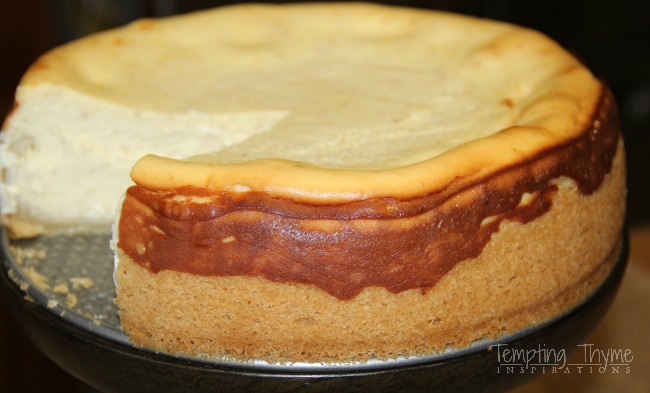 Instead of crumbling up fresh baked cookies and adding in a little butter to form the crust, it is just as easy to let the dough (crust) bake with the cheesecake.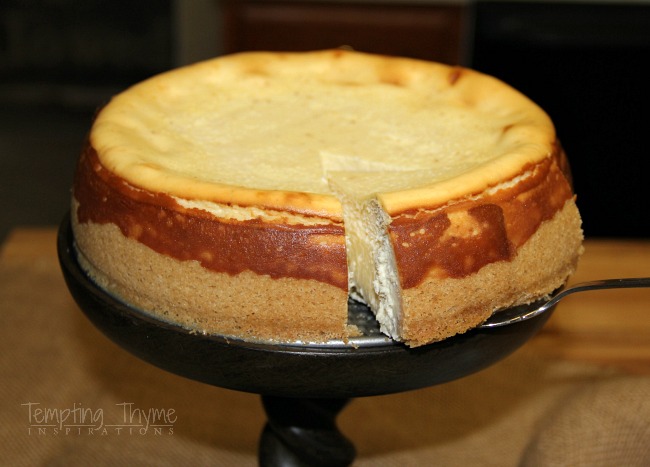 When I want the cream cheese to really stand out I like to add in a little citrus zest!  If you don't want to add in the lemon and orange zest feel free to leave them out.  But if you ask me…..they add a lot of depth and flavor to each and every bite! 
Little Tip—–make sure you let your cream cheese, eggs and heavy whipping cream come to room temperature before mixing them all together.  Ingredients like to be at a consistent temperature…..
I also use my homemade Madagascar Vanilla Extract.  You will never use store bought extract again if you ever venture into making your own!  I promise…….
Want to make this ahead of time?  I think cheesecake is the perfect dessert to make a day ahead, letting the flavors meld and marry together.  I know……that didn't make any sense at all.  Oh well!  LOL!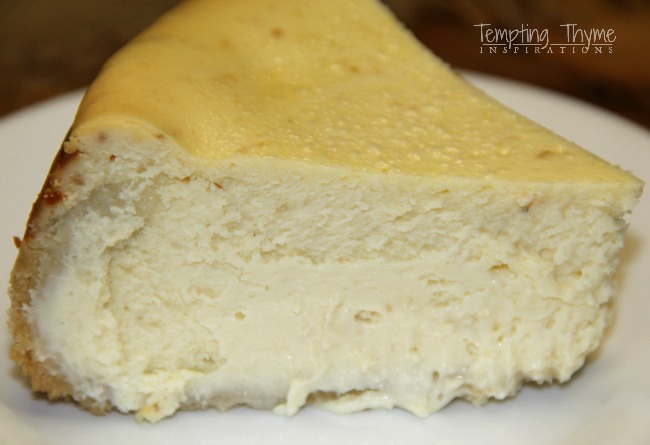 I know that this Sugar Cookie Cheesecake will be added to you favorite recipe box.  It is gorgeous….simple, classic and oh so good!!
What is your favorite Cheesecake?
                                    

Shaunna
Sugar Cookie Cheesecake
Two favorites in one rich and creamy dessert! Perfect for all occasions....
Author:
Shaunna @ Tempting Thyme
Ingredients:
Sugar Cookie Dough (Homemade or Store-Bought)
4 (8 oz) bricks of Philadelphia Cream Cheese, softened
1 cup sugar
2 Tbsp flour
½ tsp lemon zest
½ tsp orange zest
1 tsp vanilla extract (homemade)
4 eggs, bring to room temperature
¼ cup heavy whipping cream, bring to room temperature
Directions:
Preheat oven to 425 degrees. Spray a 9" spring form pan with baking spray and set on a cookie sheet. Press your favorite sugar cookie dough into the spring form pan, using your fingers to evenly distribute, going 1- 2 inches up the sides of the pan. Set aside.
In a large mixing bowl beat the cream cheese, sugar, flour, lemon/orange zest, and the vanilla extract until thoroughly combined. Add in the eggs one at a time until just blended. Once the eggs have been incorporated, slowly add in the heavy whipping cream and mix until the cheesecake mixture is creamy and silky smooth.
Pour the cheesecake filling on top of the sugar cookie base and place the spring form pan in the preheated oven. Bake for 15 minutes and then decrease the oven temperature to 275 degrees. Continue baking for another 50-60 minutes or until cheesecake is lightly browned on top and edges are firm and middle appears "set".
Remove the cheesecake from the oven and cool completely on a wire rack. Store in the refrigerator for at least 4 hours before serving.
Store any leftovers (who are we kidding), in a covered container, in the refrigerator for up to 4 days.