I know that this Hearty Italian Sausage and Potato Bake will be added into your menu rotation.  It is quick and simple…… AND can be prepped in under 10 minutes.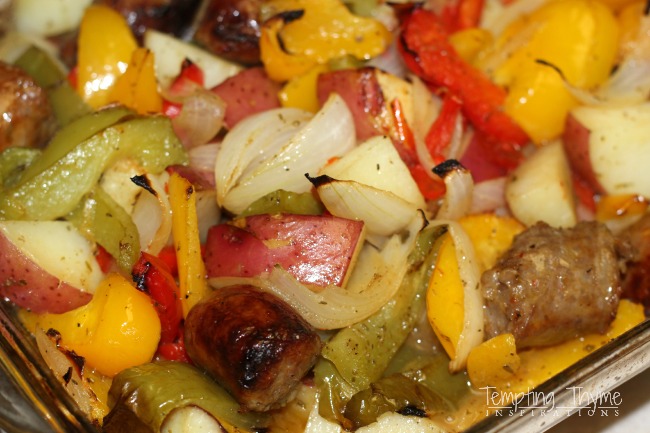 Did I tell you how amazing it smells while baking?
Oh yeah…… it not only smells 'delish' while baking…… each bite will transport you to that Italian village that you dream of visiting someday! 
Okay, maybe you don't dream about walking the hillsides of Italy and eating your way through all of the fabulous restaurants.  That might just be my crazy dream! 😉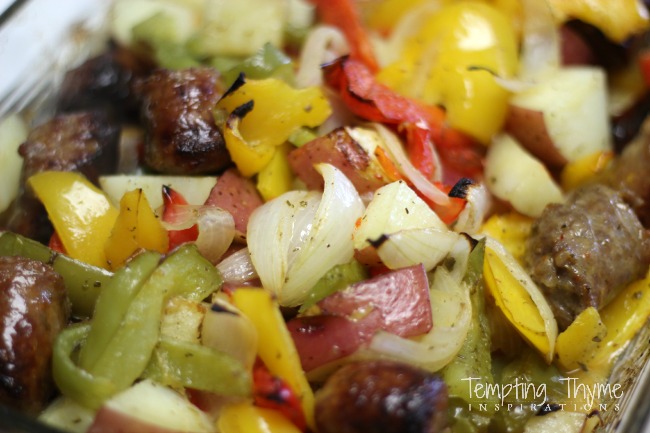 Italian landscape or not, this recipe is so versatile it can be personalized to everyone's taste buds! You can swap out the vegetables, change up the spices, and even leave out the sausage if you are a vegetarian!  Like I said…..VERSATILE!

Aside from all of the fresh peppers, this meal gets to the heart of what PT loves in a meal……meat and potatoes!
I am working on him, but he would be happy as a clam if he had these 2 components for dinner 7 nights a week. 😉
B, on the other hand, will pick every single onion off and I, not wanting to waste these caramelized beauties, scoop them up onto my plate.  YUM!  My stomach is doing the happy dance just thinking about this dish.  It shouldn't be, I just ate dinner a couple of hours ago….but look at these pictures.  Aren't you drooling, wanting a forkful right this minute?
I love meals that take less than 10 minutes of my time.  These days I am not into dishes that take a lot of time to prepare.  I would rather be doing this, and this, and even this.  I crave quick, easy meals that taste amazing!  Bonus……this is made in 1 single dish!  I can get behind cleaning only one dish!
Like I told you earlier…….Hearty Italian Sausage and Potato Bake will not disappoint!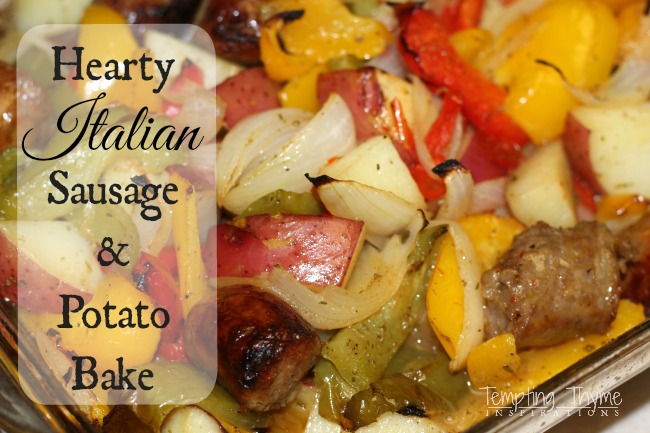 What is your favorite 1 pot meal?
                             Shaunna
Hearty Italian Sausage and Potato Bake
Quick and easy recipe that brings all of your favorites from the hot Italian sandwich into a make ahead casserole!
Author:
Shaunna @ Tempting Thyme
Ingredients:
1 lb Italian sausage links, sliced into 1 inch pieces
6-8 red new potatoes, quartered
1 red pepper, stem removed and cut into strips or chunks
1 green pepper, stem removed and cut into strips or chunks
1 yellow pepper, stem removed and cut into strips or chunk
1 large onion, sliced
2-3 cloves of garlic, minced
2 Tbsp olive oil
2 tsp Italian seasoning (or any combination of seasonings that you like
½ tsp black pepper
Directions:
Preheat oven to 425 degrees.
Grease or spray an 11x13 baking dish. Combine all the ingredients in the dish, stirring until ingredients and seasonings are fully blended. Bake for 40-50 minutes, or until the sausage is cooked through and the vegetables are tender and potatoes are brown around the edges.
Enjoy!